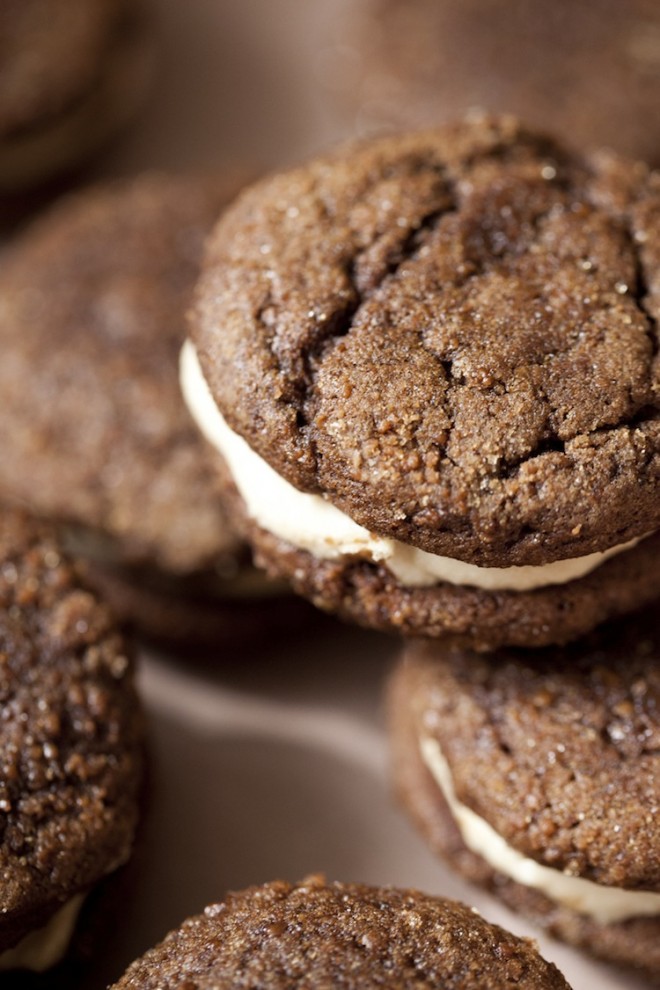 A couple weeks ago when we celebrated our dessert-only friendsgiving among our team here, it was Emily's cookies that really took the cake!  A table full of sweet treats and nobody could stop talking about her ginger molasses sandwich cookies with salted caramel cream cheese frosting-- or believe that they were gluten-free!  If you're looking for a last minute dessert addition to your Thanksgiving table or pre-planning a way to be the hit of the holiday cookie exchange, these little gems are your ticket!
Gluten-Free Ginger Molasses Cookies with Salted Caramel Cream Cheese Filling
(adapted from
this recipe
on Hummingbird High)
Ingredients 
For the Ginger-Molasses Cookies:
(makes 48 cookies, 1 ¾" diameter)
1 cup Pure Pantry All Organic Baking Mix
1 teaspoon baking soda
1 teaspoon ground ginger
¼ teaspoon ground allspice
¼ teaspoon ground cloves
¼ teaspoon salt
4 tablespoons (½ stick) butter, at room temperature
½ cup granulated sugar, plus extra for rolling
2 egg whites, at room temperature (if using regular flour, 1 egg is sufficient, 2 will keep the gluten-free cookies from dy
4 tablespoons molasses
Instructions:
Preheat oven to 350 degrees F. Line a baking sheet with parchment paper.
In a medium bowl, whisk together 1 cup flour, 1 teaspoon baking soda, 1 teaspoon ginger, ¼ teaspoon allspice, ¼ teaspoon cloves, and ¼ teaspoon salt.
In the bowl of a freestanding electric mixer fitted with a paddle attachment, cream together the 4 tablespoons butter and ½ cup sugar on medium-high speed for at least 5 minutes, or until light and fluffy.
When the butter and sugar is light and fluffy, turn the mixer down to its lowest speed and add 1 egg white and whip until just incorporated but also smooth. Once the egg white has been incorporated, slowly drizzle in 4 tablespoons molasses until just incorporated and even.
Once the molasses has been incorporated into the mixture, stop the mixer and use a rubber spatulato scrape down the sides of the bowl. Sprinkle your dry ingredients (from the second step) over the liquid mixture in the electric mixer bowl and turn your mixer back on to its lowest speed, mixing the flour into the batter until just incorporated. Be careful not to overmix the dough at this point, or your cookies will be tough and I will cry for you!
Transfer the mixture to the refrigerator and allow the dough to cool until the dough becomes harder and easier to work with — it took me about 30 minutes of cooling to get it to the consistency I wanted.
Roll dough into tiny balls, roughly the diameter of a quarter.  These cookies expand a lot! Roll them in a small bowl of granulated sugar until covered completely, before arranging on a baking tray with 3.5 inches between each dough ball. Use the flat of your palm ora rubber spatula to gently squish the dough balls flat — this helps create perfectly round cookies.
Bake the cookies for 13 - 15 minutes in the preheated oven, then allow to cool completely on the baking sheet set on a cooling rack. The cookies will crack as they cool; for more dramatic cracks, allow the dough to come to room temperature before baking, but that's not necessary.
Salted Caramel Cream Cheese Frosting:
(adapted from
this recipe
from Crunchy Gooey)  
Ingredients
1 cup white or light brown sugar
½ cup water
1 stick unsalted butter
½ teaspoon kosher salt
1 teaspoon vanilla
8 oz. cream cheese, cut into cubes
Put sugar and water into a heavy pot (heavy prevents scorching) over medium high heat stirring until it starts to boil. Once it boils, do not stir anymore. Let bubble for about 7-10 minutes or until it turns golden brown and smells like caramel. Remove from heat and stir in butter until it melts. Then beat on low speed with your mixer until it emulsifies. Add vanilla, cream cheese and salt and beat until creamy. Scrape into a heatproof bowl and cool down (it will thicken as it cools).
Photos by
Jordana Sheara