I have always loved the traditions that surround this time of year.  As a kid, I so looked forward to tamale dinner and getting to open one present on Christmas Eve.  Once the dishes were done and we were home from candlelight service, my dad would make these great homemade cinnamon rolls that would rise all night and be ready to be popped in the oven at the break of dawn when we were all clamoring to get down the stairs and see what Mr. Claus had brought us. I can still smell them!  That was the first Christmas tradition that I adopted after Aaron and I got married. There have been many renditions of these cinnamon rolls over the last 5 Christmases-- some better than others-- but these have been my favorite batch thus far!  Spicy gingerbread paired with just a bit of zesty, sweet orange makes for a delicious Christmas morning treat!  (Not to mention your house will smell amazing!)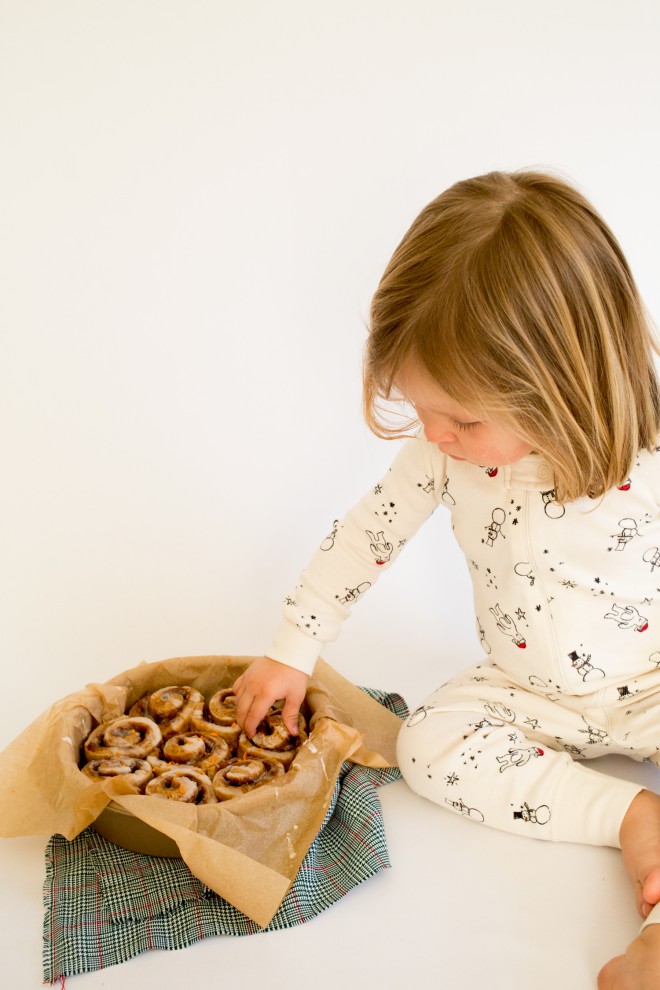 Overnight Gingerbread Cinnamon Rolls with Orange Zest
(makes 12 large Cinnamon Rolls)
Ingredients for the Dough:
3 c. flour
¼ c. brown sugar
½ tsp. salt
1 package rapid rise or instant yeast
¼ tsp. cinnamon
¼ tsp. ginger
⅛ tsp. nutmeg
3 T. unsalted butter, melted
½ c. whole milk
½ c. unsweetened almond milk (you can use all whole milk if you prefer)
⅓ c. molasses
1 medium orange
Ingredients for the Filling:
1 c. brown sugar
1 tsp. cinnamon
¼ tsp. nutmeg
¼ tsp. ginger
⅓ c. unsalted butter
Ingredients for Icing:
2 c. powdered sugar
1 tsp. almond extract (or vanilla if you prefer)
2-3 Tbls. almond or whole milk
Directions:
In a small bowl, warm milk to around 105 degrees and dissolve yeast.  Set aside. In a large bowl mix together all dry ingredients, except for one cup of flour. Next add the warm milk and yeast.  Gently fold in the in milk, followed by the melted butter and molasses.  Little by little, add the last cup of flour until the dough becomes less sticky and easy to handle, but not completely dry.  You may not use the entire cup.  Zest half the orange into the dough.  Knead dough on lightly floured surface for 5 to 10 minutes. Place in well-greased bowl, cover and let rise until doubled in size, usually 1 to 1 ½ hours.
When doubled in size, roll out on a floured surface into a 15 by 9-inch rectangle. Spread melted butter all over dough then top with brown sugar and cinnamon filling, then the remaining orange zest.  Don't be shy!  Use the entire amount of filling!  Beginning at the longer side, role up dough and pinch edge together to seal. Cut into 12 large pieces.
Line your baking pan with parchment paper and add cut cinnamon rolls.  Cover pan tightly and leave out on the counter overnight.
In the morning, heat oven to 350 degrees and bake for 20-25 minutes.
While baking, mix together icing ingredients.  Add until desired consistency and you can even refrigerate for up to 30 minutes to add thickness.  Once cinnamon rolls are done baking and COMPLETELY cooled, drizzle with icing as desired and enjoy!  (You can also top with additional orange zest if desired.)
Merry Christmas from me and my sous chef to you and yours!
Xo
styling and photography by jen pinkston
parker's pajamas, hanna andersson