Did you know that time with your girlfriends is good for your health? True story, Stanford University said so in a study they published a couple of years ago. The study found that one of the best things that a man can do for his health is to be married to a woman (naturally, because we are awesome) and that one of the best things a woman can do for her health is to nurture her relationships with her girlfriends. In fact, the study found that spending time with your girlfriends can be just as important to your health as a woman as physical exercise. With that in mind we are dedicating these next two weeks, that are sure to be filled with all things rosy and heart-shaped, to your best gals, your forever girl gang, your squad. Without further ado, mark your calendar and send out the Minted invites for your first-ever Galentine's Day card swap and cocktail party! Keep reading for details on pulling it all together...
Step 1: Get your card stash. Ask each guest to contribute four to five of their favorite Valentine's Day cards. All of ours came from Minted, naturally.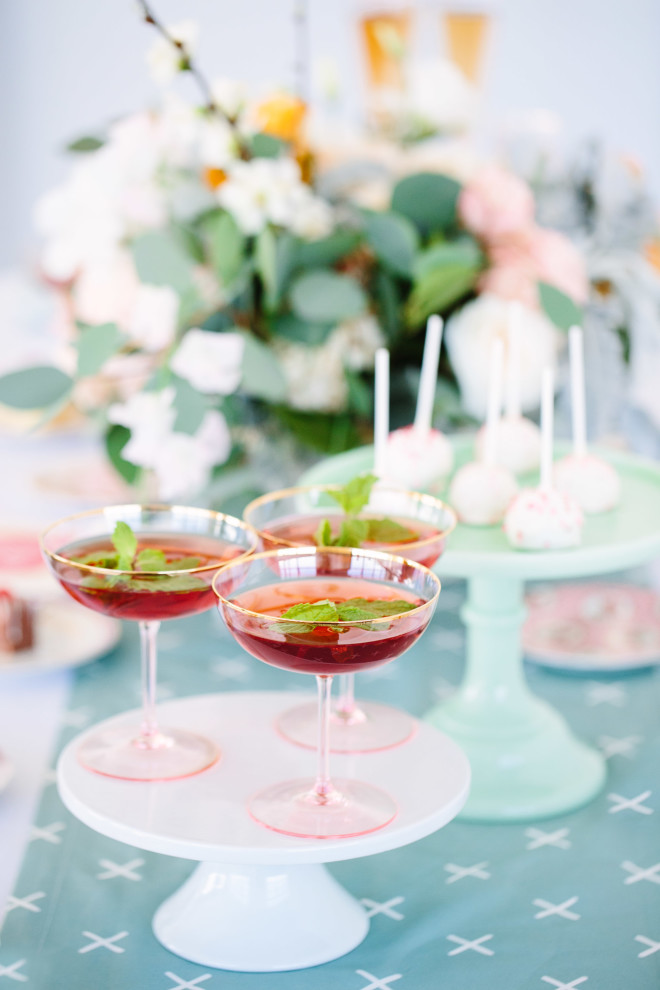 Step 2: Choose your cocktail of choice. We went with classic champagne and these sour cherry bellinis. Don't be afraid to keep it simple and stick to your favorite wine either. Keep the focus on the friendships.
Step 3: Set the table. Last year we discovered Minted's new line of artisan designed fabrics and promptly set to DIYing a few things. Since then they've also launched a whole line of textile products for your home. We used this mint table runner and these floral napkins to dress up a simple linen table cloth. I died for that mint milk glass cake plate and love how it looks nestled in between it's modern white counterparts.  We used multiple strands of this large felt garland to create a backdrop for our table and this custom marbled banner to let people know what to expect.
Step 4: 'Tis the season for sweet treats. Sorry Whole 30, but some occasions are just worth celebrating with sugar. Although, you could always go the healthy route-- fruit skewers and greek yogurt dip?
Step 5: Add to the table a variety of pens, markers, and stamps. At the end of the night collect everyone's stamped and addressed envelopes and then drop them in the post box the next morning. You not only got a night with your best gals, but you get the satisfaction of knowing that all of these handwritten notes are going to brighten their recipient's days when they show up in their mail box!
Here's to spreading the love this Valentine's Day!
all decor, cards, and table top pieces by Minted
photography by Mary Costa
creative direction and styling by Jen Pinkston
floral design by Laura Williams
production coordinating and styling by Kat Garner
additional styling by Erin Williams
This post was sponsored by Minted, one of my all-time favorite sources for paper, decor, art, and now textiles! Thanks for supporting the brands that let us create fun content and spread the love!