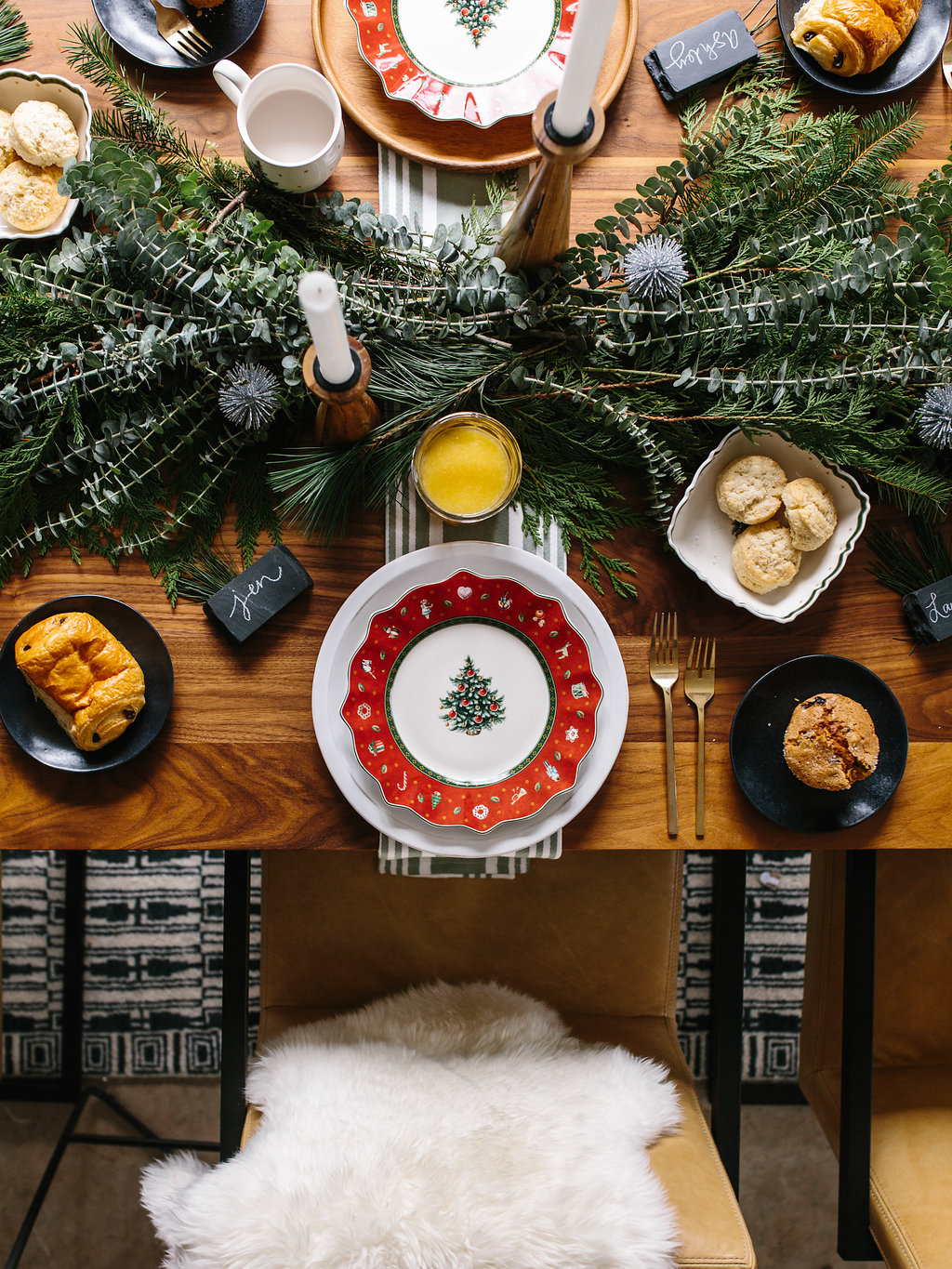 I have two sisters and we frequently tease my mom that some day we will be fighting over her dish collection.  Who gets the Thanksgiving dishes? The Christmas dishes? The wedding china?  Her pantry and cabinets are filled with adorable gravy boats and salt and pepper shakers to accompany each pattern.  It's different than what you will find if you open my cabinets. I think my generation is much less formal when it comes to entertaining, but that doesn't mean we can't find a way to incorporate things like seasonal dishes and beautiful china into our every day style.  We partnered with Villeroy & Boch this holiday season to put our own spin on this traditional Christmas motif by using every day dishware mixed with this seasonal favorite.  I am thrilled with the way it turned out and can't wait to host Christmas Eve tamales on these adorable plates! (And now my girls can fight over who gets my Christmas dishes some day!)
We used these small serving dishes for dishing out my favorite scones.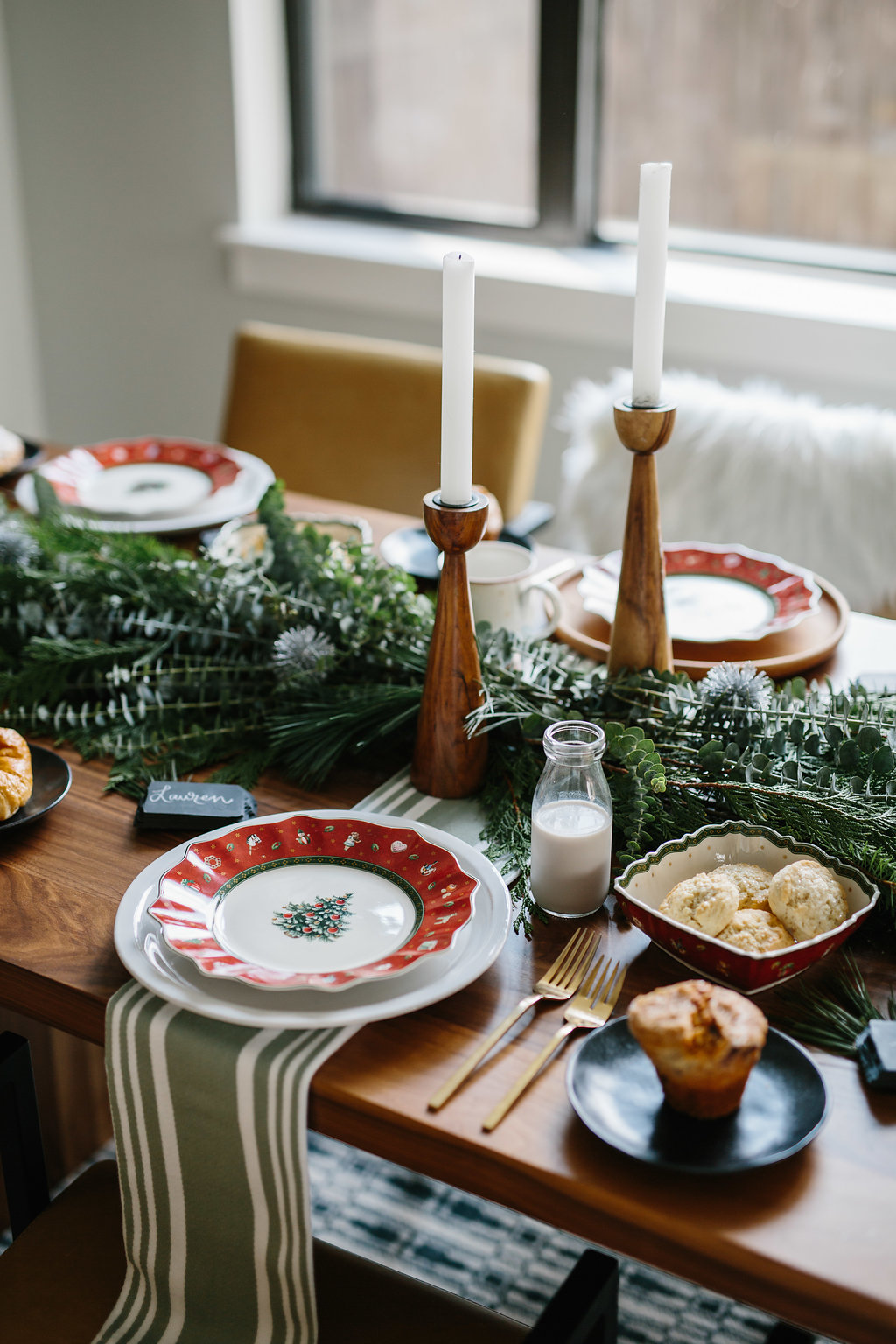 First, we chose a simple color palette, so that the red on the Villeroy & Boch Toy's Delight salad plates would really pop! Most people's every day dishware is neutral so this is a great opportunity to utilize your every day dishes with a seasonal pattern. (Matching dinner plates here!)
Second, we looked to wood accents to warm up the table.  These dishes have a beautiful, glossy finish, so we looked to the wood to juxtapose that and give it a more casual feeling.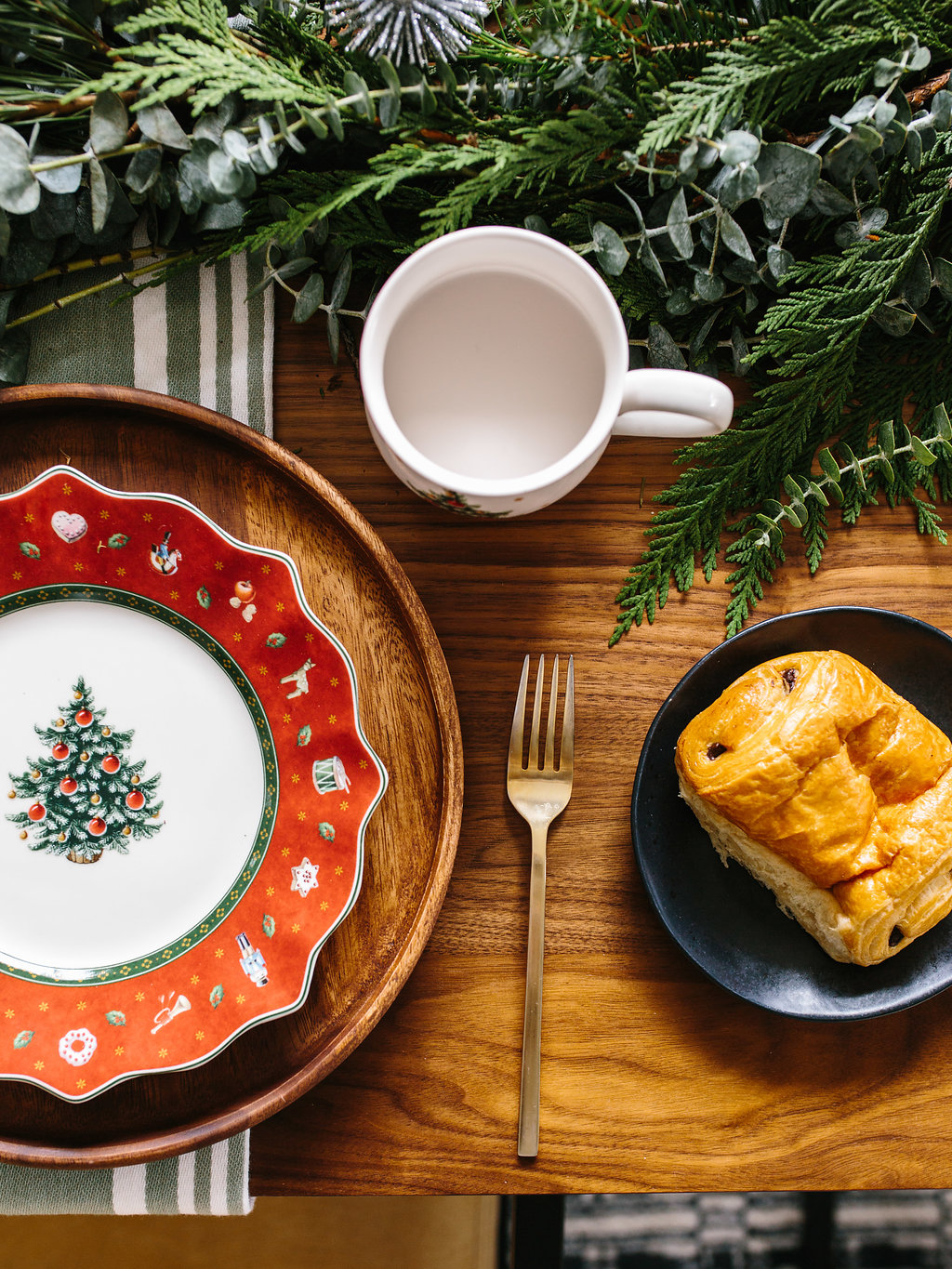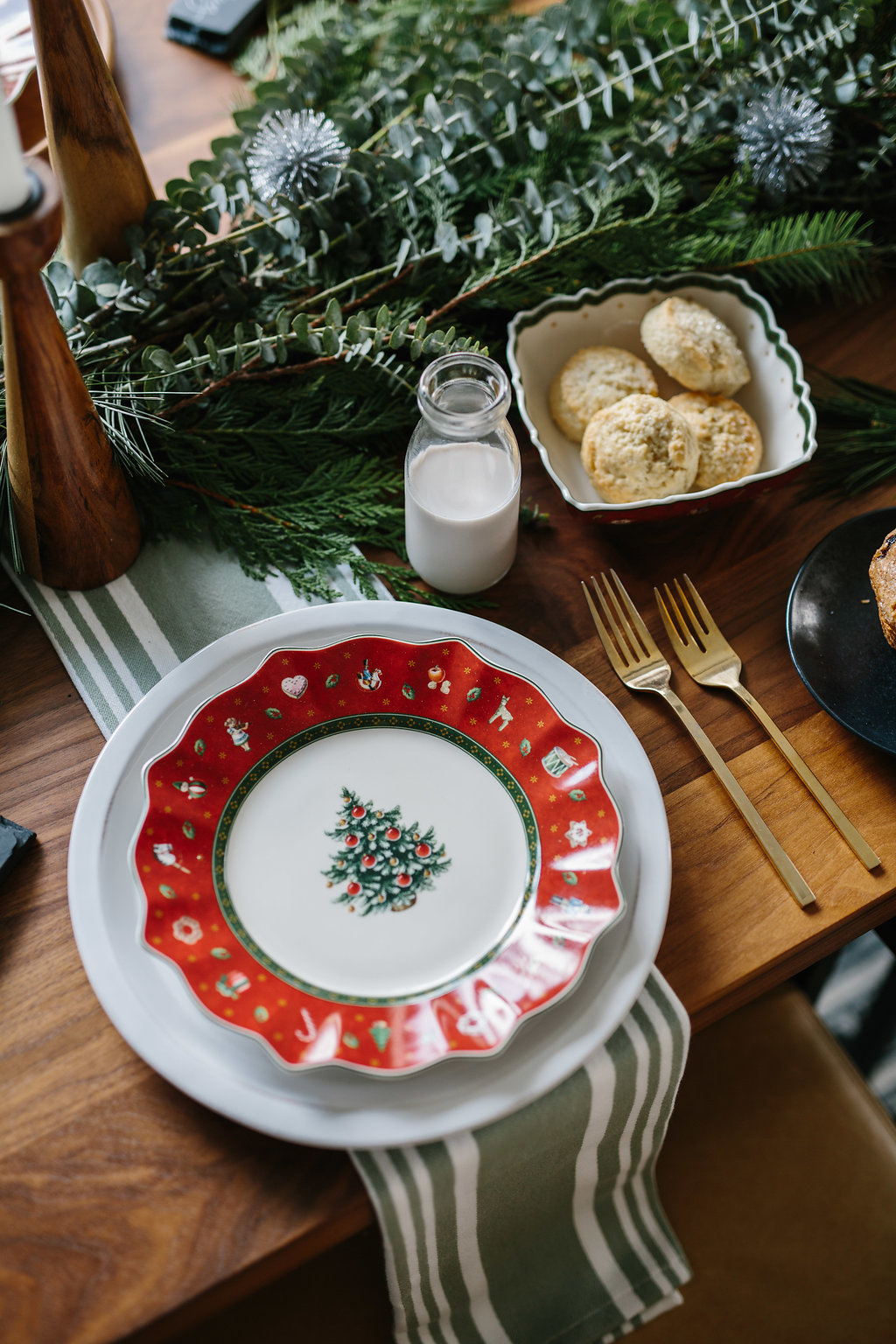 In lieu of placemats, we used these sage and white striped tea towels to layer under the plates.  We overlapped them in the middle of the table and then covered the center of the table with fresh evergreen and eucalyptus branches.  We used a mix of the Villeroy & Boch Christmas mugs and clear glassware in different styles so it didn't feel to fussy. (I've been enjoying my morning coffee in these mugs ever since!)
The final touches include a set of Nordic walnut taper candle holders, slate place care holders and gold flatware to round out the table setting.  It feels so festive and also totally my style.
I love the idea of starting a holiday collection like this and allowing people to add to it over the years.  Or you could start a collection for someone else this Christmas.  I love that these cheery plates will inevitably bring a smile to faces every holiday for years to come!  (Just like they have to mine!)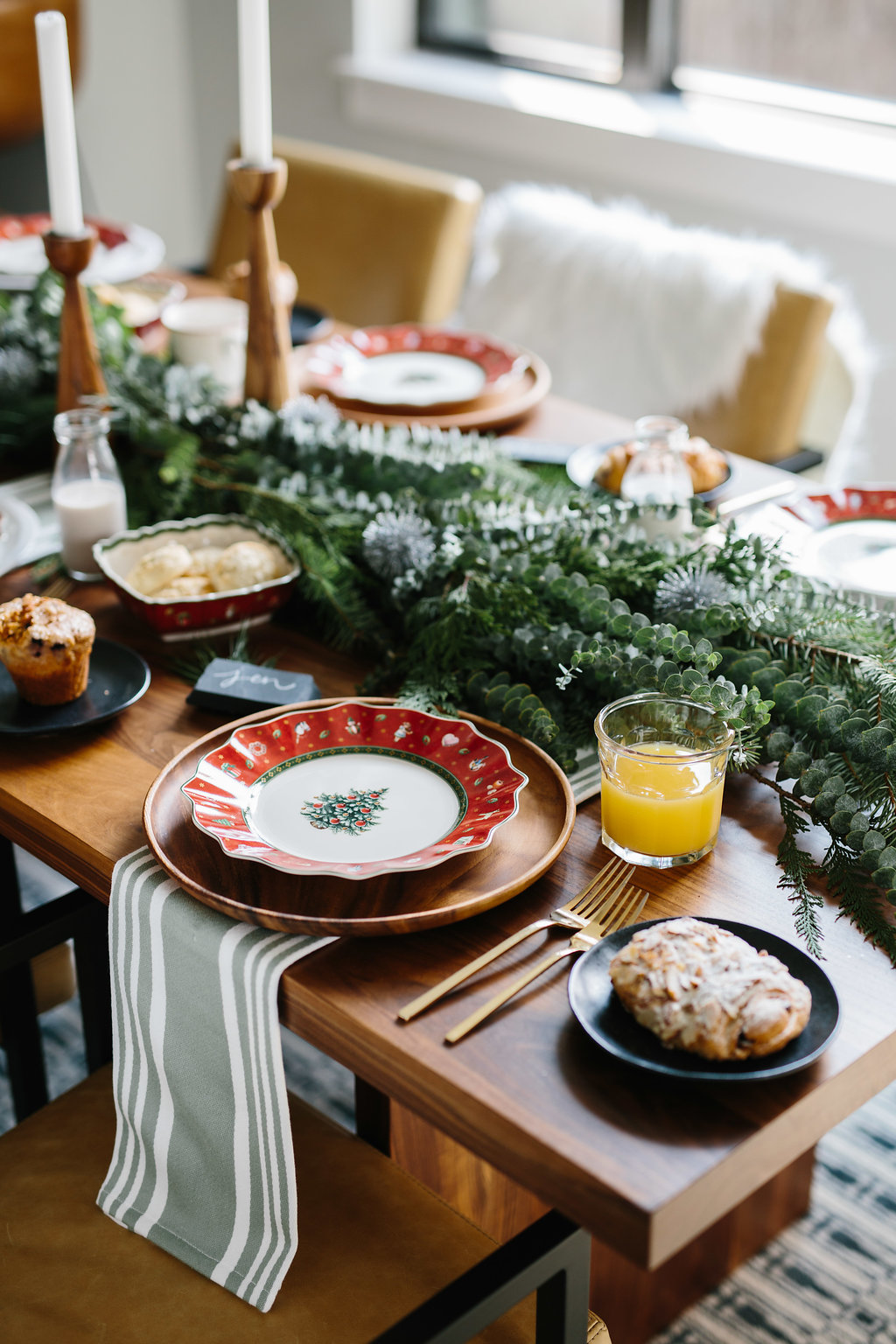 Salad Plate || Mugs || Small Serving Dishes || Entire Toy's Delight Collection || Matching Dinner Plates
Photography by Katie Jameson
This post is sponsored by Villeroy & Boch. All thoughts and opinions are my own!