Planning a trip to Santa Fe? We've stayed at the Four Seasons Resort Rancho Encantado in Santa Fe, New Mexico twice with kids and are excited to spill all of the details on this magical place...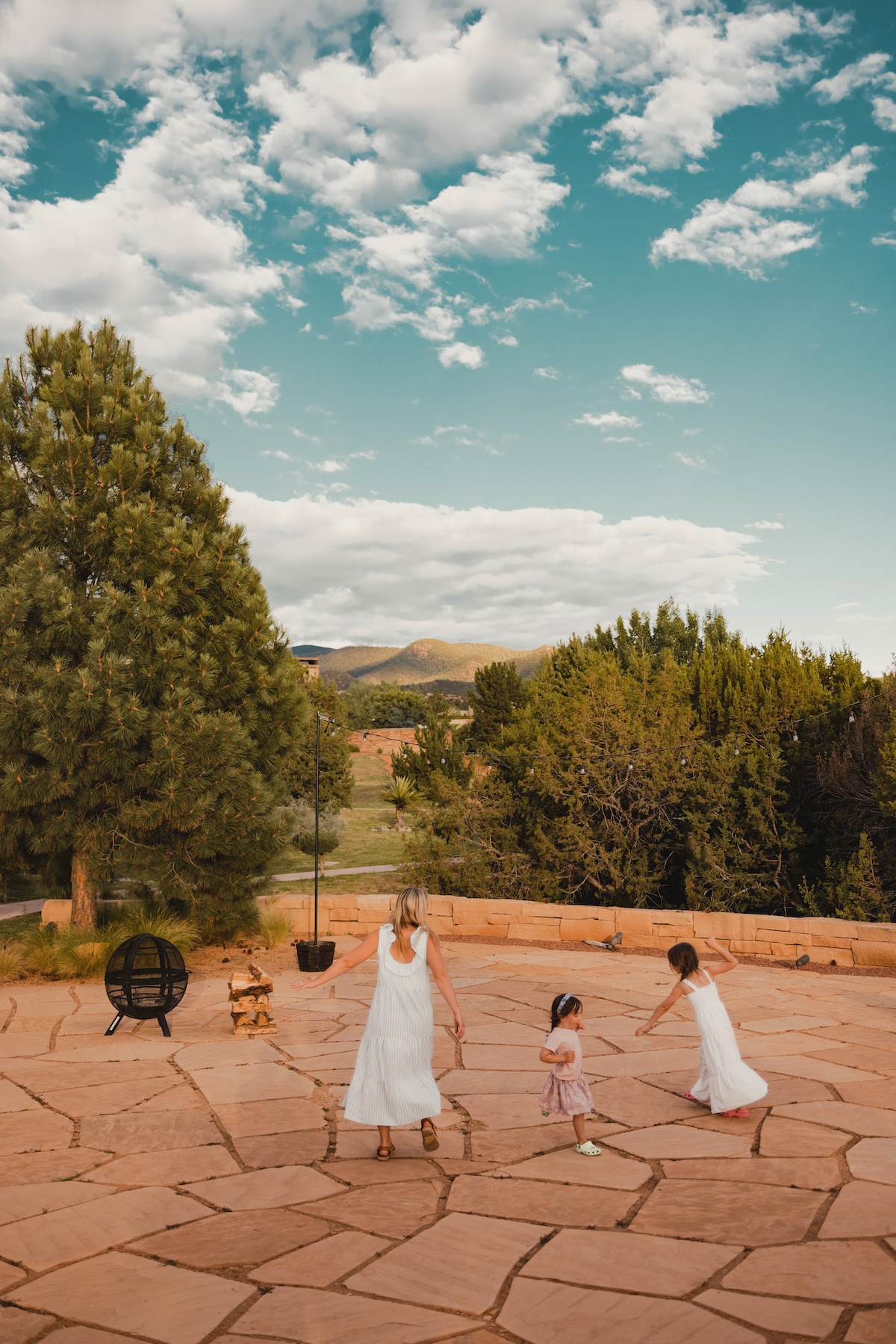 You might have noticed that we beat the Texas heat for the cooler temperatures of Santa Fe, New Mexico last month. We were already planning to drive to Colorado and figured a stop in this city that we fell in love with in 2018 would be the perfect spot. The last time we stayed in Santa Fe, we split our time between a rental home and the Four Seasons Resort and decided to opt for the Four Seasons again this time. I received a lot of questions about the hotel in my DMs and figured this favorite spot of ours deserved an entire breakdown. (For more, check out our What to do in Santa Fe post and 5 Best Restaurants in Santa Fe.)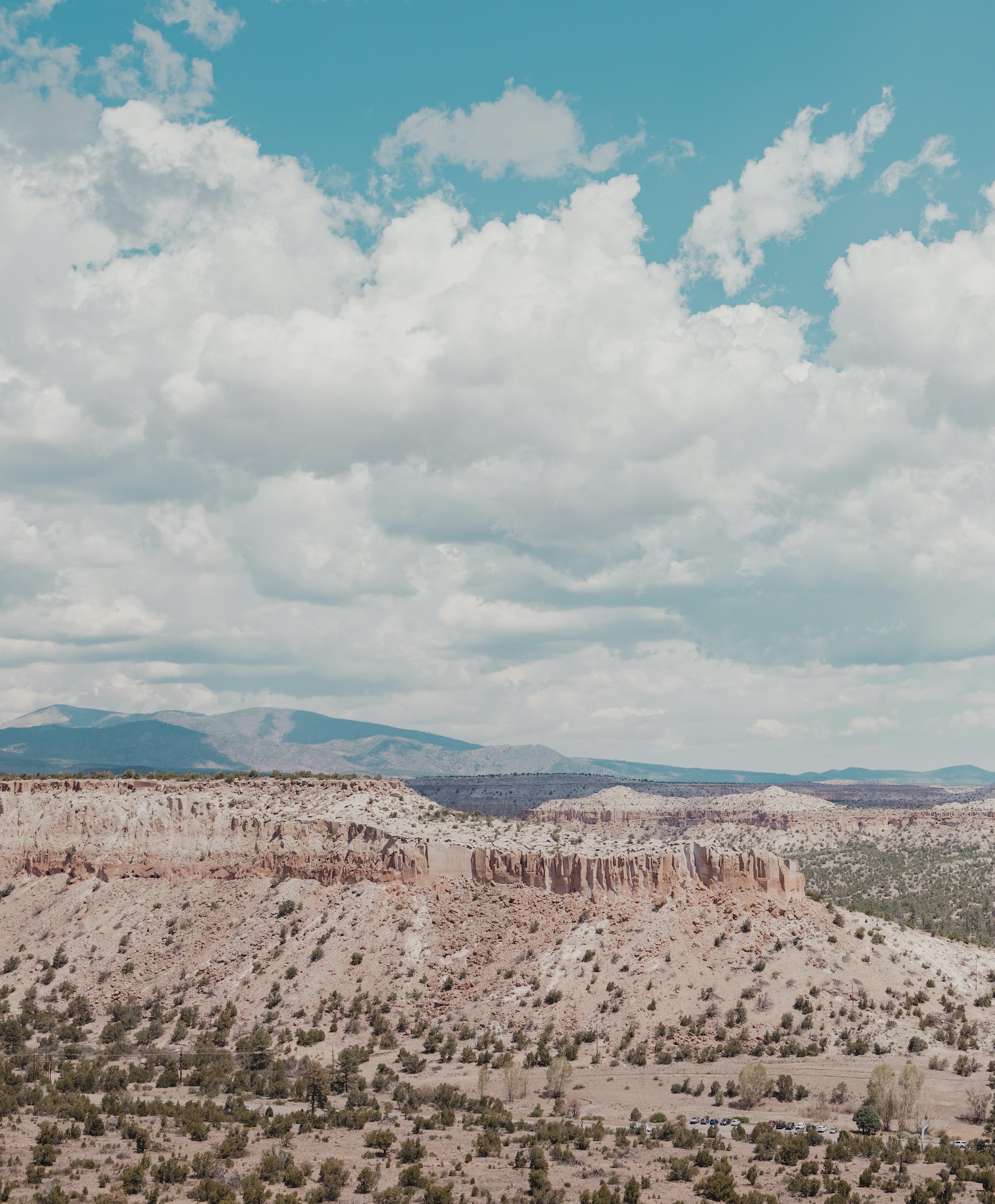 Why we love Santa Fe for family trips
In some ways, Santa Fe is not the most kid-friendly city. For one, many restaurants don't offer high chairs. Not just high-end restaurants either, cafes and burger joints, too. Secondly, there don't seem to be a lot of kids in Santa Fe. The demographics of the city skew older which could be a reason for Santa Fe not feeling overly accommodating for kids. That said, don't let this deter you! Santa Fe is one of our family's top places to go together! There are an abundance of easy hiking trails that allow kids to stretch their legs and test their bravery. There is a deep-rooted history and expressive Native American culture found here that allows for a meaningful learning experience. There are new flavors for kids to taste and an ample amount of art from Georgia O'Keefe to Meow Wolf for young, curious minds to explore.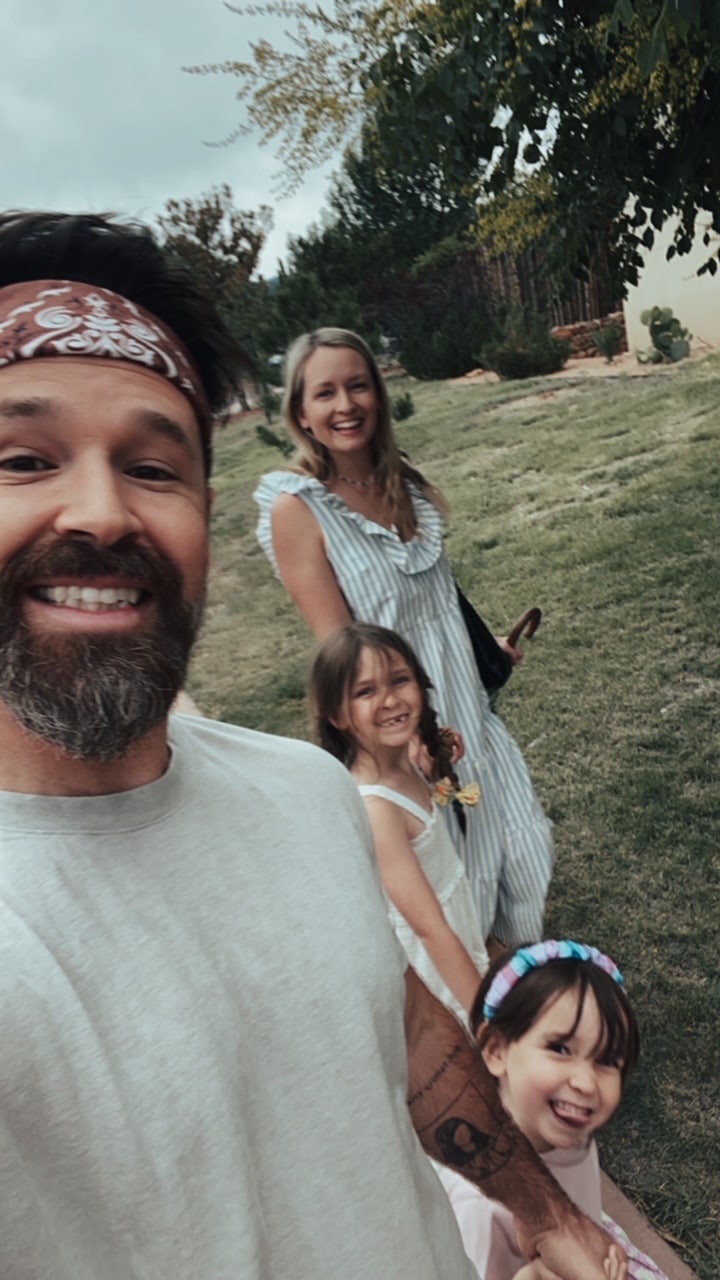 How to get to Santa Fe
You can fly directly into the small Santa Fe Municipal Airport from hubs like Phoenix, Denver and Dallas. From other airports, it's an easy flight directly into Albuquerque followed by a quick 45 minute drive to Santa Fe. For this trip, we actually drove the 10 hours and 45 minutes from Austin, stopping overnight in Lubbock, Texas.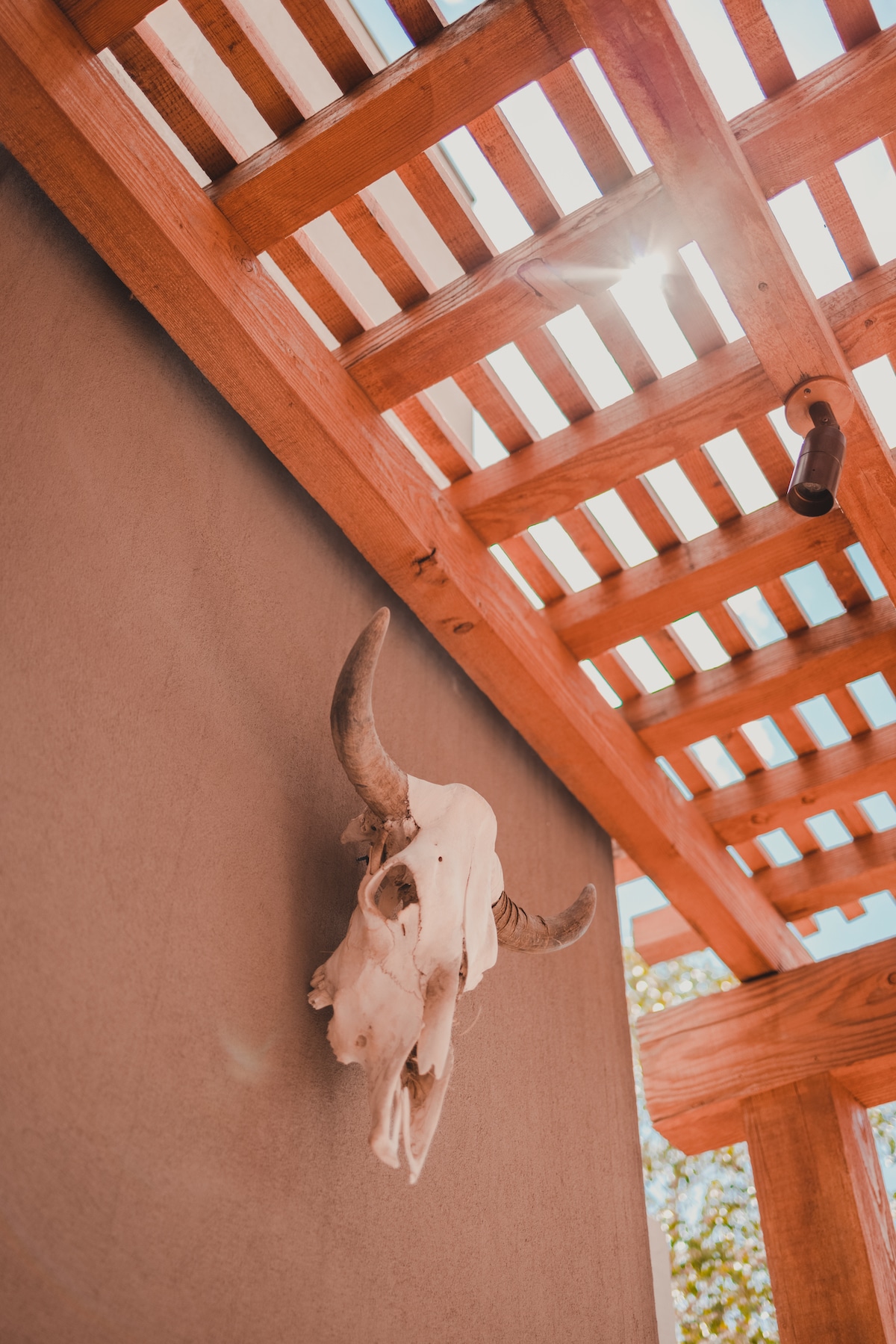 What we love about the Four Seasons Resort Rancho Encantado
Like I mentioned earlier, we first stayed at the Four Seasons Resort Rancho Encantado in Santa Fe in 2018, when Parker was 4 years old and Ever was 10 months old. We had already been in Sante Fe for 5 nights and were contemplating if the trip was too long. The moment we arrived on the property, though, we fell in love. Here's why...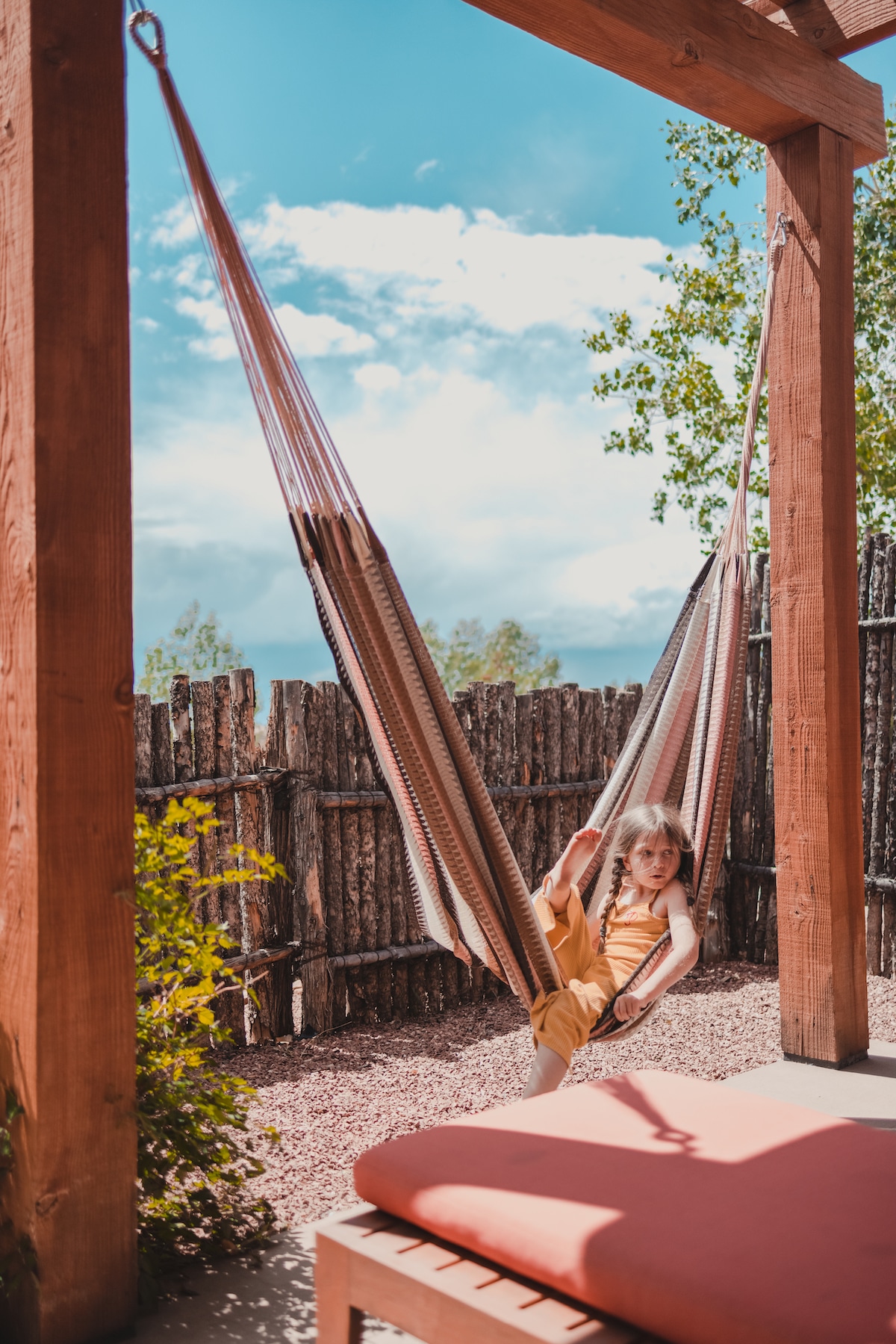 The Room
During both of our trips we have stayed in the Sunset Suite which is an incredible option for families! It's a casita style space that boasts a spacious primary bedroom with a large bathroom and over-sized soaking tub. The bathroom is so big that we easily rolled a full-size crib into it for Ever to sleep in during our first trip when she was a baby. The bedroom is separated from the living area with two big double doors.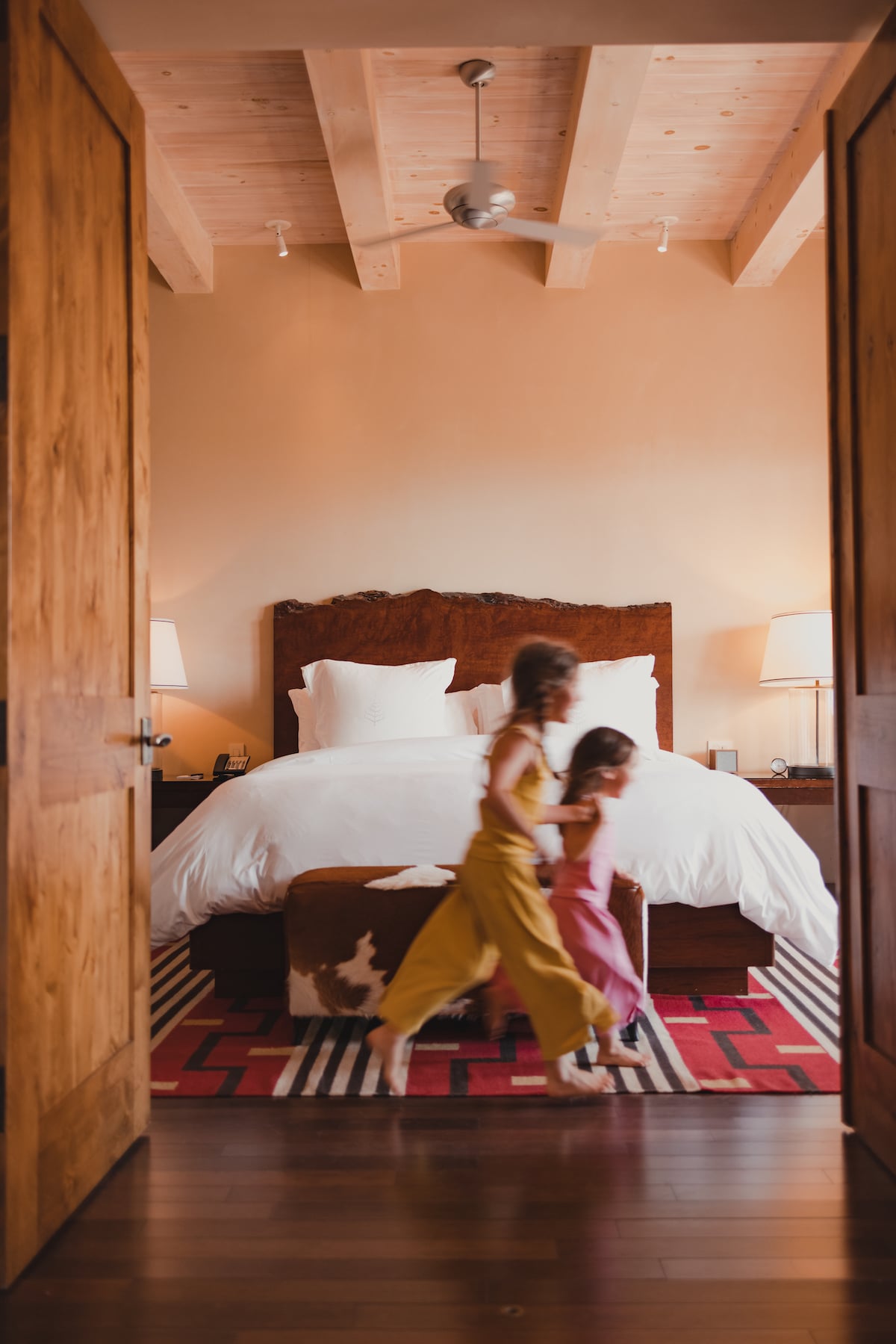 (Girls' ribbed knit sets from La Paloma)
The living area is complete with a small table and chairs, wood-burning fireplace, a kitchenette, half bathroom and a sleeper sofa where both of our girls slept this time. Both the living area and the bedroom have double french doors that open to the same large patio complete with a fireplace, hammock, table and chairs, and chaise lounges. The design feels minimal-modern-southwest and the overall vibe feels like a restful retreat. (And oh my gosh, the bed is so comfortable!)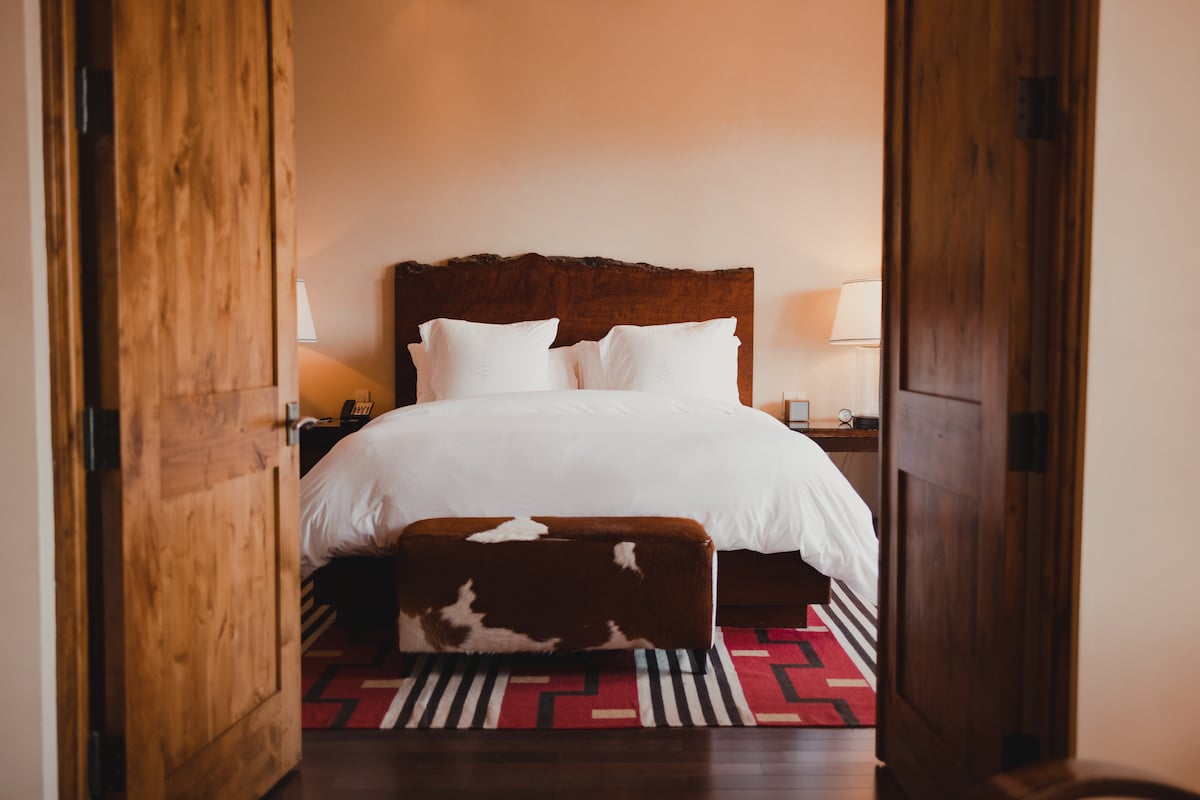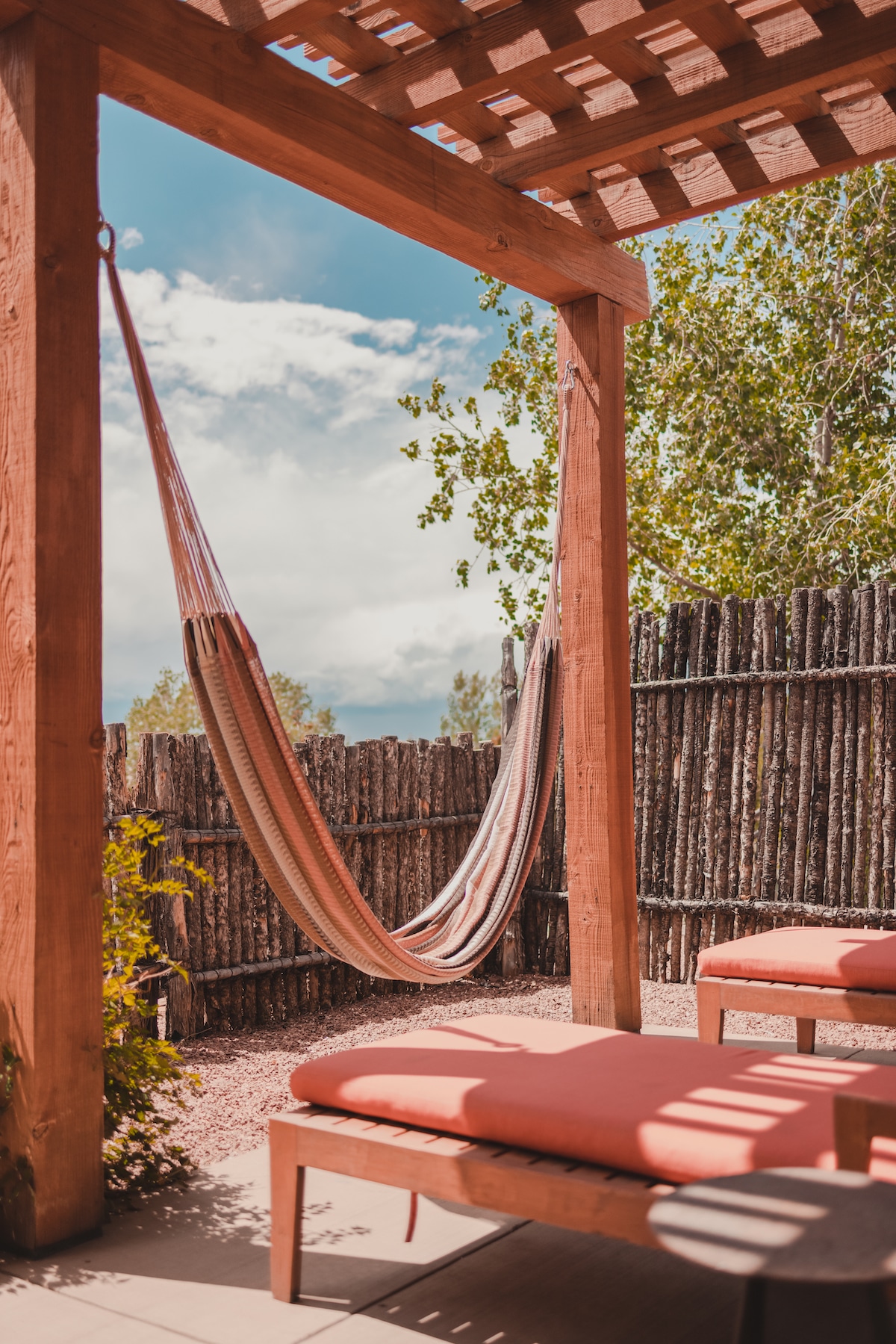 (You can check out the video room tour saved in my Santa Fe Instagram highlight here!)
The Food
This is not your typical hotel fare. We met the new chef at Terra, the restaurant on the property, on our first night and cannot say enough about the delicious things we ate that evening. There was a fresh-from-the-garden tomato salad with citrus and watercress, a shrimp paella that was bursting with flavor and so many other delicious bites. When Parker mentioned that she loves strawberry lemonade, they whipped a couple up fresh for her and Ever.
We ate at Terra every morning for breakfast and loved the variety. Aaron said their omelettes were "perfect" and the Huevos Rancheros that I ordered every morning was among the best I've ever had. There were so many options for the girls, too! They loved the blueberry pancakes best– crispy on the outside and light and fluffy in the middle! Perfection!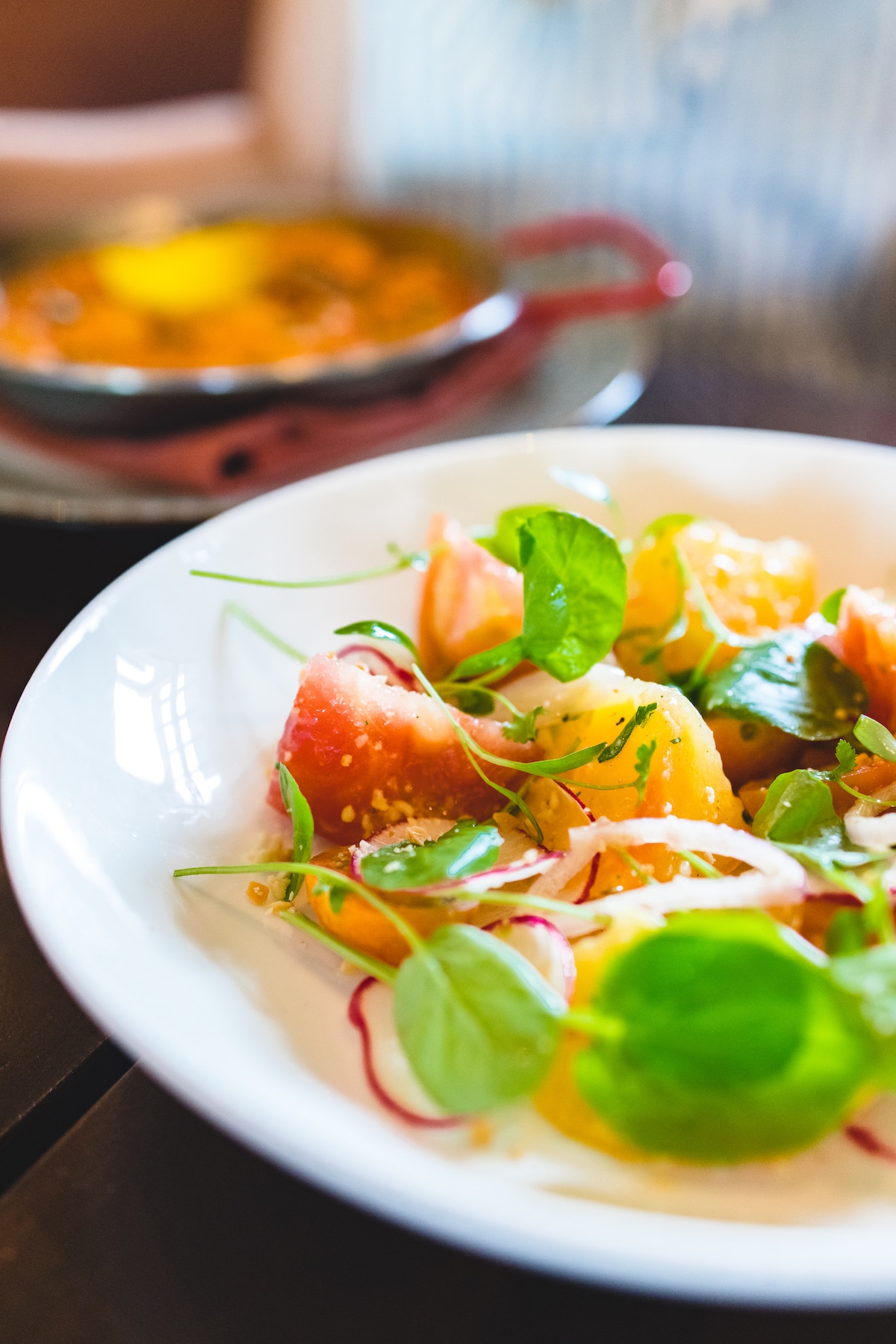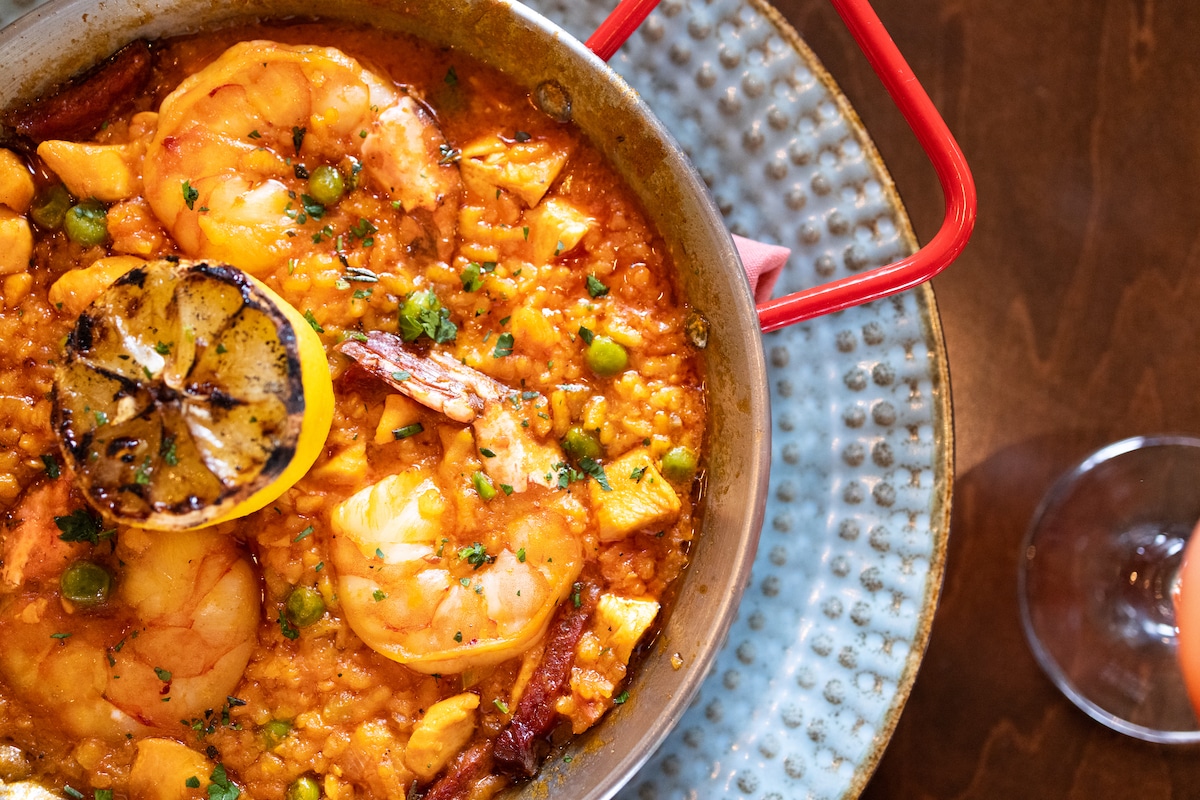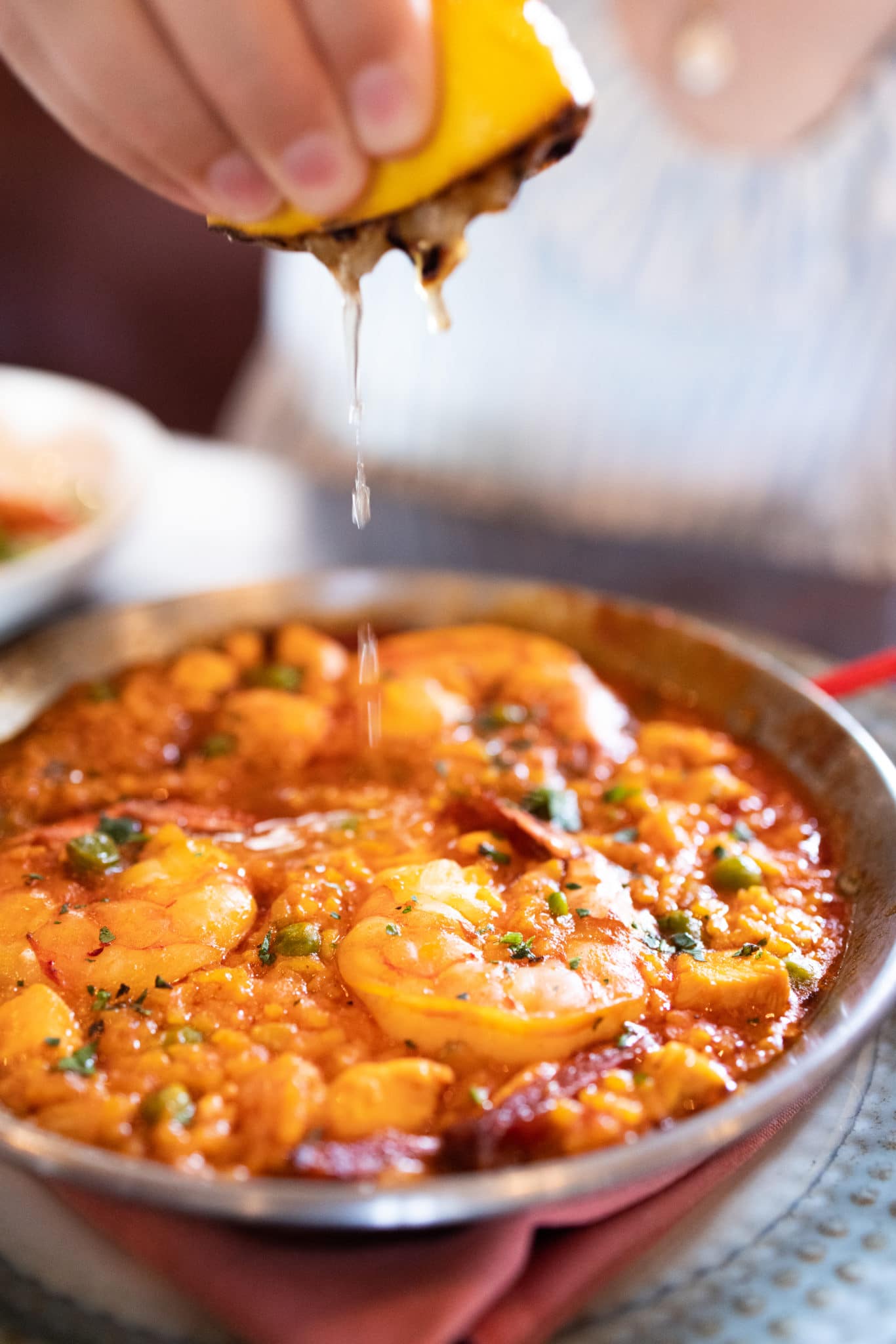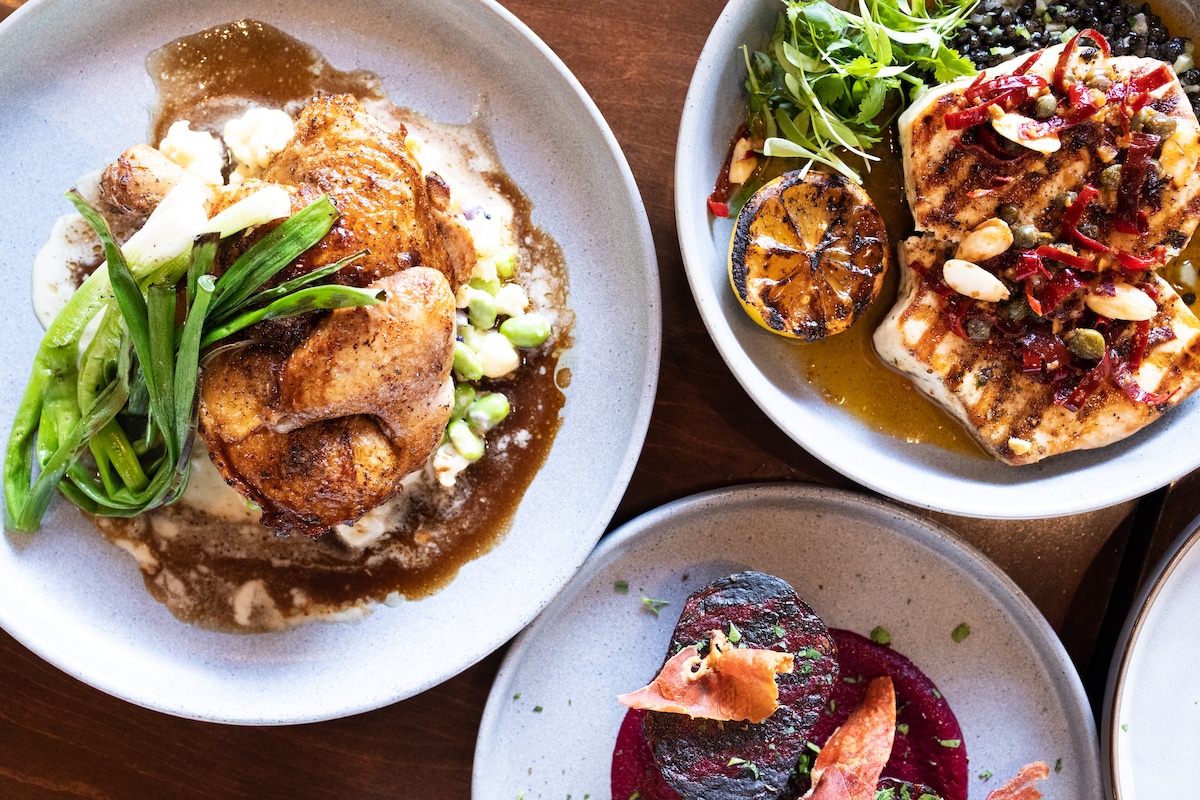 The Pool
The pool at the resort is up at the top of the property near the fitness center and yoga room. We've never found it overly crowded or busy and love ordering food and drinks there in the afternoon, especially after a morning of hiking! The pool cabanas were new for us this trip! You can reserve them for certain hours and enjoy food and beverage service. I highly recommend ordering the shrimp tacos and Parker would say the same about the strawberry lemonade!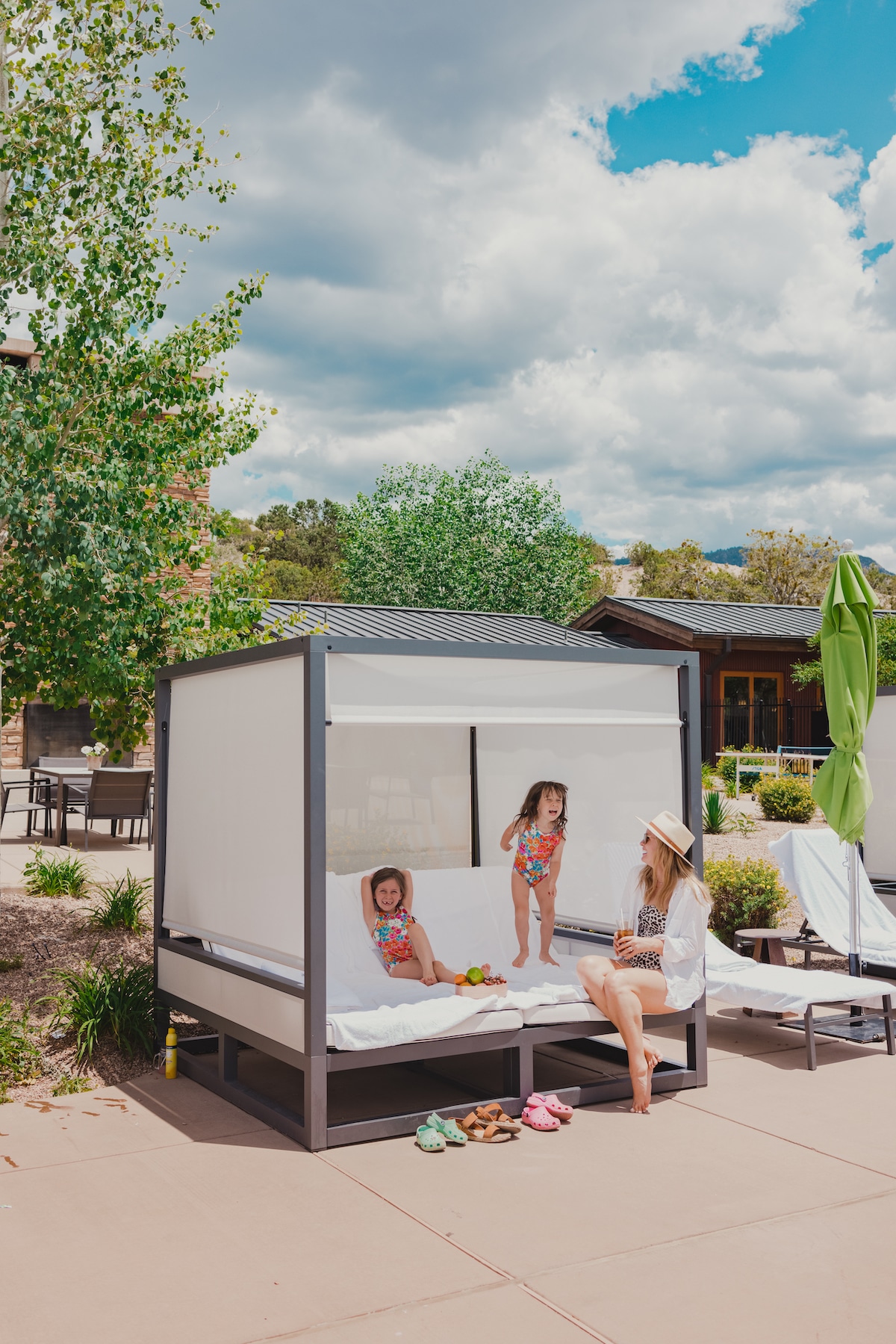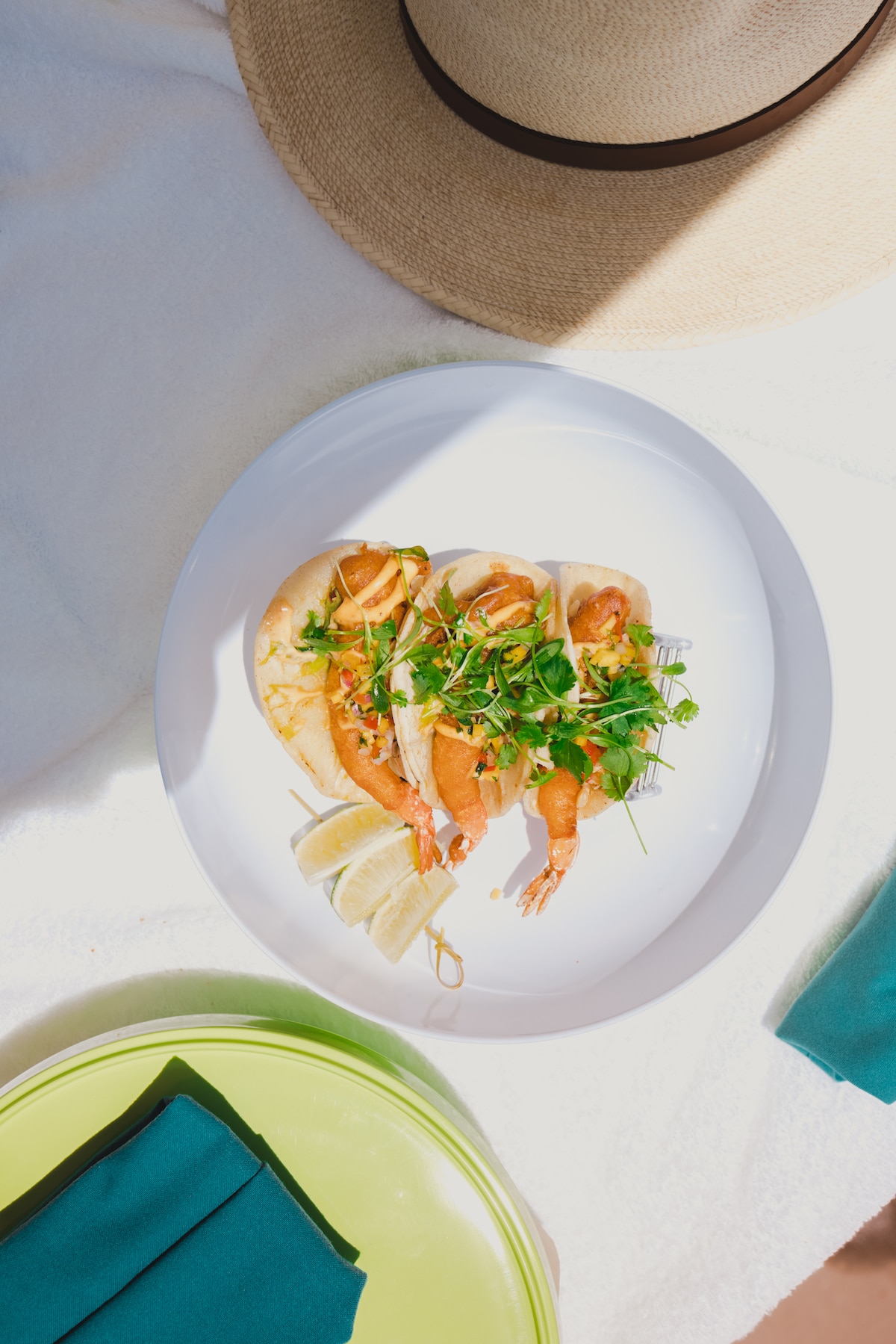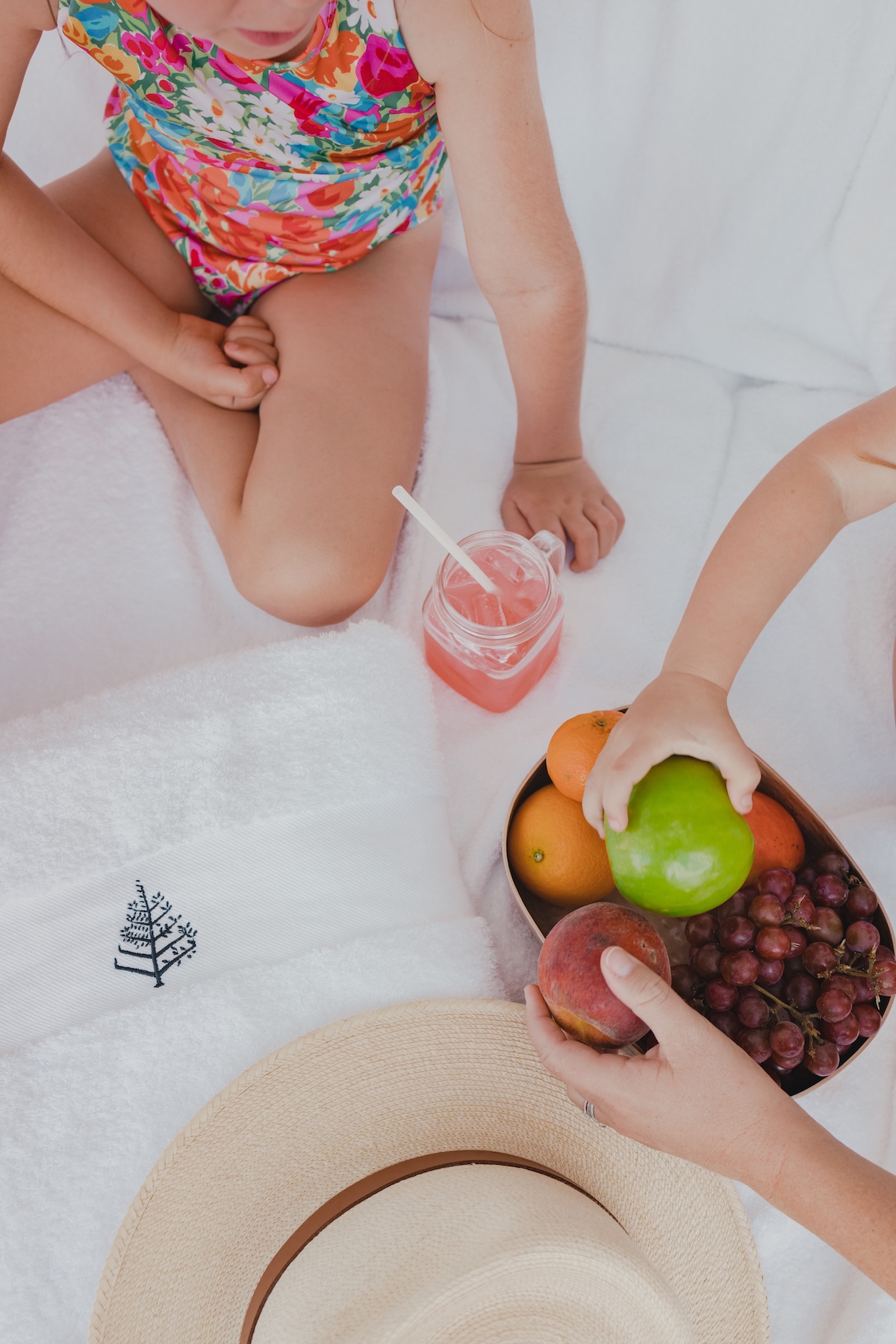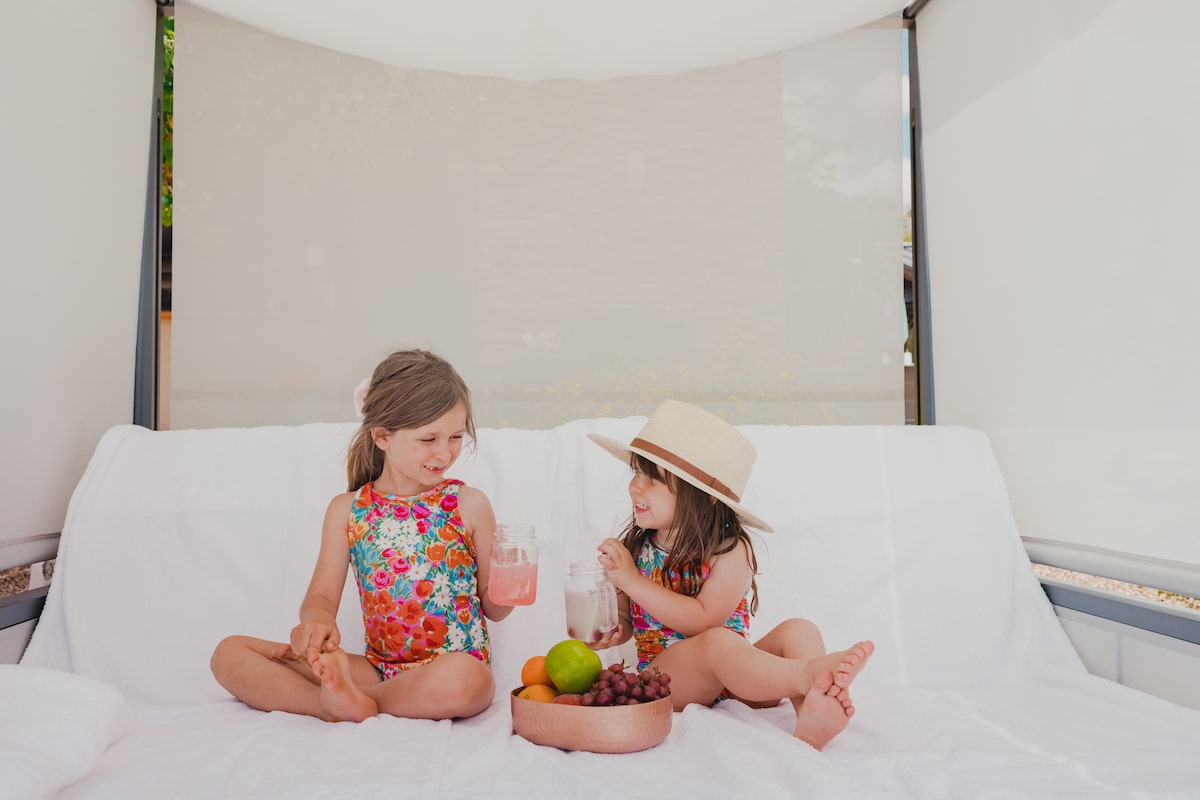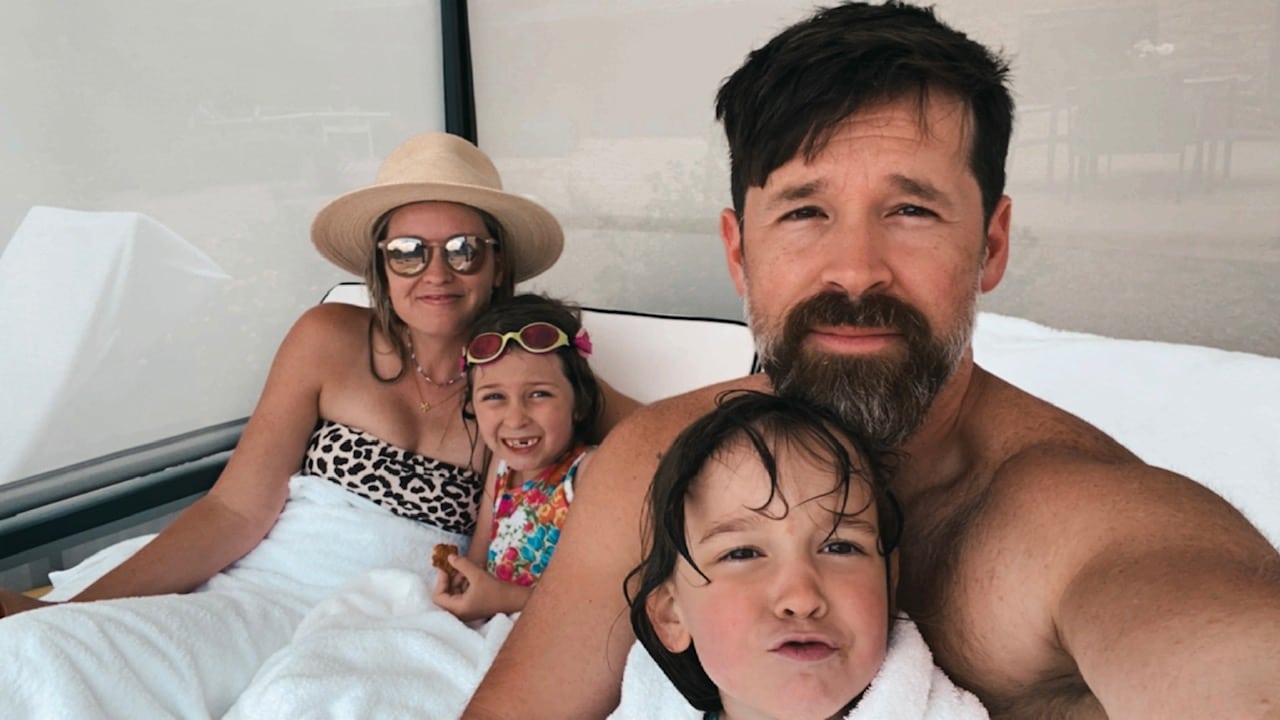 The girl's swimsuits are Bella Bliss for Frances Valentine
My swimsuit, J.Crew || My favorite white shirt, Grayson
The Property
The idyllic 65-room resort is set on 57 rolling acres in the foothills of the Sangre de Cristo mountains in Santa Fe. It's just a 15 minute drive to downtown Santa Fe and the square of shops and restaurants, but feels much more removed. Both times we have visited, life seems to slow down in the best possible way when you're on the property. All of our meals are eaten outside and the girls regularly adventure off the patio collecting pinecones and other "treasures" while Aaron and I finish our meal and chat. The sunsets and sunrises from our casita patio are epic.
Pro tip: Hit up the firepit after dinner for complimentary s'mores by the fireside!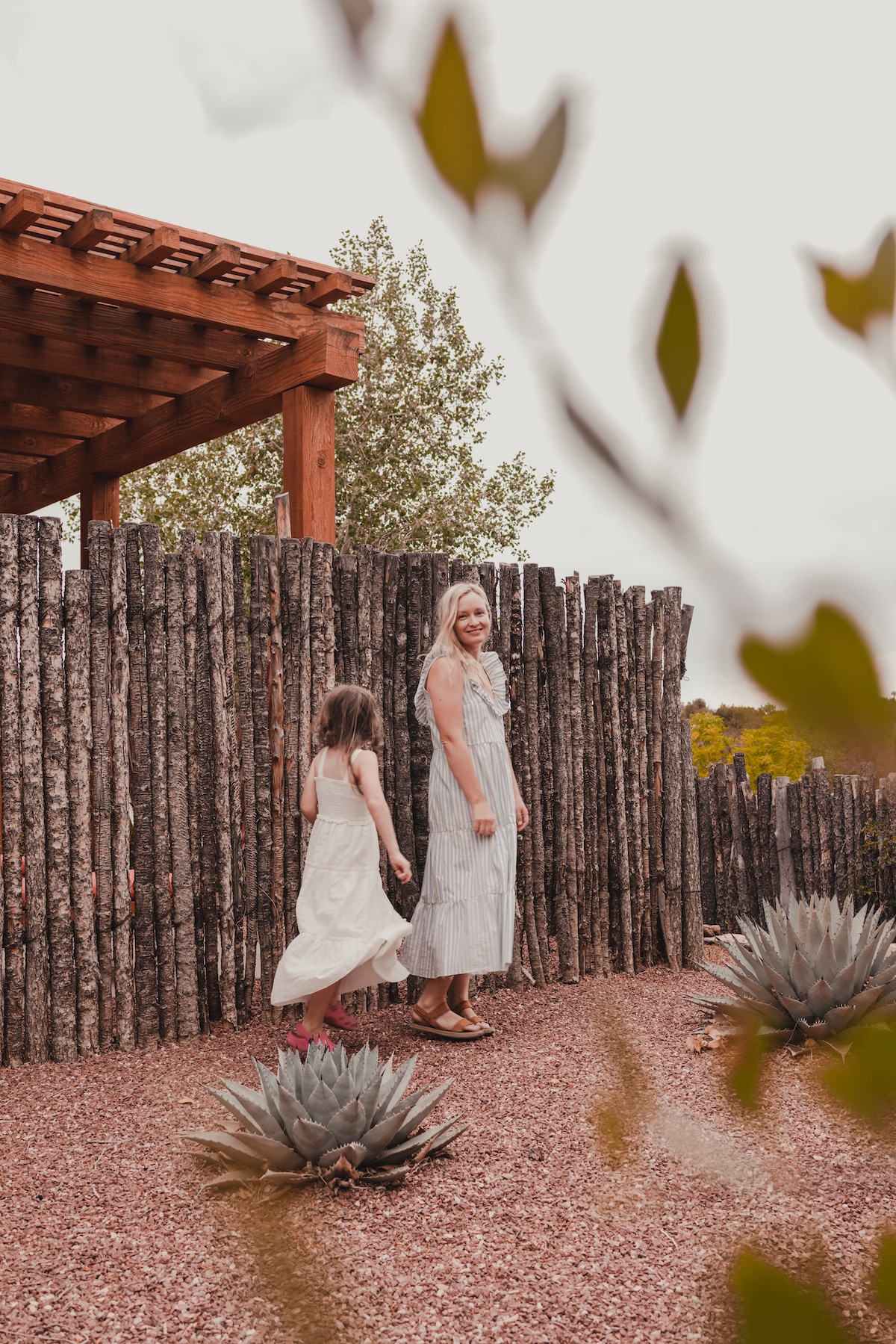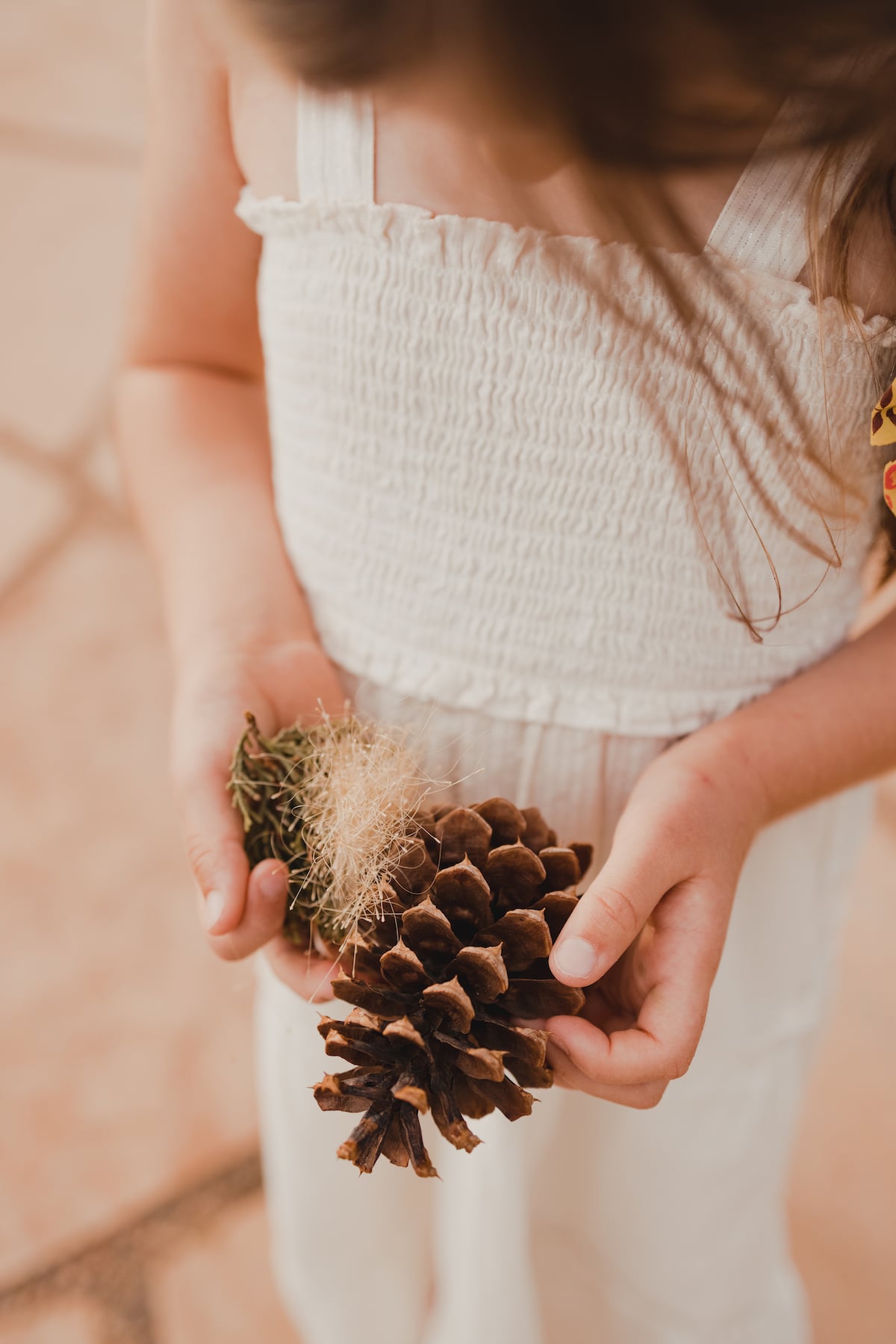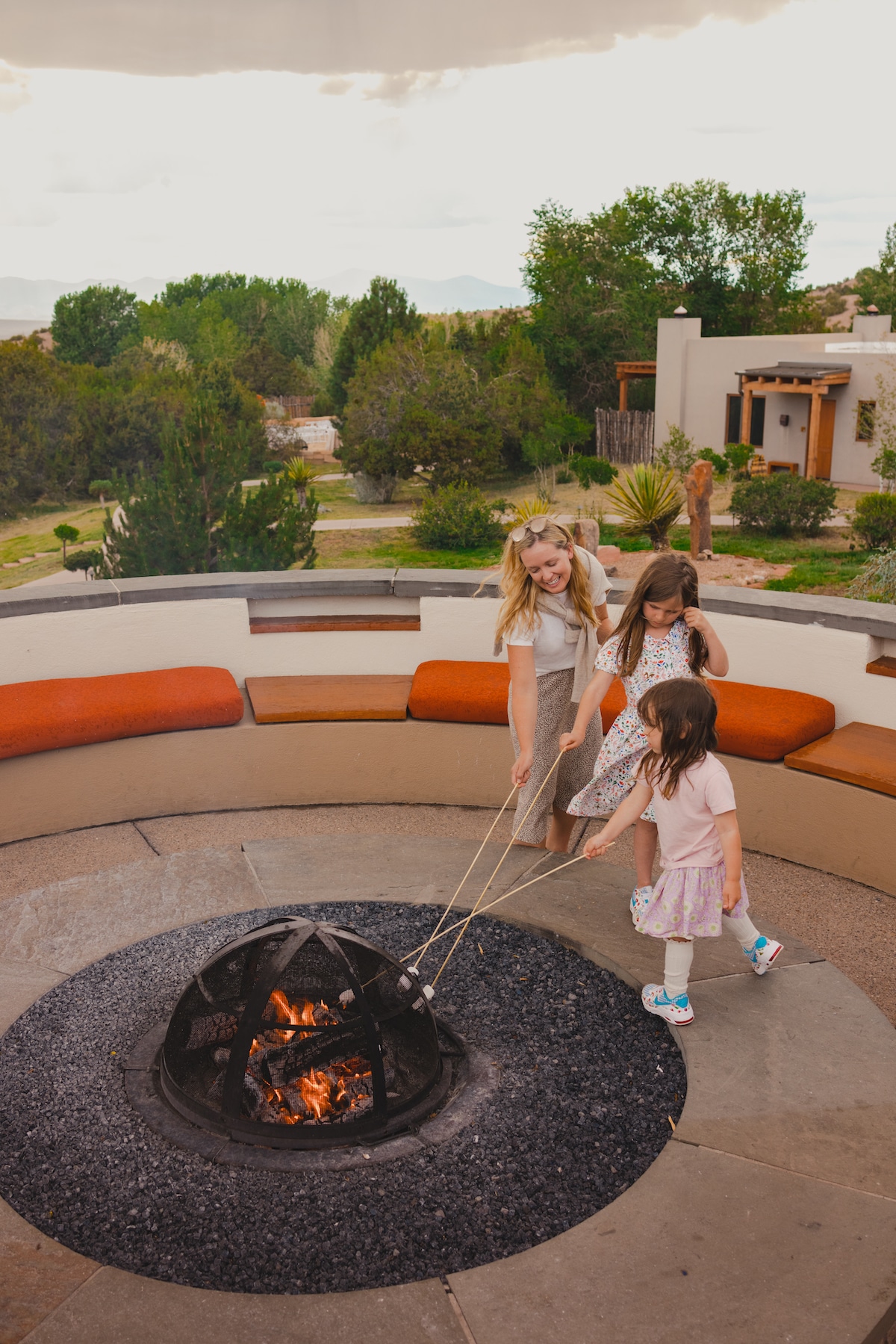 Above: my dress, Sezane || Ever's look, The Dopple || Parker's dress, Zunie Kids
S'mores looks: my skirt, Jenni Kayne || Ever + Parker, The Dopple
The Guided Adventures
During both of our Four Seasons Santa Fe stays we have signed up for a guided adventure. This time our guide was Joe and we explored the Tsankawi Prehistoric Site at Bandelier National Monument. It was a beautiful hike through the unexcavated prehistoric sites, past wildflowers and up and down a pair of wooden ladders.
While we've done plenty of solo hikes with the kids, it's really cool to do it with a local who has experience in the trails and can speak to the history, plants and landscape of the area. Joe is on the Santa Fe Search and Rescue team and well versed in all of the area's trails! He was a wealth of knowledge about the area! We enjoyed his company so much and so did the girls. Ever took to calling him Uncle Joe for most of the day! Joe taught Parker about lichen and she has enjoyed pointing it out to us on hikes in Texas and Colorado ever since.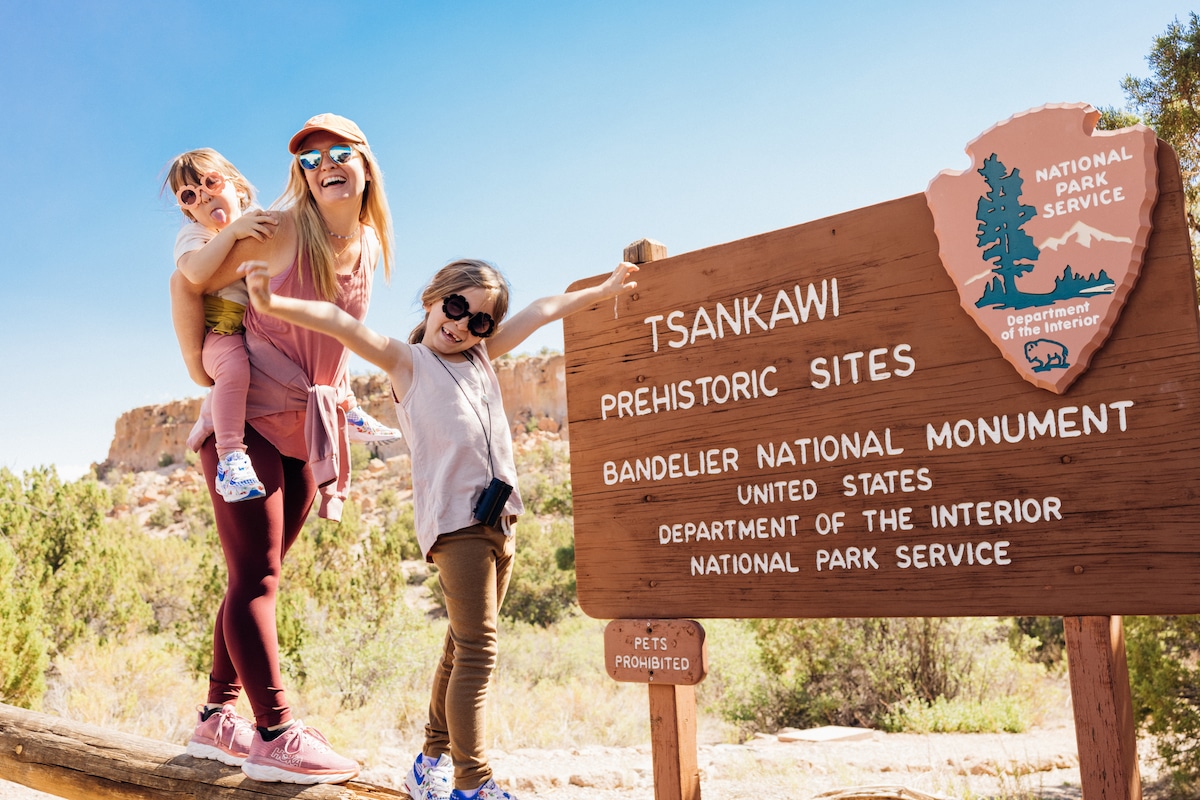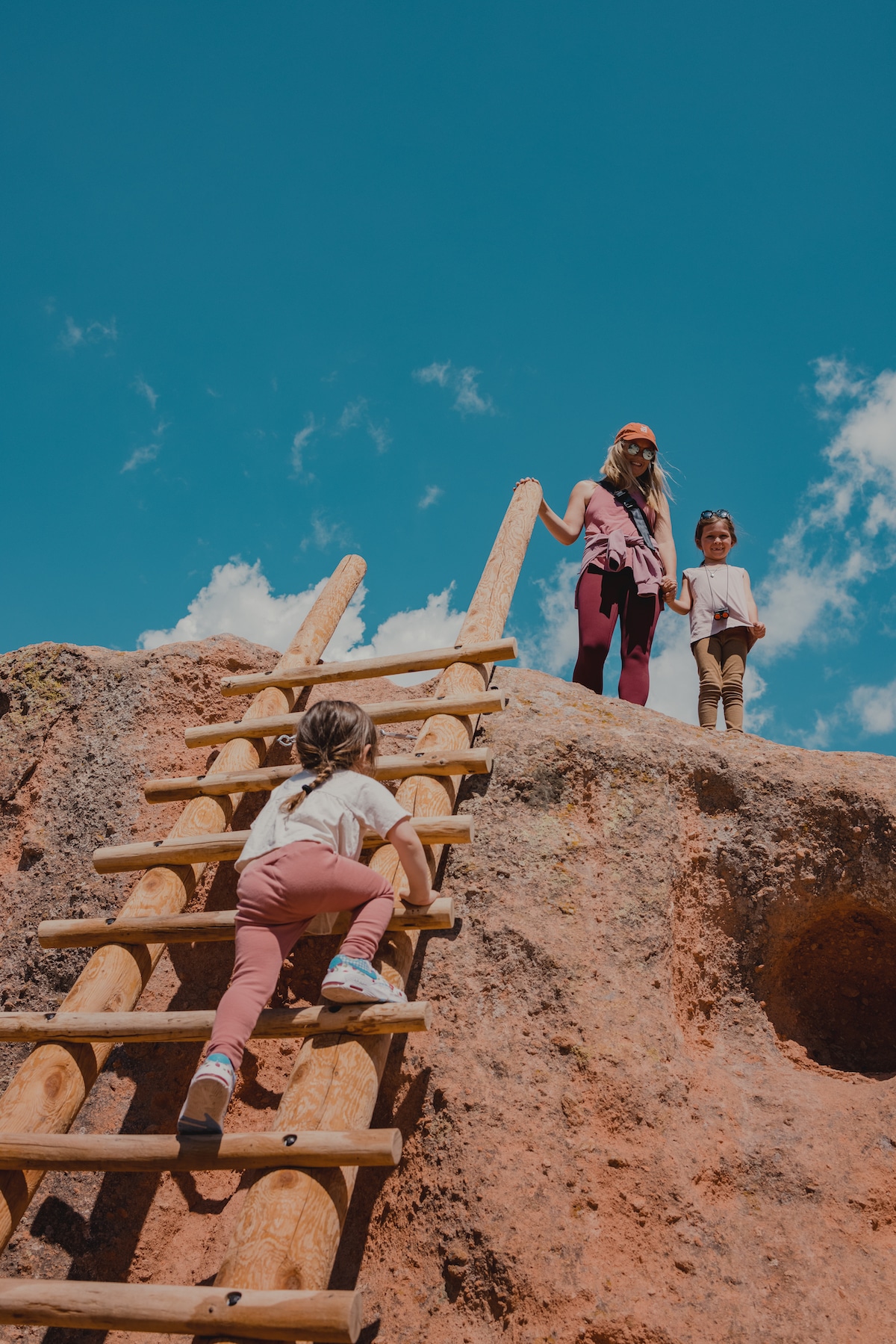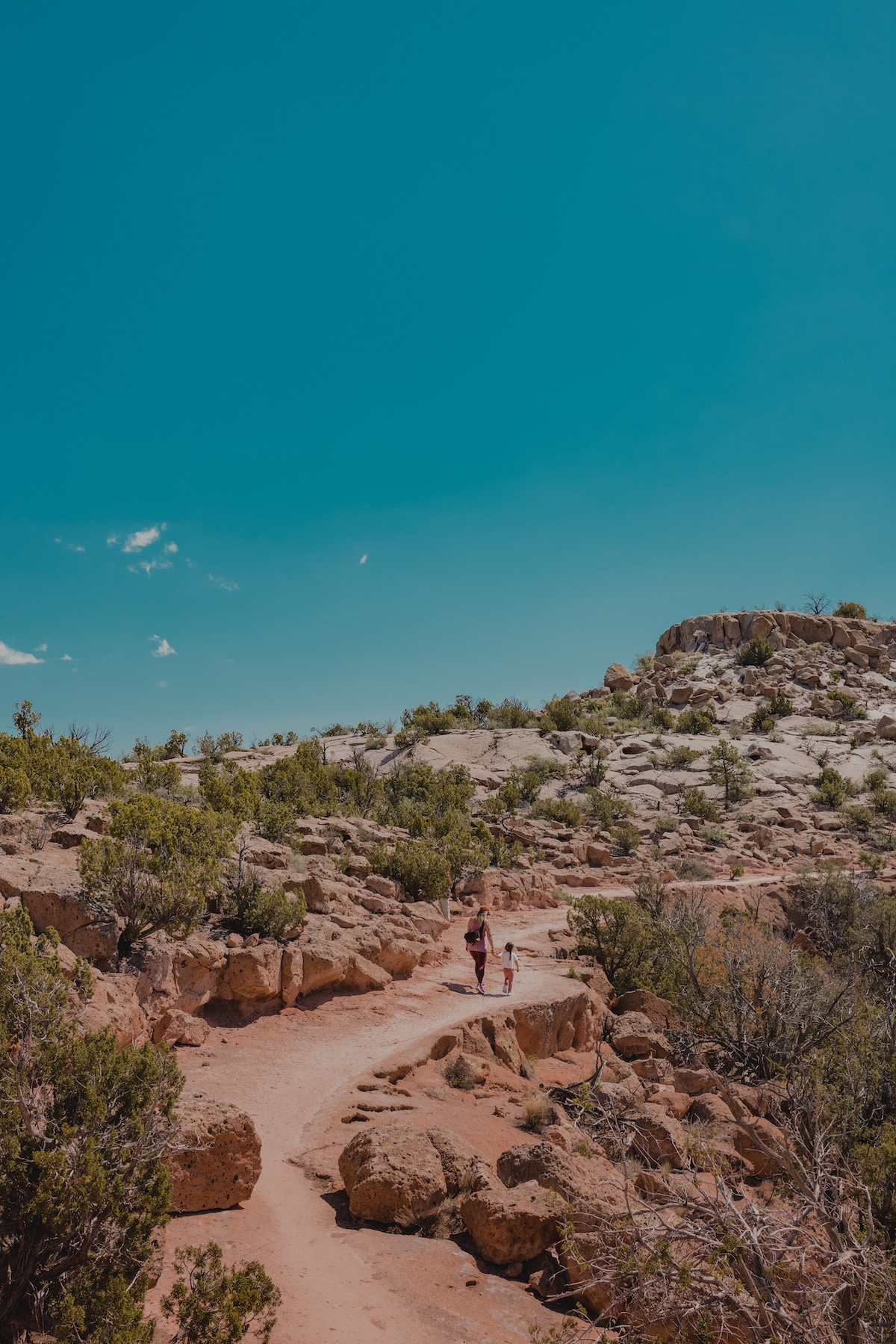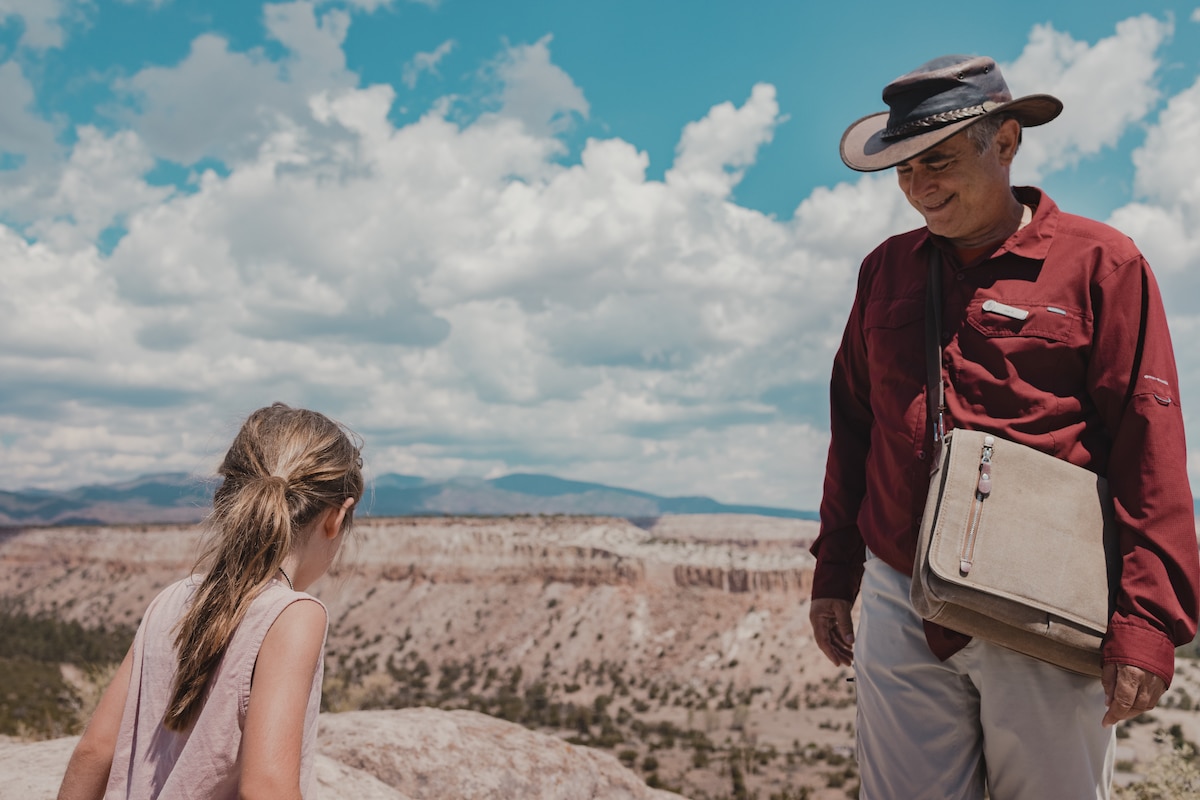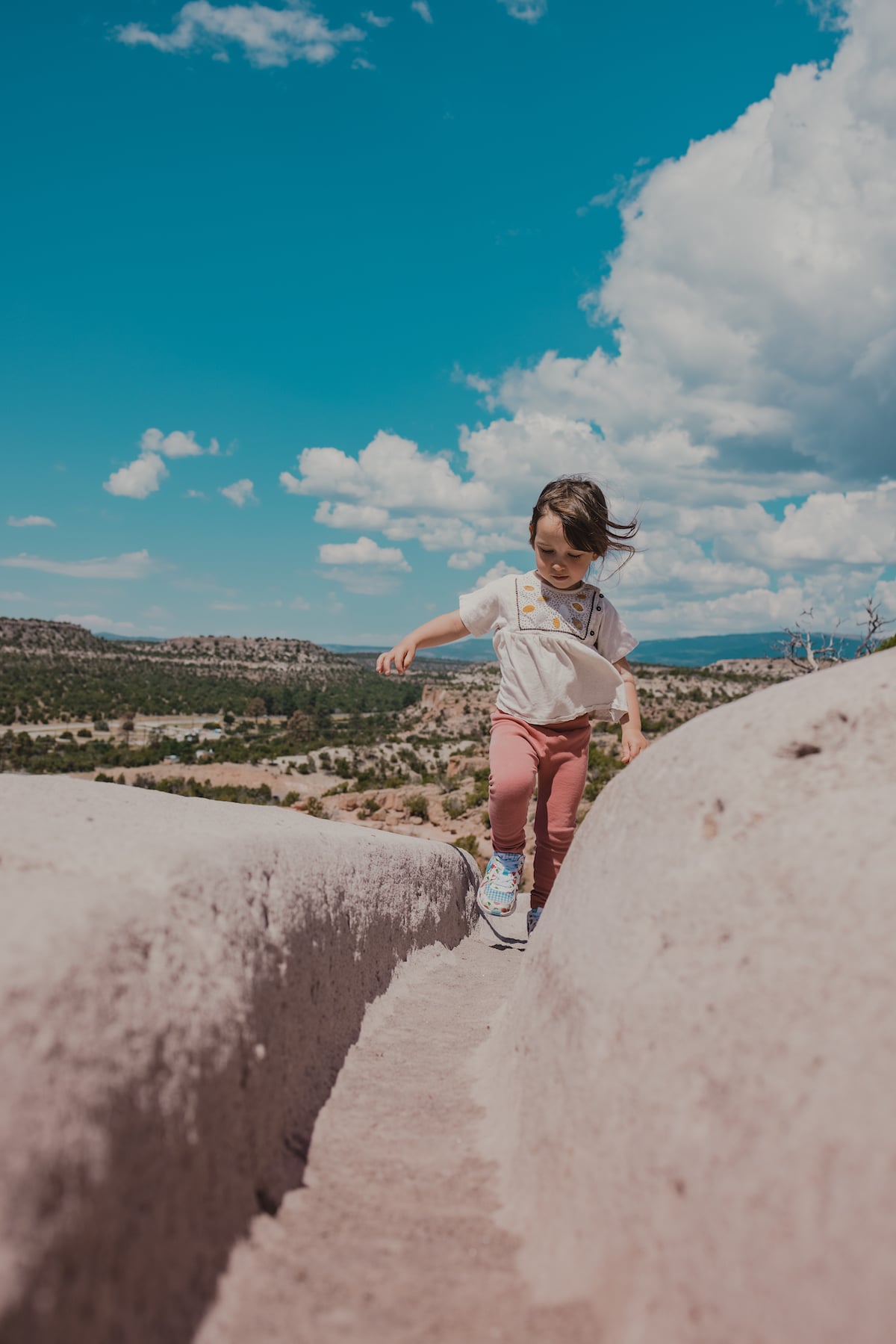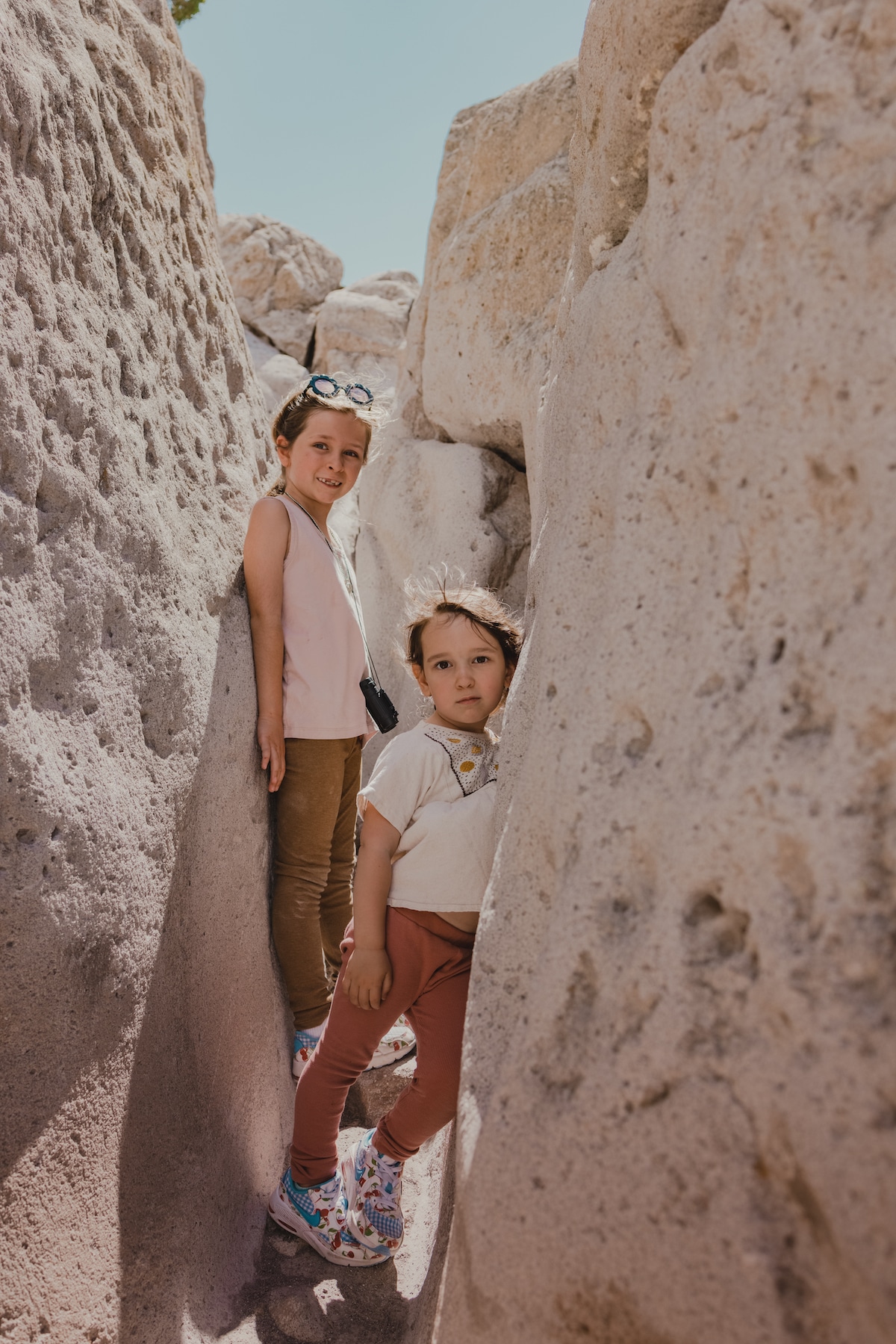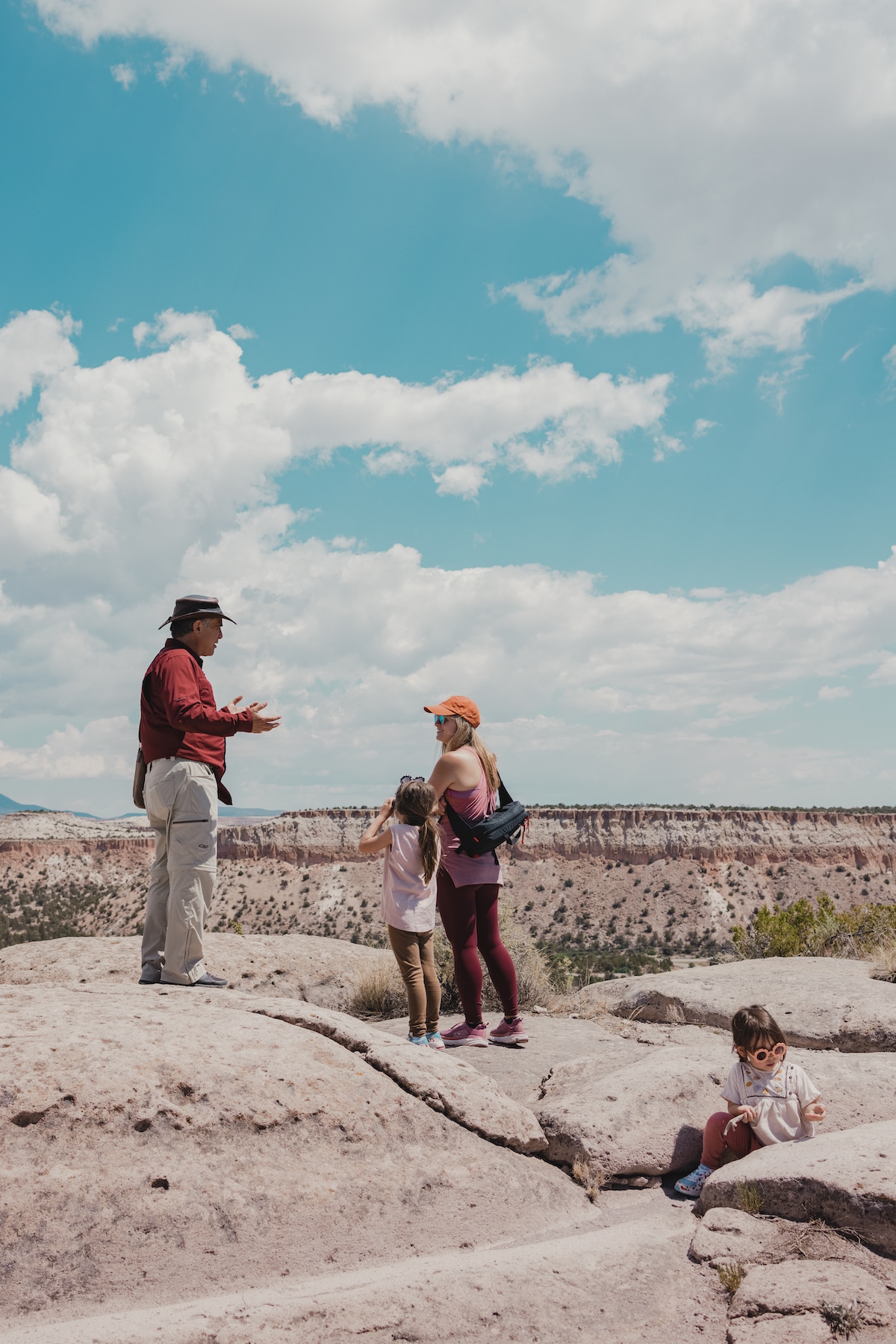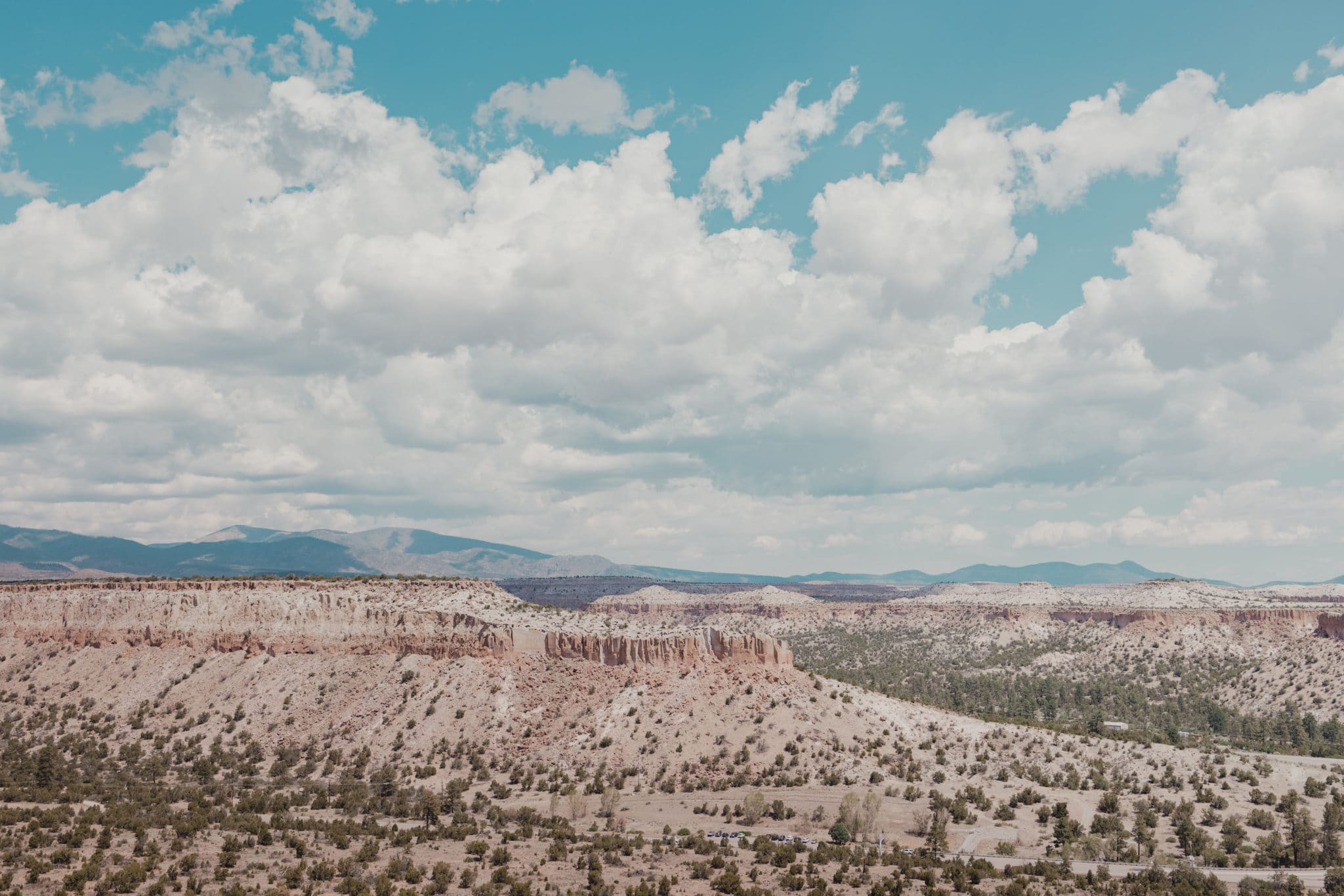 Current favorite legging, Lululemon || Always favorite sneaker, Hoka Bondis
The People
At least a dozen times during our three days in Santa Fe Parker exclaimed, "The people here are so nice!" It's true. Everyone we encountered at the Four Seasons resort was so warm and welcoming, in a calm and low-key way that makes you feel like you've met relaxed and like you've met before. The service and hospitality is truly unmatched!
Until next time, Santa Fe!
Have any questions for us? Leave them in the comments!
Photography by Aaron Pinkston
Many thanks to the Four Seasons for hosting us!