(A Note from Jen: When we announced that we were pregnant with bébé number two, I received a text from Lauren that her and her husband were expecting their first just a little over a month after us!  Lauren is also our gluten-free recipe contributor and is so generously sharing her daughter Flora's sweet nursery with us today!)
When I (Lauren) began to dream about our sweet little one's nursery, I had so many ideas swirling in my head. (Pinterest doesn't help with that!) I stared at what was then my husband's office and wondered how I would make the space feel cozy and sweet. Eventually I settled on the idea of calming colors, soft textures, and overall a neutral feel. My biggest inspiration for the space was a trip to Scandinavia that my husband and I took last fall. We stayed in the stunning Hotel Ett Hem in Sweden and I was immediately entrenched by the old building made new. It felt like a tranquil home away from home, where functionality meets beauty. From the second you stepped in you had feelings of comfort and security, of familiarity. Our bedroom was warm with a sophisticated edit of vintage and new pieces, and was filled with tactile materials like sheepskin, brass, marble, and woods. My favorite feature was the greenhouse in the garden, which was converted to an eating and sitting room. There was a rattan hanging chair in the corner, warm cozy blankets, pillows on every chair and greenery. So I started with that... But first the before of the space: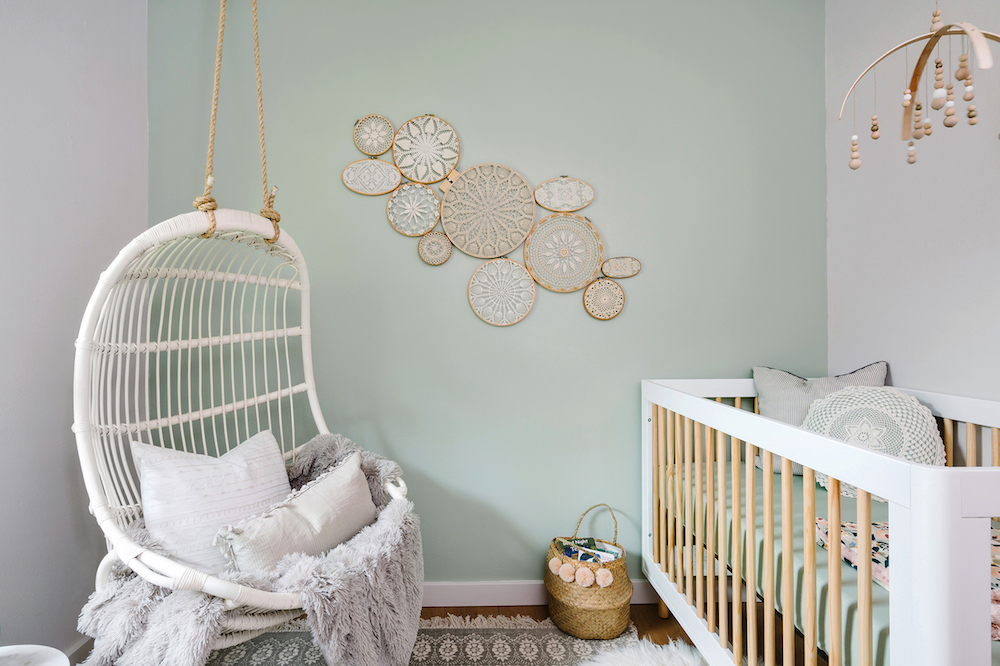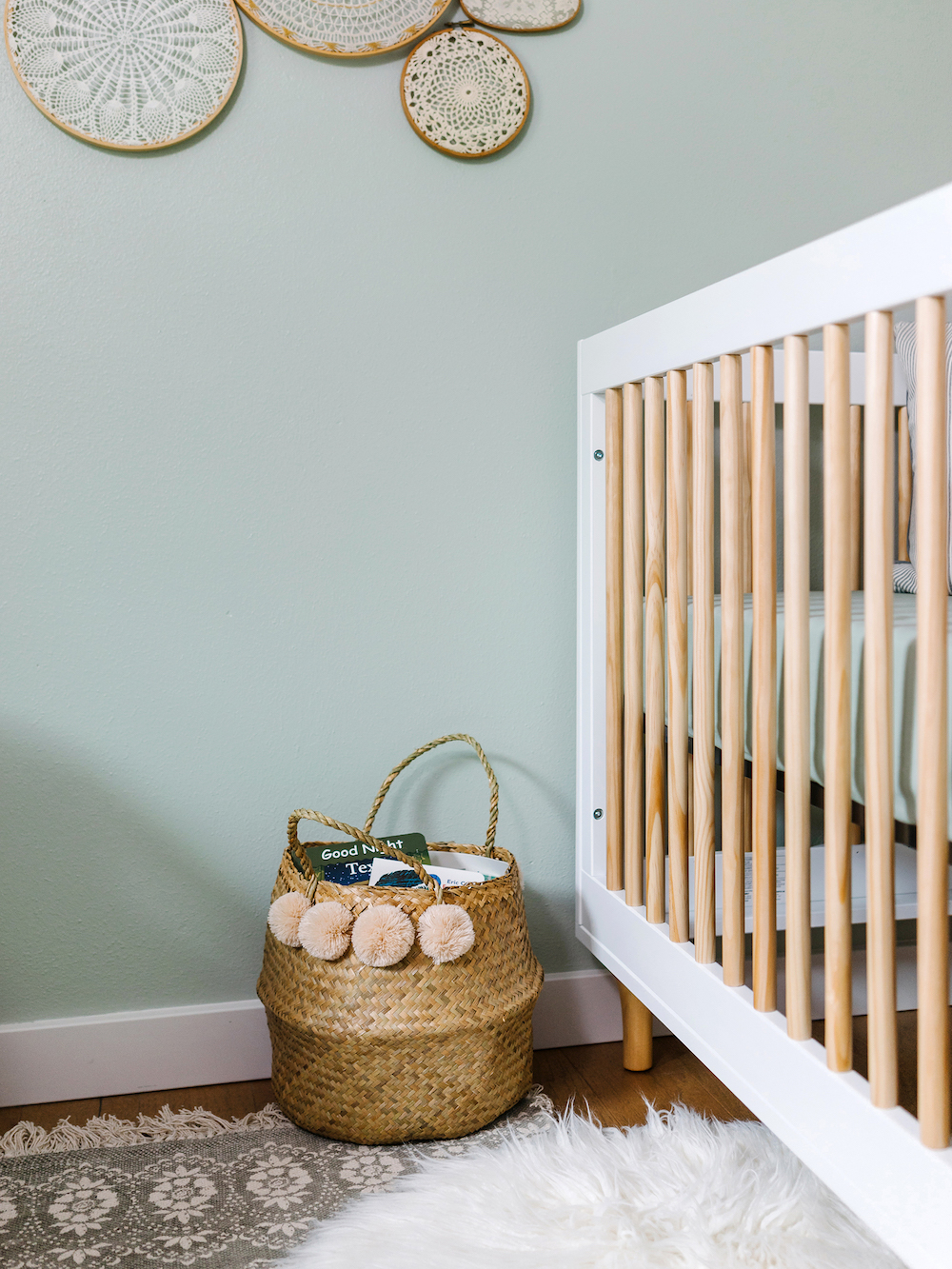 I knew for sure, I did not want a traditional rocking chair or glider, the centerpiece would be a hanging rattan chair. The Serena and Lily piece that we chose took my back to Sweden and the gorgeous white rattan piece certainly steals the show (and it seriously comfortable, too).  The color palette is pretty simple so that as our little girl grows the nursery feels timeless and sophisticated. Plus, it's a small room so I kept it as minimal as possible. I went with varying grays, ivory/white, and a green-gray accent color.
Much of our home comes together with both modern and vintage pieces and I didn't want the nursery to feel disconnected from that. I went with a small mid-century dresser that I repainted and cleaned up for the changing table. I kept the warm walnut wood drawers and brass hardware.
Most of the other decor items are handmade by me, including my favorite piece which is the doily wall hanging. I found these stunning vintage doilies and embroidery hoops at an estate sale in our neighborhood (I think they cost less than $20 total.) The largest center doily was my great grandmothers and I made the pillow with my grandmother's doily. I love the sweet sentiment these items brings to the room.   I also made the floral wreath, wooden mobile, baby blanket, and the crib sheet. When it comes to nesting, I had some very specific ideas in mind so rather than search, I took things into my own hands, quite literally.  Between the doilies on the wall and the warm woods from the mobile, crib, and dresser, I knew I just needed some soft layered textures to finish off the "hygge" feel I desired for the space. I brought in a chenille blanket, feather filled pillows, woven rug, and faux fur rug and it did the trick.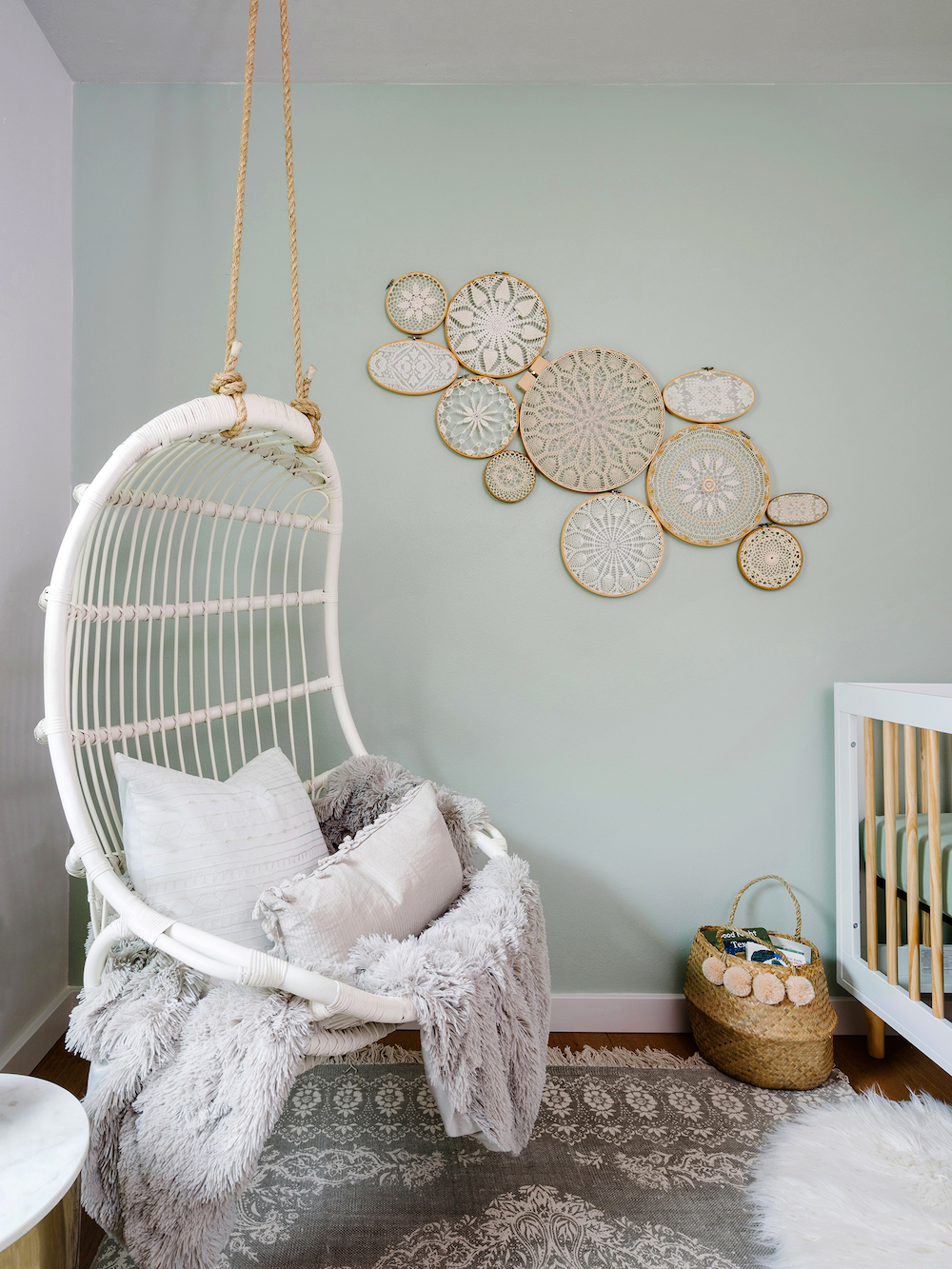 I am so satisfied with how the space came out. It feels just as I had hoped, calm, minimal, familiar, and homey.
Sources: Rattan Chair, Serena & Lily || Crib, Babyletto Lolly || Dresser, Room Service Vintage (Austin, TX- Similar + Similar) || Chenille Faux Fur Blanket, Target, Gray || Rug, Urban Outfitters || Side Table: Target (no longer available | Similar) || Curtains: West Elm, Frosted Gray (only available in white) || Shelves, IKEA || Basket, Xinh & Co. || Lamp, Thrifted || Wreath, Handmade || Mobile, Handmade (Similar)

Photography by Chase Daniel
Room Design by Lauren Daniel