Happy Monday, friends.  It's been ten days since we welcomed Miss Parker Kay into the world.  We are settling into this new life with baby and, while it does come with its challenges, loving every minute.  She is kind of a little dream baby, you guys, but more on that later this week.  Our daily routine is starting to take shape and I even managed to take this little bundle on her first neighborhood walk over the weekend and our first family trip to the farmer's market Sunday.  It's a total win-win for both of us.  She gets some fresh air and I get a boost of endorphins and to feel like I might be doing a little something towards getting back into shape. (Don't worry, there is also a 5-class Pop Physique Groupon voucher pinned to a board in my office that me and my 36 week pregnant bod couldn't resist.)  Besides our schedule, another thing currently in transition is my wardrobe.  Before delivering, I stocked up on a handful of great fitness pieces that I could wear for everything from running errands and grabbing coffee to afternoons at the park and eventually getting back into shape.  (Although this week they have been worn while taking it easy and adoring this precious little babe.) It's funny how everything needs to serve multiple purposes these days. Athleta is one of my favorite fitness brand discoveries. The luxe quality of their fabrics is seriously unmatched by any other fitness brand.  Plus the chic styles transition effortlessly from fit-style in the gym to street-style when I'm running around with baby girl...
one / two / three / four / five / six / seven / eight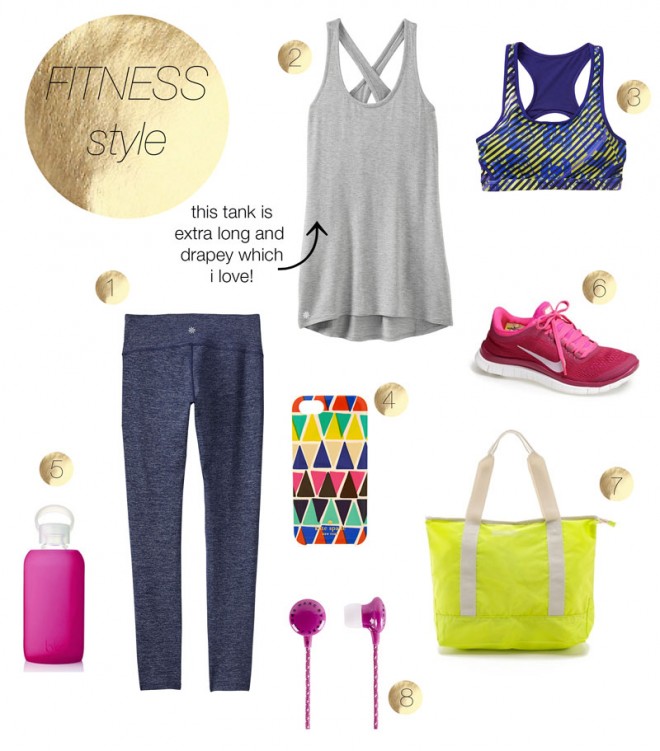 one / two / three / four / five / six / seven / eight
These navy blue tights from Athleta have become a total wardrobe staple.  I layer them with a long drapey tank, like this gray one, in the morning and then add pieces throughout the day depending on what I'm doing.  If I need to run a couple of errands, I slip into a fun sandal, denim jacket with the sleeves rolled up, and a piece of great jewelry-- like this chunky gold watch.  They're equally as fashionable for the gym as they are for life.  I love the pop of pattern this sports bra provides and definitely load up on more color in a fitness setting than I do for every day life.  In all seriousness, though, I might need a tank top intervention.  This one is so soft, stretchy, long and perfectly drapey that I can't stop wearing it!Any moms out there will appreciate that it's actually super conducive to nursing, but looks way more stylish than your usual nursing tanks.
This post brought to you by
Athleta, the premier fitness fashion brand for women.