Our house was built in 1941.  To put things in perspective, FDR was president, World War II began for the US that year, and prohibition had just ended a short 8 years earlier.  Kind of crazy, right?!  Now fast forward seventy years later to us purchasing this home.  Additions and renovations had been made over the years, but we have still had our hands full of plenty of projects these last three months.    Aaron was in Indianapolis for the Superbowl a couple of weeks ago so I thought I would surprise him by tackling one of the things on the list.  (Naturally, I picked the one that only involved a can of paint from Sherwin-Williams and a trip to West Elm!)
 When we first saw our house, the family room looked like this: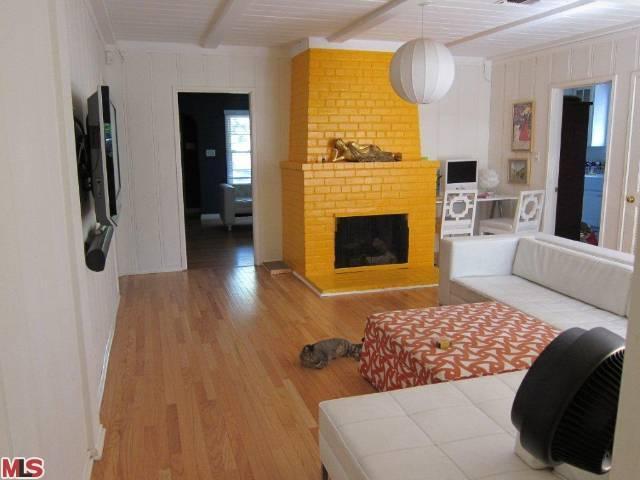 Not bad... I actually had friends beg us to keep the yellow fireplace!  However, it definitely wasn't our personal aesthetic which is much more neutral and rustic.
So after a quick trip to the Sherwin-Williams by our house (literally less than a mile!), I came home and began by priming the fireplace.  A quick note to anyone who has never painted brick:  It is hard to get paint inside of all of the gritty grooves that are part of bricks texture and takes a lot more time than you might expect.  After the coat of primer, the all-white fireplace was already a sight for sore eyes!  Next came the color I had chosen-- the best way to describe it is to say that it is the color of a common mushroom-- both tan and gray elements kind of mixed together which is basically my home heaven!  This picture is halfway through one coat of the new paint.  I ended up doing two so that it was nice and solid and not splotchy.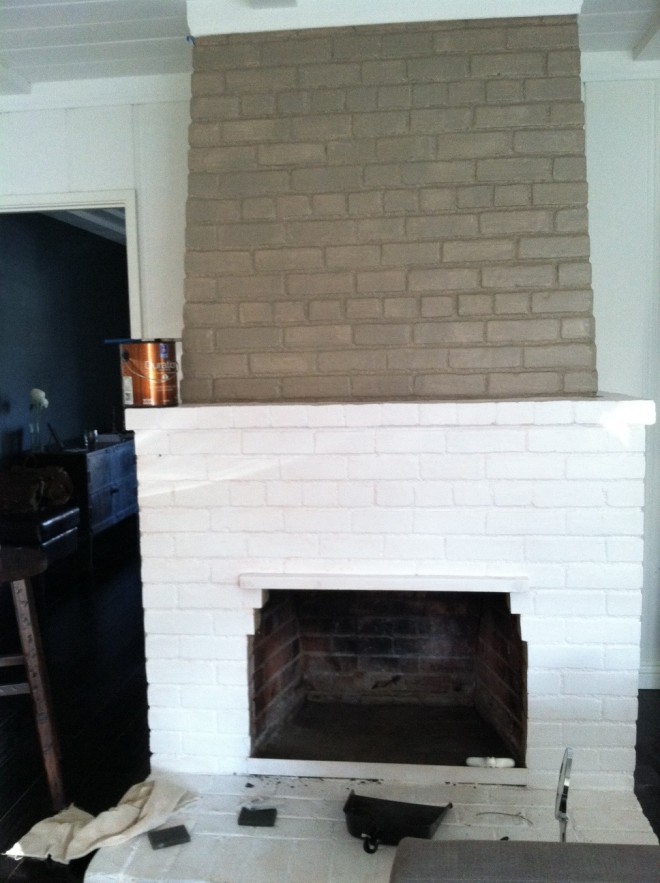 Voila!  Painting is finished!  It was still lacking some accessories, though, so I while I was prepping for a shoot the next day I popped into West Elm to see what they had.  I had originally thought of doing shades of green with these recycled vases and jars, but ended up doing this small handful of matte and glazed white vases and votive holders (There are more on the bottom of the fireplace):
I also bought those two pieces of driftwood from West Elm, but may swap them out for this rustic modern set of andirons I ordered online.  Which do you like better?
So finally, taken from the same spot, here is my AFTER photo: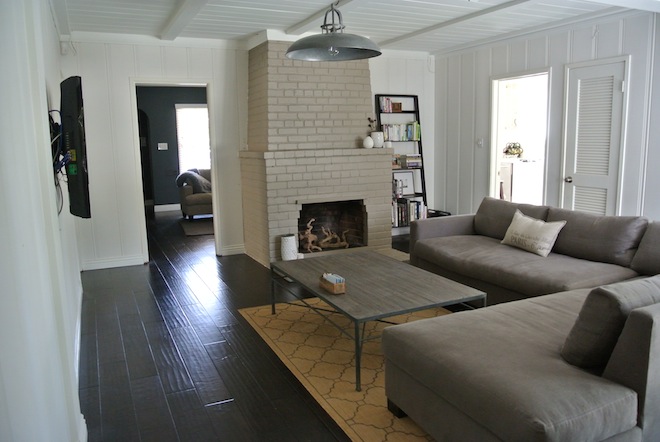 The room is definitely not finished, but that made a big difference, right?!
I had a coupon from Alt for a free gallon of paint at Sherwin-Williams and a store credit to West Elm, so technically the project only cost me $8 in new paintbrushes.  Not a bad deal if you ask me!