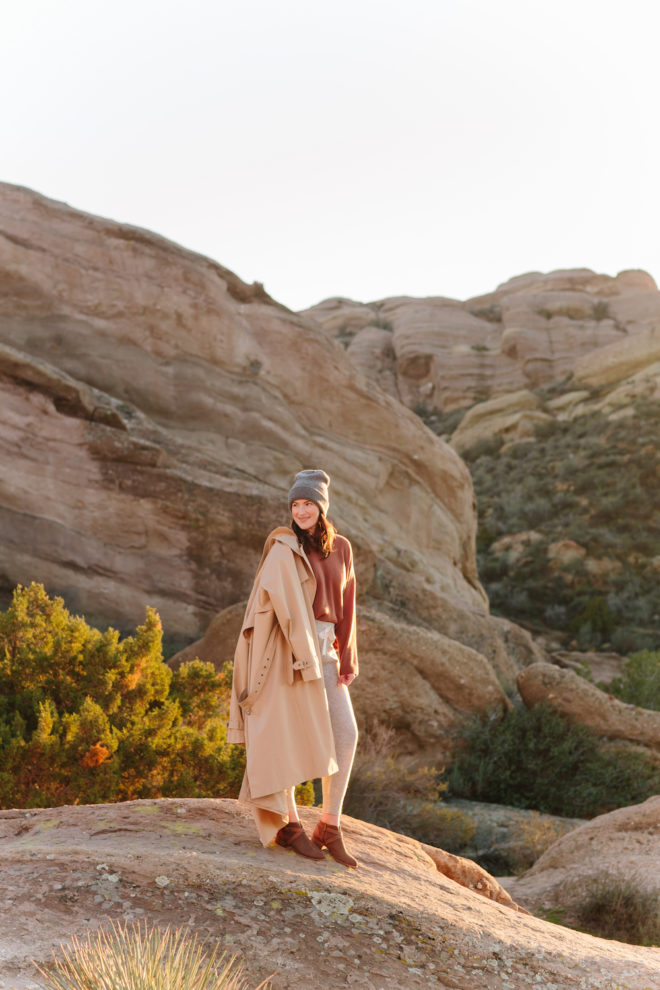 The story of my friendship with Catherine begins like any modern day friendship... on Instagram, of course. We agree to meet for lunch one day at Bottega Louie (circa 2011? 2012?), both arrive wearing very similar yellow jackets (which is funny for two people who probably rarely wear that color), and have been close friends ever since. We spent a New York Fashion Week together staying up until the wee hours and have talked everything blog business, wardrobe styling, and now motherhood ever since.  We do really similar things-- styling and blogging-- but are opposites in so many ways and I think that's why I have always valued our friendship so much. She's someone who makes me re-evaluate the way that I approach things which can be such a good thing for me!  She's been certified in Fashion Feng Shui since we first met and has recently been diving back into it on her blog, so I thought it would be fun to bring her on today and chat about what Fashion Feng Shui is, how to determine what your element is, and what that means for your personal style... Keep reading for the full interview!
What's your Name? What do you do? Who lives in your house and where?
Hi. I'm Catherine Sheppard and I'm a fashion stylist and blogger at The Life Styled. My husband Ian, 16 month-old daughter Sailor, and our two dogs Kenzie and Emmy live in my house in Los Angeles, CA.
What cities have you lived in and have those different physical environments affected your personal style?
It's a perfect question because I have always felt that the places I've lived in my life have totally shaped my style. I grew up in rural Minnesota in a little college town called Northfield. J.Crew and Gap were the only "designers" I knew anything about until I left to go to college in New York when I was 18. All the girls at NYU had Louis Vuitton Speedy's and I was totally overwhelmed by fashion. But by the time I was 26 and leaving New York for LA, I had developed my New Yorker wardrobe of all-black and minimal pieces. It wasn't until I moved out to the west coast that I started to appreciate more comfortable, laid back, breezy styles. So now some bits of boho have made their way into my wardrobe, but my closet is still full of mostly black and neutral. As long as I still have my 917 cell phone number, I'll be all about those cool neutrals.

What is Fashion Feng Shui?
Fashion Feng Shui is about making what's on the inside match what's on the outside. It uses the five elements and ancient Chinese principles of Feng Shui to categorize the different energies that can be found in our clothing, and allows us to make conscious decisions about how the world sees us. First, you learn what your "essence" is (represented by one of the five elements), and then you learn how to dress to honor that as well as your intentions/goals. It also helps us understand how to dress to best flatter our physical features. Basically, in a world of fleeting trends, it's a way to weed through all the noise and figure out what our most authentic style is. You can read all about in my recent blog series all about this very topic, where I did five photo shoots to introduce each of the elements. They're all here: Intro / Water / Wood / Fire / Earth / Metal

What was it that originally drew you to Fashion Feng Shui?
The housing market crashed the very month I moved to LA with no job in 2008. I was already looking to change careers (in New York I had been working in TV/event marketing since graduating college) but I didn't know what was next for me. My mom was getting certified in Feng Shui and through that had learned about Fashion Feng Shui. I didn't even know that was a thing, but I was intrigued. She pushed me to fly to Boston for the 3-day training program, just to get inspired at the very least. Since it was a time of transition for me, it was the perfect moment to dive into something new. So I went. I kind of stuck out like a sore thumb - I was the youngest person in my class by a good 20 years, but I immediately felt a connection to it. I had always loved fashion, but felt that there was a deeper meaning to it than just clothes and keeping up with trends (a concept that stressed me out). I decided I wanted to bring Fashion Feng Shui to the LA market and offer it as a styling service, alongside other services like closet detox and personal shopping. So that's how The Life Styled came to be!
Any tips for someone who is having trouble distinguishing what their element is?
A lot of people feel a connection to more than one of the five elements, which is totally normal. It's not that we all fit so easily into one of five categories. But you usually could say that one of them has the strongest presence in your personality. It's harder than we think to define ourselves, but when you finally put your finger on it, it makes shopping and dressing yourself so much easier. So I always say to narrow it down to your top two, thinking about who you are and always have been. Don't think so much about the clothes, think about the personality traits. Then ask yourself, if you were to eliminate that element from your personality, which one would you feel the most unlike yourself without? Often times the element with the biggest presence is such a major part of you that you forget it's even there. Also, many of us have an "underlying" essence - a second element that's still a big part of you, and kind of goes hand in hand with your main one. So if you can only narrow it down to two, that's OK, but try to figure out which one is a bit stronger than the other.

Did you have an 'aha' moment when it came to your own personal style?
Once I learned that I'm a metal with a fire underlying, a lot of things clicked for me. I am obsessed with details and quality, but sometimes the fire shines through where I really want to be noticed and make a statement. The two elements don't always agree, but the metal usually wins (which can get expensive - ha!). I also have a lot of water in my style because it helps me with my creative intentions for work, and the colors/styling looks the best with my features.
What pieces are you currently loving for spring / summer?
I'm loving this new "updated vintage mom jean" trend - the modern, flattering version. A higher waist + plus a more relaxed skinny leg, and the cutoff hem. Less frumpy than a boyfriend jean, but more casual and comfy than a skinny jean. This will be my go-to for spring! I'm also into sporty details right now for my wood intention (getting on track with a healthier routine).

If you had a uniform, what would it be?
It's been the same for years in different variations: ripped jeans, a plain white v-neck OR a faded vintage band tee (for a band I actually like and know their songs - haha), a leather moto jacket or vest, and a pointy boot or white sneaker. Maybe a lightweight oversized plaid flannel tied around the waist. Super casual and a bit rough, but with a full face of makeup and beach waves in the hair (if I have time, which is less and less often these days). That's the winter uniform. In the warmer months, it would be a white boho top (probably by Sea) with ripped boyfriend shorts and a wide brimmed fedora. If I had a pair of Chloe Susanna boots, they would be part of my uniform. Maybe it's finally time I get on that!

Speaking of Feng Shui, do you have a tip or trick for keeping your closet organized?
You've GOT to go through and get rid of stuff at least twice a year. We accumulate new stuff even if it feels like we never get to shop, and as time passes, things you bought even just last year or the year before are no longer current in your style. So purge purge purge! I'm also a big fan of keeping my closet seasonal. In the winter, I don't want the summer stuff in my sight and vice versa. I move the opposite season stuff to another closet. It keeps my closet airier, and only full of the stuff I will reach for at that time. Also, matching hangers are a must (I do the black huggable hangers - Costco has the best deal out there). And despite what people may have told you, hang your t-shirts, fold your sweatshirts!
Tell us more about your blog... What can readers expect to find there?
Now that my first year of motherhood is behind me (phew that was hard), my blog has been going through a rebirth. I've always loved it as a hobby and a place to share my style inspiration and tips, but now more than ever, I'm finally able to give it the love I've always wanted to give it. It's a lifestyle blog with the largest portion devoted to fashion, and the rest is about all the other ways style can be used to make your life better: cocktail recipes (spicy whenever possible), baby/mom style and musings (like our Real Moms series!), DIY's, beauty, health/fitness, and interiors - we recently moved into our first house and have a long way to go to decorate it, so of course I will be sharing every step of the way! I'm into mixing high and low end, wearing staples more than trends, and I'm a real sucker for black, white, blush, and metallics! Most of the time, you'll find everything stays consistent with my edgy, neutral, and minimal style, but with a softness to it. I always keep it real. This is also only the beginning of my Fashion Feng Shui content, so if you're looking to find out your elements and how to dress to honor them, definitely follow along!
Photography by Heather Kincaid