11/16/2015
As far as favorite indulgences go, fresh flowers fall somewhere between dark chocolate and a great cocktail.  They instantly brighten up any space and let you flex your creative muscles as you pull them together.  It's something that Parker and I have turned into a little Friday afternoon activity and only makes it exponentially better when she waltzes by and then points to her chest saying, "Par-per!".  Last week we took a field trip the LA Flower Mart– hands down one of my favorite places in this big, crazy city!  Our goal was to source out our favorite fall blooms that were amateur friendly and also inexpensive.  Here's what we came home with: (PS. Keep reading for the video tutorial below!)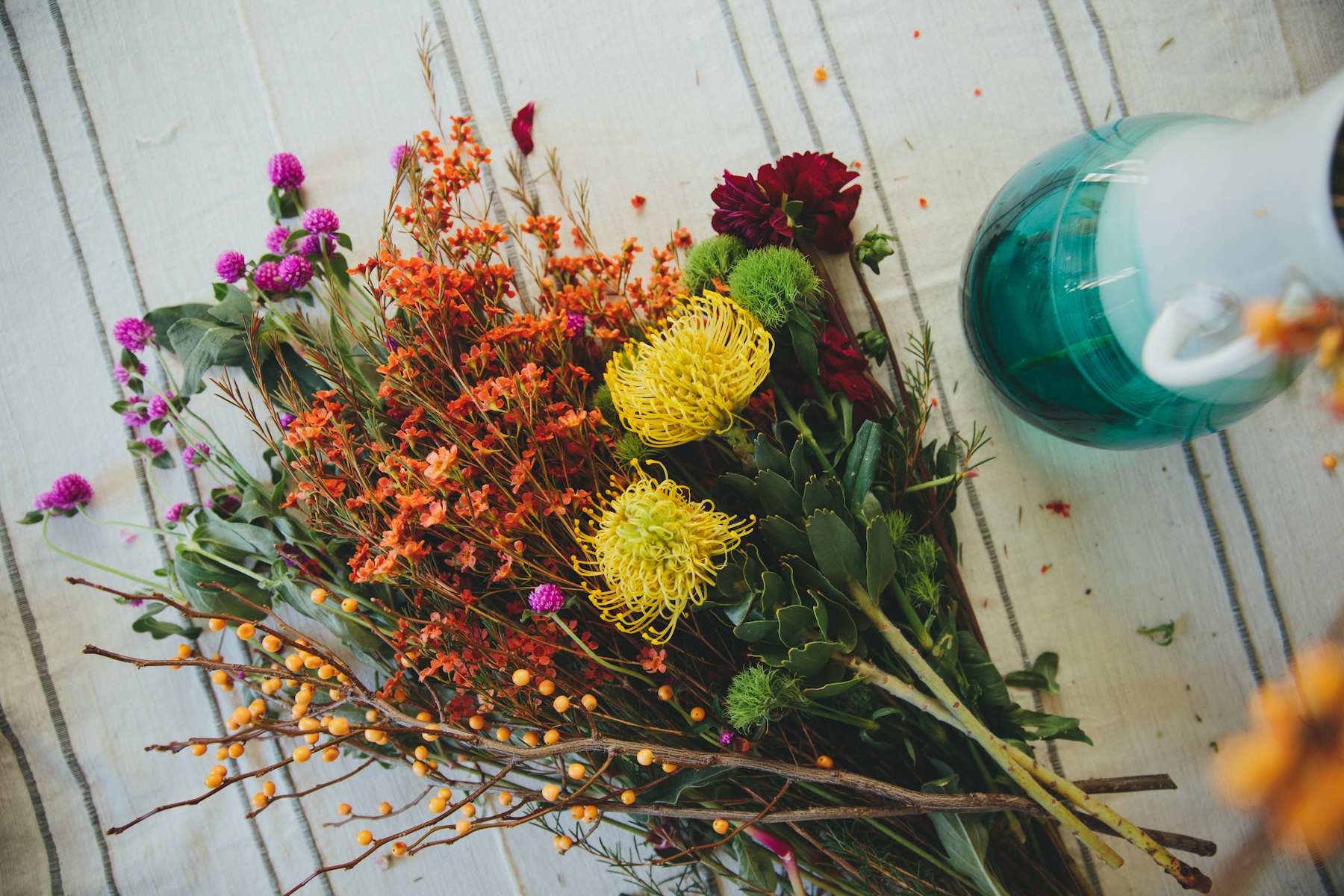 1. I picked out just a couple of stems of Dahlias.  They tend to be more expensive so I used them as an accent to keep the cost down.  I couldn't say no to them all together, though.  That deep red color makes me weak in the knees!  5 Stems were $4.75.
2. The same idea applies to these yellow wax flowers.  They were $10 just for 4 stems, but they add such a fun pop of color that I couldn't say no.
3. Filler flowers:  There are so many different varieties of fall wild flowers to choose from.  I don't even know the name of these orange beauties, but they come in a variety of colors and scream fall.  A huge bunch of them was $8.  I also bought some leafy greens that do the same thing. $6 for a big bunch.
4. Berries.  These are my favorite!  And super cheap for a lot of them, too! $8 for a big bunch.
5. Poms? Billy Balls? I have heard all kinds of names for these little sphere shaped blooms that come perched atom skinny little stems.  Regardless, I love them year round for their modern feel and pop of color. $5 for a handful.
We came in around $40, but had ample flowers and filled up four other decent size vases around the house and for friends to take home.
Here's how we put it all together:
FallFlorals from Jen Pinkston on Vimeo.
For tips on keeping your fall blooms fresh longer, check out the savvy girl's guide!
Milky Vases via Anthropologie, Tablecloth via Anthropologie, Watering Can via Anthropologie, Scissors via Poppin
Photography and Videography by Nichole Gibbons