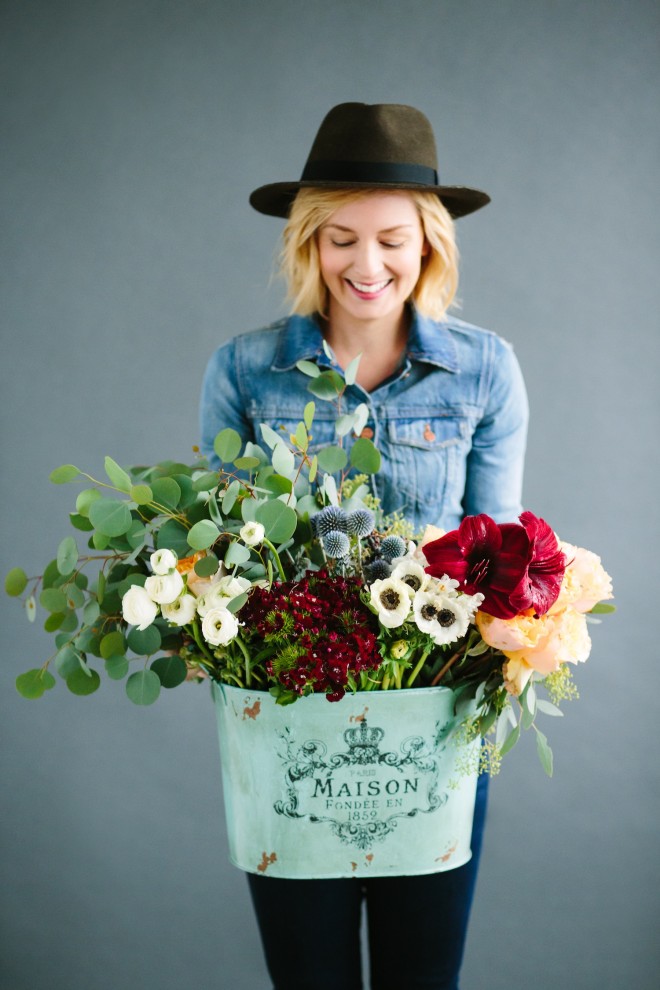 Is there anyone out there that doesn't love beautiful flowers?  There's an obvious reason that they're appropriate for all occasions-- they brighten a space and a day, so you really just can't go wrong.  While I'm no stranger to the LA flower mart and have been known to repeatedly make impulse floral purchases while walking into many a Trader Joes, I'm not super well-versed in their names, season or how much they cost.  Back in December I attended a wreath making workshop (see my results here! ) hosted by Laura of Poppyhill Flowers and thought it would be really fun to have her school us in the ways of flowers here on the blog.  You don't often think of January as a month of beautiful lush blooms, so I was pleasantly surprised when Laura walked in with this big, beautiful bucket of gorgeous flowers!  Here's what you need to know about these 10 January blooms: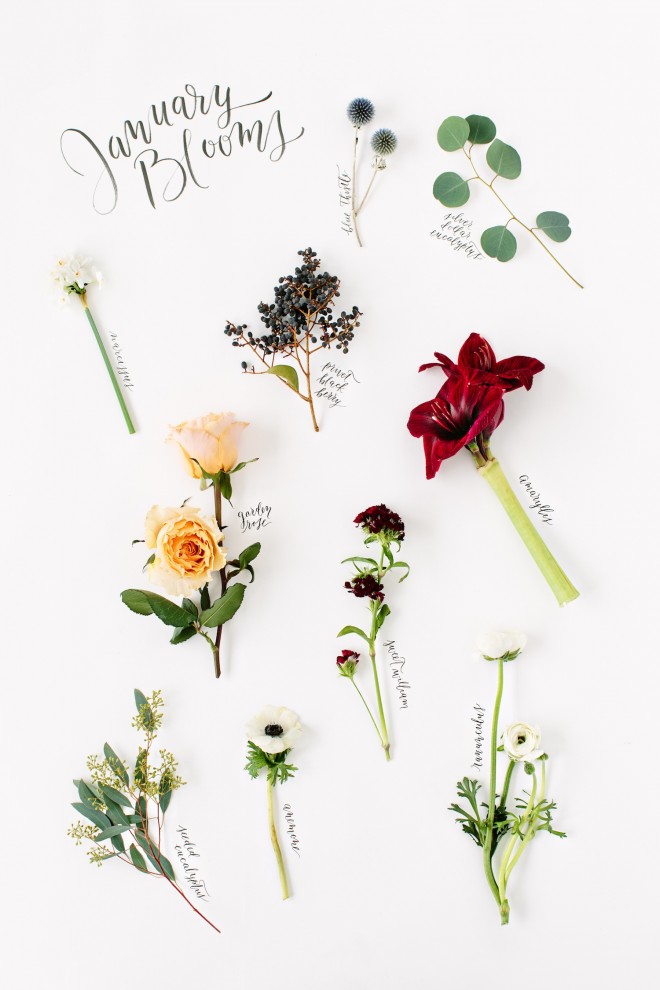 (from top to bottom, left to right)
1. BLUE THISTLE // (splurge) It can be hard to find, but dries great so worth every penny!
2. SILVER DOLLAR EUCALYPTUS // (bargain) This one is a fan favorite! It creates a whimsical feel to any arrangement and is available year round.
3. NARCISSUS // (moderate) This one smells AMAZING and is available in potted form too.
4. PRIVET BLACK BERRY // (bargain) It's an easy, chic accent to any arrangement.
5. AMARYLLIS // (splurge) This one is a definite statement flower and can be found in potted form also.
6. GARDEN ROSE // (splurge) This one is pricey, but so worth it.  They're highly fragrant and SO NOT your grocery store rose. They're also available year round.
7. SWEET WILLIAM // (bargain) These last a long time and gives a wild flower feel to any bouquet or arrangement.  They can occasionally be found at Trader Joes! Also comes in pinks and whites.
8. SEEDED EUCALYPTUS // (bargain) just like her sister, the silver dollar, it's inexpensive, frequently requested foliage that is available most of the year.
9. ANEMONE // (moderate) This is another great statement flower.  It seems fragile but actually has a nice vase life.  It's available also in the Spring.
10. RANUNCULUS // (moderate) January is the beginning of blooming season for this crowd favorite, it's a little more expensive in winter than spring when it's highly in bloom and can be found at Trader Joe's. It also has a nice vase life.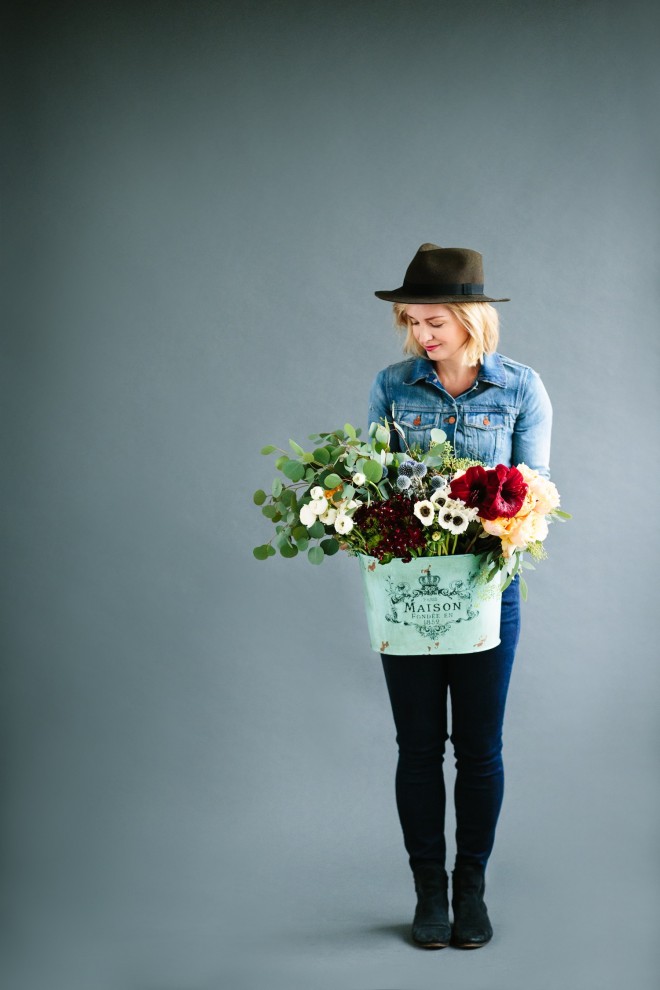 Dear Garden Rose, you're the only rose for me.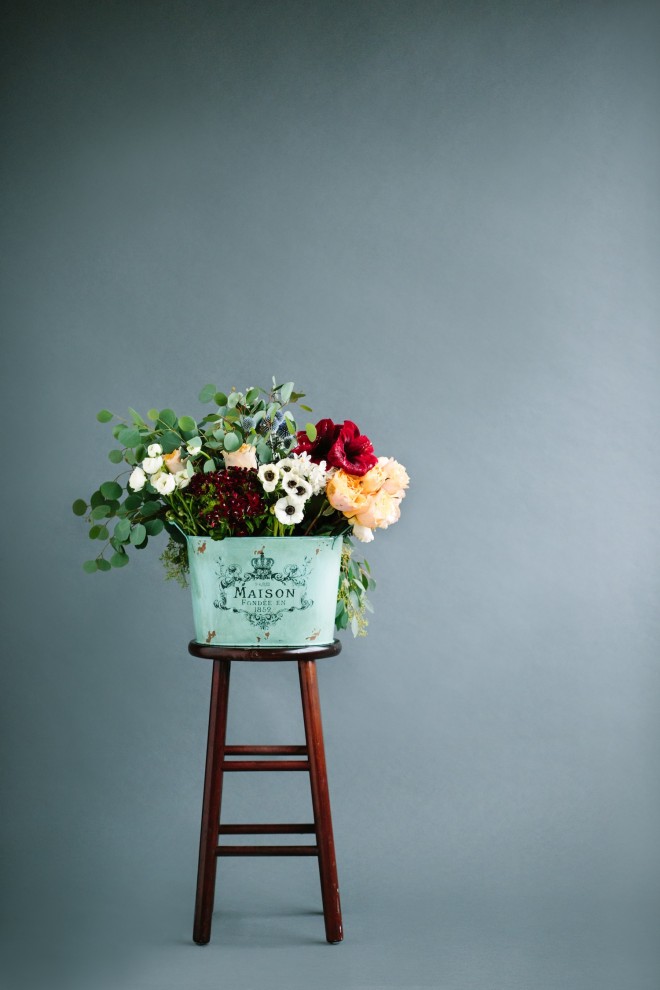 Photography by Mary Costa
Florals provided by Poppyhill Flowers
Calligraphy by Jessica Perelle