If you want to know the exact kind of party I will be hosting all summer long, look no further than this post.  Here's why: It's really easy to throw together last minute, so rather than needing guests to mark their calendars weeks in advance and hoping nothing interferes, you can text your besties on Friday morning and tell them they can swing by that evening.  Also, this charcuterie and cheese board is the best way to combine things you likely already have in your pantry and refrigerator (or things you can easily keep on hand) in a way that looks super pretty and effortful, but actually takes very little time.  Best of all, though, it's a really fun way to try a bunch of different wines with minimal investment and find the ones that you really love, without being persuaded by the chic label, price point or even the type of grape.  We partnered with to bring this simple summer party to life—labeling wine glasses for guests and wine bottles for the blind tastings.  The Brother P-touch Embellish allows you to print on both tape and satin ribbons, horizontally and vertically and even features decorative features that you can print, too.  You can add a super personal touch at a moment's notice to just about anything!  Want to be party twins this summer?  Here's what you need to know about this fete: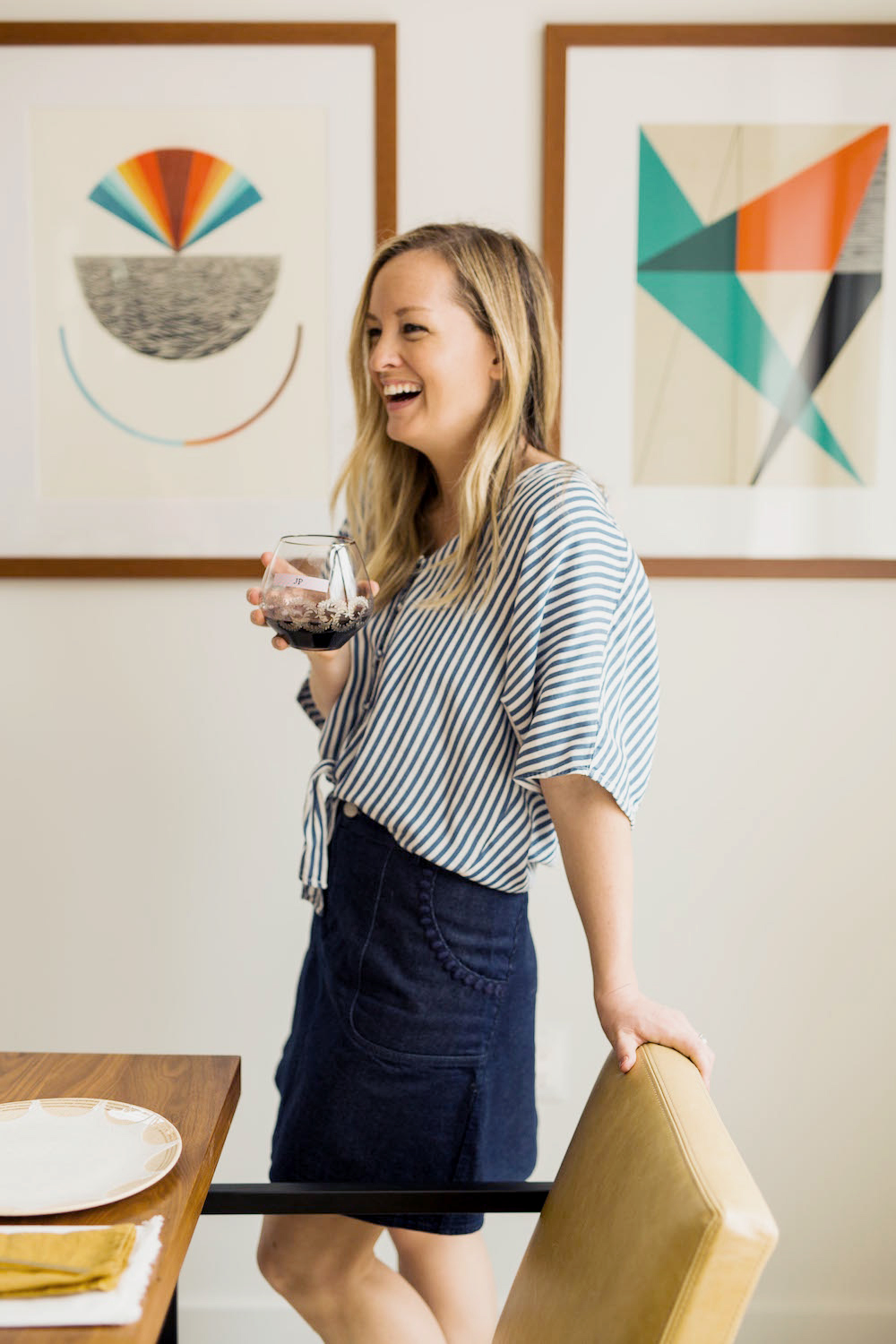 The Blind Tasting: Have each guest bring a bottle of wine of their choosing. Offer up these linen wine bags upon arrival and use the P-touch Embellish to label them white, red, or rosé along with a unique corresponding number.  We used simple white tape with black font for the bottles and labeled the wine glasses using the guests initials with a pink and blue striped tape.  Once all of the bottles are bagged and everyone has a glass, guests can sample the different wines at their leisure, compare notes and choose their favorites!
The beyond-the-cheese-cheese-board: Think of a cheese board as more of a snack board. The options are really endless, but you can use olives, nuts, sliced meats, hummus, fruits, veggies, dips, spreads, and more to really give people a variety.  Use small ramekins to hold some things and add dimension to the board. When you're putting it together, think of it as a collage: you want to arrange all of the pieces so that you don't see any of the board underneath.  I've done this dozens of times and am always happy with the result!
Ever since the P-touch Embellish moved into our office we've been dreaming of using it for all sorts of spring entertaining like Easter egg decorating, Parker's upcoming birthday party and more! What would you use it for?!
Photography by Alysha Rainwaters
This post is sponsored by Brother, maker of the P-touch Embellish. All opinions are my own.