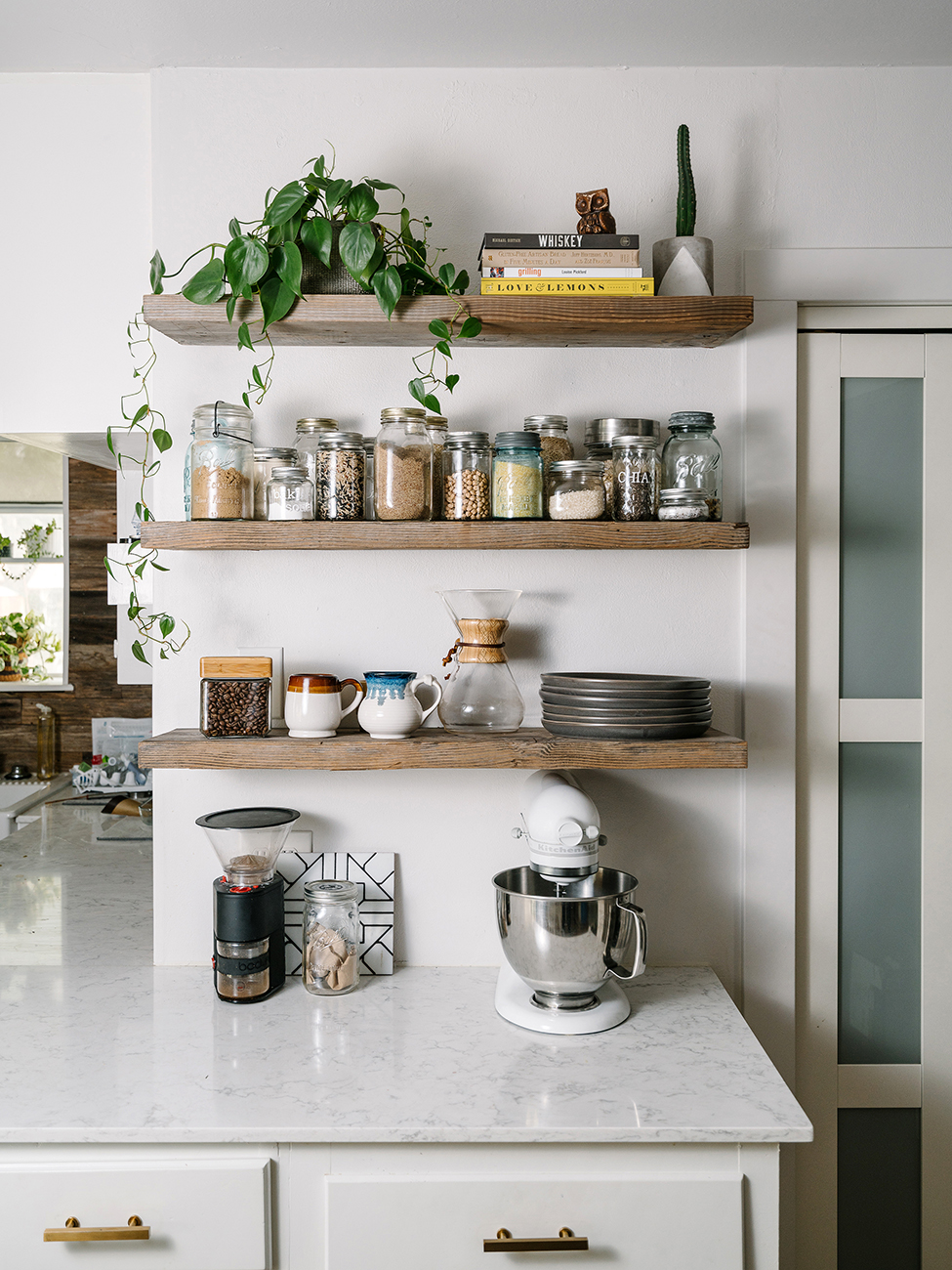 A couple of months ago, I (Lauren) posted this Turmeric Chicken recipe and so many of you went crazy for it!  You sent emails, Instagram messages, and even texted pictures of how it turned out.  I was, of course, so happy, but was also sort of perplexed by the enthusiasm.  Though so yummy, I saw this recipe as a sort of unexciting. I decided to do a little survey over on my Instagram stories and the response was overwhelmingly that you want easy dinners and simple recipes that taste delicious.  Is that true for you blog readers over here, too?  I asked myself what helps me throw a meal together quickly and easily, even if I haven't planned, and the answer is a well-stocked pantry.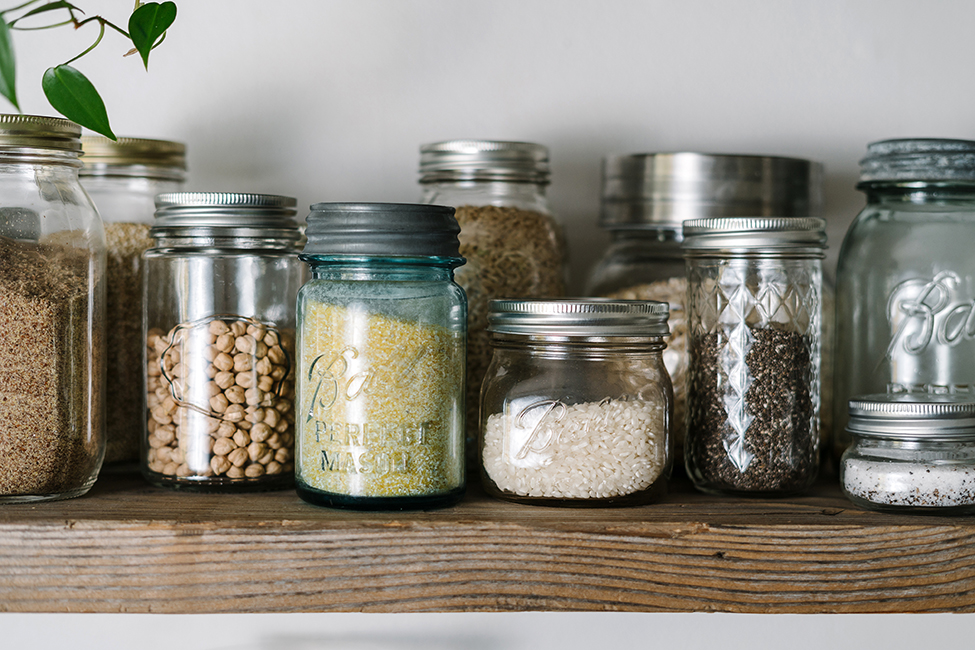 I am a mostly self-taught cook. Thanks to my mother, I was often in the kitchen learning how to make what I lovingly refer to as 'mom meals'. Those basic but comforting meals that fill your belly and warm your heart. I cook an average of 6 meals a week at home, plus plan for midday meals since my husband and I both eat lunch at home. I am definitely a meal planner, that's a must to save money and time for me, but I also have weeks or nights where I didn't plan. With a little one in tow and Austin traffic haunting me, if I haven't planned, going to the store becomes quite a chore, especially for one meal. And if you're on a budget, going out to eat regularly can certainly put a wrench in things.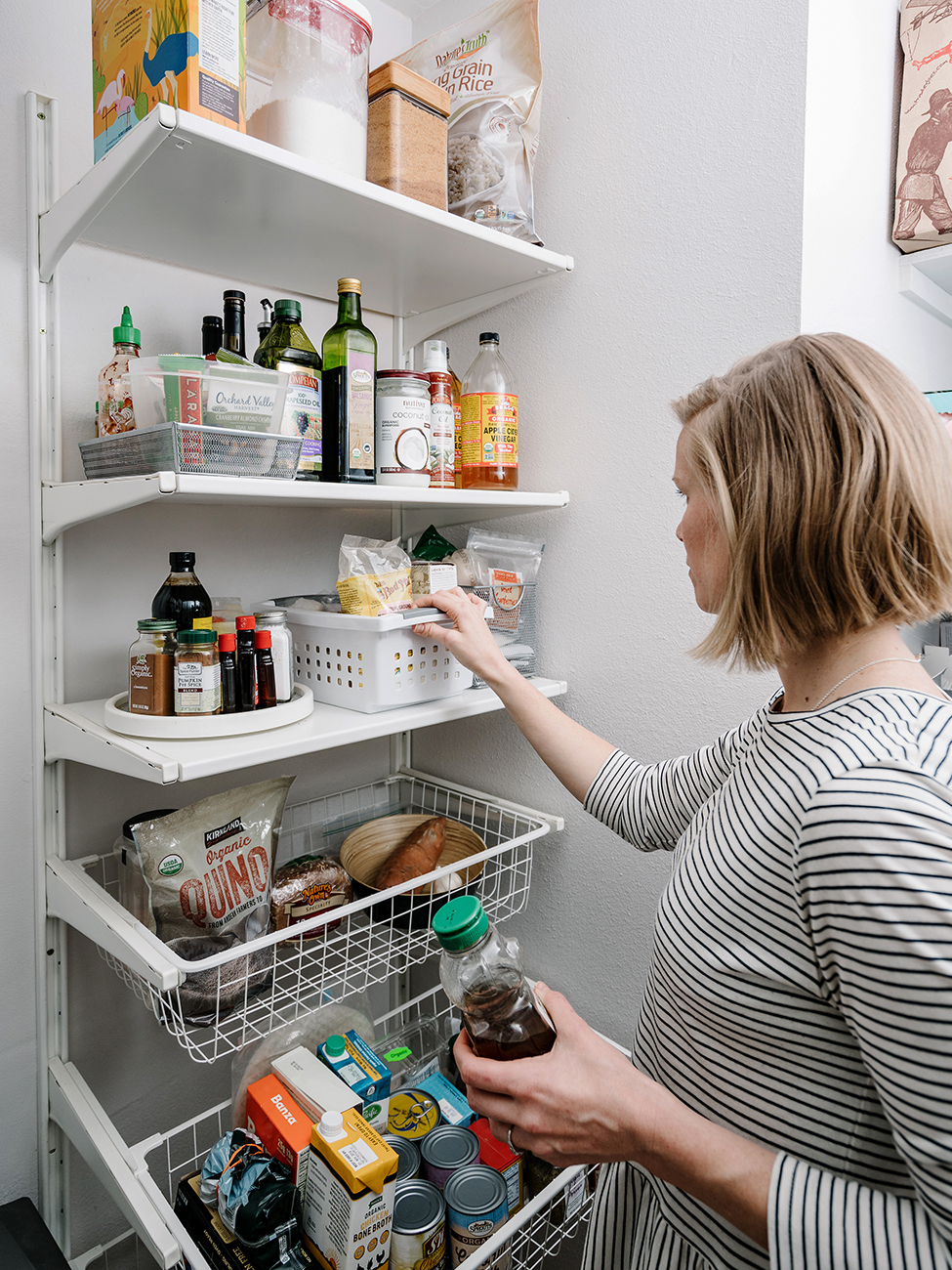 I went to Jen's house after thinking on the survey results and we talked through the idea of a pantry and freezer that's stocked with the essentials for a quick meal. The word "capsule" immediately came to my mind. You may be familiar with the term which is normally associated with your wardrobe. A "Capsule Wardrobe" is a small collection of essential items of clothing that don't go out of fashion, which can then be augmented with seasonal pieces. Most of these items are mix and matchable, to make getting dressed in the morning quick, easy, and made up of only clothes you love.   In the same way I have designed a capsule pantry that consists of the essentials for a delicious home cooked meal, always available in your pantry and freezer, knocking the excuse list for not cooking down to dirty dishes.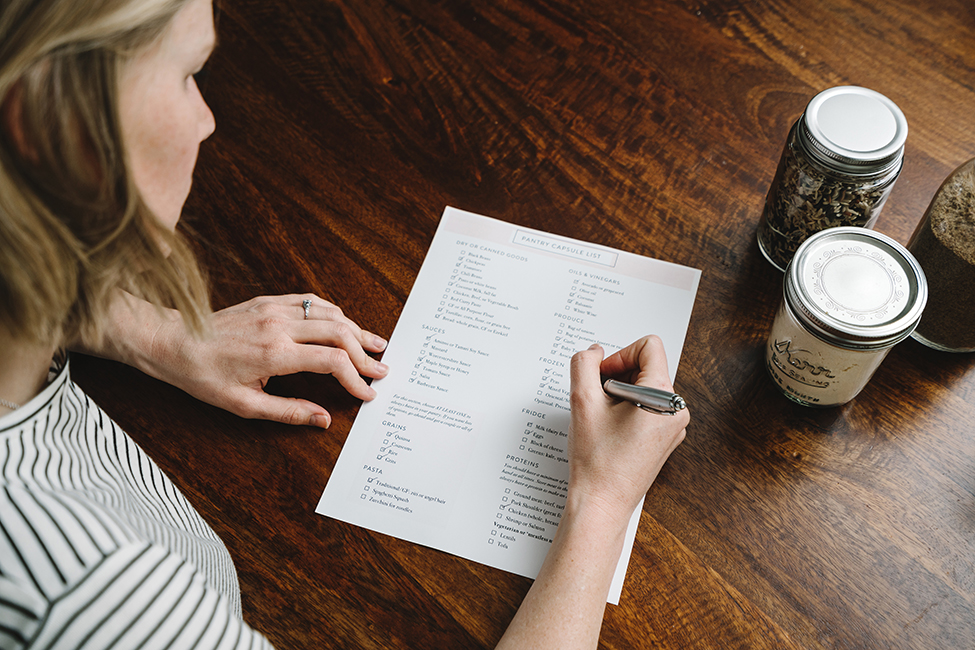 The capsule pantry idea is simple: a go-to list of items you always keep on hand. This list can be catered to your diet preferences, it is simply a launching point. You'll notice I do not include many fresh fruits or vegetables. Though you can make quick meals with those items as well--this is meant to build meals from items with a shelf life. You can have these items on hand and not worry about them going bad (at least not for several weeks, depending on the item). Another perk to this way of cooking is you can buy many of these items in bulk and since they are not likely to go bad, you'll have less food waste, saving you money in the long run.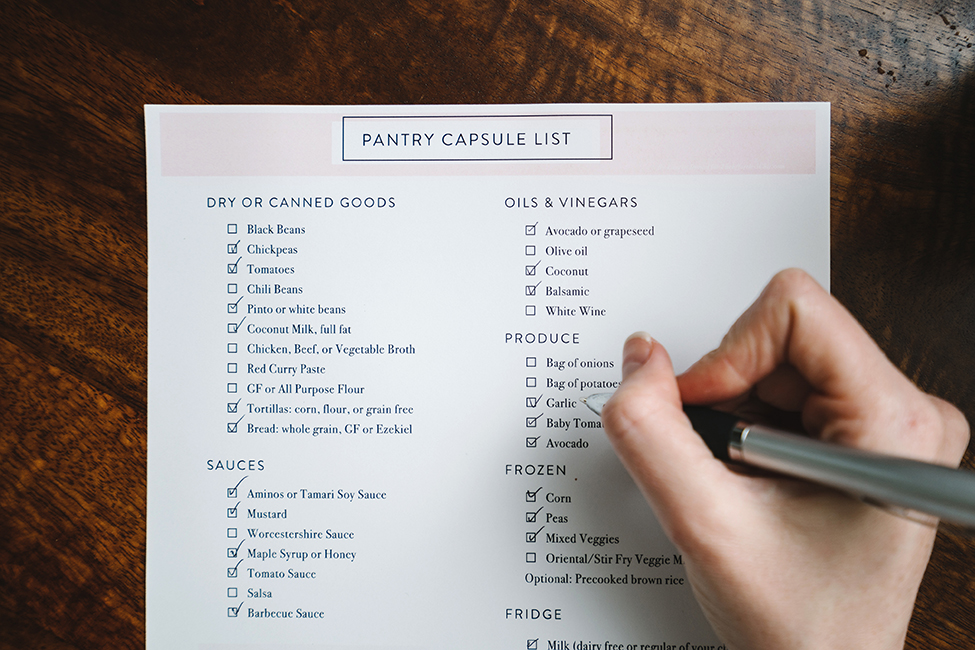 The capsule pantry isn't intended to be used for every meal because you'll miss out on trying new things! This won't (and shouldn't) completely eliminate your need to meal plan and search for a new exciting recipe on pinterest. This is meant to empower you to be able to put a meal together without planning ahead. I tried to keep the list short enough to stay on top of but inclusive enough to be able to get creative with things.  Even if you have nothing except these items in your kitchen, you can cook over twenty of my own personal weeknight dinners-- see list below!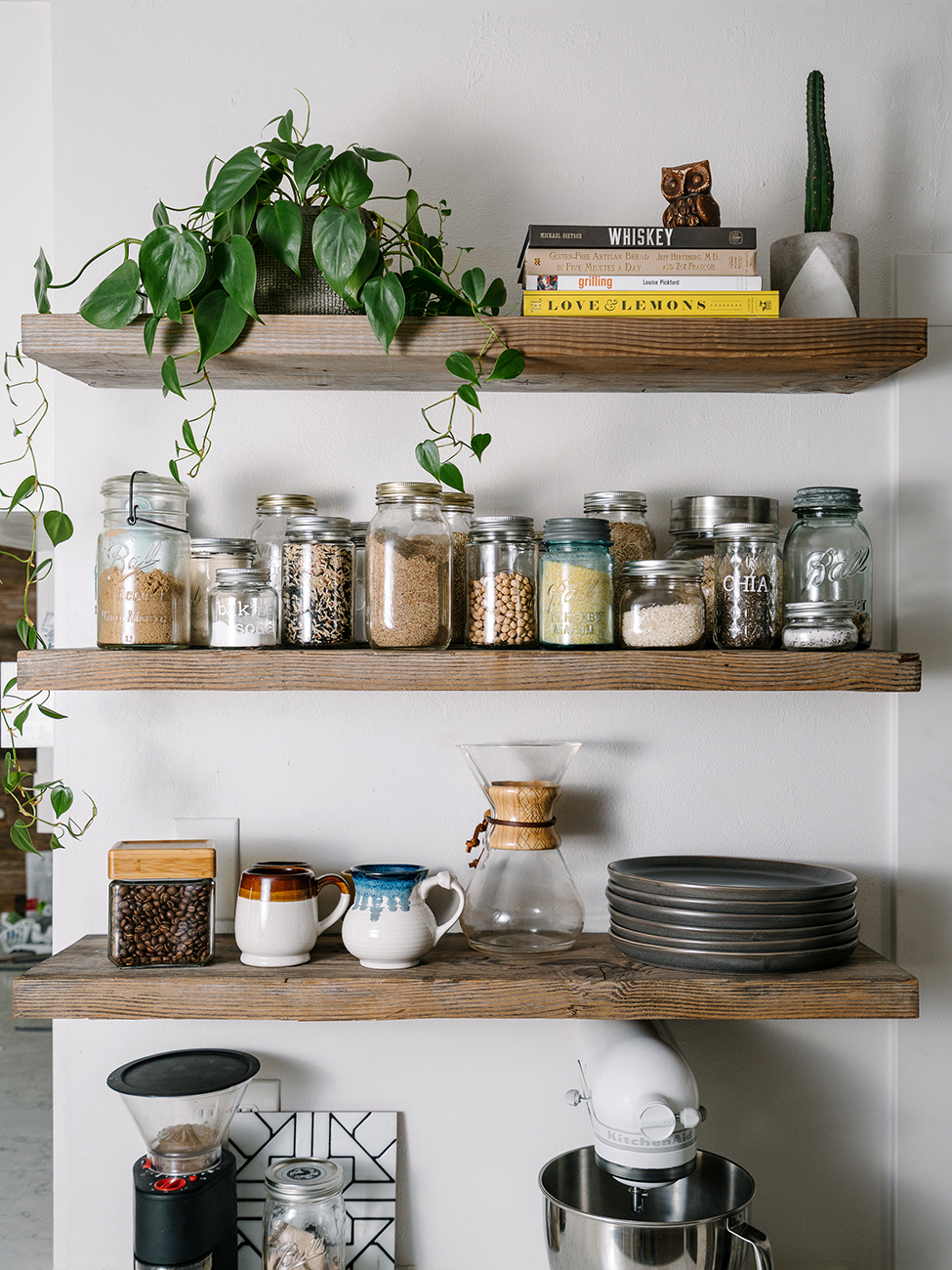 My biggest encouragement with this project is to remember flexibility, make this list work for you. If you don't like a certain item, think of what might be interchangeable and use that instead. This was designed for meat lovers and vegetarians alike. Whether you prefer to keep things gluten free or just like a variety of options. I've designed this list to work for all different types of preferences and diets. The possibilities really are endless with a little creativity. (There's a printable version below, too.)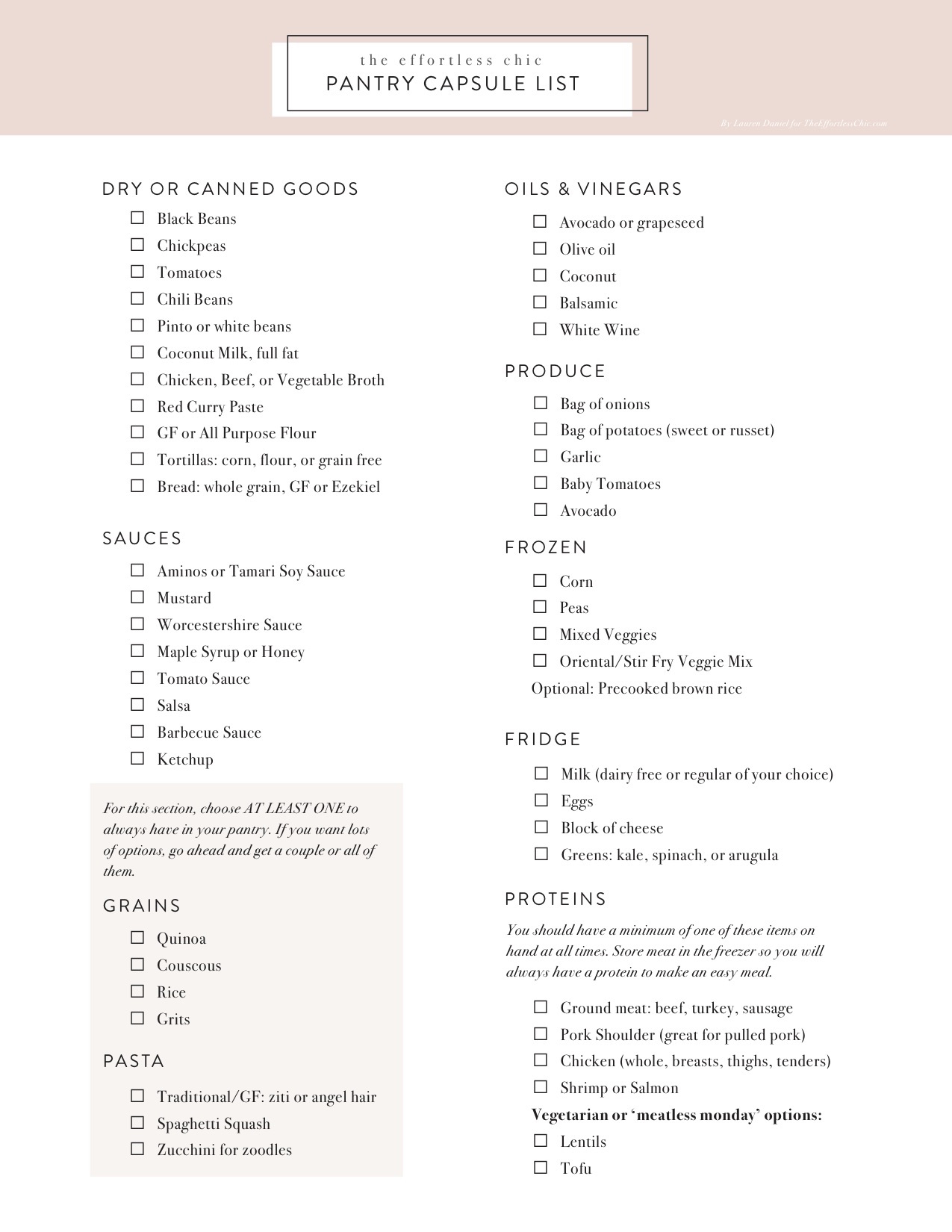 In the following weeks I will be sharing several recipes you can make using this capsule pantry . In fact, just off the top of our heads, Jen and I came up with these meals:
Download the printable version of this checklist here.
My hope for this series is that you figure out how to make your pantry, fridge, and freezer work for you and never have to scramble out the door or dial up take out unnecessarily for dinner. I would love to know your thoughts as we work to perfect the Capsule Pantry so please leave any comments or questions below or on Instagram!
Love these ideas? You may also love, 2-for-1 Shredded Chicken and 2-for-1 Pulled Pork.
Photography by Chase Daniel