Braids, buns and wavy hair oh my! If you're looking for a cute way to fix your child's hair in less than five minutes, these step by step easy hairstyles for kids are for you!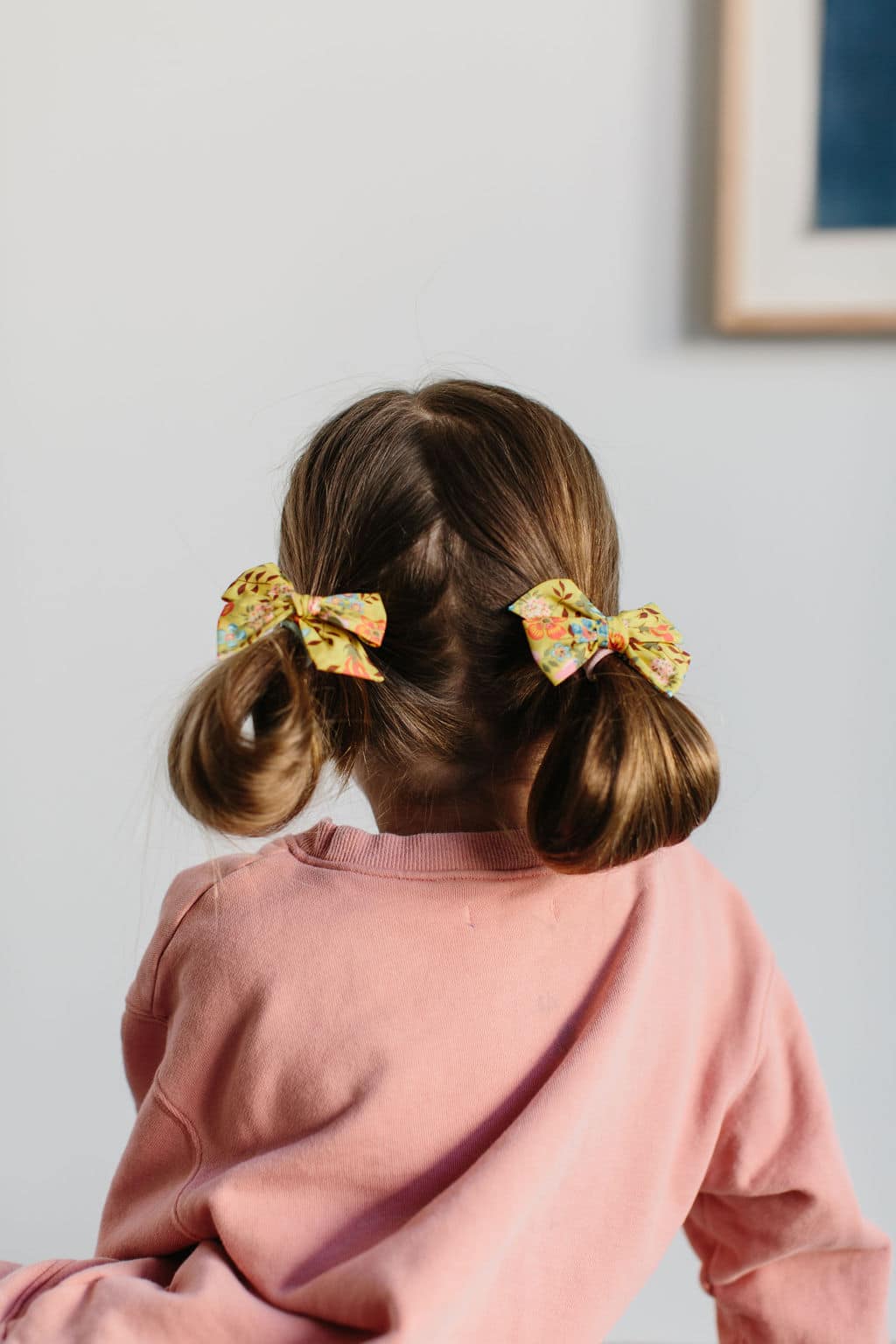 When Parker made her Ellen Show debut at 5 days old, the first thing our favorite host of daytime remarked on was her "wig". A few months later it had evolved into something we called her Hillary Clinton look and by one she was already rocking french braids. The irony is that she spent most of her toddler years not wanting her hair brushed, much less fixed, much, much less to have clips, braids or headbands in it. My have things changed!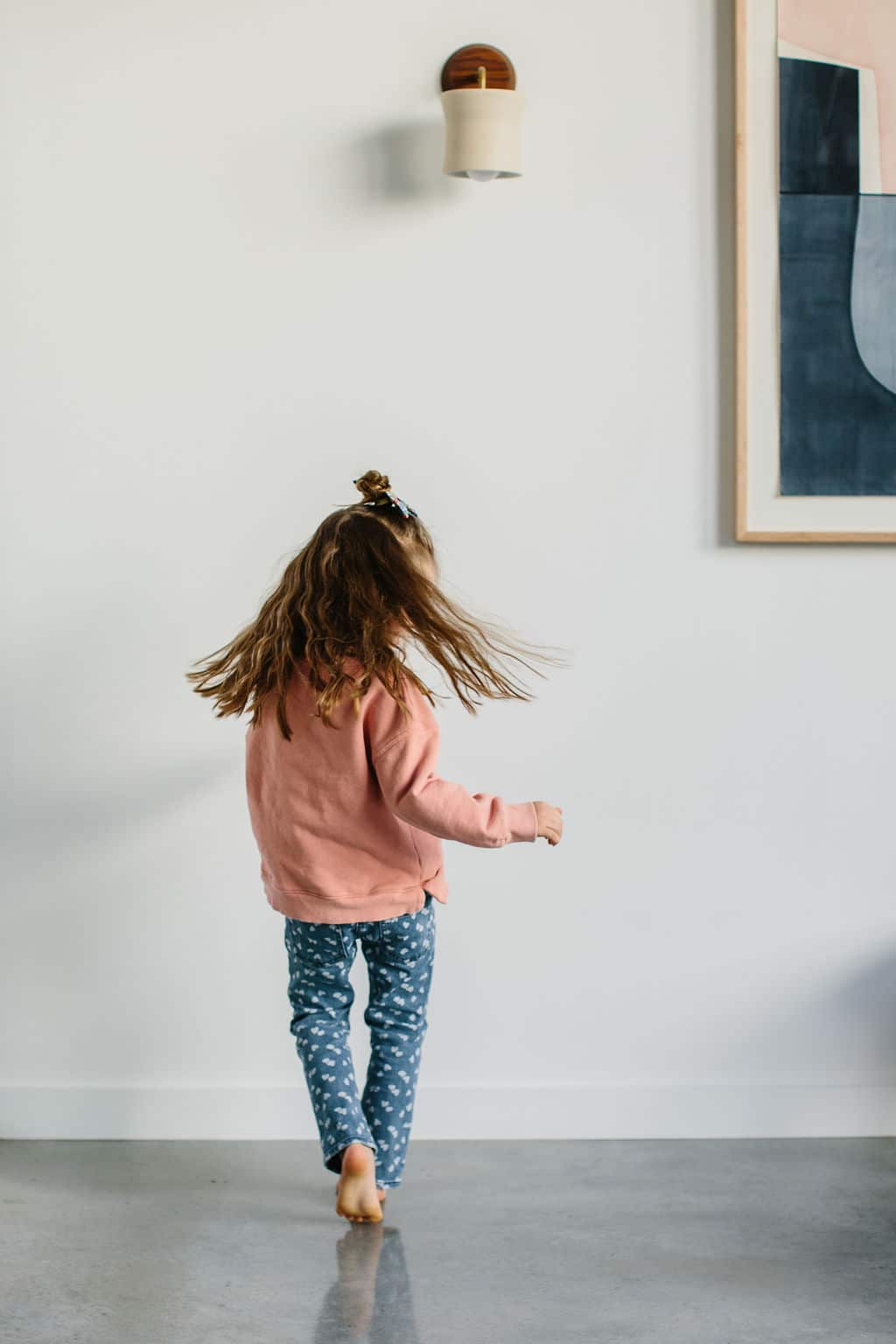 Now her hairstyle-of-the-day is a regular morning conversation over breakfast. I've had a lot of fun finding a handful of easy braids for kids and simple hairstyles that don't take more than a few minutes in the morning. Luckily they also feel "fancy" enough for her five-year-old taste. Here are Parker's three favorite hairstyles and their easy step by step instructions...
Kids Easy Hairstyle #1: The French Braid Step by Step with Sparkly Hair Clips
If you've ever wondered how to french braid kids hair, this easy french braid tutorial is for you!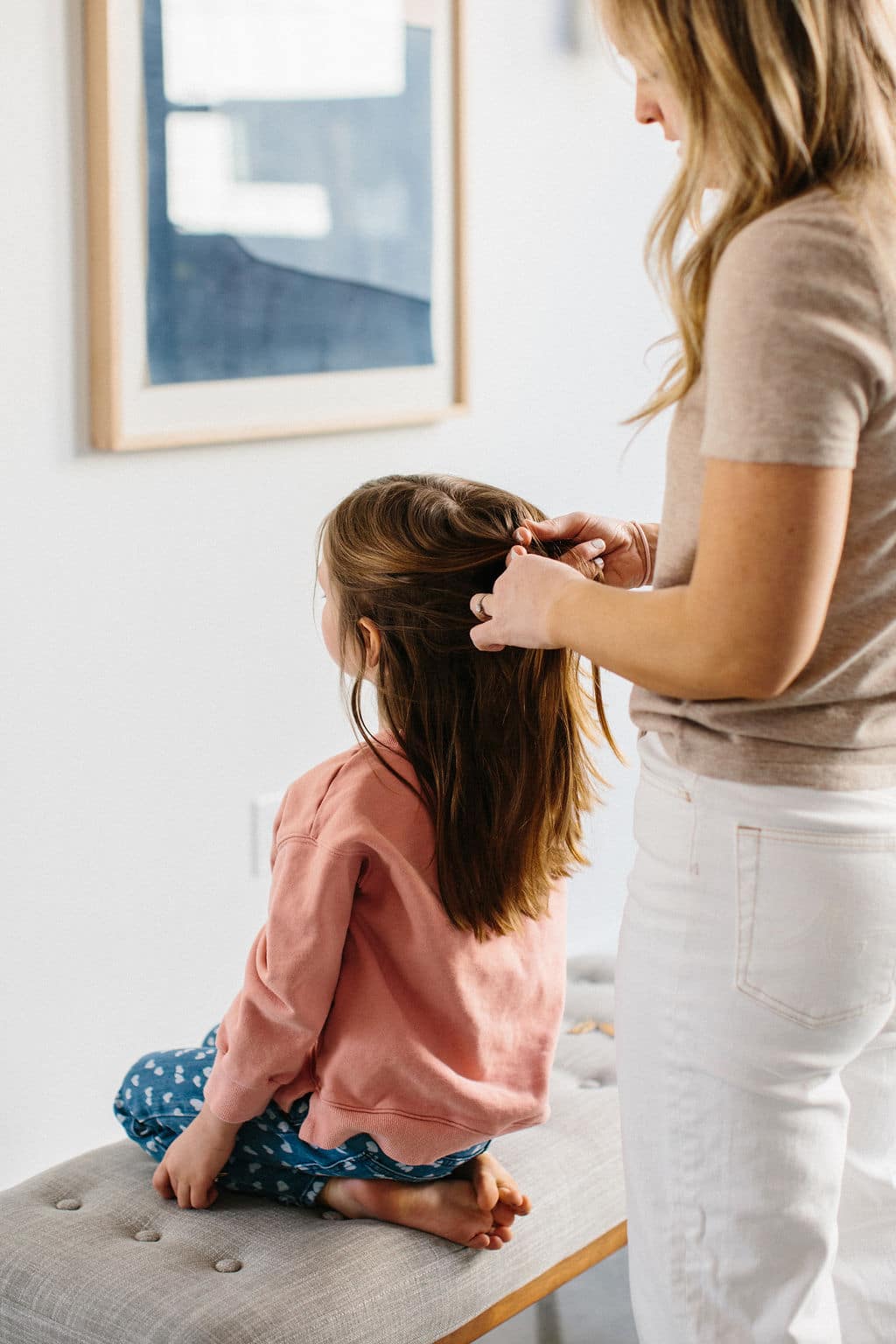 1. Begin by separating three small sections of hair at the crown of the head. For a tighter, slicked back french braid you can begin this at the center hairline, but I like to leave the braid loose in the front. Plus, this style is much quicker.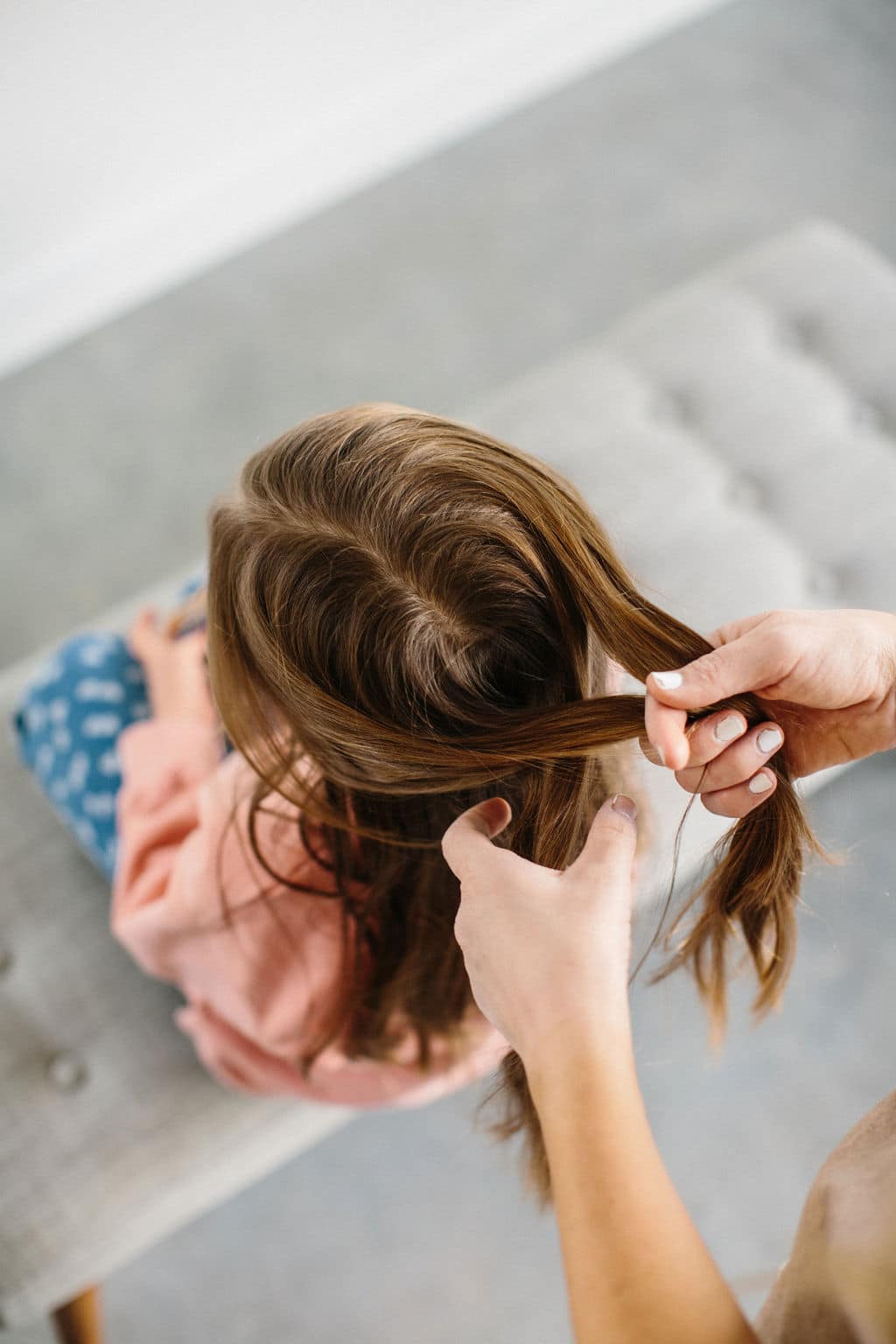 2. Now cross the left side over center and then the right side over center. At this point, all three strands of hair will be held in my left hand, separated by fingers. This leaves my right hand index finger free to scoop up the next strand of hair from the right side and cross it over center. Now shuffle the three strands into my right hand so that I can do the same thing on the left side if the left index finger.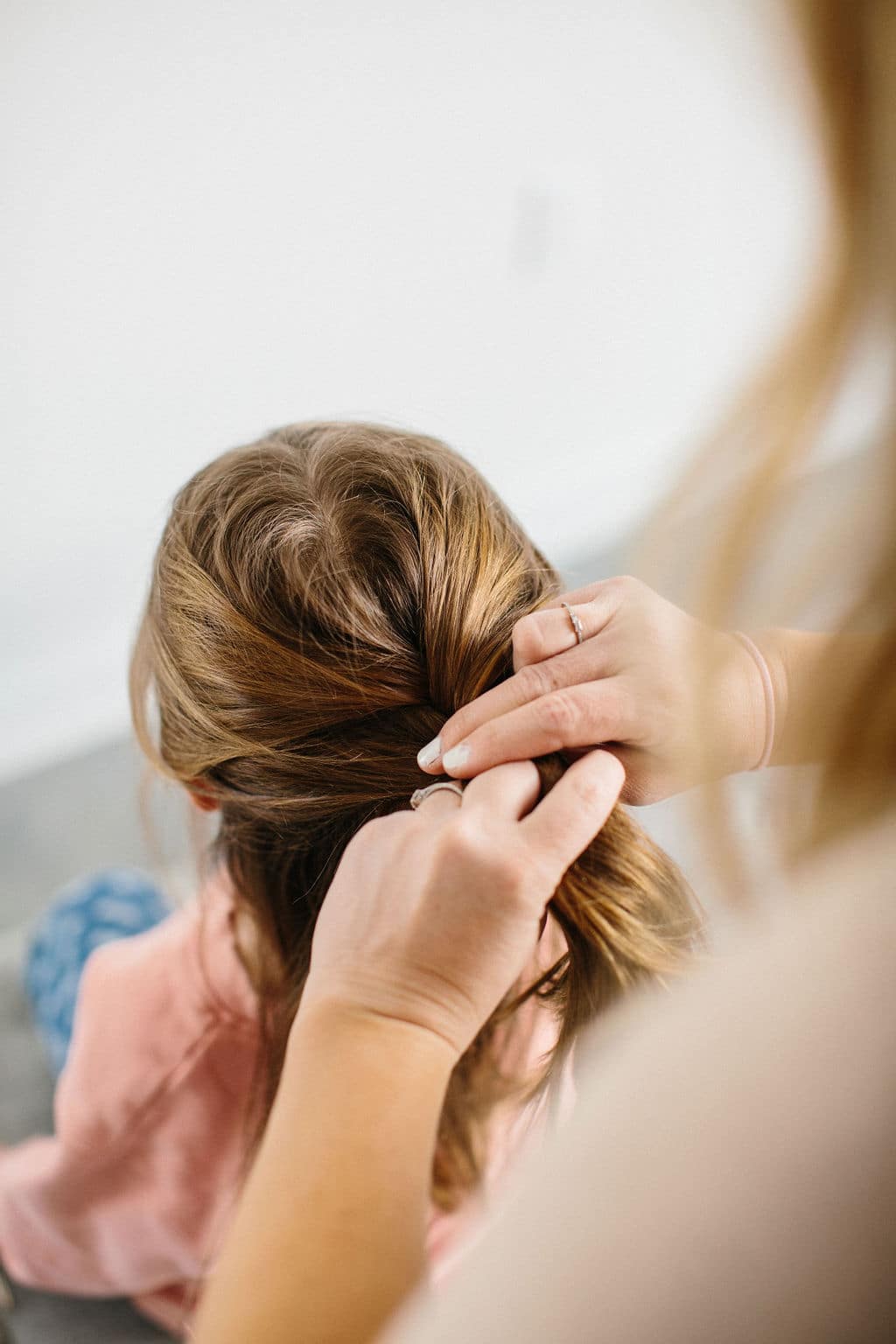 3. Continue repeating these simple steps until all of the hair has been scooped up and incorporated into the braid. (We have more french braid tutorial details on our site here.)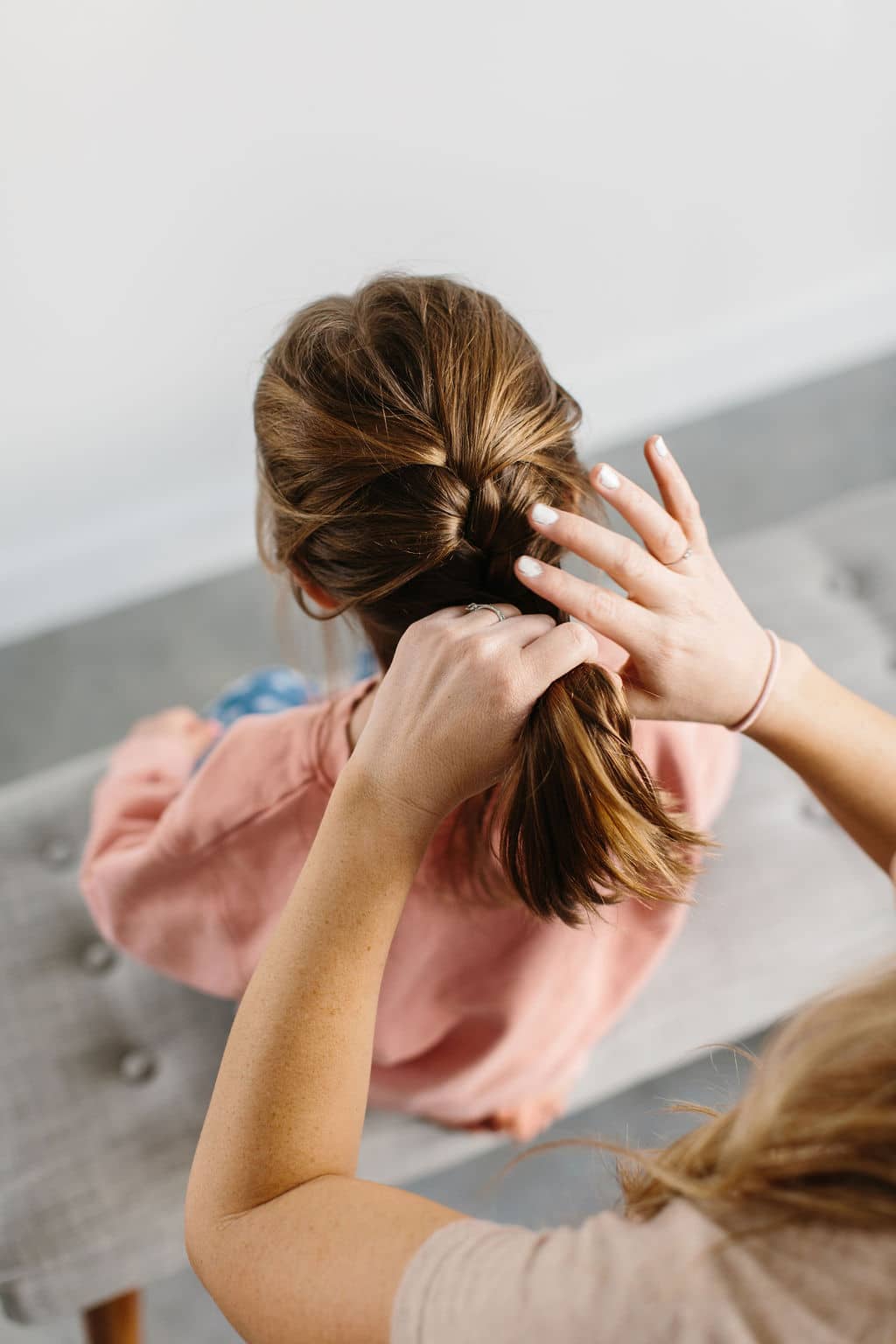 4. At this point, you should be near the nape of the neck and can continue braiding in a simple three strand braid fashion. Secure the french braid at the end with a rubber band.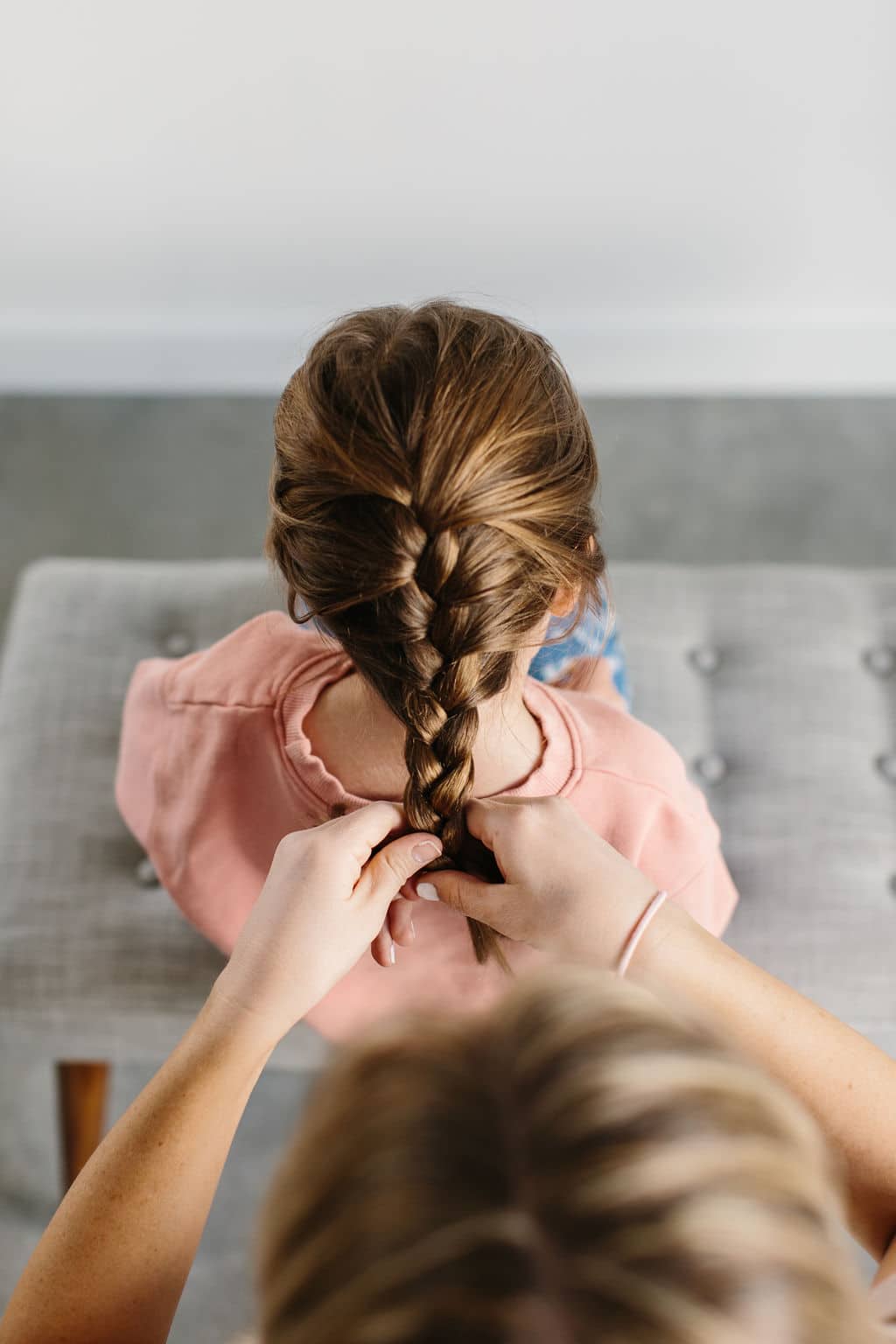 5. This step is what makes this easy french braid hairstyle for kids a favorite for my daughter-- sparkly, bedazzled jewel clips, of course! (You can find your own here, here or here!) Add your clips wherever you like!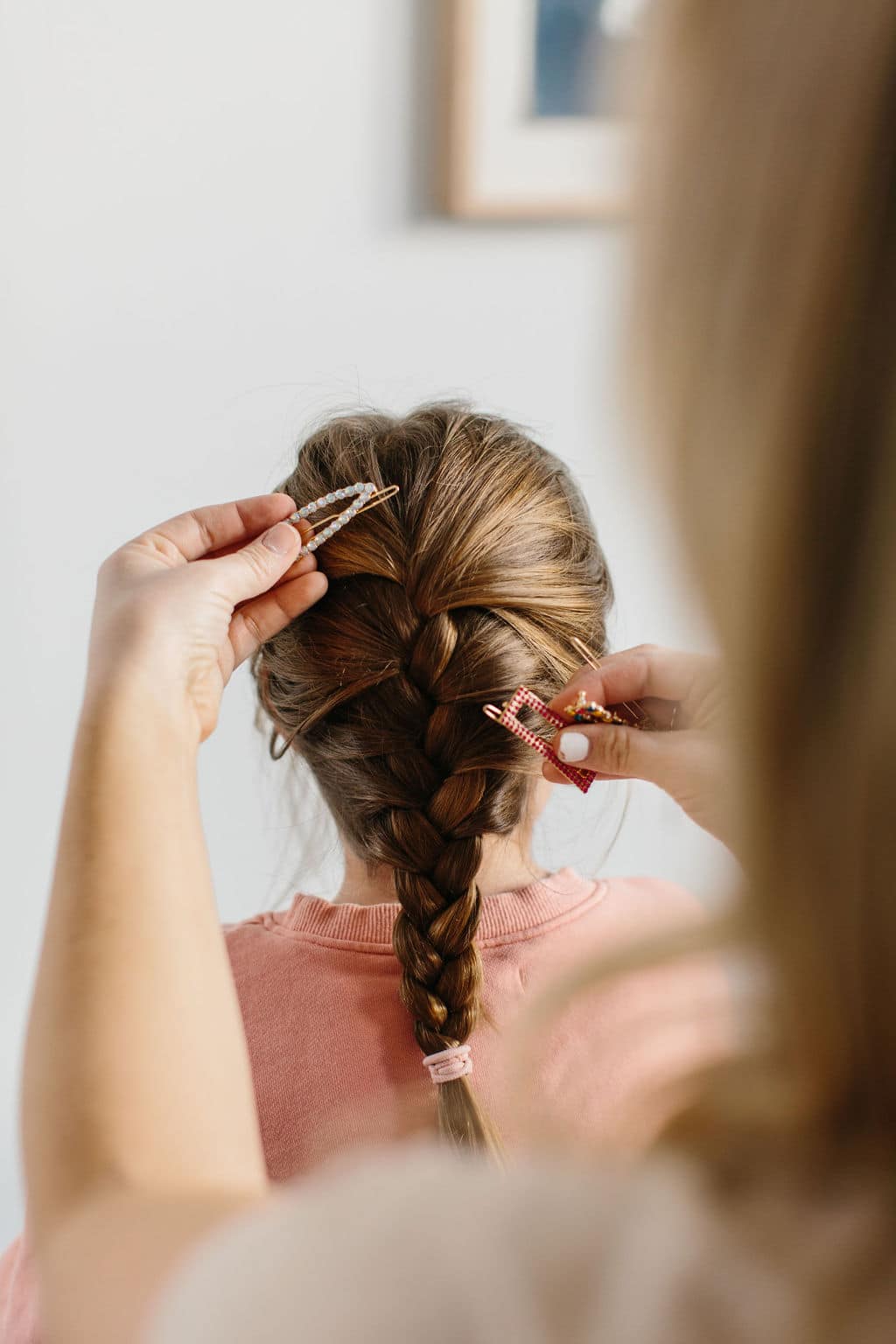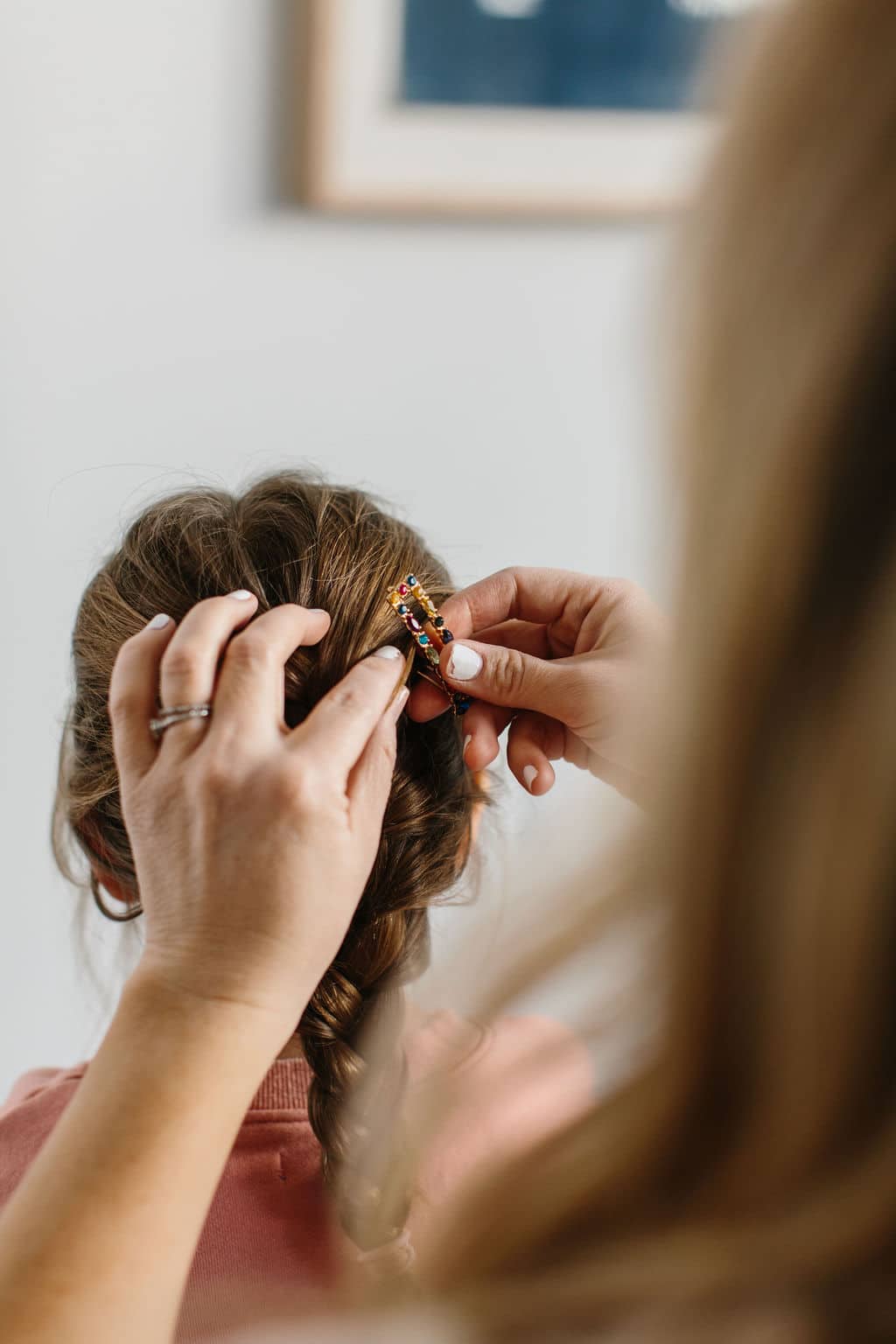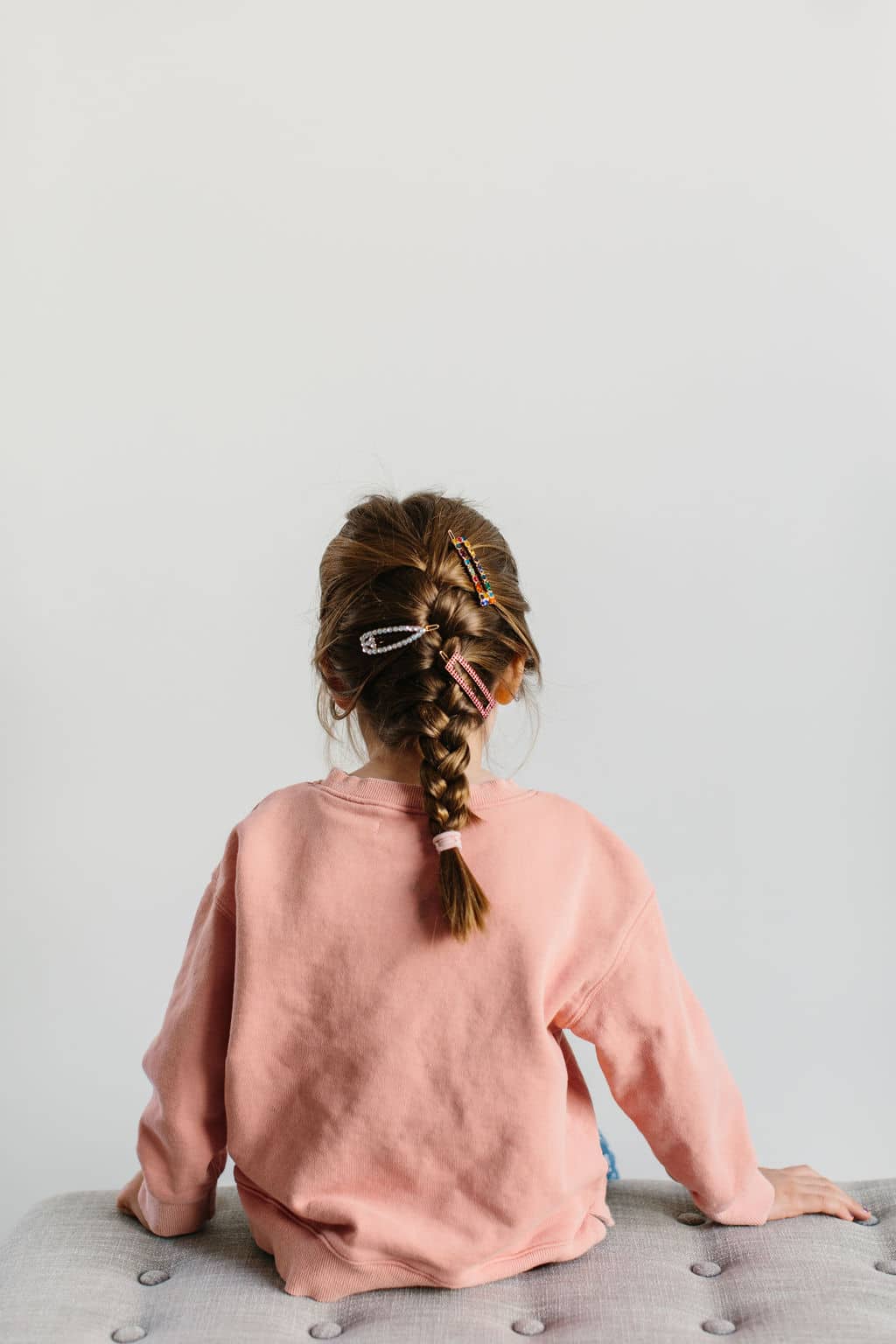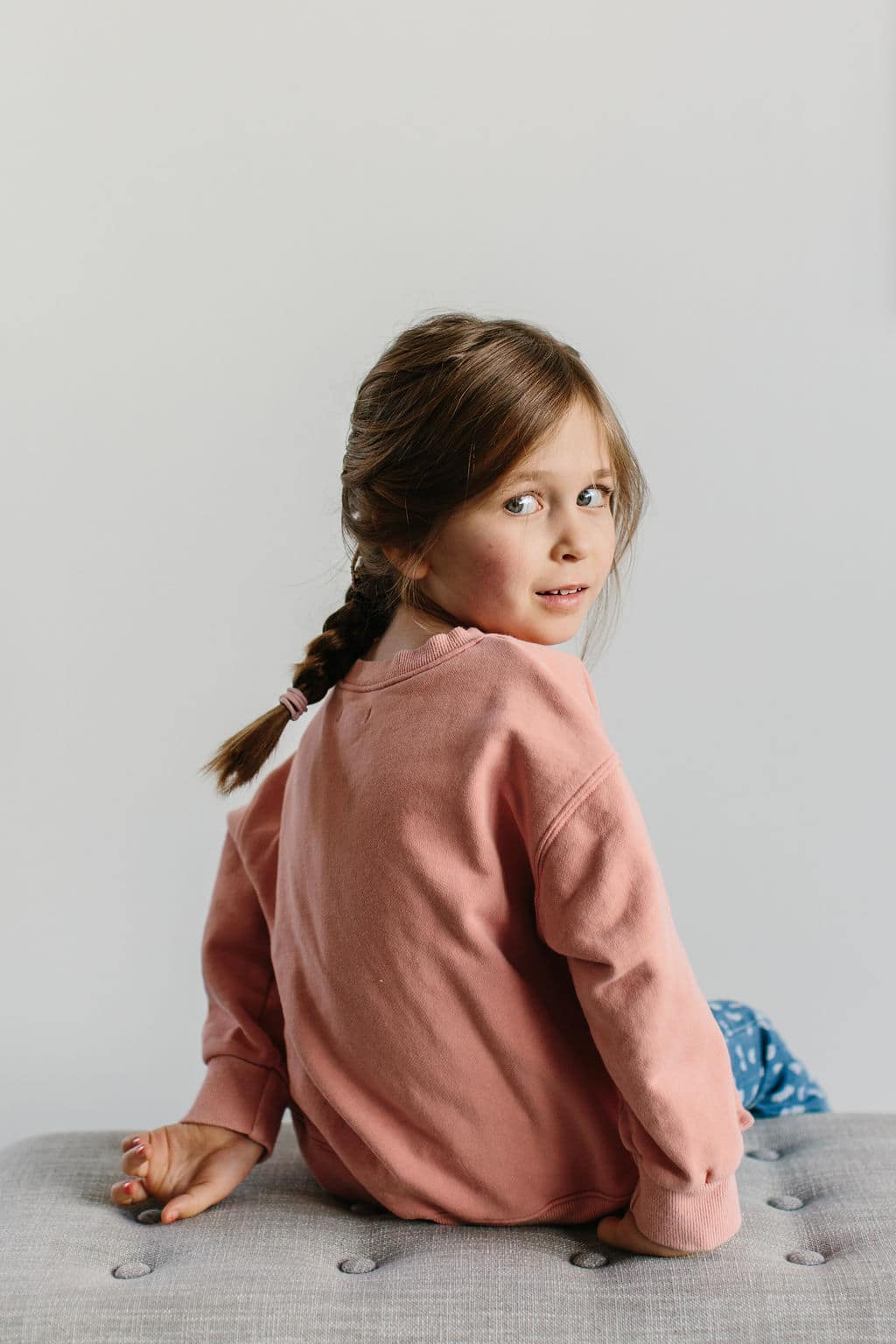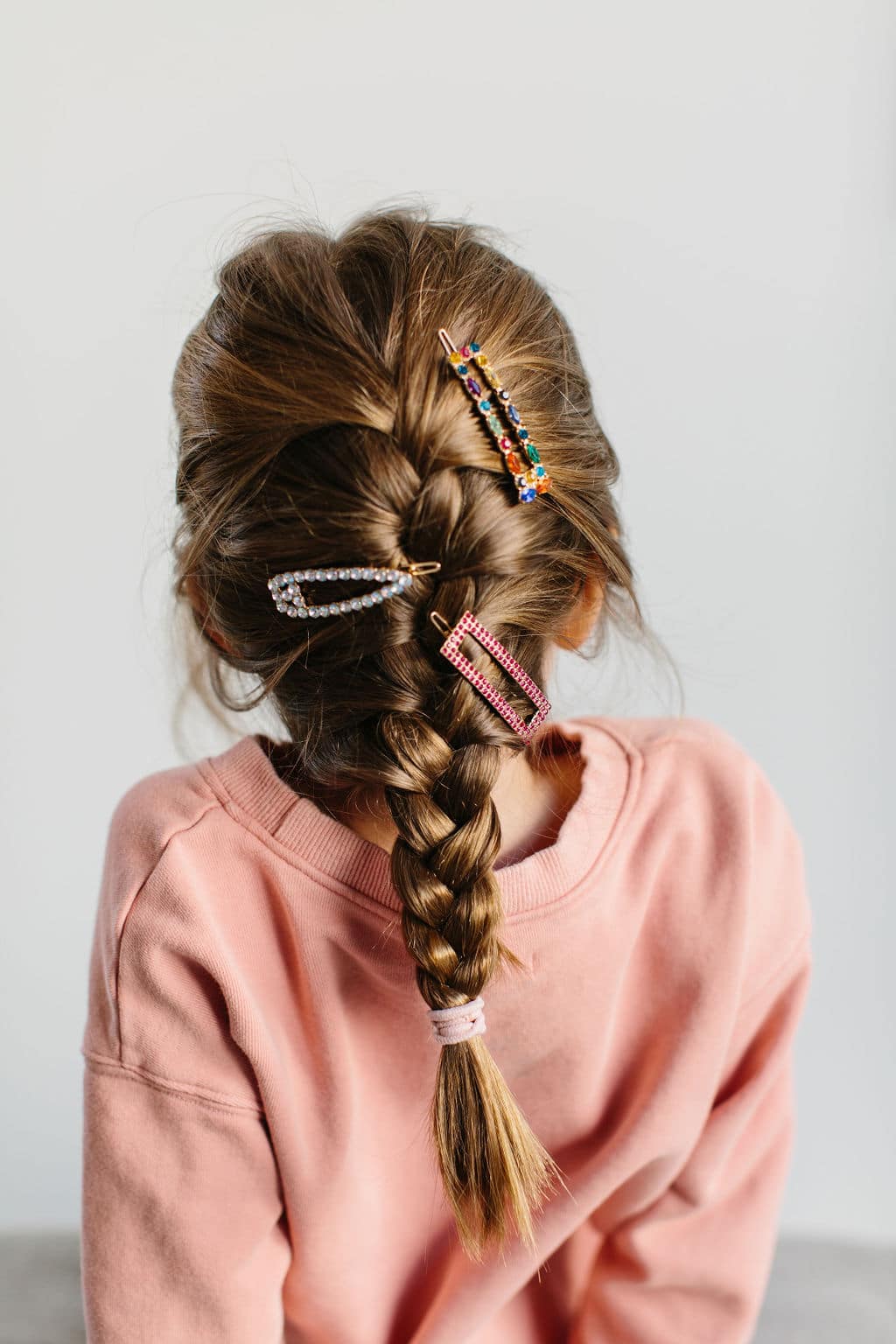 Kids Easy Hairstyle #2: The Easy Double Bun Tutorial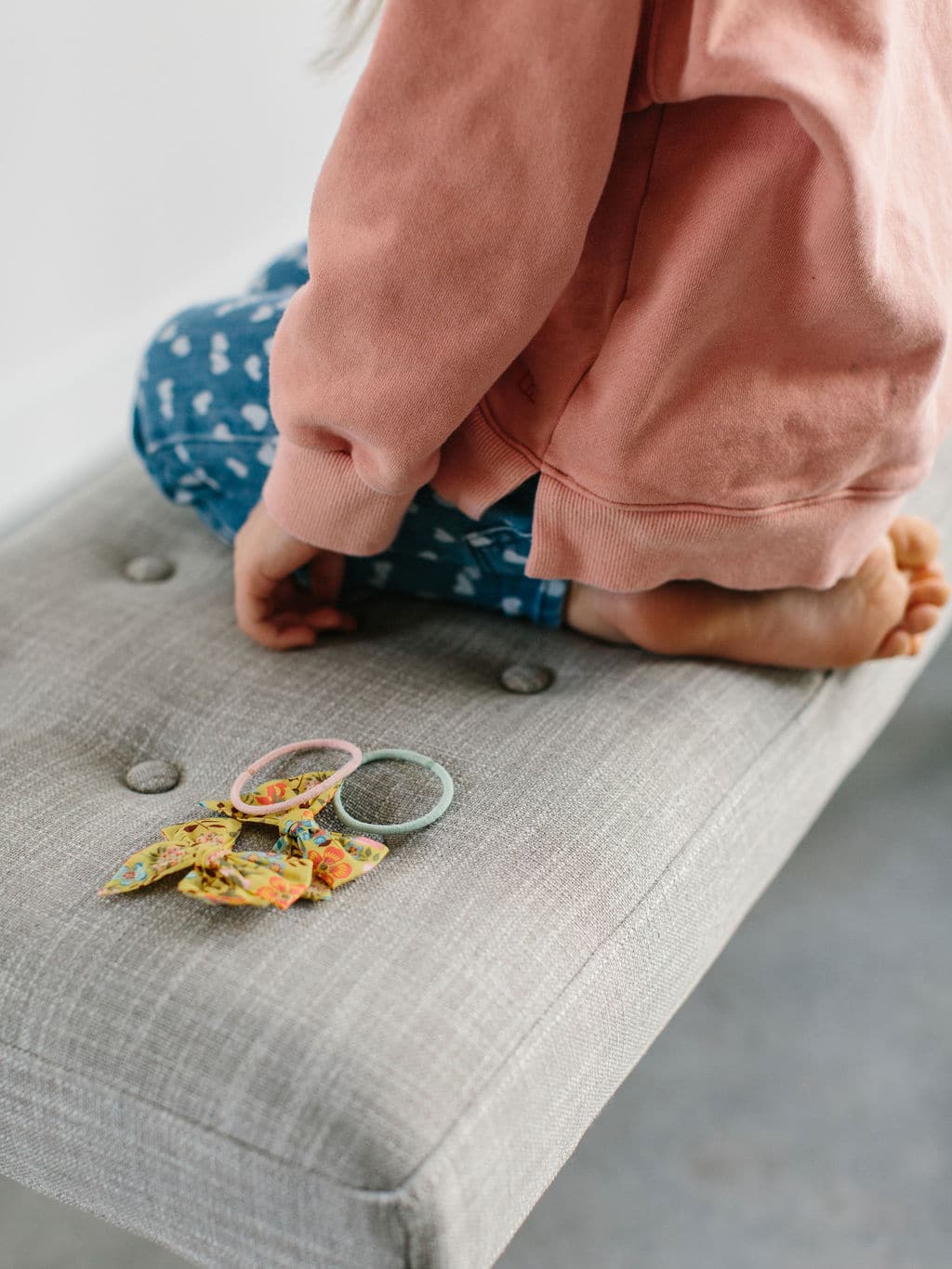 1. To start, you will need two hair elastics and two bows.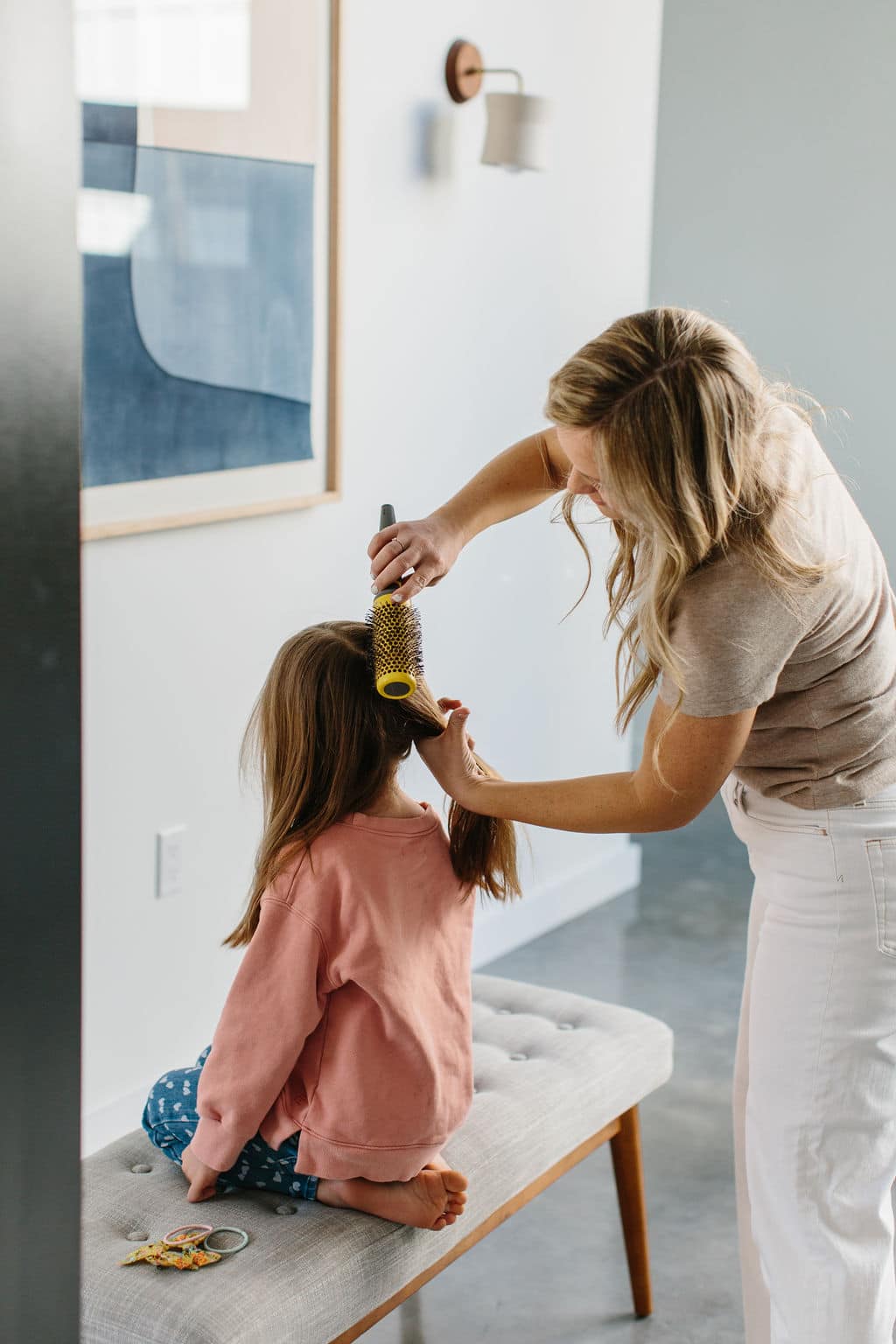 2. Separate your hair into two sections as if you were doing pigtails. I don't make a perfect part. I like for my kids hairstyles to look lived in and effortless, not super rigid or perfect.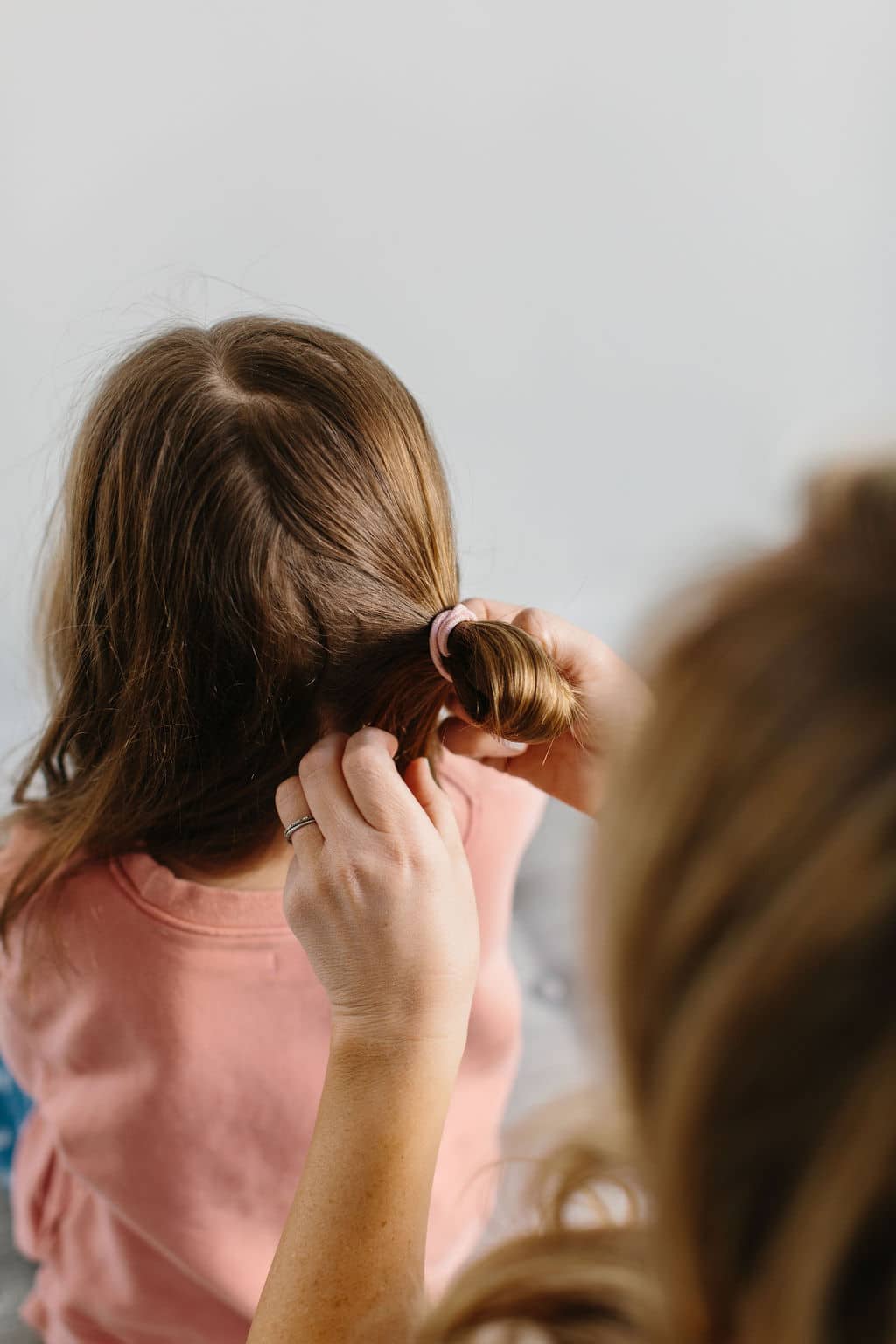 3. On the right side, pull hair through the elastic as if you were doing a ponytail, but on the last time through leave the end of the hair still secure in the elastic to create a bun instead of a ponytail. Add the bow on top of the elastic to hide it.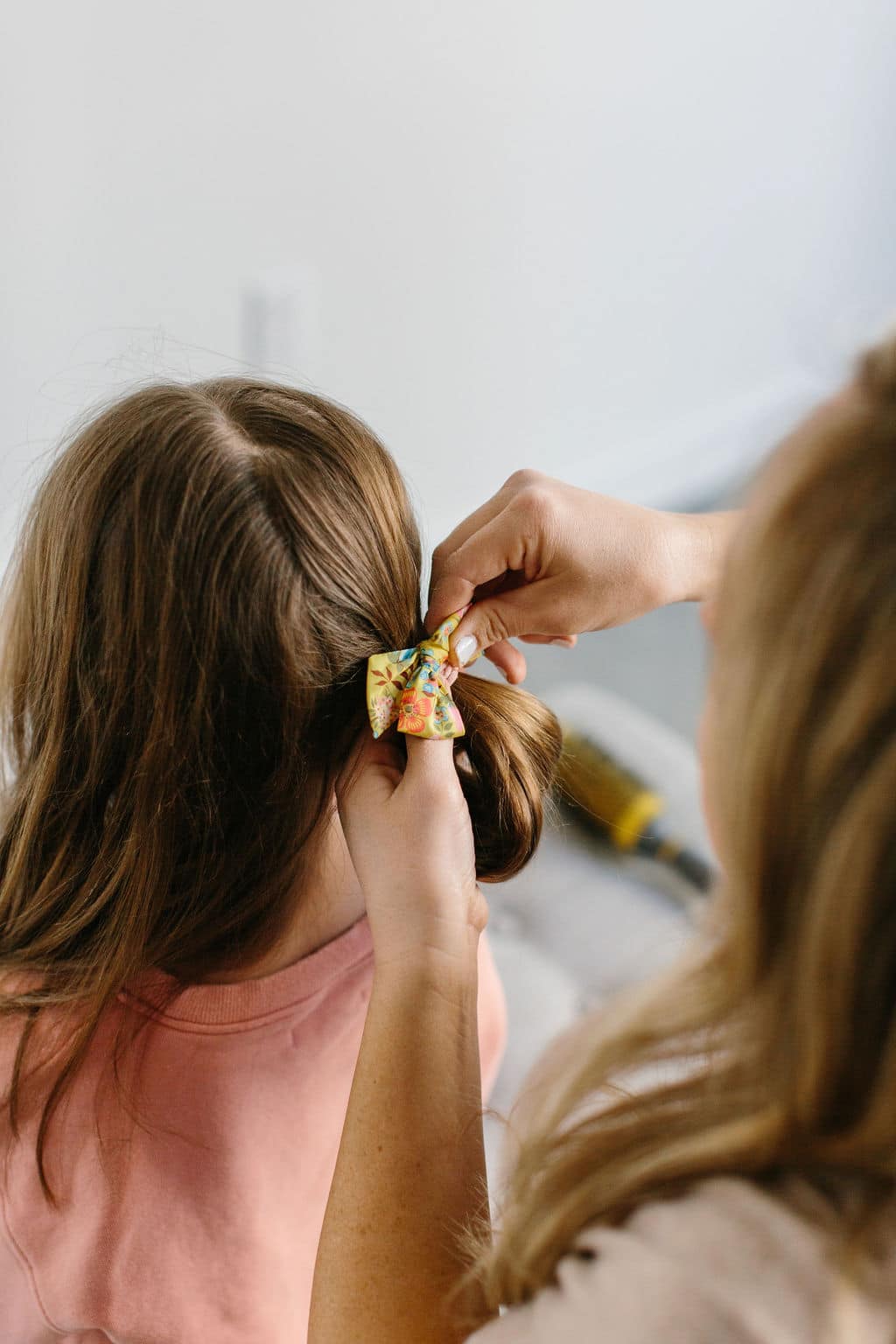 4. Repeat steps on the left side.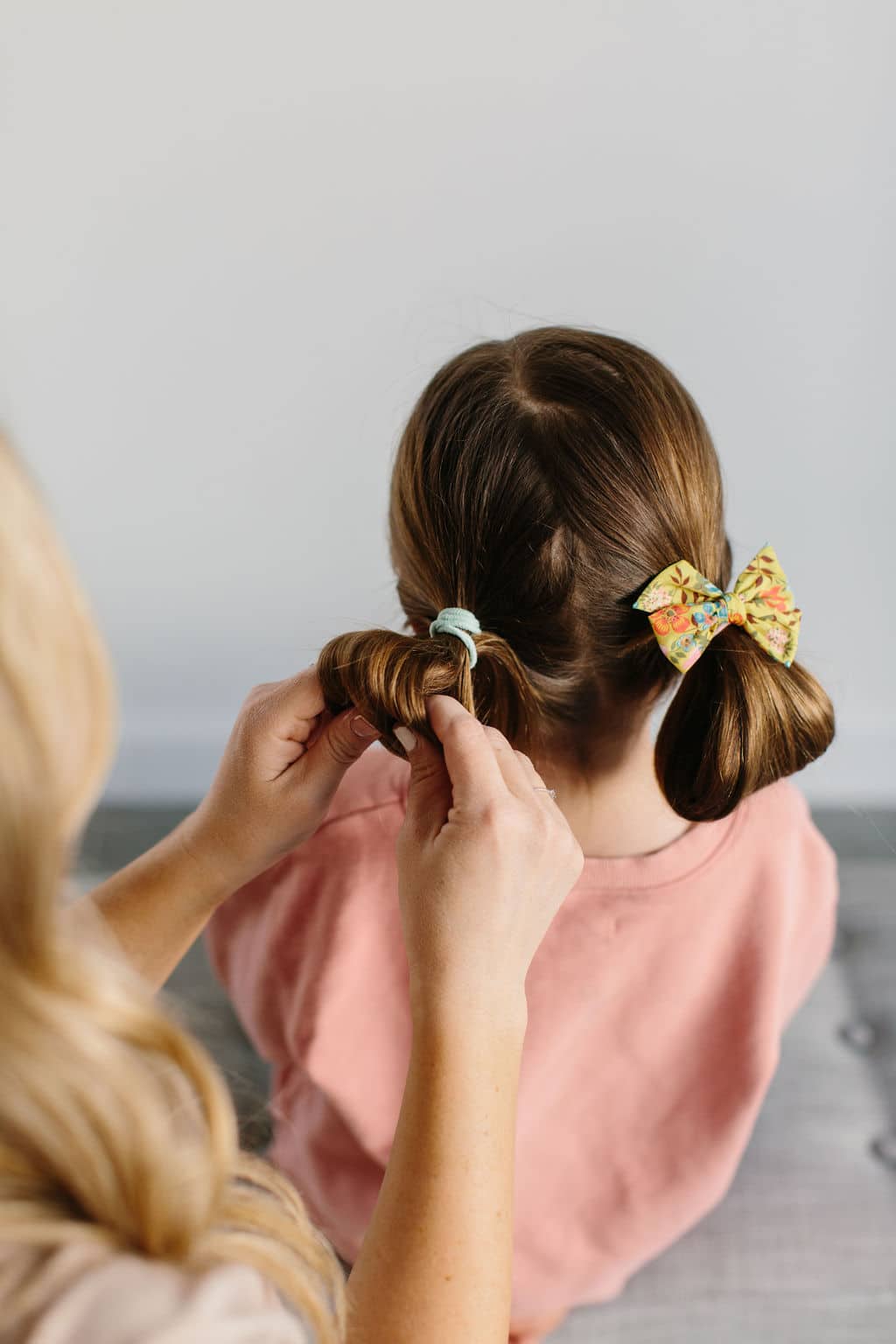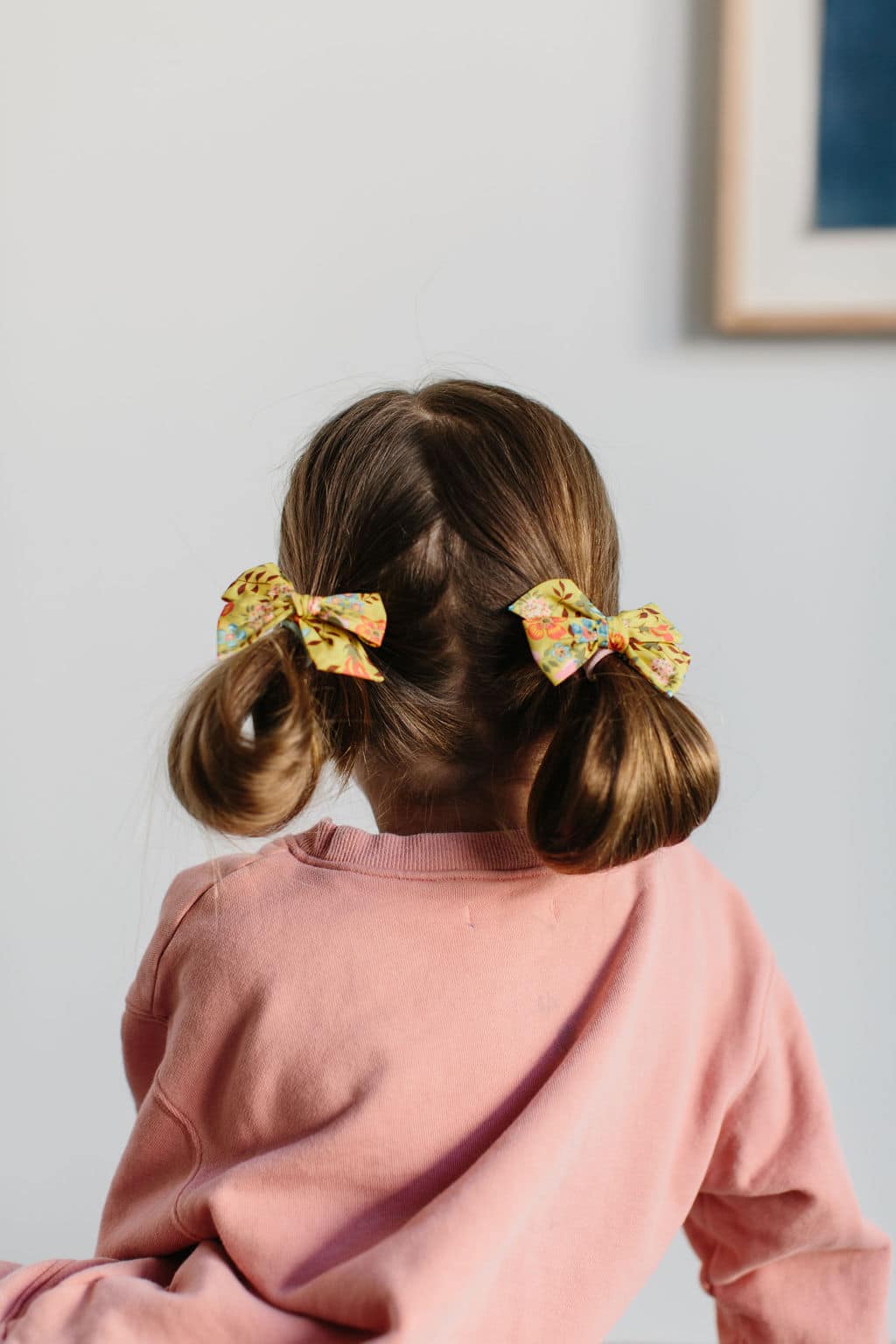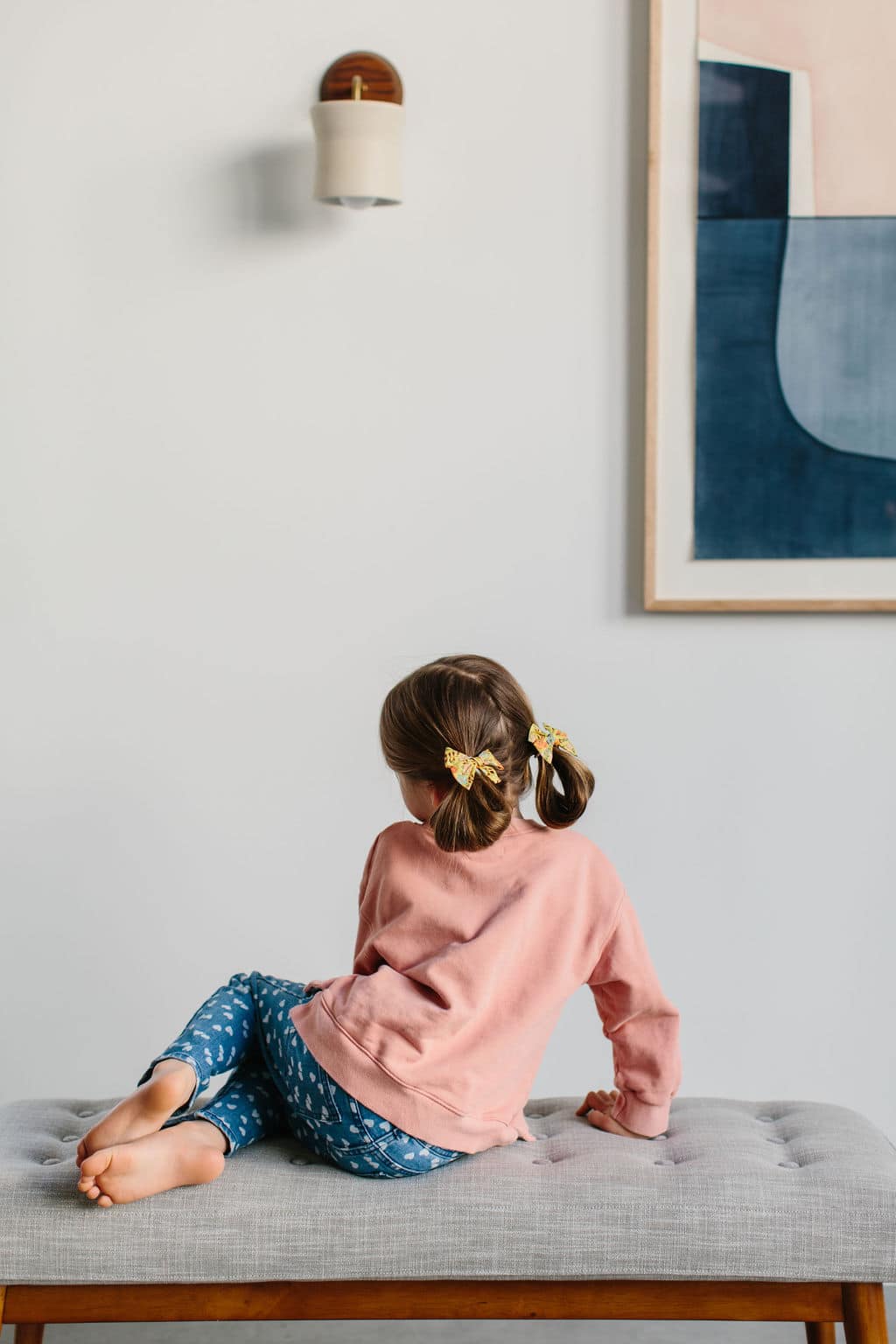 Easy Kid's Hairstyle #3: Wavy Hair and Half Top Knot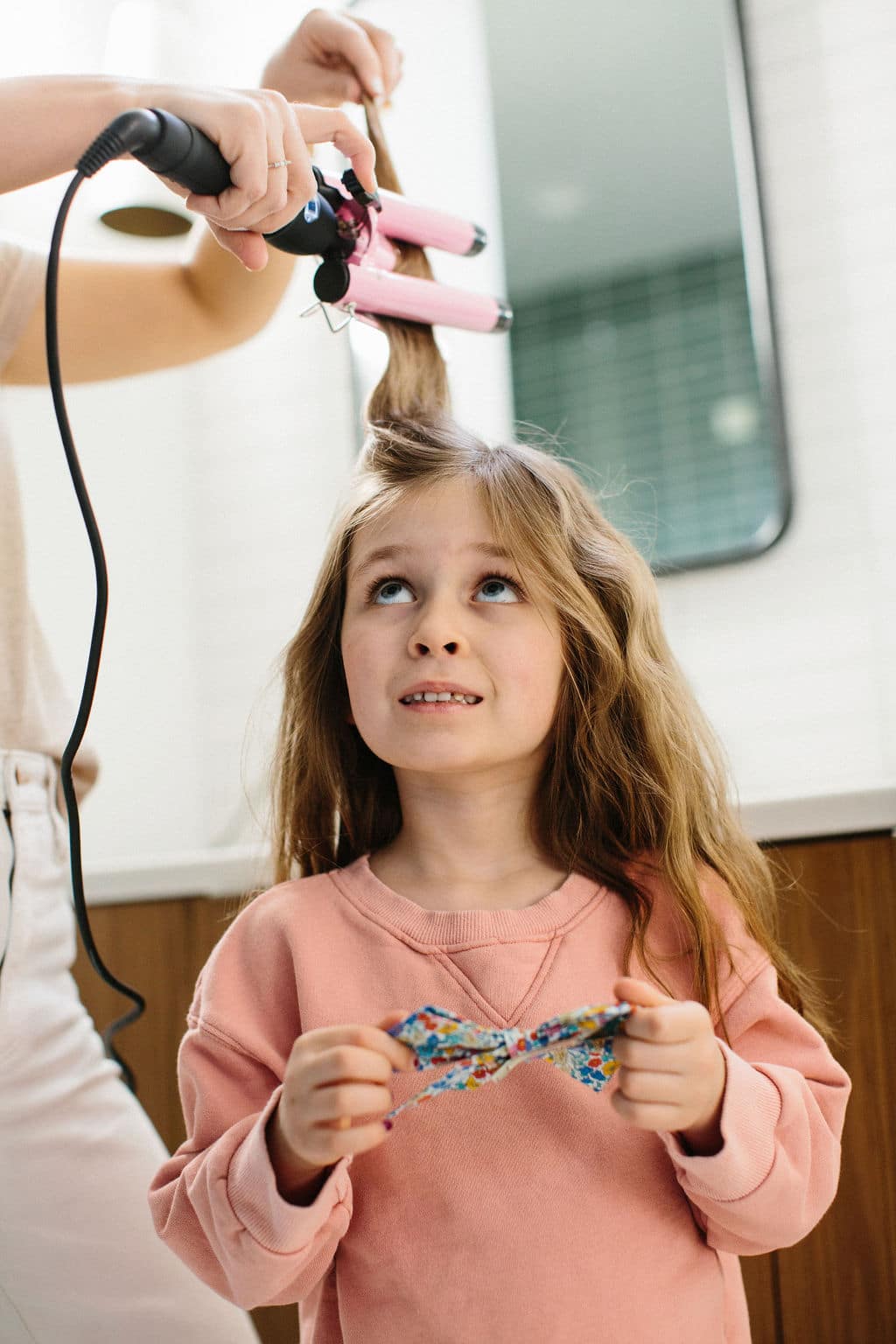 This hair waving tool was a late night impulse purchase that I thankfully do not regret! It's super easy to use and waves so much hair at one time. You can create wavy hair all over your whole head in just a few minutes. Parker loves it, too!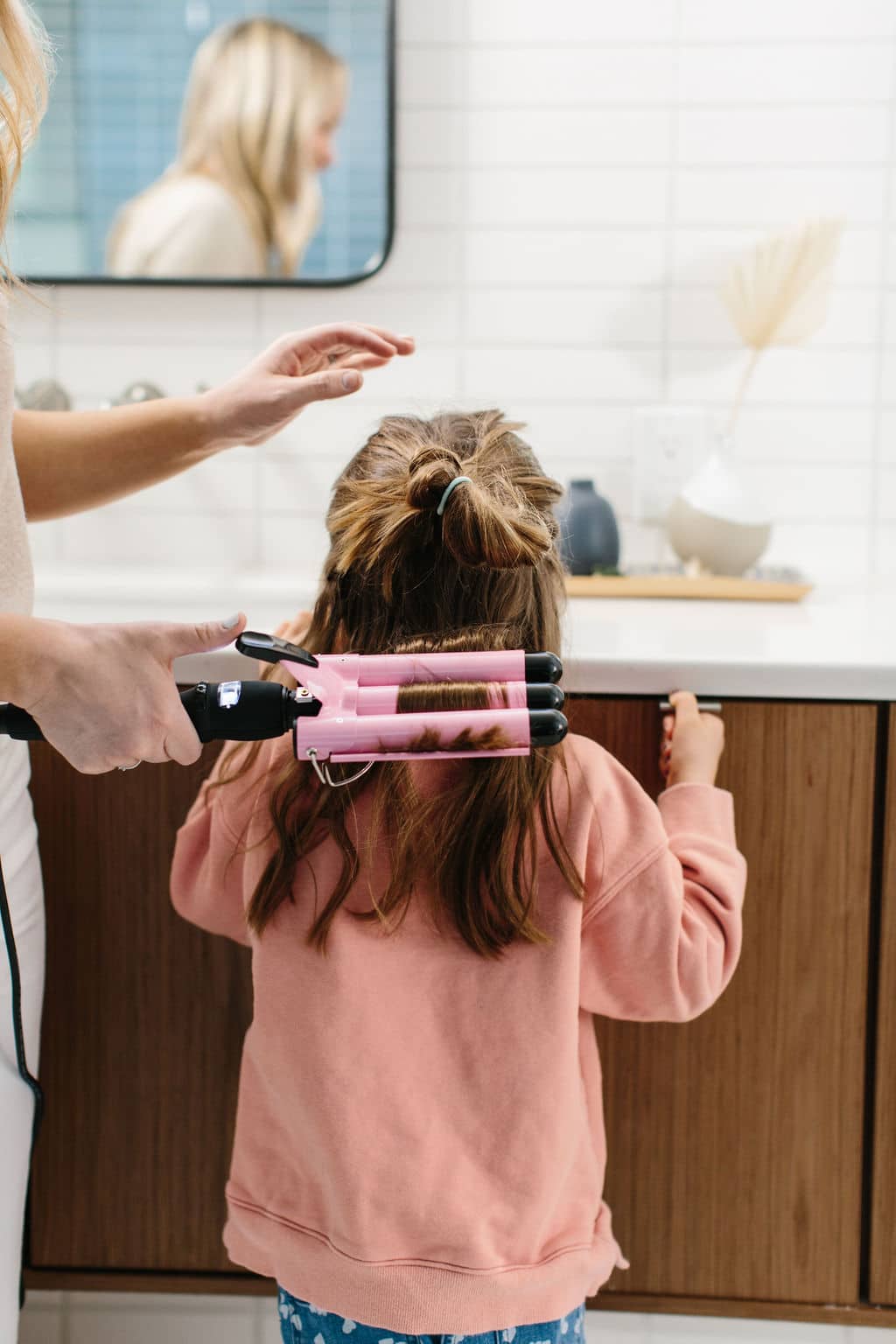 1. Begin by pulling up the top hair on the crown of the head and securing it so that you can wave all of the hair below.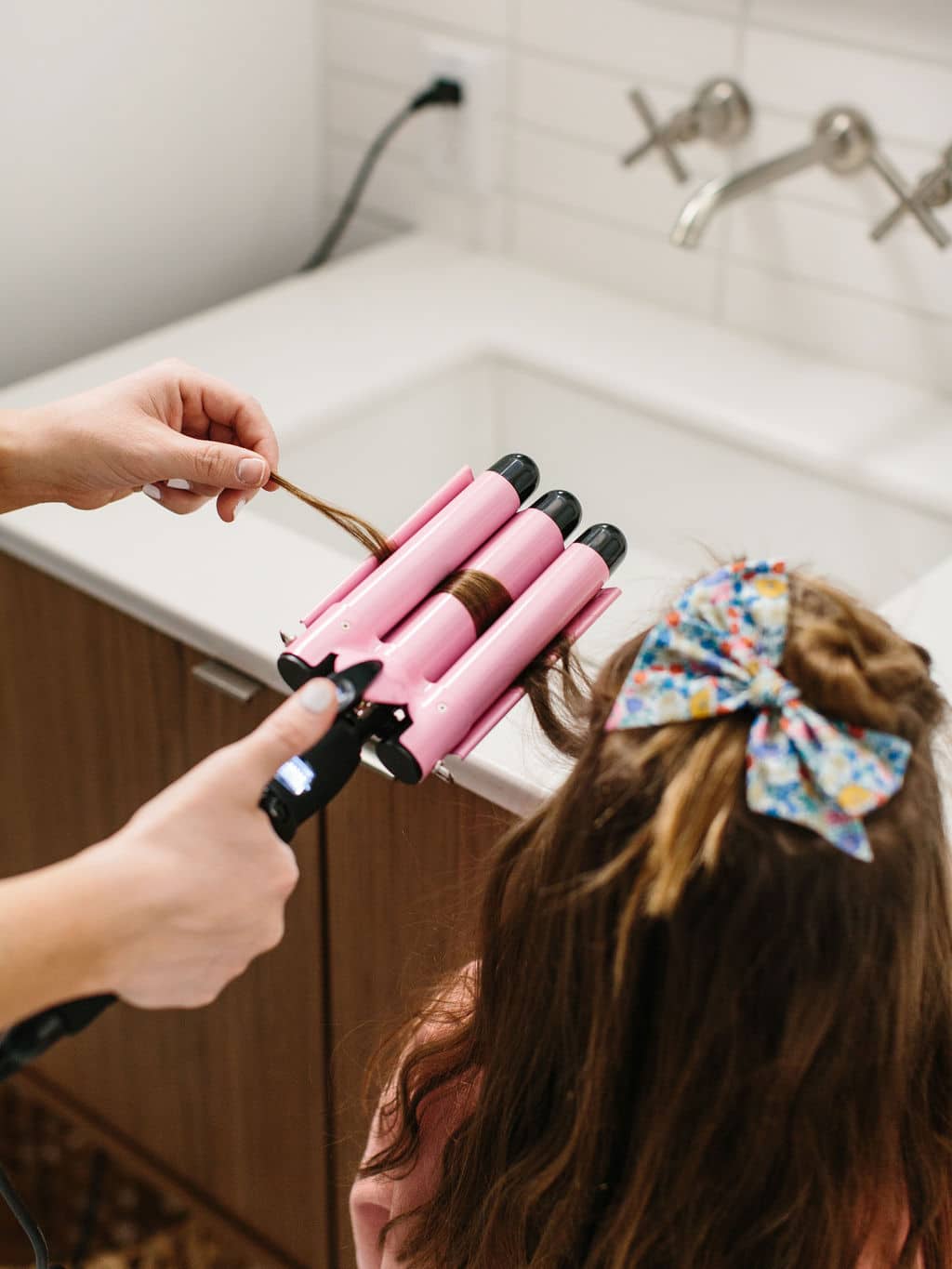 2. Wave hair using the wand by slowly crimping the hair about two inches from the root and working your way down. You can also add hairspray to allow the wave to hold for longer.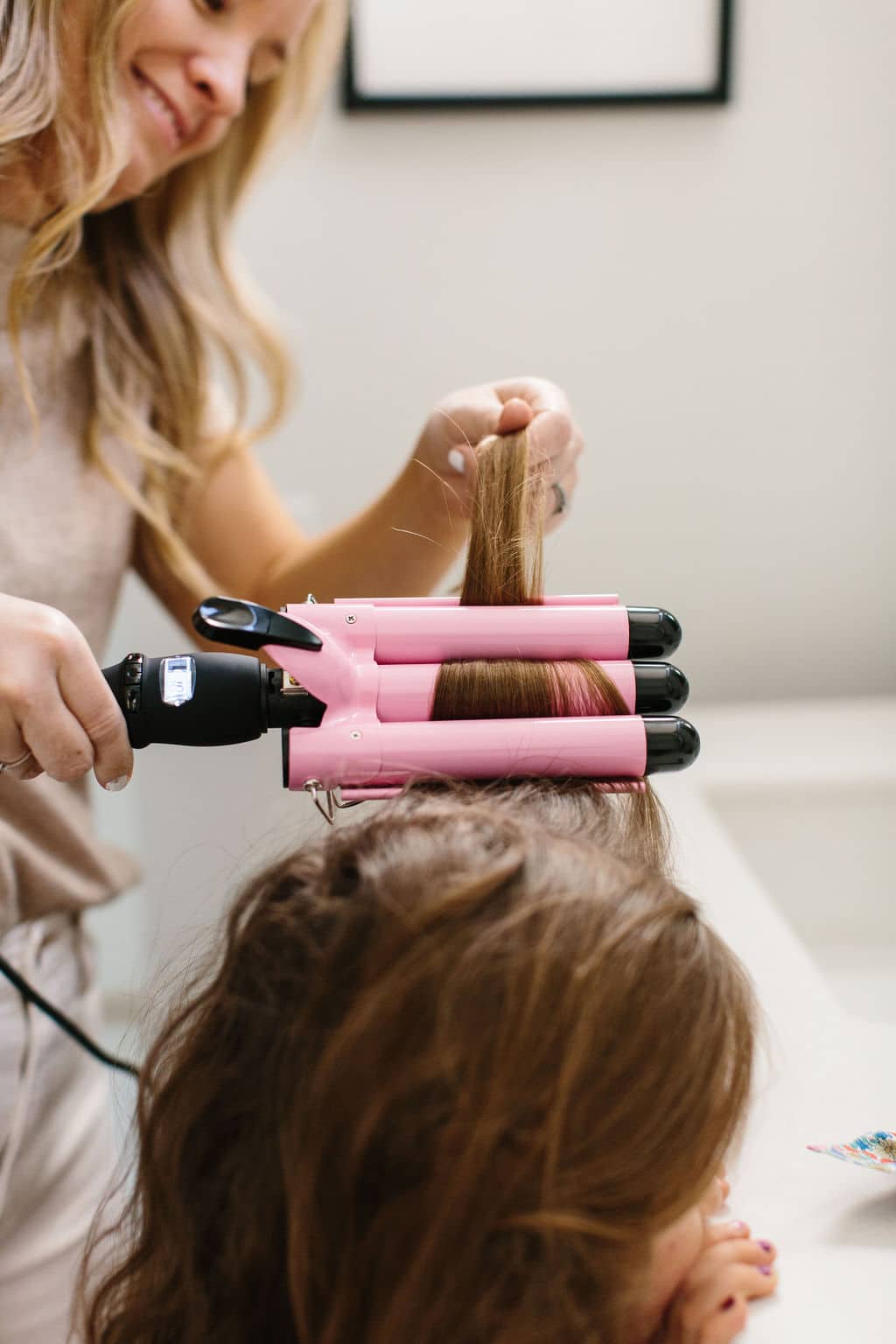 3. Once all hair is waved, separate a small section of hair on top of the head and twist into a tight top knot bun.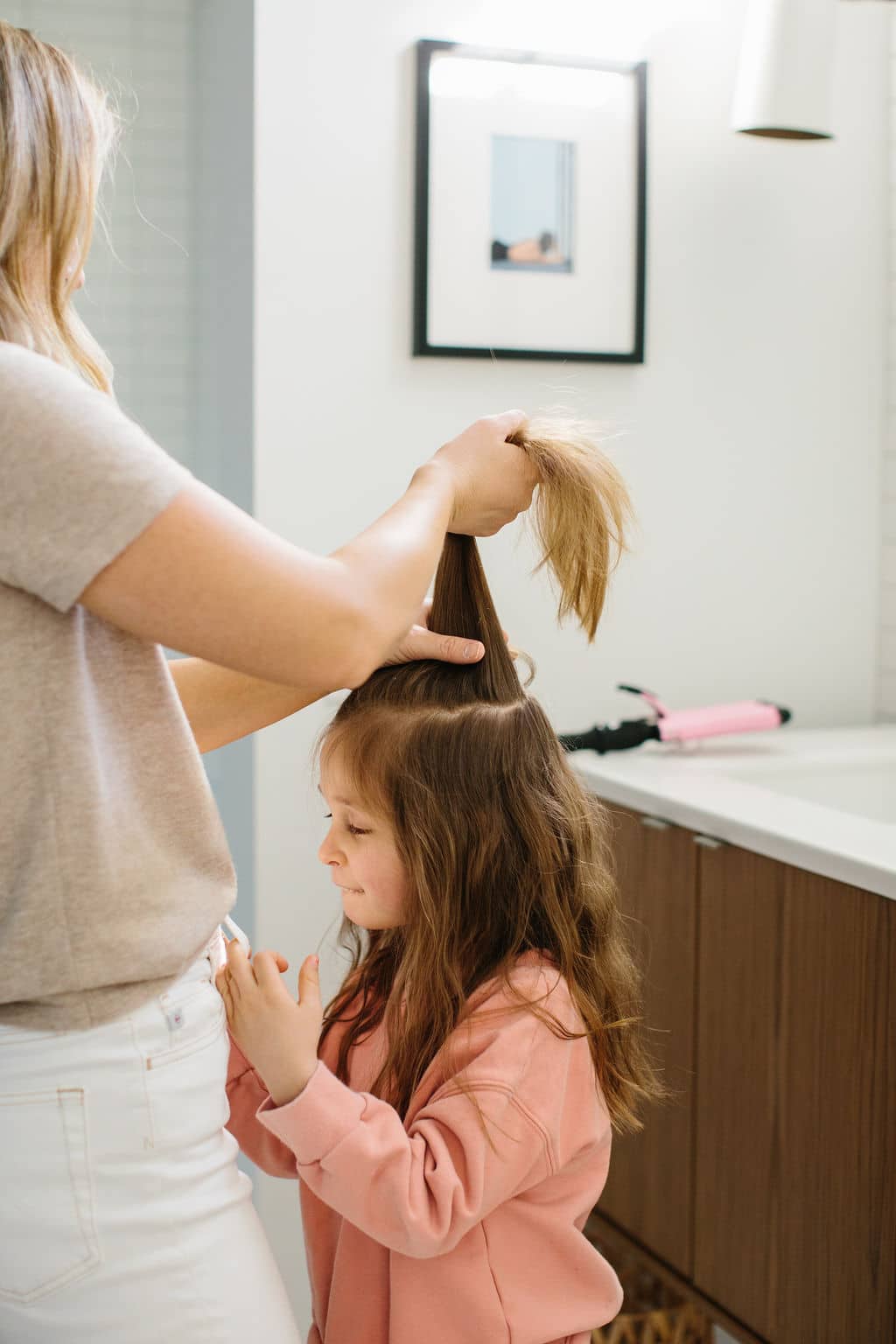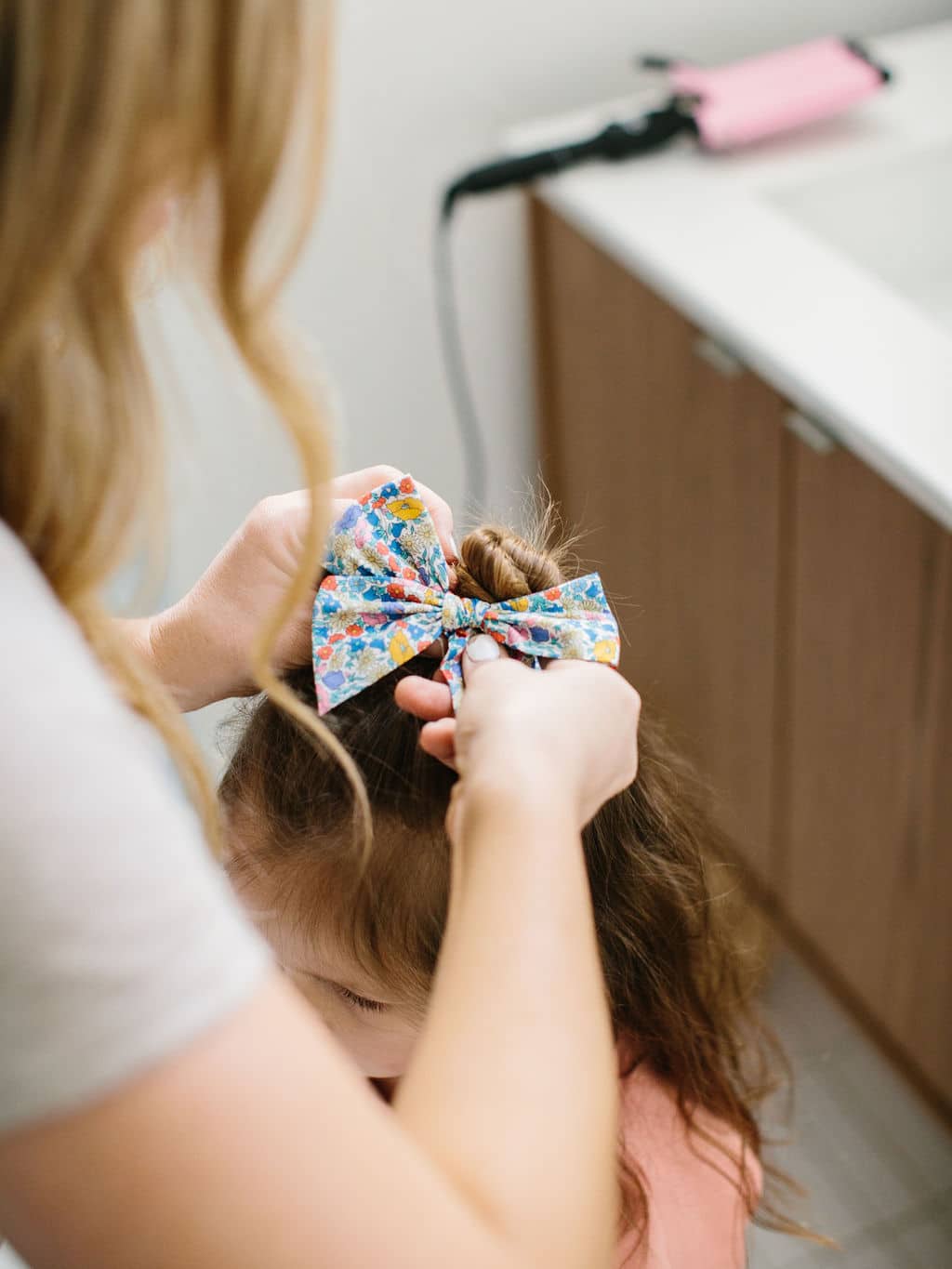 4. Secure the top knot with a rubber band and then just add a bow. If in doubt, always add a bow.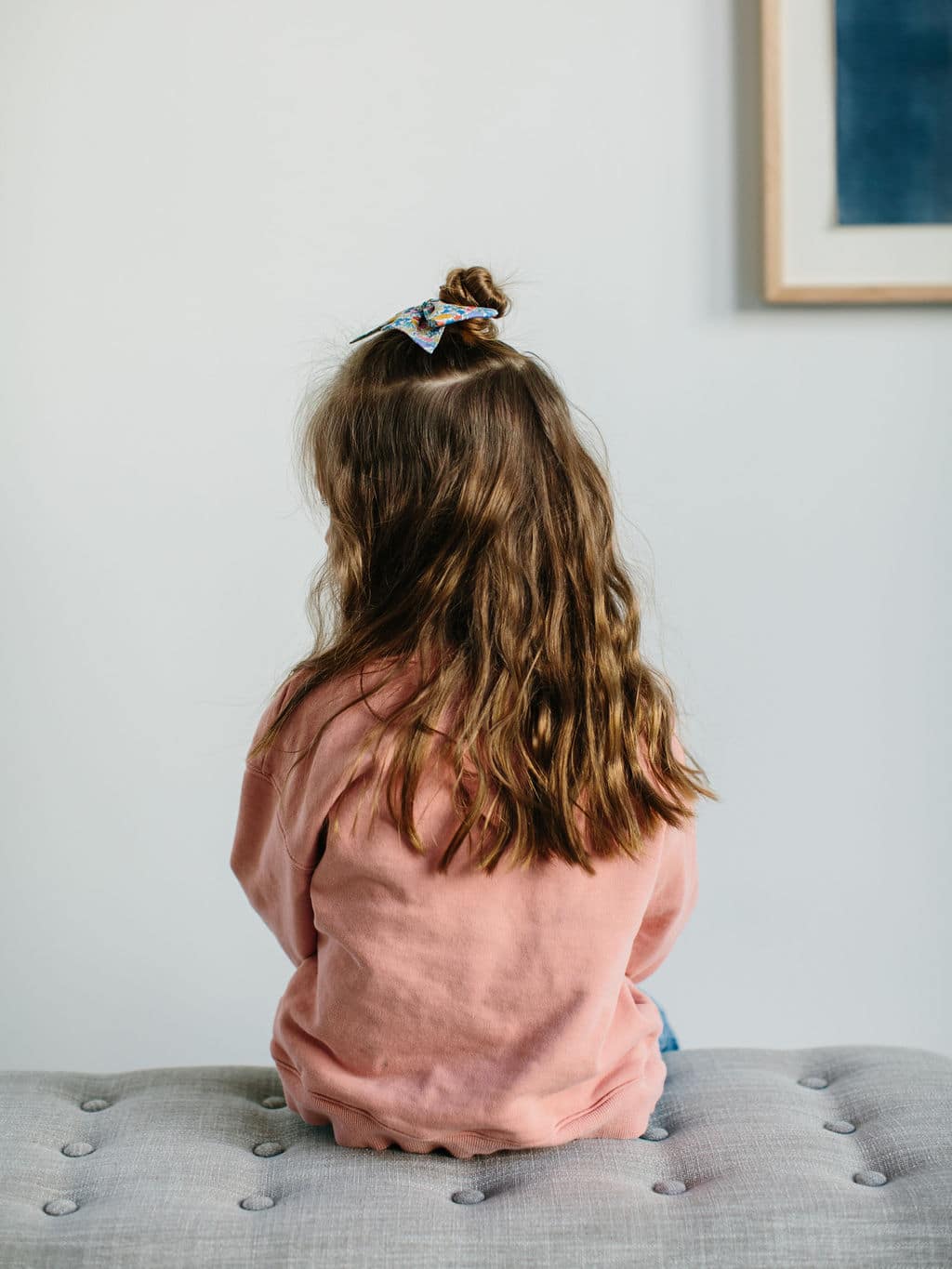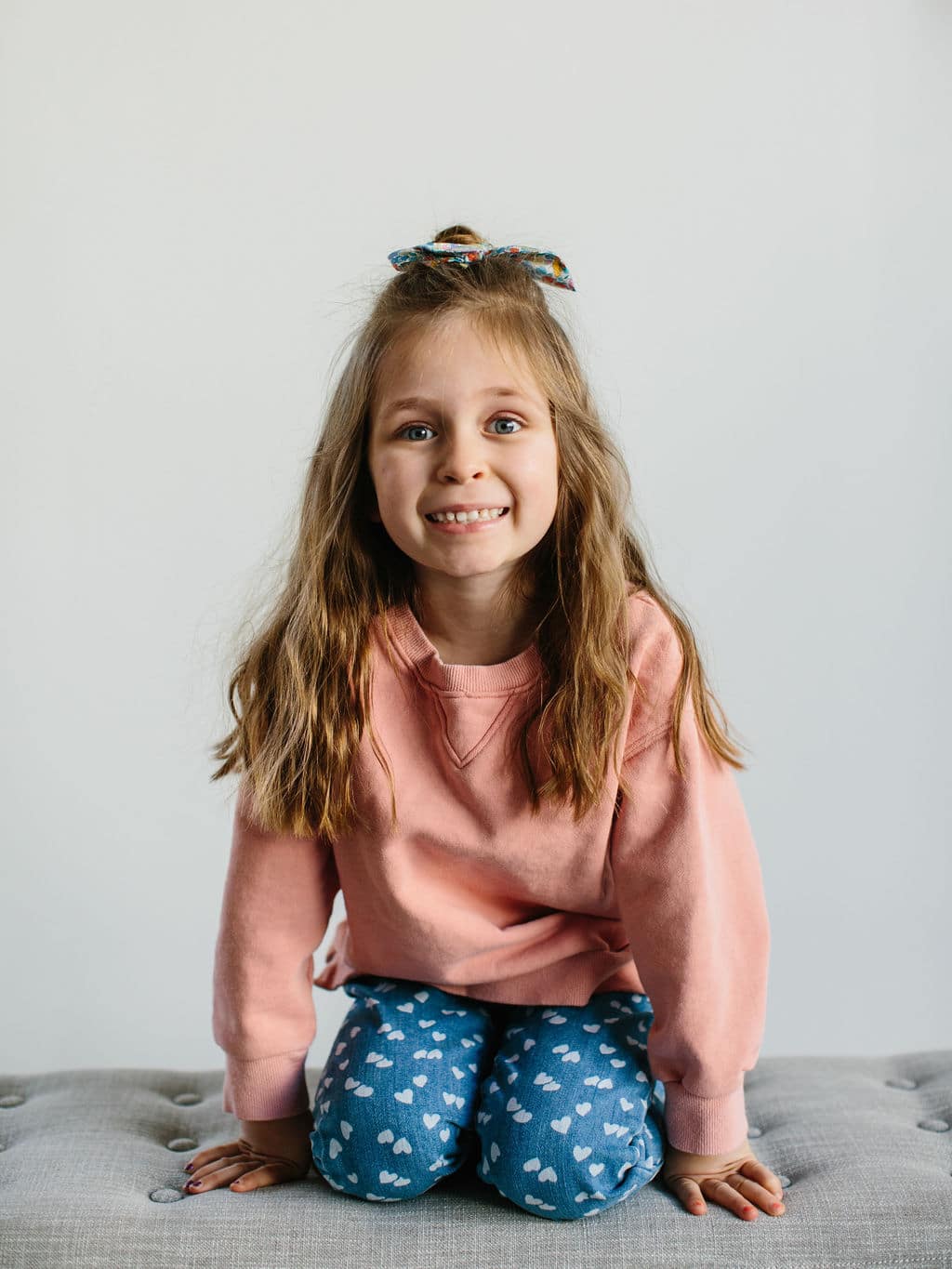 There you have it! 3 easy hairstyles for kids that only take a few minutes of your time in the morning. Which one is your favorite?
Photography by Katie Jameson
BE SURE TO CHECK OUT THESE OTHER EASY HAIRSTYLES!
10 Chic Hairstyles to Consider for Fall
How to Get the Perfect Messy Ponytail
The Everyday French Braid Tutorial
The Best of Summer Hair