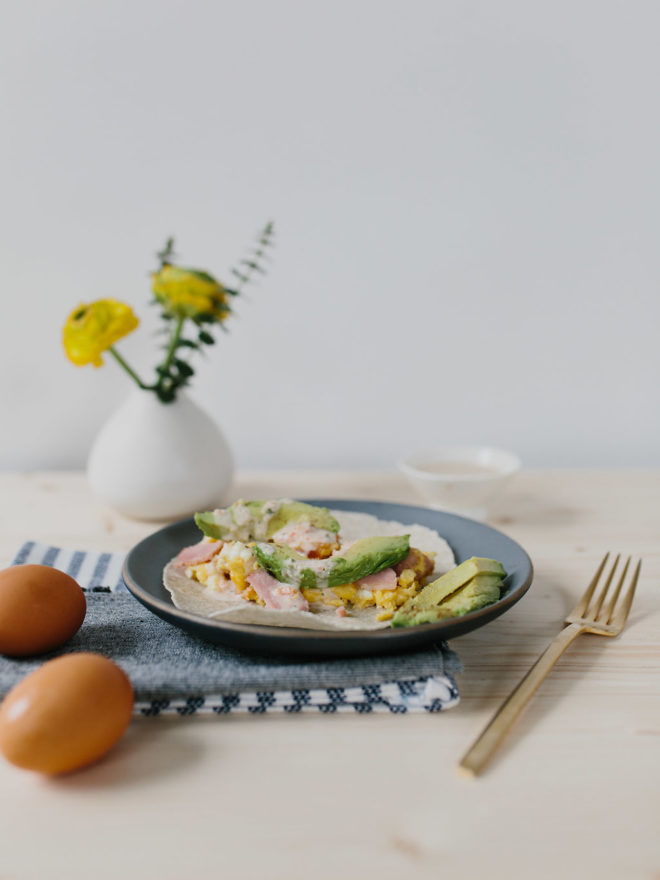 Ah, the breakfast taco!  Have you picked up on my affinity for it yet? (This post was a telltale giveaway.)  When we first moved back to Austin last summer, I think we were eating them every day of the week, so in love were we.  I recently discovered these cassava root and coconut tortillas and have been wrapping up any and all taco combinations ever since.  Big holiday meals are prone to inevitable leftovers and I couldn't think of any way I would rather enjoy leftover honey ham than with honey ham breakfast tacos and this tangy, chipotle crema.  (Extra avocado, too, please!)  They're super quick and easy, use a minimal amount of dishes and are a total crowd pleaser.
Honey Ham Breakfast Tacos with Chipotle Crema
(makes 4 tacos)
Ingredients (for the tacos):
1 Tbsp. olive oil
8 eggs
½ tsp. kosher salt
¼ tsp. black pepper
1 c. roughly chopped honey ham slices (not too small)
¼ c. freshly grated white cheddar cheese
4 tortillas
1 avocado
Ingredients (for the crema)
¾c. greek yogurt
2 Tbsp. water
1-2 chipotles in adobo sauce
1 tsp. lime juice
Honey Ham Breakfast Tacos with Chipotle Crema (continued)
Directions:
Preheat oven to 350 degrees.  Wrap tortillas in aluminum foil and place in the warming oven until needed, but no longer than 10 minutes.
Using a blender, combine all ingredients for the crema until well blended and set aside.
In a large skillet over medium heat, add olive oil to grease the pan before adding ham. Cook just enough to warm since it's already cooked through, 2-3 minutes.  In a medium bowl, add eggs, salt, and pepper and whisk until well combined.
Meanwhile, slice the avocado and set aside.
Turn skillet heat to medium low and add egg mixture to the honey ham.  You want these to cook relatively slowly so that they're soft and moist and don't dry it.
Remove tortillas from oven and split the egg mixture among the 4 tortillas. Top with grated cheese, sliced avocado, and chipotle crema.  Enjoy!
Linens and Bud Vase, Kettle and Brine || Plates, Heath Ceramics || Flatware, West Elm
Photography by Katie Jameson