Well, today is a very exciting day friends.  I'm headed to Austin with Parker this morning to speak at a conference over the weekend and attend my best friend's baby shower, which are both verrrrrry exciting to me, but not why today is all together exciting for all of us.  No, today is all together exciting for all of us because it's the day we launch the first of a few new contributor series!  2015 was a great year!  We were able to work on a ton of fun projects, meet new internet friends in real life, and tripled our traffic-- which was kind of crazy and unexpected since the industry as a whole has kind of stagnated.  All of that to say, I was struggling to keep up and looking for new ways to introduce you guys to even better content around here, so I went on the lookout for other crazy talented content creators who share a similar effortless chic aesthetic.  Today's DIY series comes to us from Sarah the owner and chief event planner of Pollyanna Events.  She is going to be stopping by each month to share ways to make your next small dinner party or big family wedding you're planning even more special!  From decor to tabletop, her inspiration and easy, approachable DIY ideas are endless!  So without further ado, take it away Sarah...
Hi friends!  I'm Sarah and I'm really excited to be sharing this DIY tutorial on dip-dye menus.   If you're planning a wedding it's a super chic touch, but it's also a really easy make-ahead-of-time piece for your next dinner party, baby shower, or birthday party.  The possibilities are endless!  If you typically gravitate towards simple, clean colors, this is a great way to add a pop of color to your wedding, yet still maintain that chic, sophisticated look you're going for. Also, this is a fun way to let your guests know what they will be having for dinner.  Let's get started!
SUPPLIES
Computer
Printer
Paper cutter (here is a great inexpensive option)
Ruler
Heavy cardstock paper (this one - 250 count)
Food coloring
Large bowl
Paper towels
INSTRUCTIONS
1. Create your menus on your computer and print them out on your cardstock. To be safe, I would recommend printing extras in case you don't end up liking the first couple you do.
2. Measure and cut your menus to the appropriate size using your paper cutter. The menus you see here are about 5" x 5".
3. Lay out some paper towels. This is where you will eventually lay the menus to dry. Take your large bowl, fill it with water, and drop about 50 drops of food coloring into it. Note: Make sure your bowl has enough water in it to cover your menu an appropriate amount when you dip it. Stir it around until the food coloring is mixed well.
4. Now the fun part! It's time to dip those menus! Begin by dipping your first menu into the water - go down as far as you want the water color effect to be. Pull the paper back out of the water and dip one more time, pausing for a couple seconds at the bottom, and then pulling the menu back out. Dab the bottom of the menu (where water color should be collected) on your paper towel a couple times, and then lay the menu flat (not over the area you dabbed your menu) to dry. Note: When dipping your menu, you have the ability to dip it at an angle or straight up and down. It depends on what type of effect you are going for. If you are looking for a more uneven dip-dye look, immediately following the dropping of the food coloring (in step three above), you can dip your menus in and out a couple times. You will notice that some areas will be more dyed than others and it will create texture in the pattern.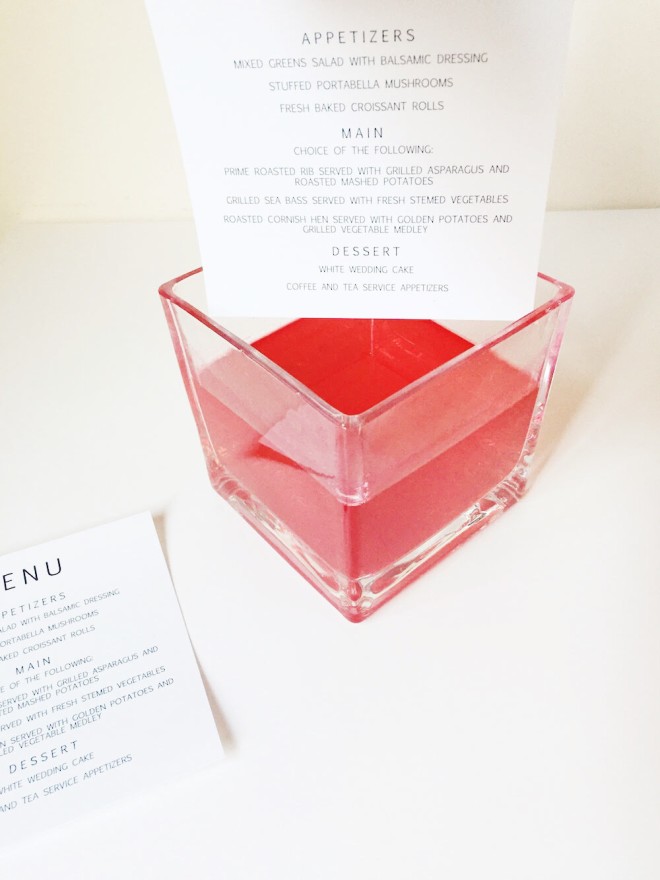 5. Allow your menus dry for the rest of the day. Don't worry if they begin to curl as they dry. We will take care of that in the next step.
6. After the menus have thoroughly dried for 24 hours, use a heavy book or other flat surface to flatten them out for an addition 12-24 hours.  Then they will be good to go!
For more event design, DIY tutorials and inspiration, check out our blog!
Photography and Tutorial by Sarah Campbell for The Effortless Chic