I don't know about you guys, but I am totally caught up in all things Valentines right now.  Parker and I made heart-shaped chocolate chip cookies this afternoon.  She was a huge help, let me tell you.   Despite the mess I cleaned up afterwards, I still have big pancake plans for Saturday morning.  I know that she's too little to get it, understand, or even remember, but I am loving celebrating this fun little girly holiday with my mini.  We've been scheming up valentines for her little friends over here.  I love these that Minted makes.  They're such a refreshing take on the generic box cards at the supermarket.  If you're feeling a little more crafty, though, (and I hope you are!) might I suggest these super easy and adorable printables that Rae Ann Kelly created for us?  (She also created these place cards.)  See what I mean?  Her talent knows no limits.  Keep reading for the instructions and you can also get more of Rae and her adorable tribe here!
YOU'LL NEED:
felt in various colors (wool blend felts are my favorite to work with)
paper straws
tacky, craft or felt glue
scissors
chalk or colored pencils for tracing
twine or ribbon
goggly eyes, glitter glue or other craft supplies (optional)
HERE'S HOW:
Download, print on card stock and cutout template. Lay your felt and banner template down and trace and cutout (for reference, the banner is about 3-¼ in by 4-¼ in). Trace and cutout any other shapes or letters you plan on decorating with.
Place a paper straw at the top of the banner and cut so it's a little bit wider than the banner. Next, fold the felt over the straw and glue in place.
Working on the non-glue side, lay out your shape(s) and/or letters however you like and glue down. add additional embellishments (goggly eyes, etc.) if you would like.
Thread twine through straw, tie in a knot, tape to cards provided with template and your done… ready for valentines day!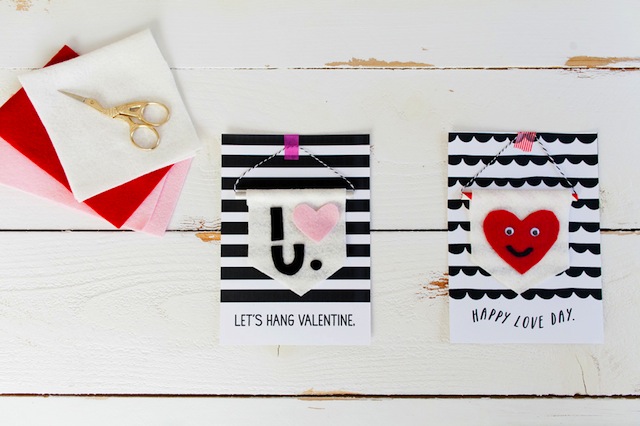 Photos by Melissa Valladares