The handmade pom pom, might not be anything new, but there are so many ways you can use them.  We used it for this hanging art piece in Parker's reading nook and as a prop in this post.  I actually have a whole bin of them in Parker's room that we play with from time to time.  They're such a great thing to have on hand to add some colorful and fun to a last minute event, so Sarah from Pollyanna Events is stopping by today to share the simplest method to make them below.  Have you used them before?  What are your favorite uses for them?  If you're feeling extra handy today, be sure to check out this circle scarf DIY and this hand stamped key chain!
Hi, friends, Sarah, here! Pom poms are all the rage right now, so we figured, why not make some sort of pom pom decoration for our next project - pom pom garland! I mean, pom pom garlands are the cutest, and can be used for any event or maybe even a little wall decor in your house. In my opinion, you can never have to many pom poms in your life! So, we are giving you the scoop on what supplies you'll need and how to make these cute little pom poms. This might be one of our easiest projects yet!
Supplies
-Yarn (we used this one) - buy however many colors you want to create your pom poms and buy one (we chose white) that you will use to hang your pom poms on
-Scissors
(No joke, that is literally all this project needs!)
Method:
First things first, grab the yarn your pom poms will hang on (mine's white) and cut it to your desired length. Set aside.
Next, grab the end of one of your yarns (I used three colors) that you will create your pom pom with and begin wrapping it around three of your fingers. We did 35-45 wraps per pom pom. Make sure not to wrap too tight or you won't be able to get your fingers out.
After your 35-45 wraps, you will want to cut the yarn from the spool. Make sure to leave about 5-6 inches for the next step.
Once you have cut the end of your yarn, slip one of your fingers out of your wrapped yarn. Then, take the end of your yarn and bring it up, towards your palm, between your two fingers. Lay it over the wrapped yarn and pool it so the yarn becomes pinched in the center, leaving your ends wider. Bring the yarn back between your fingers and continue wrapping a few more times. On the last wrap you will want to tie a knot to make sure the center stays pinched together. If you have any leftover yarn, let it hang because you will need it later. After your knot is tied you can slip both of your fingers out.
Now it's time to cut! Slip your scissors through the loops on one side of your pom pom and cut. If you miss some, just go back individually and cut them. Do the same to the other side.
After both sides have been cut, you will want to trim the edges of your yarn so they are all equal. They all won't be exactly the same and that's ok.
Last but not least, tie your pom pom to the yarn you will hang it on.
Also, use any leftover colored yarn and tie it on. After it is tied you can cut off the excess colored yarn.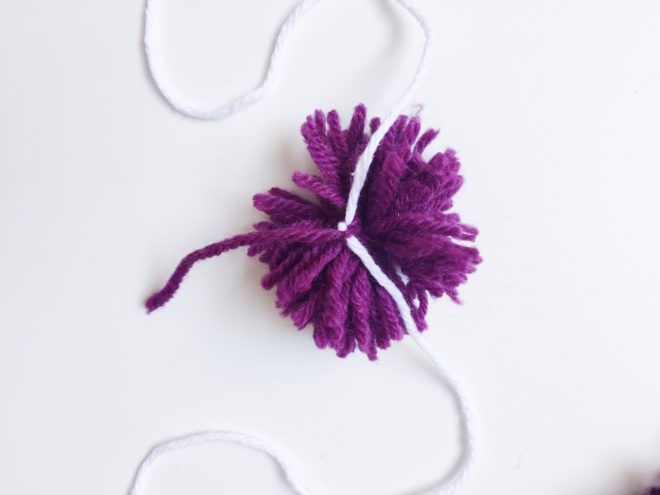 Voila! Now you have a cute little pom pom garland!
Photography and Tutorial by Sarah Campbell of Pollyanna Events for The Effortless Chic