When Parker was born, my mom started a shared Pinterest board for her first birthday party somewhere around her second week of life.  I'm not exaggerating.  And yet, here we are with less than a month until her second birthday and I have literally just begun to plan!  She has made it somewhat easy since she has a totally unchanging love and obsession with Anna and Frozen. The only challenge will be comforting my own heartbreak over not being able to throw her the super hippie Kidchella birthday party of my own dreams that would have been complete with these DIY Minimalist Dream Catchers from Sarah of Pollyanna Events!  Whether you're planning a birthday party, dinner party or just looking for a fun and simple DIY, keep reading for the full tutorial!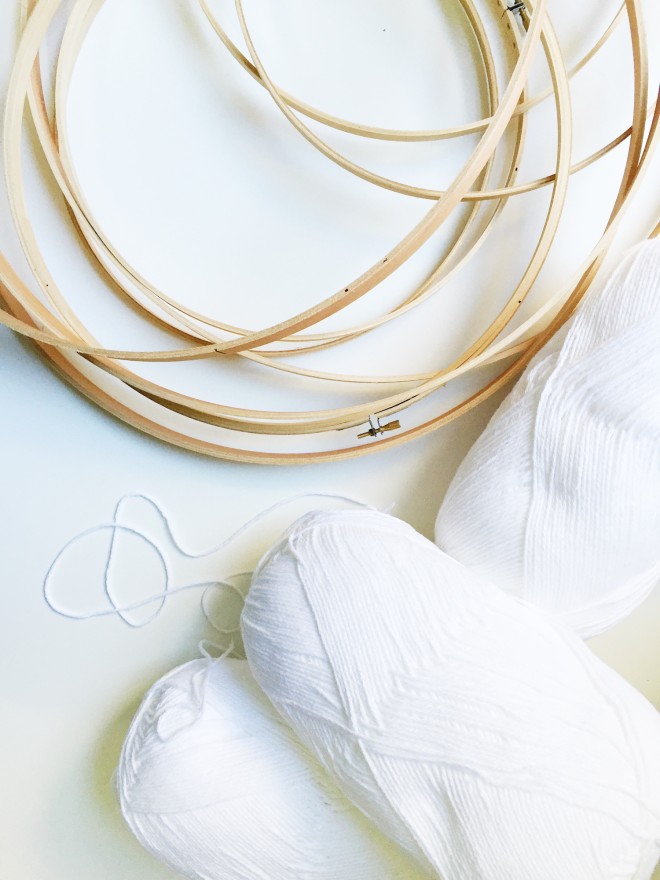 Today's DIY is brought to you by our current dream catcher obsession!  We recently had an event that they were perfect for, so we got to fulfill all of our dream catcher dreams and craft away! The best thing about this project is that you can start and stop it whenever you want — just pick up where you left off whenever you have time.  Plus, it's super easy!
What you will need:
Yarn (I used these ones.)
Wood quilting hoops (This is one size I used. I also used 12" and 18" hoops)
Scissors
String — if you plan on hanging them (I used this one.)
(The amounts you need of each item will depend on how many dream catchers you want to make. I made 18 total by buying nine wood quilting hoops — because each one of the hoops divides in half making your total number of hoops for this project, 18. For yarn, I bought five balls — three large ones and two small ones.)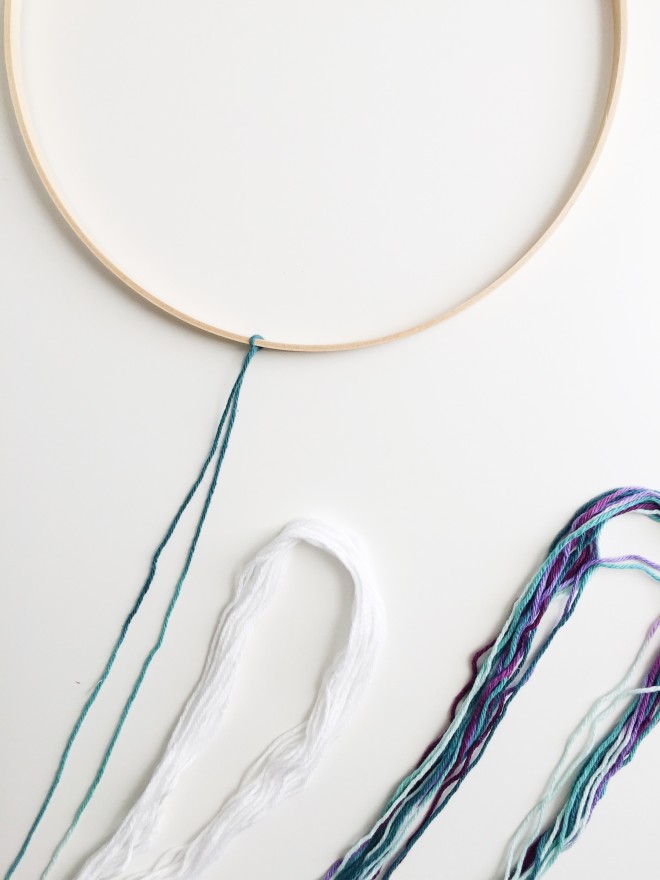 Instructions:
Begin by cutting a couple pieces of yarn to find your desired length. Once you determine the length, continue cutting the remainder of your yarn. Cut until your ball of yarn is gone. Note: I cut my yarn different lengths based on the hoop sizes — longer pieces for larger hoops. Once all your yarn is cut, grab one of your hoops to begin tying yarn to the hoop. Start by looping one piece of yarn around your hoop, making sure both ends of your piece of yarn are equal before tying a knot. Once equal, tie one knot, very tight. Continue tying each piece of yarn on the hoop, spacing them out to your desired preference. Note: Dream catchers will look fuller the closer the yarn is to each another. Repeat until all of your hoops are filled! Then, hang! I think these dream catchers are just great for any event — or even some home decor. Enjoy!
Tutorial and Photos by Sarah Campbell of Pollyanna Events