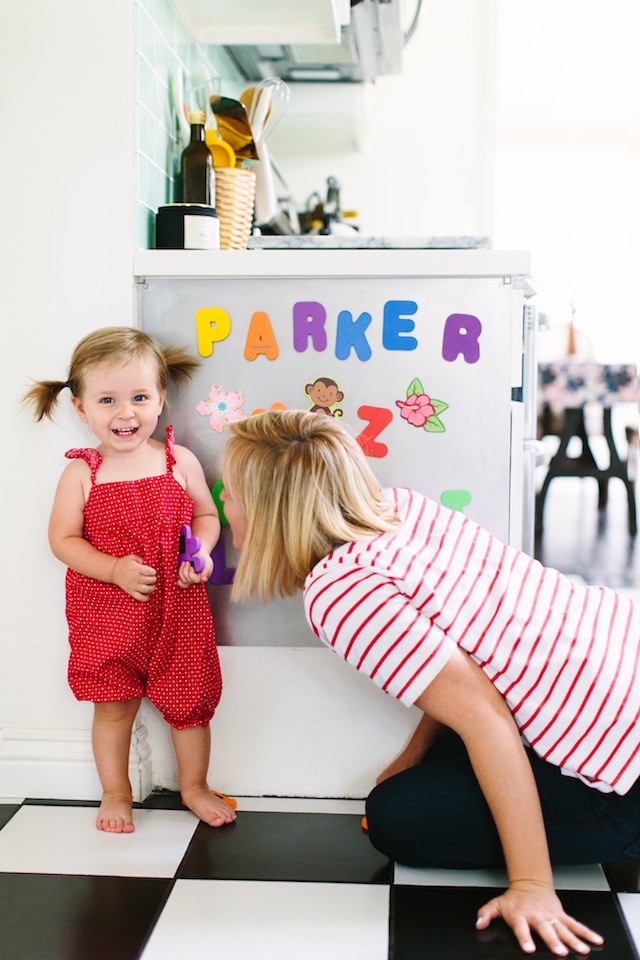 Now that we've entered toddler-hood, I'm thinking about play differently than I did when she was a baby.  When she was small, I would often put her on a blanket with a variety of toys to encourage her to crawl around and explore.  It was also interesting at the age to see what she was gravitating towards.  Now that she's older, I'm trying to get better at playing in more compartmentalized ways.  She has accumulated so many toys in her 16 months of life that it's a little overwhelming and I'm trying to streamline it.  (Disclaimer:  this is not like a "play theory", nor is it from some super popular book on raising world's smartest toddler.  I've admittedly been reading mostly fiction this summer, friends.) Lately I've been trying to encourage play with one type of activity at a time-- blocks or books, puzzles or push toys-- and then we put that one away before starting something different. I tried creating a cabinet in the kitchen of all kid-friendly things that she could play with while I make dinner which worked at first, but then one cabinet led to the next and I found myself spending more time pulling glass dishes from her hands than prepping dinner.  That's when I had the idea for this magnetic kitchen board that I created with Munchkin...
It's really simple and inexpensive to make and can occupy her for decent chunks of time while I'm cooking right next to her.  It's been pretty great, I have to admit.  We have been working a lot on teaching her new words, colors, and letters so I wanted a way to incorporate that here without spending a lot of money on pricey magnets.  I used these Munchkin bath letters and used adhesive magnet tape to turn them into magnets.  I also picked up some simple wooden animals and added magnets to those.  You guys, there's no end to magneting possibilities!
What You'll Need:
stainless steel or other magnetic metal board (measured to the width of your cabinet or wall)
drill
metal screws and washers
foam bath letters (ours are from Munchkin)
adhesive magnet tape
hot glue gun and glue
Instructions:
1. I started by measuring the side of the cabinet that I wanted to apply the board to and heading to Lowe's to find a metal sheet that might work.  I liked the aluminum sheet because it is so lightweight, but tested it with a magnet and realized it wasn't magnetic.  That would have been a real bummer to get home with!  I lucked out and found this sheet of stainless steel that was the perfect width. It was around $20.
2. Next drill a hole in each of the 4 corners for hanging.  When hanging, apply a small metal washer in between the screw and the board and get the board as tight to the cabinet as possible.  This will keep any sharp metal edges or corners from sticking up and becoming hazardous.
3.  I quickly found out that Parker actually liked to peel the magnetic tape off of the back of the foam letters, so I would recommend actually hot gluing the magnet tape pieces to the back of each of the foam letters.
Voilà!  You're done!  And hopefully you've bought yourself an extra 15 minutes in the kitchen which means everyone wins!
Photography by Mary Costa
This post was sponsored by Munchkin. A company I absolutely love as a mother.  Thanks for supporting rad companies like this one that keep our blog in business!