09/01/2016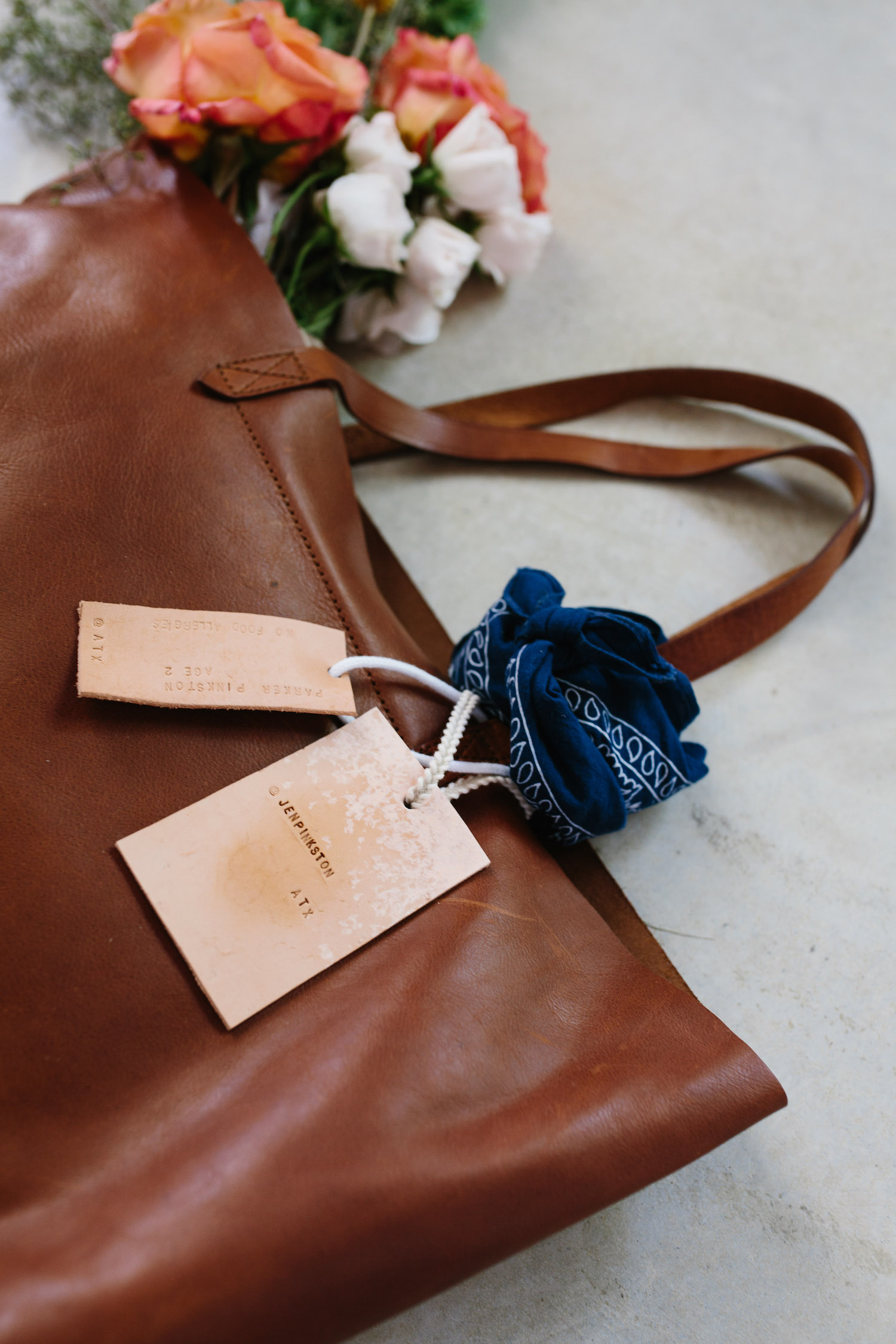 Labor Day weekend is upon us, friends, and while we have spent most of the summer settling into our new digs here in Austin, we have a little staycation planned that we couldn't be more excited about! (Especially since Aaron has been in LA for almost three weeks and finally gets home tomorrow!) When we lived in LA, Parker was always traveling with me for work– I think she hit her 20th flight just after her second birthday. You can see all of my tips for travel here, but the number one thing that has made for a content toddler on flights for us has been an ample number of snacks! Frustrated that you have to wear headphones? Here's an apple! Don't want to keep your seatbelt buckled? Have some cookies! Speaking of cookies, in honor of Jet Blue's in-flight snack, Skeeter Nut-Free chocolate chip mini cookies, we created this DIY leather luggage tag for you, just in time for whatever your Labor Day plans may be! Keep reading for more on why we love these cookies and the step-by-step tutorial…
If you're not familiar with Skeeter Nut-Free snacks, they were created by two dads of children with peanut allergies who were frustrated that their kids couldn't eat the same snacks as their friends. With that, they set off on a quest to find a healthier, all-inclusive snack alternative and Skeeter Nut-Free was born! We now have a box of them at our place and let me tell you, they're not just for kids, but actually taste awesome alongside a cup of coffee!
DIY Leather Luggage Tag
Supplies:
-Small pieces of leather, you can usually find scrap pieces that are large enough and inexpensive (see here and here)
-Exacto knife for cutting leather
-Leather hole punch (this also works great for belts and purses– I've had one in my wardrobe kit for years!)
-Rope or string, about 6″ per tag
-Alphabet leather stamp (here)
-Hammer
-Optional: paint and sponge
Method:
1. Using the exacto knife, begin by cutting the leather to the size and shape you would like for your tag. We made smaller ones for Parker (that she now has on her backpack for school!) and larger ones for mine.
2. Using the letter stamps and a hammer, begin adding the information you would like to include to your tag. Consider your name, address, city, social handles or any allergy information. We used another piece of leather to make sure we were working in a straight line.
3. Once you're finished, add a hole at the top for your tie using the leather hole puncher.
4. You can stop here or you can experiment with adding some paint! You could also dip dye the leather in paint ahead of time and then use the alphabet letter stamp. Just like with travel, there are endless possibilities, friends!
Flying Jet Blue this weekend? Be sure to ask for their Skeeter Nut-Free cookies!
Photography by Katie Jameson for The Effortless Chic
This Leather Luggage Tag DIY was sponsored by Skeeter Nut-Free. Thanks for supporting the sponsors that support this site!