10/20/2015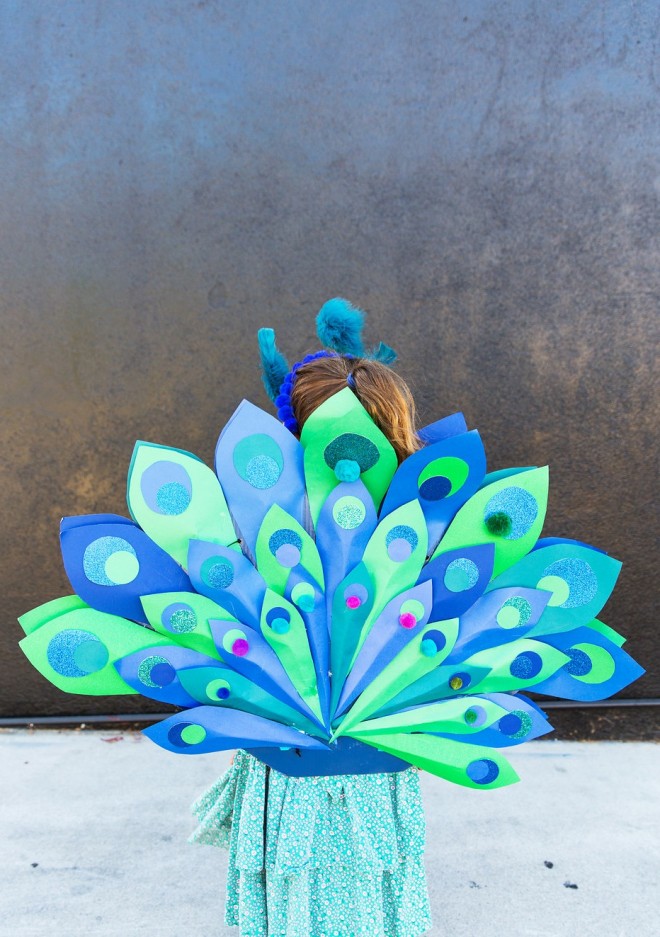 One of my favorite things about October is getting to check out all of the unique and creative costumes that people across the internet are creating!  I loved Camille's Couples Costumes, Kelly's Cereal Bowl Costume, and Jordan's Bon Bon Costume… just to name a few!  For kids, my favorite costumes are those that utilize things they already have hanging in their closets and living in their craft boxes.  This peacock costume that Corrie created for her daughter is a perfect example!  Have any pint-size bird lovers in your life?  Keep reading for the full tutorial!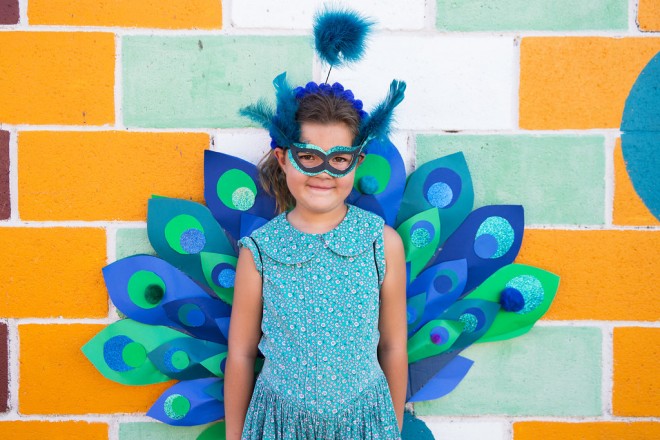 What you will need:
Selection of colored papers (shades of blues and greens and some fun glitter sheets too)
pompoms
glue gun and glue sticks
black elastic 1/4inch
feathers
circle hole punches – 3 different sizes
scissors
large sheet of cardboard
blue spray paint
hairband
Instructions for Peacock Tail:
1. Cut out a large shell shape out of cardboard. This will be the base for the feathers. Measure 
the shape against your child or whoever will be wearing it so that it will fit. Spray paint it blue, or green will work too.
2. Find a template online for peacock feathers or draw your own. Cut three different size templates Small, Medium and Large. Cut out the shapes using your different colored papers. I used 18 large, 22 medium and 20 small. Remember you will need feathers for both the front and the back.
3. Using different size circle punches cut circles in different colors, 1 large and 1 medium for each large feather, and one medium and one small circle for the medium feathers and than just one small circle for the small feathers. Glue the circles to each of your feathers.
4. Bend the feathers down the middle to give them some dimension. Than, starting with the large feathers, start glueing them to the cardboard shell shape. Continue adding the medium and than the small feathers.
5. Repeat on the back side of the cardboard shell shape.
6. Optionally you can add colored pompoms to some of the feathers for some fun pops of color.
7. To make the straps – cut 2 lengths of elastic – you can measure this on your model to make sure they fit. Cut 2 small holes in the cardboard in-between the feathers and knot the elastic in place. Repeat this so that you have to elastics that each arm can pop into -Like fairy wings. You can adjust this when it is on your model to get the perfect fit!
Instructions for Mask:
1. Find a mask template online and print out. Cut out of black cardstock and add some dazzle!
2. I added glitter paper around the edges and feathers on each side.
3. Attached elastic and you are ready to go!
Instructions for Head Piece:
1. Glue pompoms along the edge of a hairband. I used dark blue ones!
2. Glue a fun feather on top – I found this one at Michaels – and then your all set!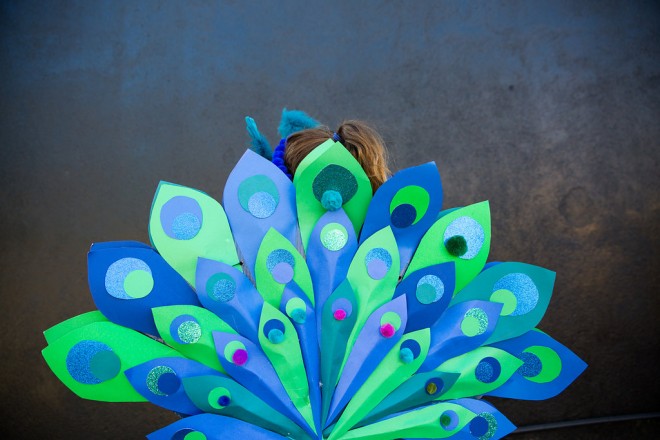 Photography by Emily Morgan
DIY by Corrie Sullivan