10/13/2015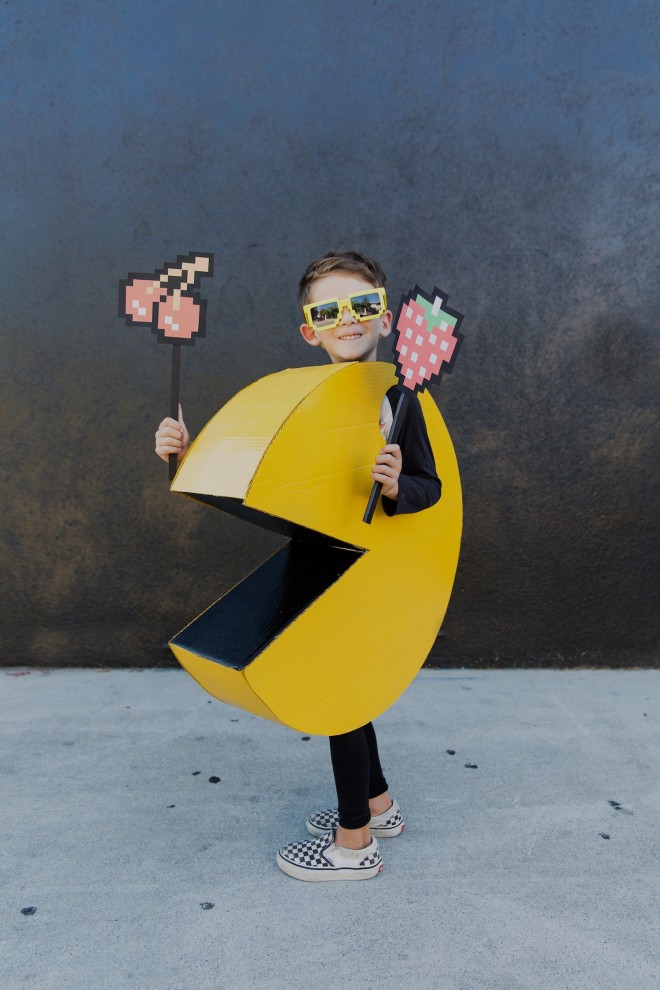 You guys, it is all up hill from here now.  Halloween is just a couple weeks ago, followed by Thanksgiving, Christmas and Hanukkah, and last, but certainly not least, New Years.  It's going to be just as crazy and hectic as it every year, but also fun, joyful, and full of opportunities to make sweet memories with our favorite people.  With that in mind, even if you don't think you're the DIY costume type, what about giving it a try this year?  I teamed up with two friends to make costumes for our kiddos and it was so much fun.  I definitely stretched my DIY skills and had a blast in the process. (You can see Parker's costume here!)  So without further ado, a pretty cute kids costume for your consideration…  (PS. This is a super easy family costume too!)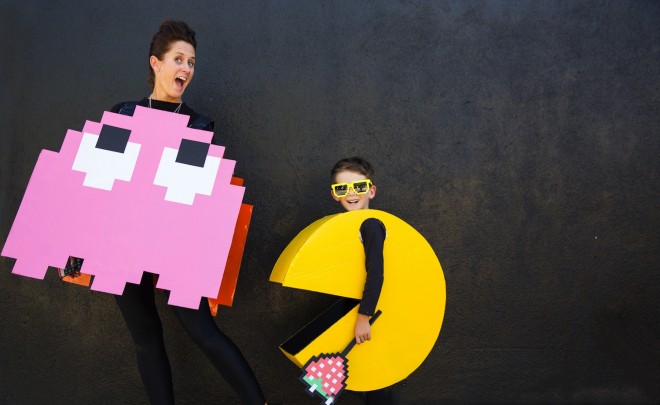 What You'll Need:
Cardboard
Roll of cheap duct tape
Bag of Glue Sticks
Spray Paint (black, yellow, pink, blue, orange, red & blue)
Hot Glue Gun
Exacto Knife/Box Cutter
Ruler
Straight Edge
Hula Hoop or other large circle to trace
Projector (if possible for the ghosts)
Instructions for PAC-MAN:
1. Use a hula hoop or other large circular object as a template to trace the circle for PAC-MAN.  Measure the diameter to figure out the true center, then
create an accurate size mouth by drawing out the triangle from
there.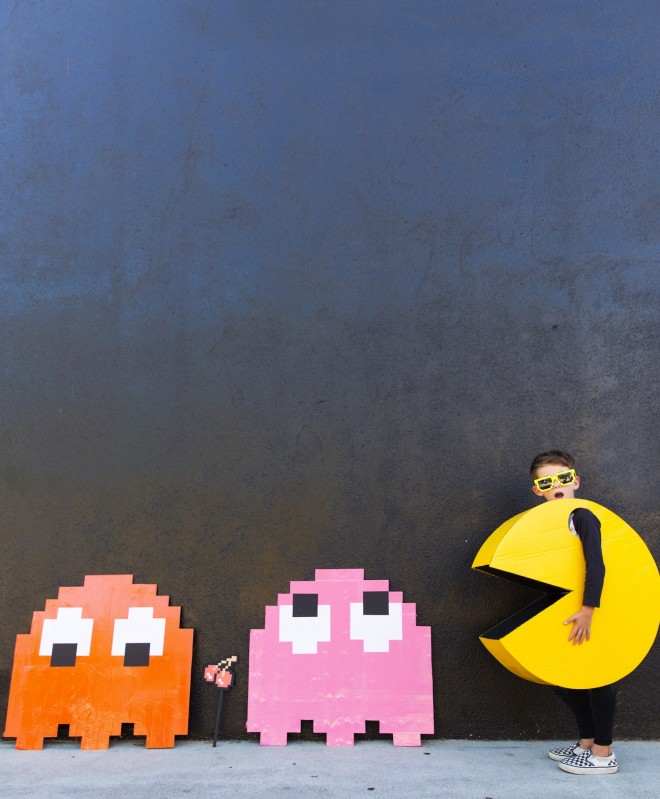 **Tip: We got all of the cardboard for free at Smart & Final, but any bulk item store
should have it. (Costco) Usually there will be some slip sheets in the
metal box bins or between the water pallets but you just have to ask.
2. For the arm hole, trace the duct tape circle, but you could try
other plates or saucers to see what works best, depending on the size of your child. Once you have traced the circles, cut them out carefully with an exacto knife.
3. For the connecting center, measure from shoulder to shoulder (on this cutie pie it
was 10.") and then add 1/2″ – 1″ of wiggle room.  Cut your
connecting center so the cardboard is horizontal.  This way it can
roll and take shape.
4. Once you have your center cut, roll it up so it will take shape
easier.  Next make a line 1/2″  on each side.  Take a blade and make
cuts up to that line, bending inward as you go. It also helps to score
this line from top to bottom (cut, but not all the way through) so the
edges bend easier and make for a cleaner fold/line.
5. Begin your assembly.  We hot glued and duct taped the pieces together.
The mouth section should be made of stiffer card board, so measure and
cut that separately.
6. Once all of the assembly is complete, it's time to paint!  I used spray paint
for the ease & quickness of it. There is an art to getting an even
layer, so I watched some videos on YouTube to get the technique down.
(highly recommend)
https://www.youtube.com/watch?v=qB_MtpaMYaY
Leave the black mouth pieces unassembled and spray paint those
separately.  You can add these once the entire yellow piece is painted
and dry.
Instructions for Ghosts:
1. I found a picture of the ghosts online and used a projector to trace out
the shape in cardboard.
2. Cut them out and then spray paint the cardboard.
3. The eyes were done with paper cut outs that we printed.
Photography by Emily Morgan
DIY by Kathlene Linehan
For more Halloween costumes, see here!