10/05/2016
I feel like the comparison of this year's Halloween costume and last year's is the perfect visual reminder that so much can change in a year.  Most people agree that the greatest amount of change comes in the first year of life. They go from little newborns, totally dependent on their mamas with little more than a few reflexes to walking babbling beings. Somehow, though, the contrast just from 24 months to 2 1/2 feels so markedly huge!  Every day I'm getting glimpses of who she will be at 13 and 23 and beyond.  She pretty much potty trained herself last week, insists on getting herself dressed, and tries to be as autonomous and independent as possible.  So when she proclaimed that this year she wanted a Paw Patrol Skye costume for Halloween, I knew it was best to just go with it.  It may not be this year's most hipster creative costume, but it ended up looking really cute and makes her crazy happy!  Keep reading for the full tutorial and be sure to check out Ellie's cookie costume and Tegan's Pac-Man costume for more ideas!
(Note: I'll be the first to admit that when you include the clothing items, the price tag for this Paw Patrol Skye costume can add up.  You might have things already that will work.  I just plan on using these as part of her fall and winter wardrobe. (Which is why as much as that collar should have been hot glued to the vest so it wouldn't move around, I just couldn't bring myself to do it!)
What You'll Need for your Paw Patrol Skye Costume:
Instructions for the Ears + Tail:
Fold the tan fabric in half and draw the shape of Skye's ears.  Cut out with the fabric still folded so that you end up with two matching ears.  Glue these to the ends of the headband.
With the faux fur fabric, draw a similar shape, but shorter leaving a bridge of fabric between the two ears to wrap the headband.
Hot glue in place as seen below.
Use the pipe cleaners to glue around the edge, adding structure.
Use the remaining fabric and a couple of pipe cleaners to fashion a tail.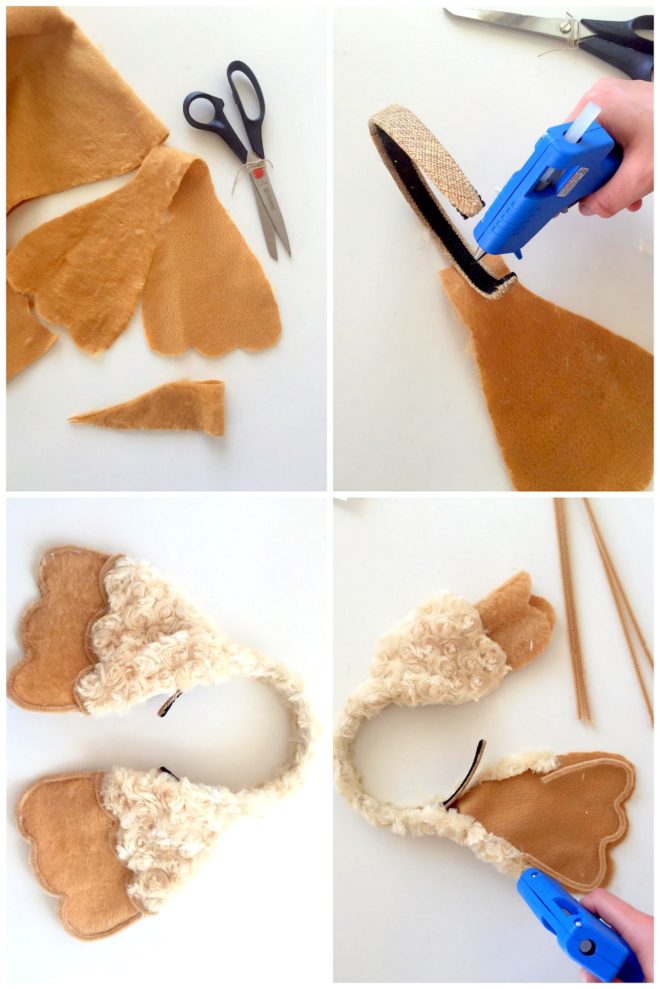 Instructions for the Backpack:
Cut out two pieces of cardboard and spray paint both sides silver.
Allow to dry then hot glue to the sides of the backpack. (I was afraid this would stay, but she's been playing with it constantly and the wings are still intact!)  Also, they can use the backpack as their trick or treat pail.
Instructions for the Collar:
Print out the Logo image (you can find the link in the Supplies section.)
Measure the length of the ribbon to wrap around the top of the vest and cut accordingly.  Once the ribbon is cut, cut out the logo and hot glue to the center of the ribbon.  Using double sided tape, adhere the ribbon and logo to the top of the vest. (I skipped this step for the shoot, as you can see!)
Photography (Finals) by Katie Jameson
Crafting for Paw Patrol Skye Costume + Process Photos by Britt Towns