09/27/2016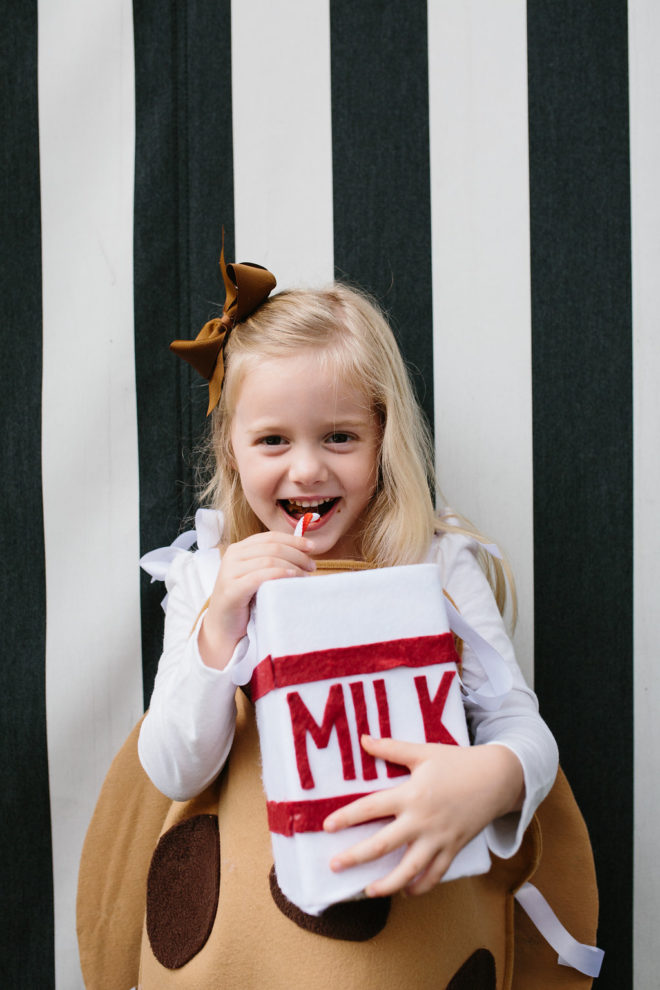 There's no denying that some things are just less fun with toddlers, like staying up late on a Friday night when there's a human alarm clock in the next room or sharing a hotel room with said toddler in another time zone.  Other things, though, like holidays, become infinitely more fun with a two year old on the scene like Halloween and Christmas and pretty much all major holidays, except the 4th of the July. (I'm voting pre-toddler on that one.)  I'm so glad that we finally get to share these costumes we've been plotting and planning for weeks.  I like to think that my Halloween costumes ideas aren't fueled by my sweet tooth, but today's chocolate chip cookie costume coupled with Parker's costume from last year is making that increasingly difficult to prove!  Here's what you're going to love about this costume: It's super easy, the supplies are inexpensive, and you can layer it over a top, pants, and shoes that they already own.  Keep reading below for all of the details and a big thanks to Ellie and her mama Lauren for playing dress up with us!
What You'll Need for One Chocolate Chip Cookie Costume:
For the Cookie:
-2 yards tan felt fabric
-1/2 yard of dark brown fleece fabric
-tan pipe cleaners
-2 yards white ribbon
-scissors
-pencil
-hot glue gun and glue sticks
-under shirt, pants, and shoes
-optional: stuffing you would duplicate the circles and hot glue them together with stuffing inside if you went this route.
For the Milk Carton:
-1/2 yard white felt fabric
-1/4 yard red felt fabric
-1/2 yard white ribbon
-2 red pipe cleaners
-2 white pipe cleaners
-cardboard or cardboard box sized for trick or treating pail
-hot glue gun and glue sticks
-exacto knife
Instructions for the cookie:
Find something that you can trace around to create two perfect circles on the tan felt.  We used the leather pouf in our studio.
Cut along traced edge of tan felt to create two symmetrical pieces of felt.  We decided not to stuff them, but I'm still on the fence about that.  I think it could be nice stuffed, too.  Using your hot glue gun, glue down the pipe cleaners along the outer egde to create a nice clean line and offer some structure to the felt.
Using your dark brown felt and a large coffee mug, trace 16 circles then cut each of them out.  Or you can create them a little more organically like morsels which is the route we chose.  Up to you! Hot glue them to the two pieces of tan felt.
Hot glue the white gross grain ribbon on the sides and tops of the costume as pictured so that you can adjust the sizing on the wearer.
Instructions for the Milk Carton:
We used an empty box of Patron for this that just happened to be the right size. (Baby gets a Chocolate Chip Cookie Costume, mama gets a margarita!) If you don't have a box that is the right side, just use scrap pieces of cardboard and your hot glue gun.  Wrap the cardboard in the white felt and then add the red felt "milk details" using the hot glue as well.  Use and exacto knife to cut tiny slits in the sides and feed the ribbon through, tying in a large knot and re-inforcing with hot glue.  No one wants a busted trick or treating pail on Halloween! Twist the red and white pipe cleaners to create the straw and glue so that it doesn't fall out amongst all of the festivities.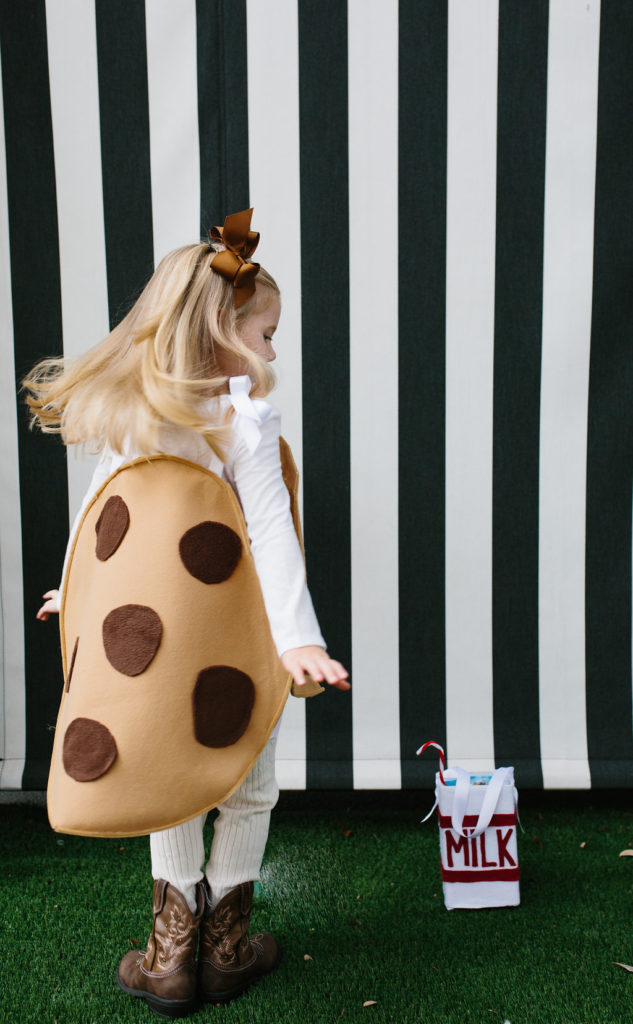 Happy Trick or Treating! What is everyone going as this year?  Have you even begun to talk about it?! Sometimes blogging throws me way ahead of schedule!  We will be sharing Parker's costume (that I had a hard time getting on board with at first) next week!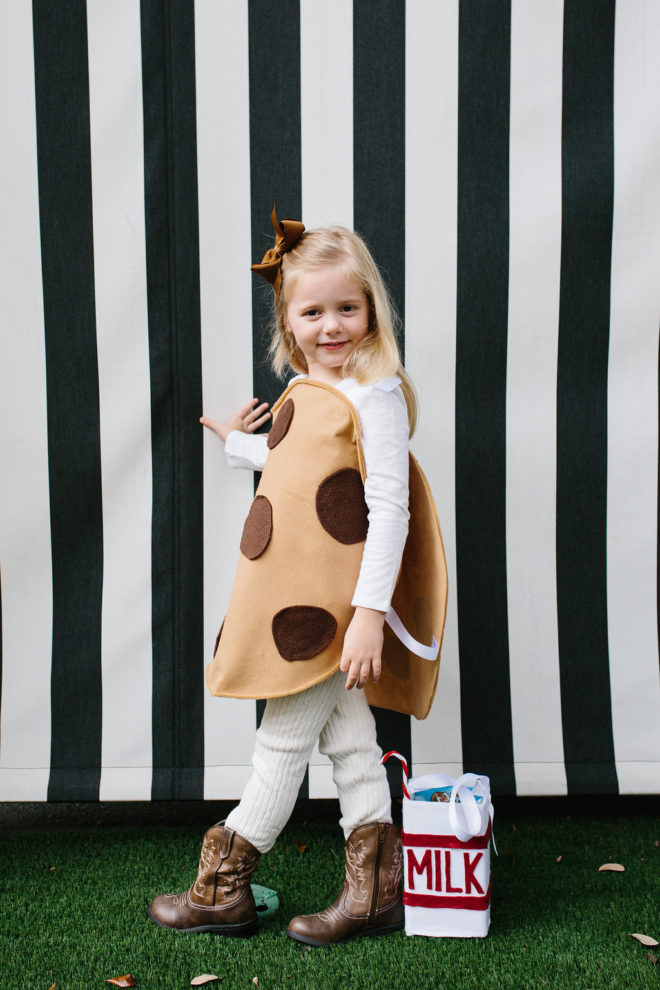 Final Photos of Chocolate Chip Cookie Costume by Katie Jameson
Crafting and Process Photos by our new Editorial Manager Britt Towns