Sarah, here! Last month's paper menus were such a hit that I thought we would continue in our dinner party soiree theme.  After all, there are plenty of reasons to celebrate over these next few months-- Easter! Mother's Day!  Graduation!  Have you ever received one of those cute invites to your best friend's dinner party that was enclosed in an envelope with one of those fun designed liners?  It makes the invitation appear extra special and leaves me extra excited to attend, which is exactly why I'm going to show you just how to make those cute, creative envelope liners.  Bonus: these envelope liners are super easy and inexpensive to make! Let's get started!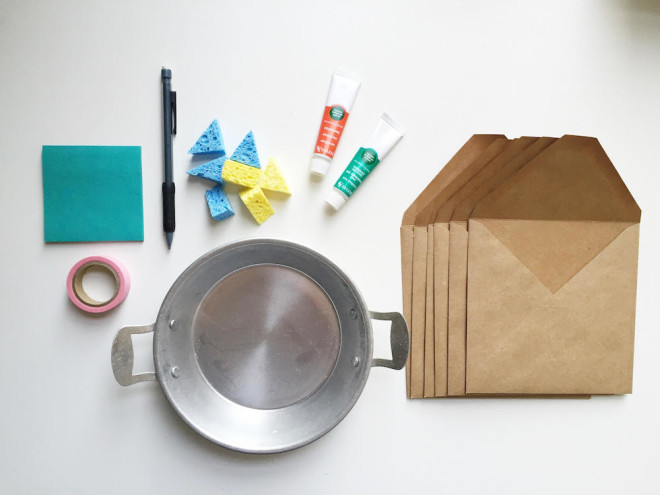 Here's everything you will need to complete this project:
-a sponge (cut into small triangles)
-a pencil with an eraser on the end
-tape (I used washi tape)
-Post-It notes
-paint (I used these)
-envelopes
-something to put your paint in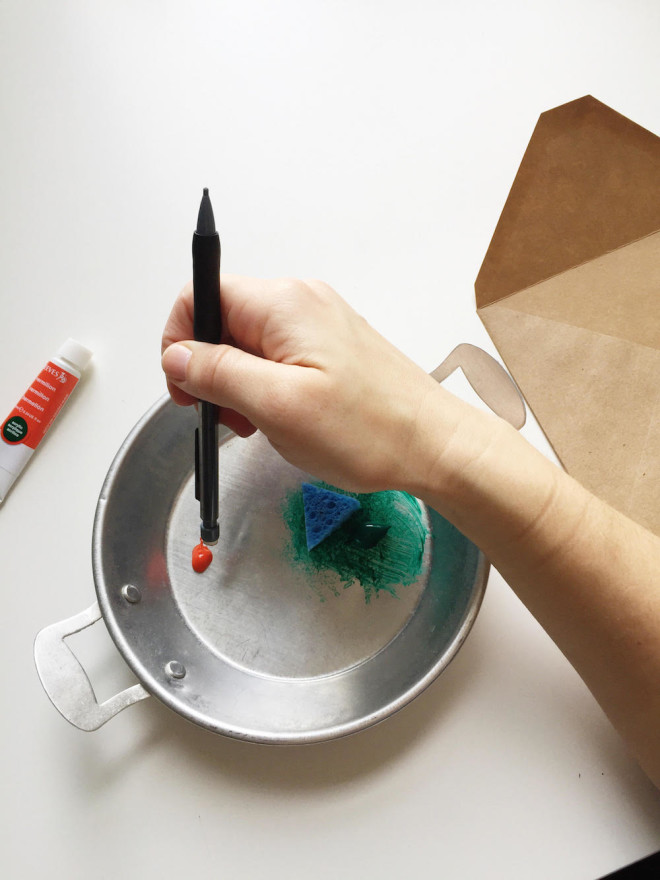 First, let's start with a polka dot design. You will need to grab your pencil, paint (choose your favorite color), tray, and envelope.
Open your paint and pour some into your tray. Dip your pencil eraser into the paint. Do not drown the eraser in paint but make sure you do have a good amount on it.
Dab it a few times on your tray, slightly re-dip your eraser, and with your pencil facing straight in the air, press down on your envelope to make an impression and lift the pencil straight back up.
Continue by stamping your pencil eraser onto the envelope in horizontal lines. Repeat this many times until the envelope is filled. As you do more polka dots on your envelopes, you will have a better idea of how much to push.  (In fact, feel free to practice on some scratch paper first!)
Now, let's do our triangle design on our envelopes. For this design you will need to grab your sponge (make sure you cut it into mini triangles), paint (choose your favorite color), tray, Post-It notes, tape, and envelope.
Place your envelope in the direction you want it to be when you begin stamping. I faced mine straight up. Then place your post it notes on all edges of the envelope you do not want your paint to go - basically creating a border. After you do that, secure it to your work surface with your tape.
Open your paint and drop some onto your tray. Take the best triangle you cut and dip it repeatedly into the paint. You want to make sure all of the bottom of the sponge is covered. Once you think you've covered it all, dab it a few times on your tray.
Place one of the points of your triangle towards the far left side of your envelope in the corner and press down. Once your triangle is flat on the envelope, press hard enough to get the paint to make an imprint on your envelope but not too much that all of your paint starts coming outside of the triangle. The more triangles you stamp, the better you'll get.
You will continue stamping triangles until your envelope is filled. I used the points of my triangles as a guide of where I would place the next triangle stamp, and continued placing the triangle stamps in a row.
Once you get the flow down this project will fly by! Another great thing about this DIY is that you don't have to worry about buying paper and cutting it perfectly to fit your envelope like all of the other envelope liners you see. Those liners take a little bit more time and are often more money because you have to buy all of the paper for each envelope. This method saves money, and we all love that!
Now, all that is left to do is plan your next dinner party so you can send out your invites in these cute envelopes!
photos and tutorial by Sarah Campbell