A few weeks ago we were shooting at a studio downtown and decided to go for a little lunch break walk to Poppy + Rose.  After enjoying one of the best burgers of my life there, we strolled through the flower district I did my best to withstand the temptation, but ultimately I caved, took the last of the cash in my wallet (a whopping $8!), and bought what I could.  (Turns out I used up all of my willpower on the chocolate croissant that was sitting on the counter at lunch.)  I left the flower mart with armfuls of greenery and one small bouquet of pretty red flowers with a name so complicated that I can't recall it, but the product that resulted was this deconstructed garland and I must say it made for a pretty festive fireplace for the weekend!  (And a fun project with my favorite toddler!)  You can find this DIY at the intersection pretty, cheap, and easy which is exactly where you want to find a DIY. (And not necessarily where you want to find other things.)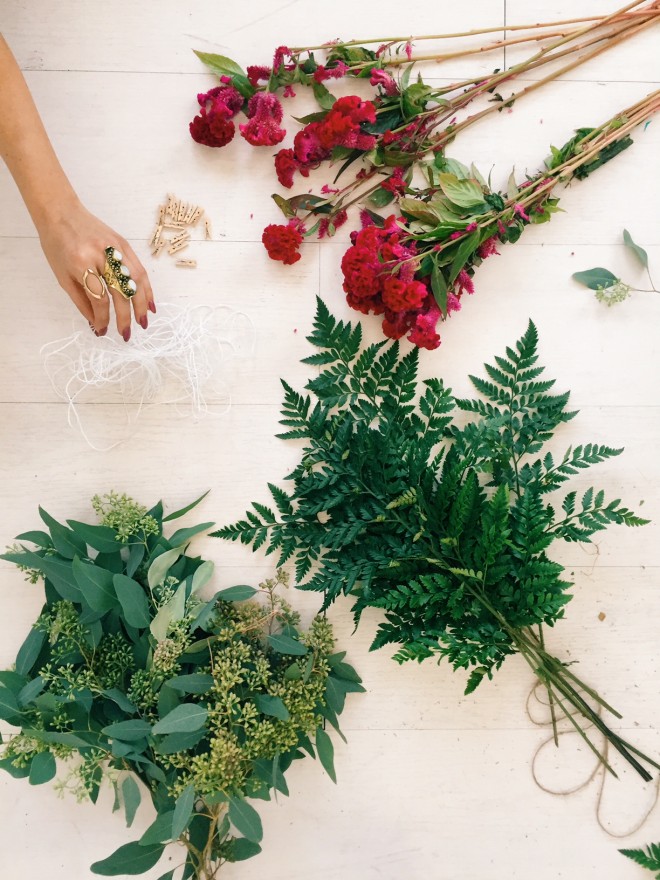 What You'll Need:
A couple handfuls of greens or florals.  There are dozens of different varieties that will work, so choose which speaks to you!
Thin string or twine
Mini clothes pins or floral wire
Pretty washi tape for the ends
Floral shears or other scissors
Instructions:
Measure the length of the string you will need by holding it up to the wall or mantel will you will hang it, then cut where needed.  Lay the string flat on the ground and begin arranging and snipping flowers to your desired size.  You can string them as close together or far apart as you like.  Just have fun with it!
Secure each bloom, fern, or greenery with a mini clothespin.  If needed you can add floral wire for extra support.  You can tie the ends of the string up onto something or just secure to the wall with washi tape.
Photography by Amanda Gallant