If you desperately need a last minute costume for your toddler, I've got you covered! This cute yogi costume is super easy to put together and perfect for a last minute Halloween costume or costume party that you've been invited too.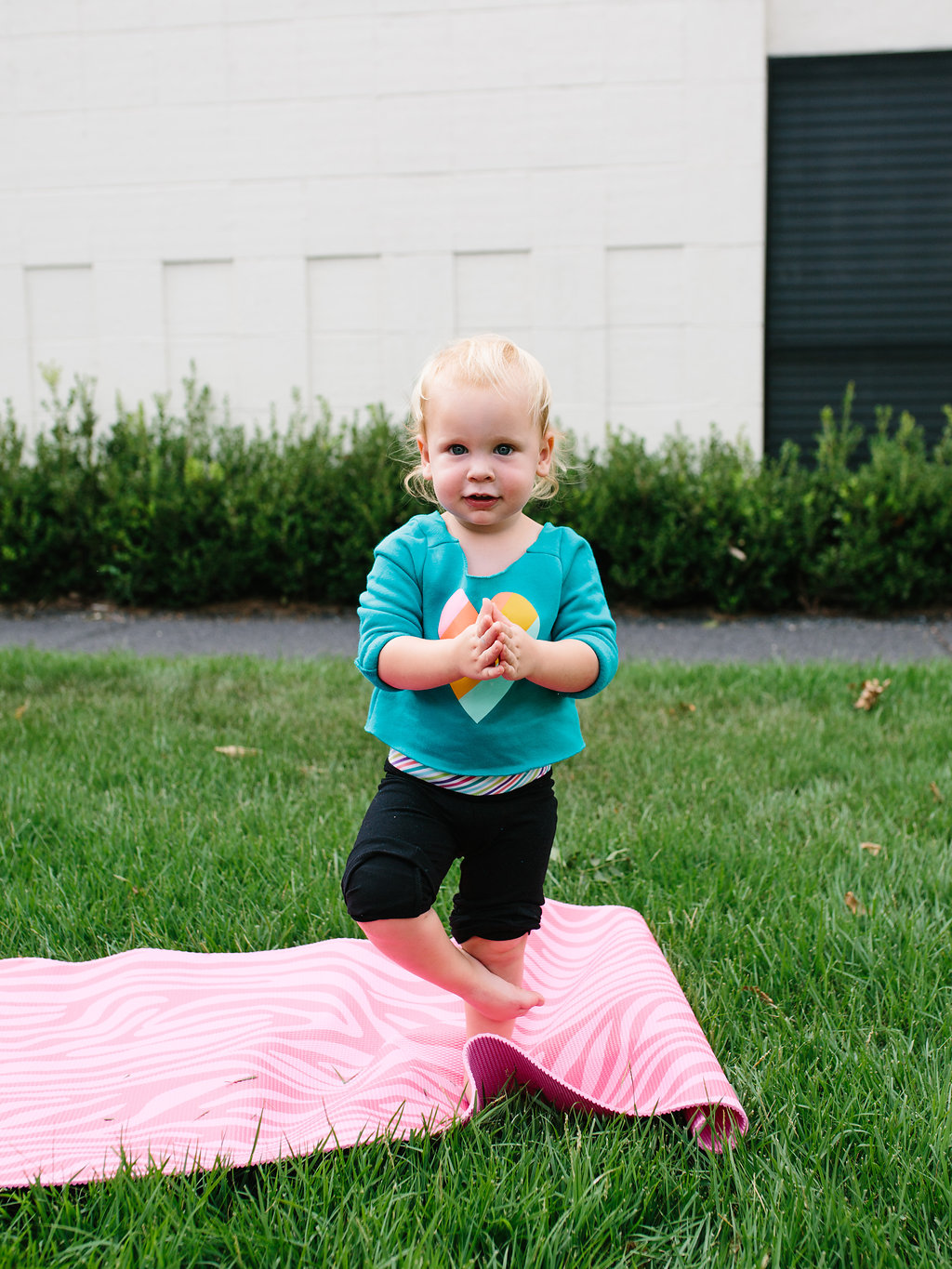 This post makes me wish I had time to squeeze in a yoga, pilates or just about any kind of class this week, but it's a busy one.  I did however start a fitness challenge with my sisters and cousins, so it's a minimum of a 30 minute work out every day for me this week. (We shall see how long I last!)
Last minute toddler halloween costume ideas
Haven't a clue what your kids are going to be yet for Halloween? Don't worry, I have a feeling you're in good company! If your not the DIY type and all of the good packaged costumes near you are sold out, then this costume might just be right up your alley.  If the mini yogi isn't your speed, you can substitute it for the activity of your choosing! Mini cyclist? Ballerina? Football Player?  Aerobics Instructor? Your nearest sporting goods store or Target should have exactly what you need.
What you need to make your mini yogi toddler costume
A toddler costume that can be re-worn
When all is said and done with this costume, the best part is you can keep using the pieces all season long. Olive's mama so happens to be a yoga instructor herself, so that tree pose is no accident and her form at two years is probably better than mine!
Family halloween costumes
I love the idea of this simple toddler costume, and it would be so easy for brothers and sisters and Mom's and Dad's to dress up as yogis too, for a complete family look! Grab your leggings and yoga mats and be a family of yogis!
I think we can all agree that Olive is super cute and pulls off the yogi costume so well! Look at those poses!
Be sure to check out these other DIY costume ideas for children!
DIY Halloween || Paw Patrol Skye Costume
DIY // Kids PAC-MAN Halloween Costume
Kids Halloween Costume Ideas // Urban Jungle
DIY // Kids Peacock Halloween Costume
What are you dressing up your toddler in this Halloween? I'd love to hear, so just drop me a comment below!
Photos by Katie Jameson