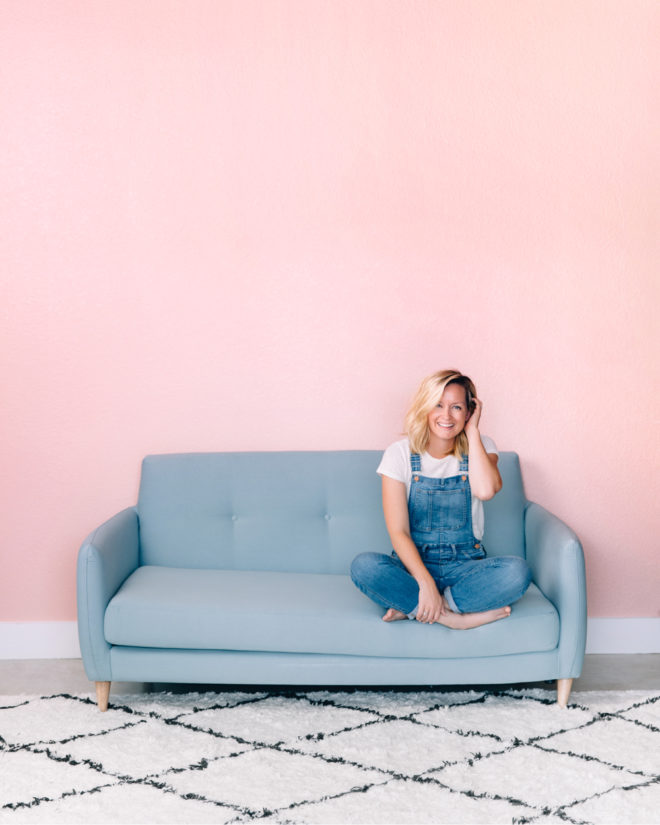 It's always easier to make the safe choice. It's easier to keep your hair long rather than chopping it off, to choose jeans over a high waisted skirt, or to go with Pinterest-approved all white walls rather than a bold color.  Safer, yes, but also it can get really boring after awhile, can't it?  Always wearing the same thing or cutting your hair the same way or styling your home with the same colors.  When we decided we wanted to tackle a paint project in our new studio, HGTV HOME by Sherwin-Williams was there with plenty of bright, bold color choices.  I immediately thought about how great it would be to do an entire pink wall, but then I paused.  Maybe I should choose something safer instead.  After all, there's nothing wrong with a gray wall!  But how often does a grown married woman get to paint an entire 14' tall wall pink?!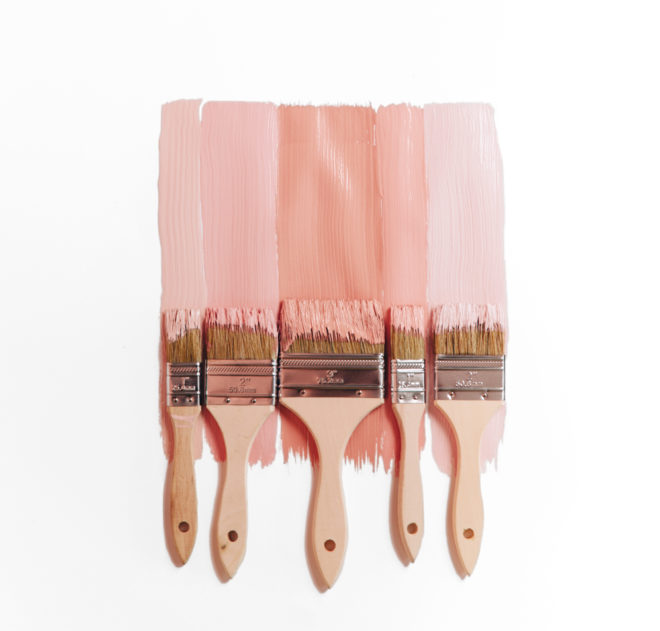 The timing also just happened to coincide with us finding the most perfect little guest house studio and thus the pink wall of my dreams was finally going to have a home!  We tested 10 different versions of this lovely hue and then narrowed them down to our favorite 5, which we actually tested on the accent wall where it was going.  (I did the same thing when we were painting Parker's nursery except I think I tried 14 different shades of gray!)  Things can look so different on a wall depending on the light that the room gets.  One thing that I really genuinely love about the way this paint collection was designed is that they've created 16 different Color Collections that include 20 different hues that all work together in harmony.  So if you select one color for the kitchen cabinets and then are looking for another color for an accent wall in the adjoining living room, you can go to that collection and know  that all of those other choices will complement your first choice.  It really takes the guess work out of choosing paint colors!  So which color did we choose?
Mellow Coral (HGSW2066) from the HGTV HOMETM by Sherwin-Williams paint collection Softer Side was the winner! The color also worked perfectly with some of the décor I envisioned in the space, including the couch and rug. Both mirrored colors found within the Softer Side Color Collection, so you really can use these to create color harmony within the room. The couch is similar to Honest Blue (HGSW2386) and the rug has ones of Peppercorn (HGSW1491).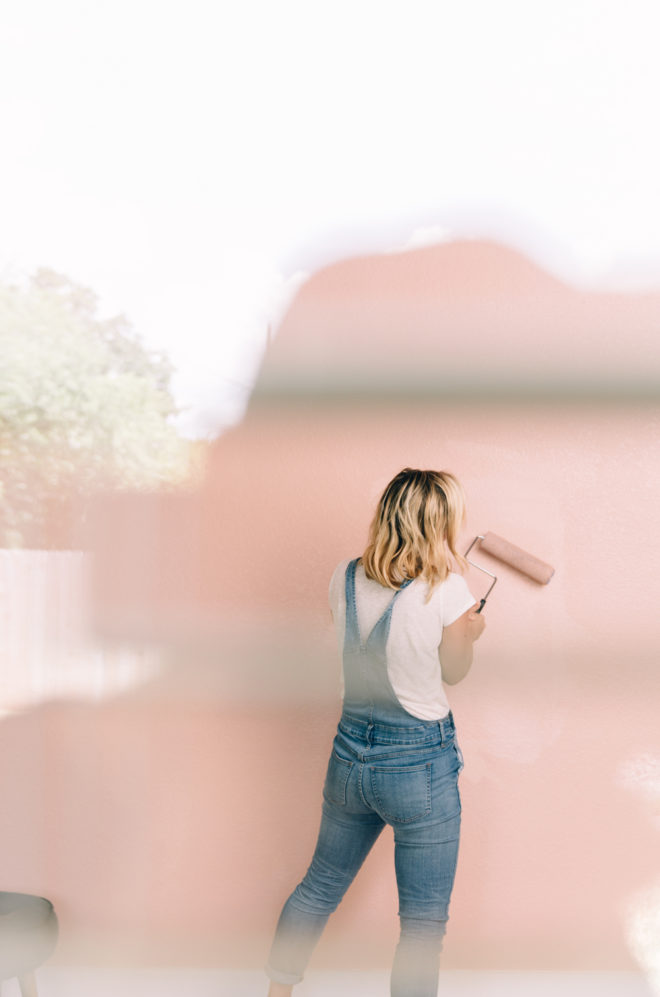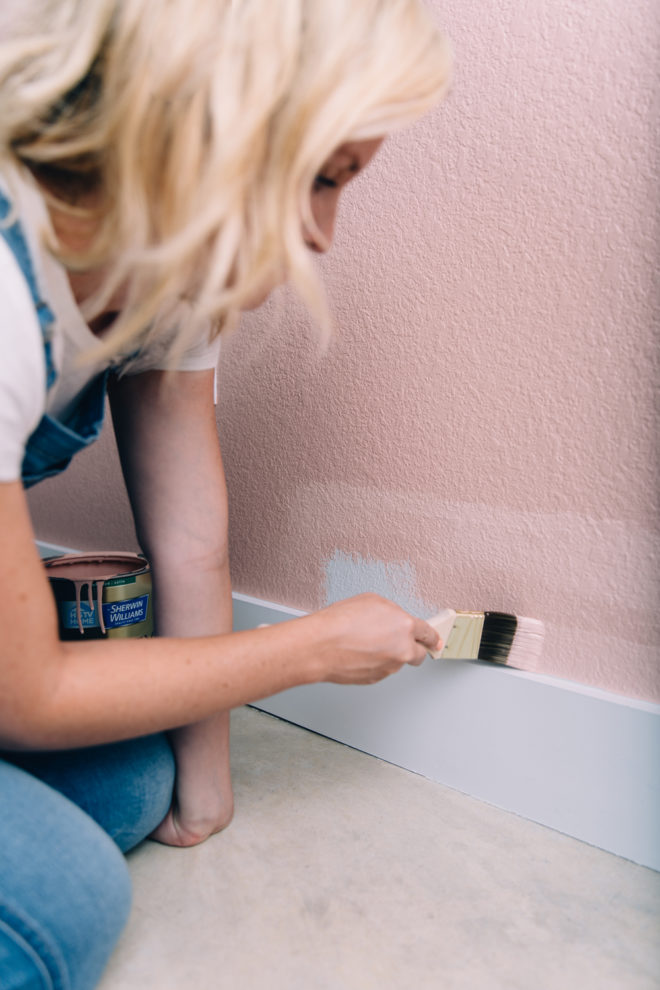 I'm curious how all of you out there feel about painters tape?  I've learned that I actually do a much better job doing it by hand and carefully following the line than dealing with the tape.  Sometimes the paint seems to leak through anyways, even after you've taken the time to apply it!   TheHGTV HOMETM by Sherwin-Williams INFINITY Paint is the premium product offering for paint at Lowe's, but is definitely worth the investment.  The paint went on amazing!  It's super thick-- a paint and primer in one, and only took one coat to do this wall.   This whole wall is almost exactly one gallon of paint.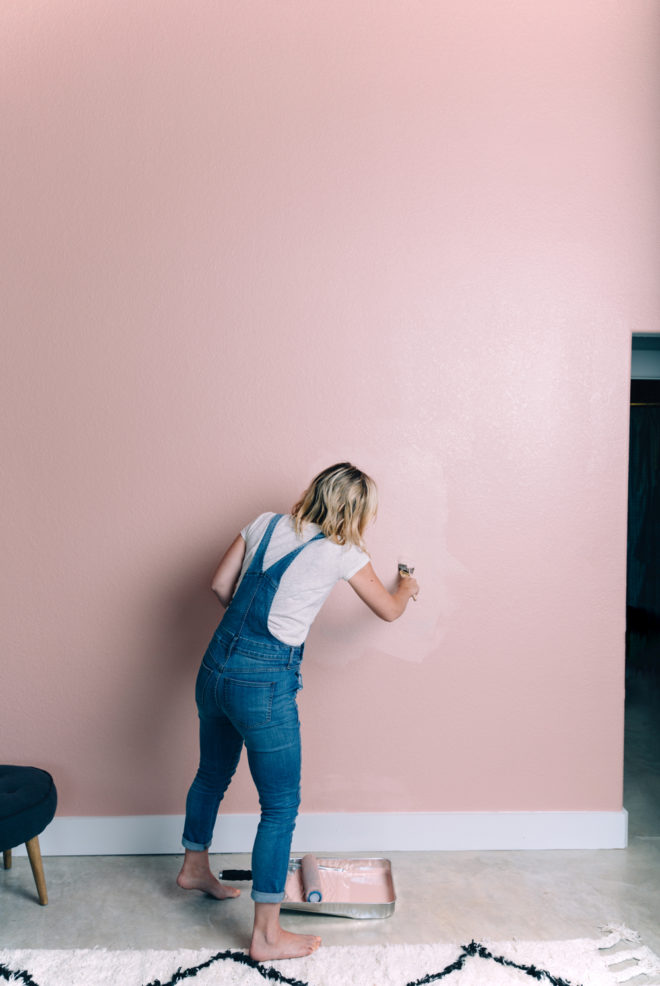 The moral of this story?  You don't always have to do the safe thing.  You can experiment with your style in your closet and at home.  Rock the high-waisted skirt, chop your hair, and embrace bold color-- even if it's just on one accent wall.  What would you do with a gallon of paint?
PS. I've been a little home sick for LA this week, so this wall will forever be my ode to the most photographed spot in all of Los Angeles.
This post was sponsored by HGTV HOME by Sherwin-Williams.  I was super pleased with the paint and hope you will be too!  Be bold, try it out and you can leave your own review here to be entered to win a $100 gift card from Lowe's!  Thanks for supporting the brands that support this site.