(This post is sponsored by OXO, a brand we love and use in every single room of our home!)
In high school, I ran track and field.  My favorite race was the 1600m-- four laps around a track, a mile, in case you're not well versed in metric.  As a competitor, you spent the beginning of the race setting your pace and the first two laps were relatively easy—don't burn out, don't lose pace with the pack.  In many ways the third lap, though, really decided whether or not you would have a shot. The last lap?  Well, that's where you gave it everything you had.  It was a ponytail whipping, sweat flying, focused breathing, no holds barred sprint to the finish where you could finally collapse, hopefully with the knowledge that you had achieved your goal.  If our day with two young kids is like the 1600m run, then the moment from dinnertime prep to bedtime is our fourth lap!  The kids are getting tired, we have been juggling a few things throughout the day and now it's time to make sure that everyone gets a full belly before we say so long to the day and collapse into our pile of covers.  It's also the most crucial part of the day!  Not only do I love the idea of all of us gathered around the table, sharing about our day, but recent studies actually link regular family dinners with higher grade point averages and increased self-esteem in children and adolescents.  They also show that dinner conversation is a more potent vocabulary booster than reading and regular family meals lower the rates of obesity and eating disorders in children and adolescents.  Sounds kind of important, right?
The first year with an infant is a crash course in transitions. Everything from sleeping and feeding to their physical movements and development are constantly changing. One thing that was really hard for me to get a handle on in the beginning was dinner time, but at 10 months old now, it feels like we have finally found our rhythm.  I love the idea of a meal plan, but honestly it doesn't work for us in this season of life.  What does work for us is more of a capsule pantry approach. Having a well-stocked pantry, a refrigerator full of a handful of staples, and essential cooking tools that work for a myriad of meals means dinner is always just thirty minutes away.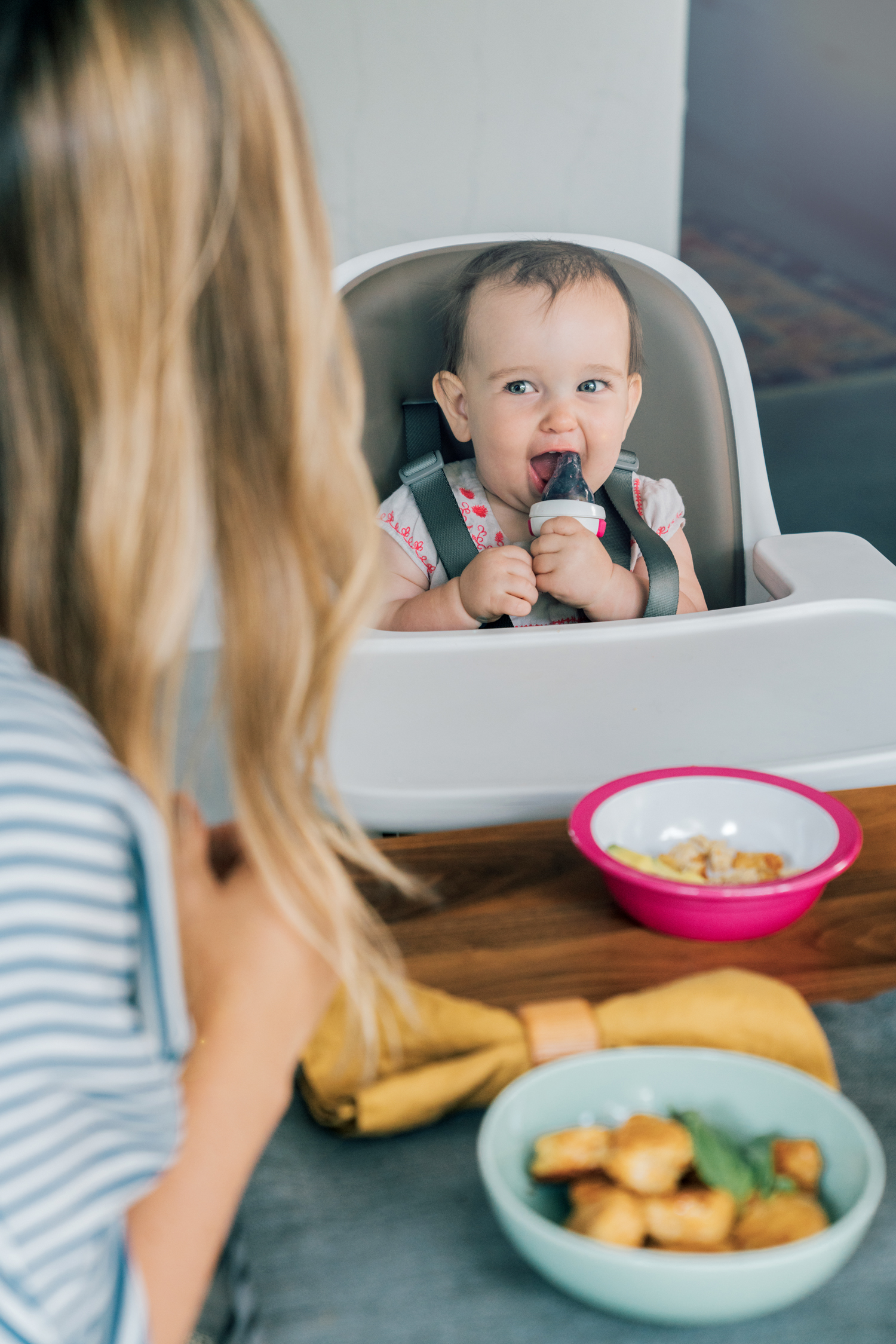 Every meal these days gets prepared and plated slightly different to accommodate a four year old and 10 month eater, as well as Aaron and I. If we are making meatballs, I'll usually make some pasta tossed in olive oil for Parker, which she can also take to school the next day, along with a salad for Aaron and I and roasted veggies for everyone. Ever will get some deconstructed form of our meal—chopped up meatballs, ingredients kept separate and sliced into bite size pieces.  This week we made chicken meatballs with a sweet and sour sauce.  Here's how it played out for everyone: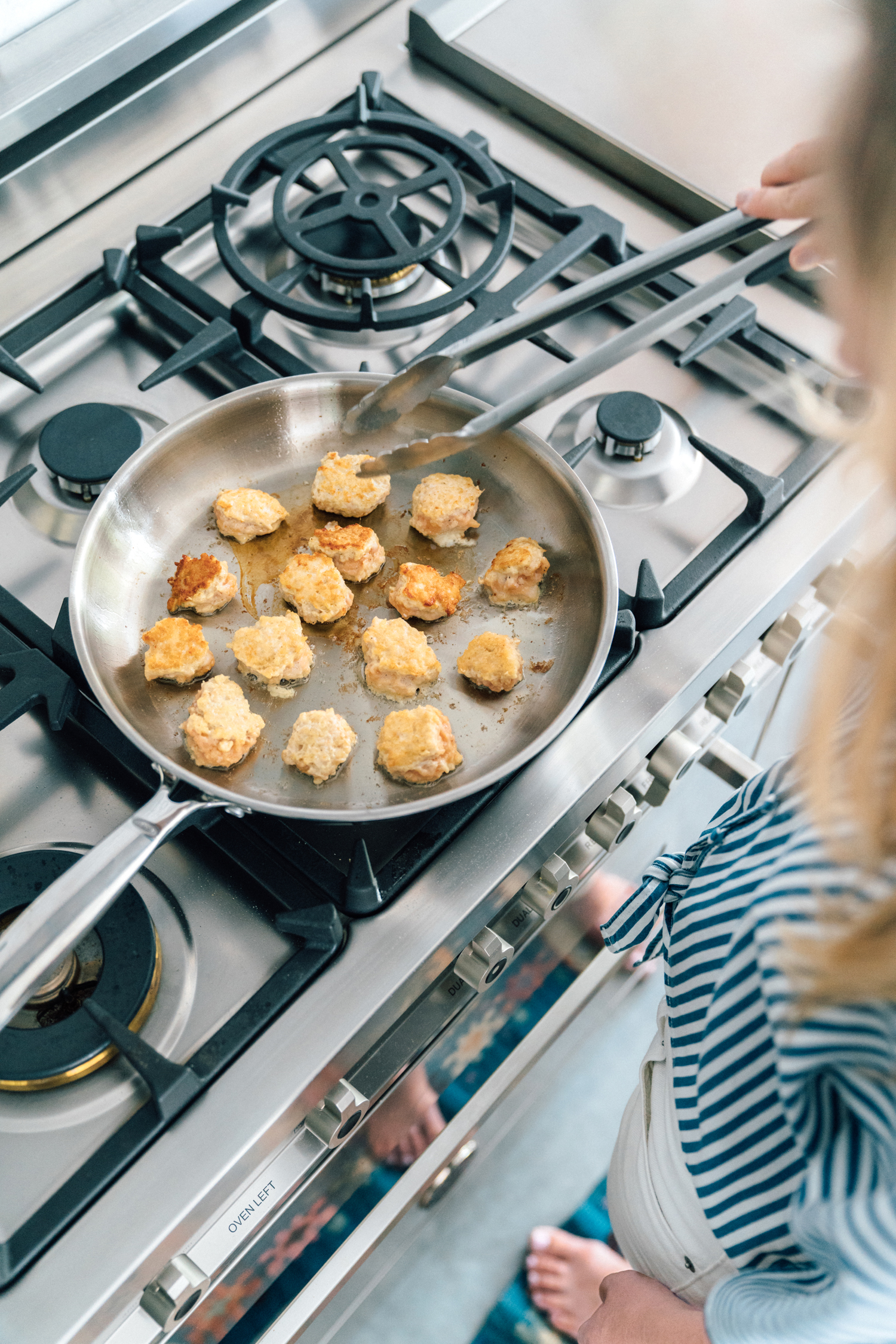 One of the things I like about meatballs are that I can hide things like shredded zucchini and finely chopped spinach when I have them on hand.
Next, I prepped a side salad of mixed greens, blueberries, avocado, and pecans for Aaron and I.  I have had some version of this OXO Salad Spinner since we got married 8 years ago. Lettuce from the farmer's market always taste fresher to me than their prewashed and plastic boxed counterparts and the spinner makes it easy to wash and dry all of the leaves in one batch.  I set aside some blueberries for Parker and an extra few for Ever, too, that she can eat in the silicone self feeder.  It's a great way to let them try tastes of things that might otherwise be a choking hazard.  Half the avocado from the salad goes to Parker and the other half goes in our salad.  (Ever is the rare babe that actually doesn't care for avocado!)
Once a week I'll make a homemade dressing.  I'm about to share with you a life changing formula, are you ready? 2 parts base + 1 part acid + something sweet and something savory = salad dressing.  For me a lot of times that means two parts avocado oil plus one part red wine vinegar + 1 Tbsp. of honey and 1 Tbsp. of Dijon mustard and salt and pepper. It's so easy!  (I use this salad mixer to shake everything up and store in the refrigerator. )
In the last four plus years of parenthood, we have been through a lot of baby and toddler cups and these are two of my favorite!  I love the function of Parker's cup—the straw twists down into the lid, keeping it clean and leak-free.  Ever's straw cup never leaks on us either which I love.  We also just started using this OXO Sprout High Chair.  It complements the design of the space really well.  It's also sturdy, but still easy to move around the room.
When I'm planning our meals, I think of things that Aaron and I love and then I usually just deconstruct the ingredients for Parker and Ever.  Other staples around our house include burgers with homemade steak style sweet potato fries and tacos (shrimp, chicken, turkey or beef!) Last night we did a simple chicken roasted in coconut milk with cous cous and arugula and it was so fresh and delicious!  I'm convinced coconut milk makes everything better!
After dinner, Aaron cleans the kitchen and I take the girls upstairs for bathtime and we all reconvene in time for the girls bedtime.  It's a race to the finish that can sometimes include a fussy baby and melting down preschooler, but it's also guaranteed to be a time where we laugh, share the high points of our day with a big exhale, and get to unwind as a family.  I wouldn't trade it for all of the take out in the whole world!  (Although some days, we do!)
Photography by Aaron Pinkston