12/07/2018
This Breakfast Casserole recipe is a combination of honey baked ham, flaky croissants, and creamy eggs that have been whisked to perfection with whole milk was exactly what Santa wanted us to be eating as we watched our nearest and dearest tear into colorfully wrapped gifts.
I almost wish I had never made this Breakfast Casserole recipe. As breakfast casseroles go, I usually stick to the lighter sort. Many times they're crustless, often times including things like kale and butternut squash, and almost never do they contain 2 cups of whole milk.
But it's Christmas and when I found a similar recipe strumming through the pages of Southern Living, I couldn't help but think that this is worth making!
How To Make This Breakfast Casserole Recipe – Step By Step
Add 1 Tbsp oil to a large skillet over medium heat.

Add ham and cook for 2-4 minutes , stirring once or twice until slightly browned

Remove ham from the skillet and add to a medium size mixing bowl.

Add remaining oil to the skillet and stir in onions, cooking on medium low heat for about 10-12 minutes until very soft.

Add spinach for 1-2 minutes then transfer onion-spinach mixture to the mixing bowl with ham.

In a separate bowl, whisk together eggs, milk, nutmeg, salt, and pepper.

In a lightly greased 11 x 7″ pan, arrange chopped croissants, all of the pieces should be touching each other and perhaps even overlapping slightly.

Top the croissants with the onion / ham / spinach mixture, spreading it around evenly.

Pour the egg mixture on top until the liquid settles evenly around the pan, possibly nudging the croissants in certain places so that the egg mixture can get through.

Top with cheese.

Cover casserole with aluminum foil and chill for at least 2 hours, but up to overnight.

When ready to bake, preheat oven to 375 degrees.

Bake for 45 minutes while covered then remove the foil for an additional 10 minutes to brown the tops. (I let them "brown" for about 25 minutes– too long!)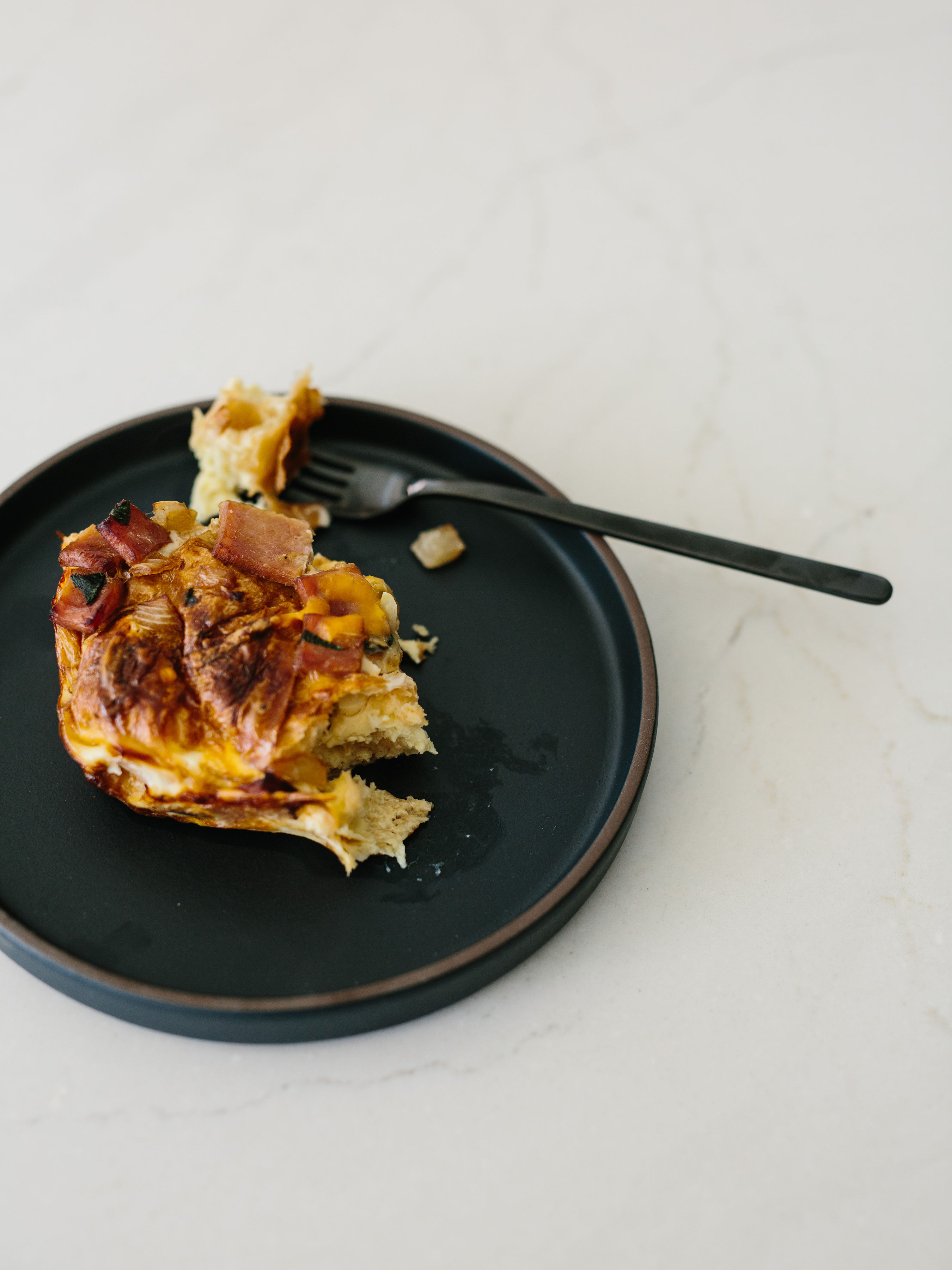 An Easy Breakfast Casserole Recipe
It is so easy to throw all of the ingredients together that you'll have it whipped up and prepped for the refrigerator in no time. You just need to cook up the ham and onion, whisk the egg mixure, assemble in the dish and bake! There's not a tonne of ingredients either, so this one is really simple!
Can I Make This Breakfast Casserole Ahead Of Time?
To make ahead – prepare the recipe without baking, wrap tightly with plastic wrap and store in the refrigerator for up to 3 days. Then, to bake, remove the plastic wrap and bake as directed.
Can I Freeze This Casserole?
If you would like to freeze this casserole,  prepare the recipe in a freezer-safe dish as directed without adding the cheese or baking. Wrap well with plastic wrap and then with foil. Freeze for up to 3 months. Remove from the freezer and allow to thaw in the refrigerator overnight. Top with the cheese and bake as directed.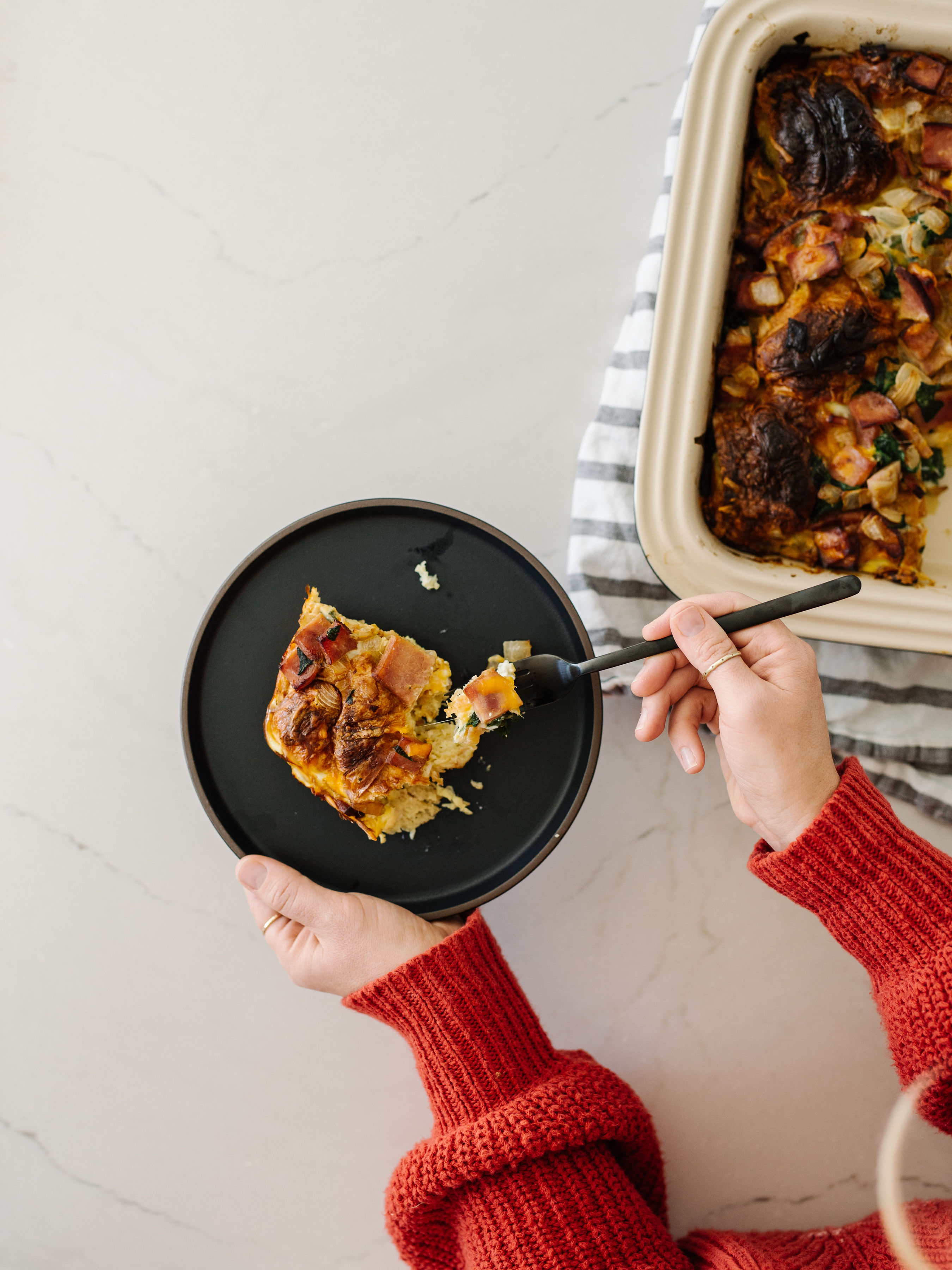 Top Tips For This Breakfast Casserole Recipe
Use quality croissants – for this recipe you'll want to use the flaky, buttery croissants from the bakery section of the grocery store… not the kind that come in a can with a little dough boy on the label.  Nothing against that kind, but you want those fabulous little nooks and crannies of the real croissants, as they soak up the amazing sauce.
Make sure to grease your oven dish, lightly.
When pouring the egg mixture on top, nudge the croissants in certain places so that the egg mixture can get through.
Once baked, allow to cool, wrap well with plastic wrap or foil, and store in the refrigerator for up to 3 days. Reheat and serve.
Check Out These Other Delicious Breakfast Ideas
Have you tried this breakfast casserole recipe? Feel free to leave a star rating and I'd love to hear from you in the comments below!
Egg, Ham, and Croissant Breakfast Casserole with Spinach and Havarti
Basically the best breakfast casserole you will ever eat.
Ingredients
3/4

lb

honey baked ham from the deli

sliced thick (on a scale of 1-10, I sliced it a 5), coarsely chopped

2

Tbsp.

olive oil

divided

1

sweet yellow onion

chopped

2

cups

roughly chopped baby spinach

7

large eggs

2

c.

whole milk

2

tsp.

nutmeg

1

tsp.

kosher salt

1

tsp.

black pepper

3/4

c.

grated Havarti cheese

mozzarella would also work

5

large croissants

chopped into about 5 pieces each
Instructions
Add 1 Tbsp oil to a large skillet over medium heat.

Add ham and cook for 2-4 minutes , stirring once or twice until slightly browned

Remove ham from the skillet and add to a medium size mixing bowl.

Add remaining oil to the skillet and stir in onions, cooking on medium low heat for about 10-12 minutes until very soft.

Add spinach for 1-2 minutes then transfer onion-spinach mixture to the mixing bowl with ham.

In a separate bowl, whisk together eggs, milk, nutmeg, salt, and pepper.

In a lightly greased 11 x 7" pan, arrange chopped croissants, all of the pieces should be touching each other and perhaps even overlapping slightly.

Top the croissants with the onion / ham / spinach mixture, spreading it around evenly.

Pour the egg mixture on top until the liquid settles evenly around the pan, possibly nudging the croissants in certain places so that the egg mixture can get through.

Top with cheese.

Cover casserole with aluminum foil and chill for at least 2 hours, but up to overnight.

When ready to bake, preheat oven to 375 degrees.

Bake for 45 minutes while covered then remove the foil for an additional 10 minutes to brown the tops. (I let them "brown" for about 25 minutes-- too long!)
Nutrition
Calories:
470
kcal
|
Carbohydrates:
24
g
|
Protein:
25
g
|
Fat:
30
g
|
Saturated Fat:
14
g
|
Cholesterol:
219
mg
|
Sodium:
1167
mg
|
Potassium:
409
mg
|
Fiber:
2
g
|
Sugar:
10
g
|
Vitamin A:
1448
IU
|
Vitamin C:
4
mg
|
Calcium:
260
mg
|
Iron:
2
mg
Photography for Croissant Breakfast Casserole Recipe by Katie Jameson