In some ways, this post has been five months in the making. In January, I did an Instagram poll asking readers what types of content they loved most. All of the responses were very insightful, but what I was most surprised by was the number of people asking for capsule wardrobe posts or others asking for help in conquering the conundrum that is putting together a cohesive wardrobe. The wheels started turning and I found myself digging back into the depths of my wardrobe styling experiences, thinking about people's closets, what they wore the most, and what they gravitated towards. What makes a functional wardrobe?
Here's what I concluded: A functional wardrobe means you can get yourself dressed in the morning, afternoon, evening, and on the weekends with ease. It means that you like what you're wearing, that it gives you confidence, and that it suits the activities that you do day in and day out.
If you're just starting out, I highly recommend starting here and doing our wardrobe overhaul challenge. It will give you some serious self-awareness about what you do, the clothes that you wear, and some direction for your personal style. Once you're there, that's where Core 7 comes in. Core 7 is a way to to create a seasonal wardrobe for yourself that incorporates timeless pieces along with things that are trendy. Staples are essential, but a wardrobe full of only staples can be a bit boring. Plus, you can do this in under an hour! So how does it work?
Step 1: Identify your core 7 pieces that you want to build your seasonal wardrobe around. These are pieces that you could wear almost every day. You love them. They totally exemplify what you envision for your personal style this season. They can be jeans, tops, jackets, dresses or skirts-- doesn't matter!
These were my core 7 pieces:
Paige Noella Straight Leg Jean: I wear these so much. They're super comfortable and I like juxtaposing the distressed denim with a nicer top.
Zara linen embroidered tank (similar + similar): It feels vintage and just super easy and relaxed for summer but nice enough to dress up for date night with a skirt.
Madewell wide leg crop trousers: This color has been calling out to me for months now! It's so happy and sunny.
Madewell knit wrap top : such a great not-boring-basic and a super flattering cut. It's cropped which works for me since most of my pants and skirts are high-waisted.
Paige denim Josephine Jacket : it's my favorite layering piece!
Everlane cropped white denim : white jeans in the spring / summer are a must in my opinion.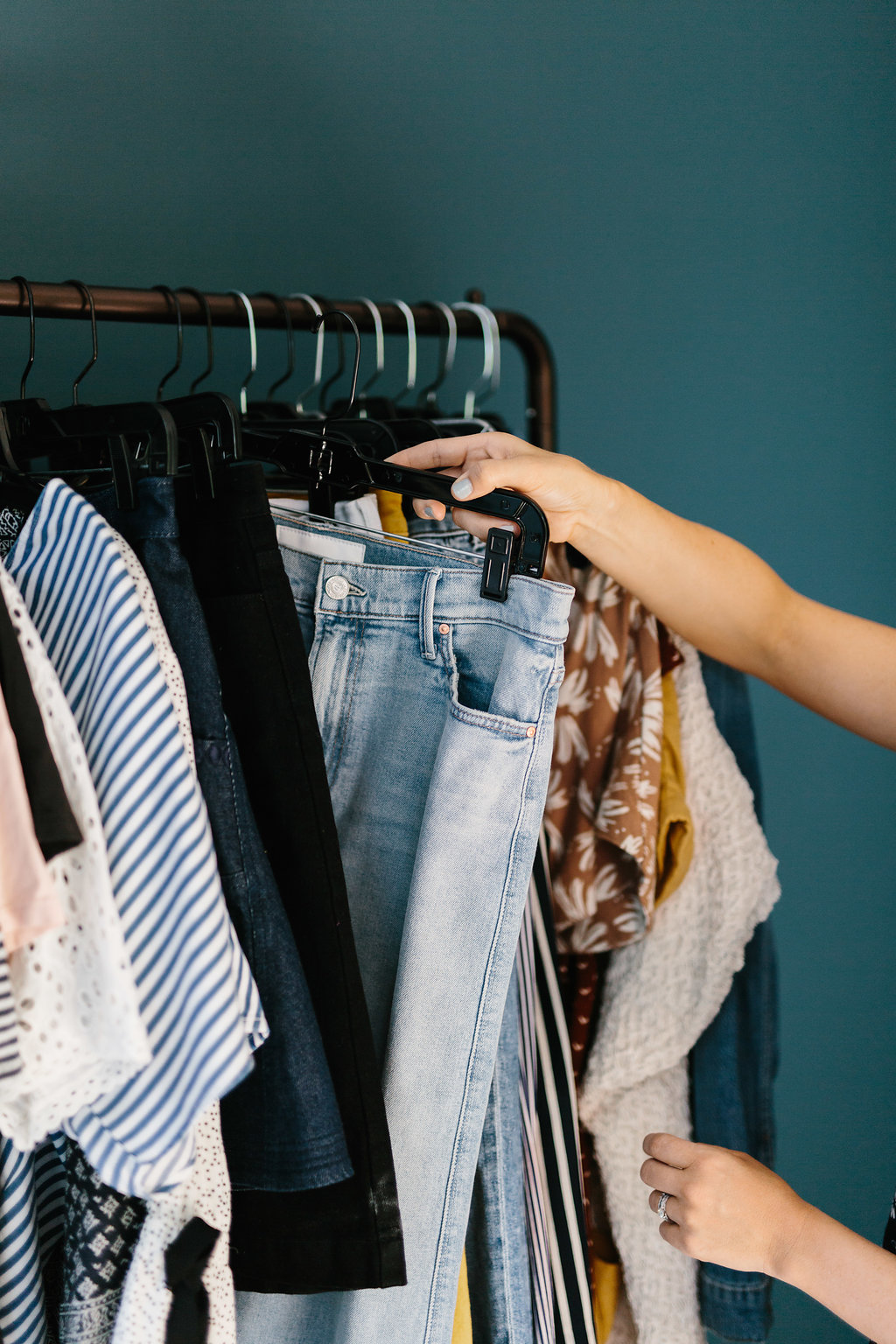 Step 2: For each of the 7 pieces, choose three pieces that you can wear with that one piece. You can think in terms of pieces that could dress it up, make it work appropriate, dress it down, or things you just love to wear with it. Ask yourself questions like, if I were going to wear this to the park with the kids, what would I want to wear with it? If I was going to wear it to class, what would I want to wear with it? If I were going to wear it to a work meeting, what would I want to wear with it?
For example, this is what I chose to go with the mini: (You can see one of the looks in action here and another one here.)
This is what I chose to go with the denim jacket:
This is what I chose to go with the yellow pants:
Does it mean that I will only wear that blue stripe shirt with those yellow pants? No, it just means that I know that I have at least three different ways to wear each of the core pieces I chose for my wardrobe and then can mix and match other pieces additionally.
Here's what my seasonal wardrobe looked like when I was finished:
It's a mix of stripes, prints, and solids in a cohesive color palette with a heavy dose of denim-- just like I like! You can see at a glance how easily these pieces would all work with each other and it seriously is something that you can do in an hour!
Thoughts?! I tried it with a couple of friends to make sure it worked as well for them as it did for me and so far the feedback has been really positive. I would love to hear from you if you try it. Does it work for you? What would you change?
Photography by Katie Jameson