09/01/2017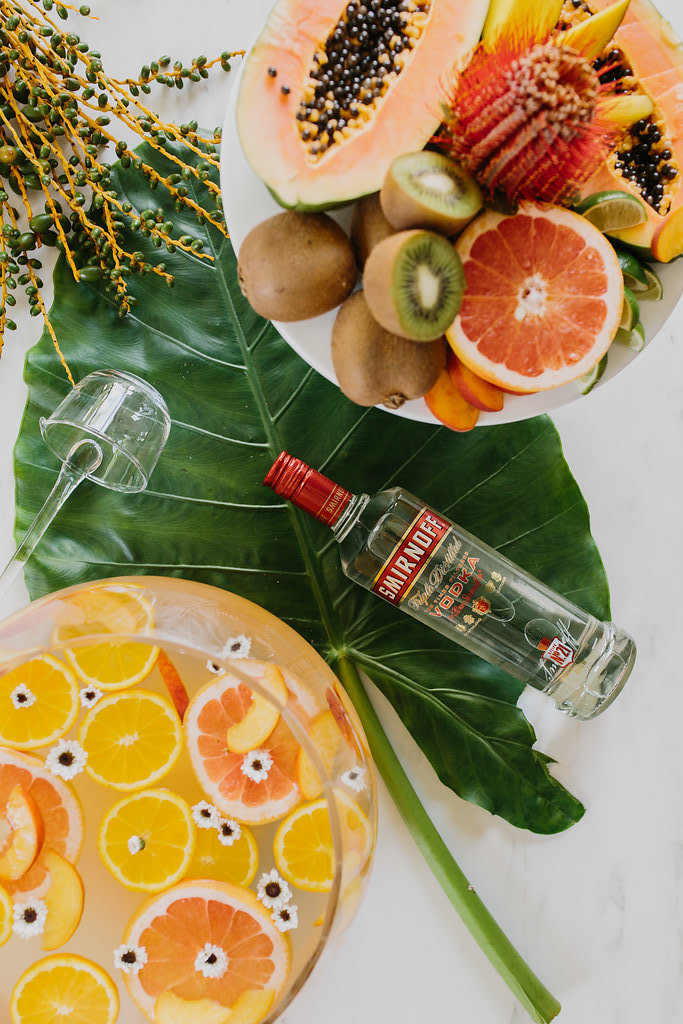 As summer winds to a close, there is something extra sweet about parties thrown this time of year.  As Fall begins and the days get shorter, the laissez faire days of summer are limited, so there's no better time to gather your favorite humans around yummy food and drinks. I love a big batch pre-mixed cocktail that takes the fuss out of making sure everyone's drinks are full and keeps the vibe feeling laidback.  When we decided on this month's Summertime Sangria recipe, Smirnoff promptly challenged us to a blind vodka taste test!  Eek!   It made me so nervous! What if our results didn't confirm Smirnoff as the winner?! They were confident, though, and had zero hesitations! Katie and Britt from our team gladly obliged and the results are in!  Keep reading for details from our taste test and this delicious Stone Fruit Summertime Sangria recipe!
First things first, the taste test.  When you're serving a big batch cocktail for a crowd, there's an obvious motivation to use a less expensive alcohol to keep costs down, but what about the taste? Smirnoff was so confident that we would blindly choose the taste of their No. 21 vodka over competitors that were nearly double and triple the cost, that they didn't blink when we told them we would post the results no matter what. (I was the only one that was nervous!)  Britt was sure that she knew which was her favorite vodka and it happened to be one of the bottles we were tasting against Smirnoff, so I was extra curious to see if she could pick it out in a blind line up.  A good vodka should be tasteless– clean and crisp on the palette, odorless– should not smell harsh or too strong, and smooth– not rough or grainy. It also shouldn't linger.  Sample A was the $30 bottle, Sample B was Smirnoff (at $12 a bottle), and Sample C was the $20 bottle.  The conclusion? Both Katie and Britt picked Smirnoff as their favorite and the $30 bottle (sample A) as their least favorite! Crazy right?! At 2.5 times the price and with a fancy brand name that everyone knows, I definitely did not expect sample A to come in last.   What's also interesting is that Smirnoff vodka has been made in America since the 1930's – long before the local, hand-crafted trend came into play.  It's ten times filtered and triple-distilled, so I guess these guys really know what they're doing.  Now, should you find yourself with a big crowd to please that would prefer not to sip their vodka straight, this Stone Fruit Summertime Sangria is the perfect solution!  (And now we all know which vodka you should use!)
Stone Fruit Summertime Sangria 
(this recipe is fit for a punch bowl and serves between 18- 24 cocktails– feel free to cut it in half or thirds depending on the size of your gathering… or pitcher!)
Ingredients
1 750 ml bottle of  Smirnoff No. 21 vodka
2 750 ml bottles of dry rosé
2 tablespoons honey
12 peaches, sliced (two set aside for final garnish)
2 c. blueberries
1/4 c. lime juice
1 grapefruit, sliced in thin circles for garnish
2 oranges, sliced in thin circles for garnish
1 32 oz bottle of sparking water
plenty of ice
Directions:
In a medium size bowl, muddle together honey, peaches, blueberries and lime juice.  Pour into your punch bowl (or pitcher if using a pitcher– if you're using a pitcher instead of a large punch bowl, you'll likely want to cut the recipe in half or by two thirds.)
Add Smirnoff No. 21 and rosé. Cover and allow to sit for at least 8 hours.
Before serving, add the bottle of sparkling water then top with remaining peach slices and grapefruit and orange slices for aesthetics.
To serve, fill a glass with half ice, a spoonful of fruit from the punch, and ladle the punch on top until the glass is full. Enjoy!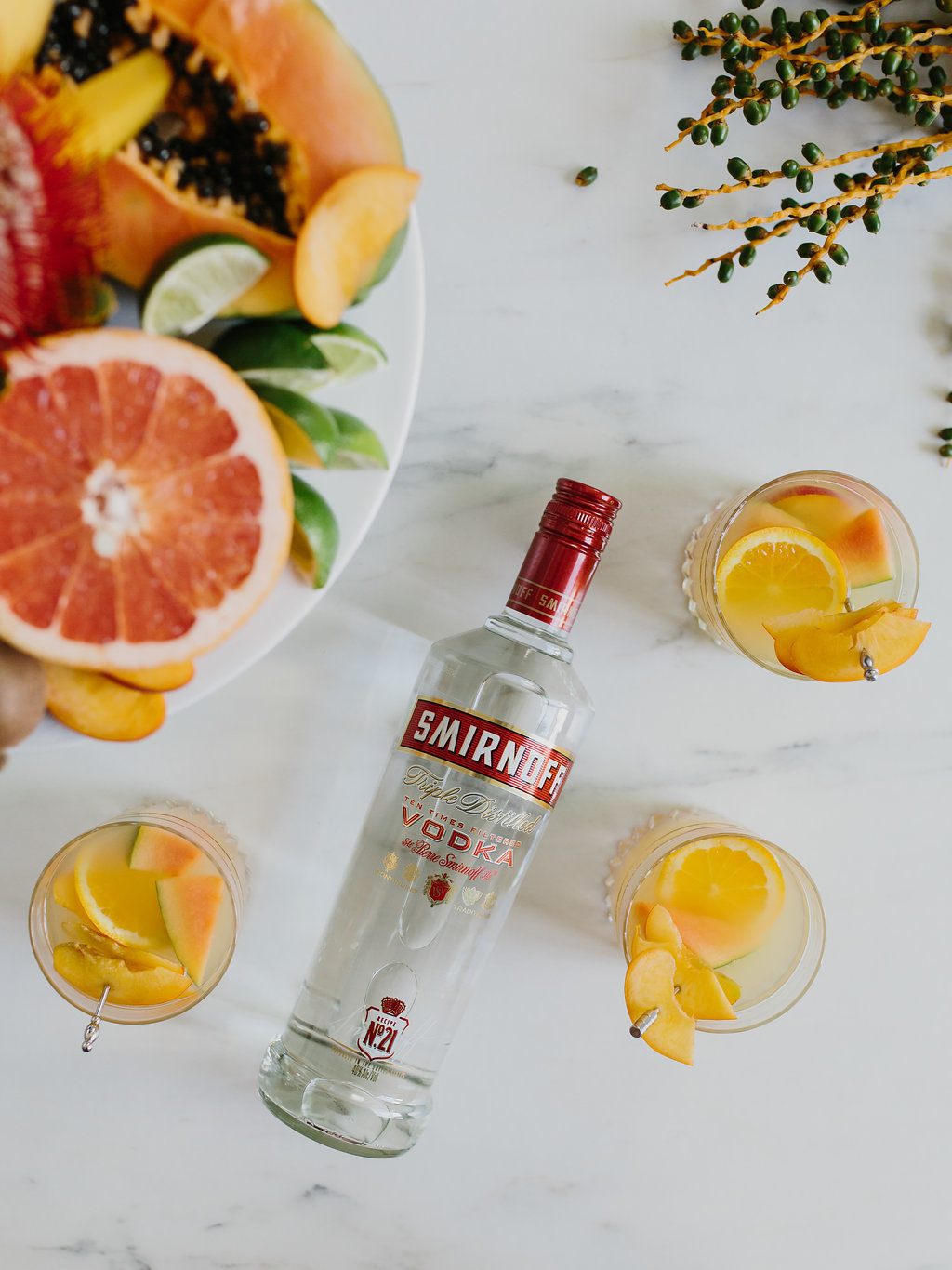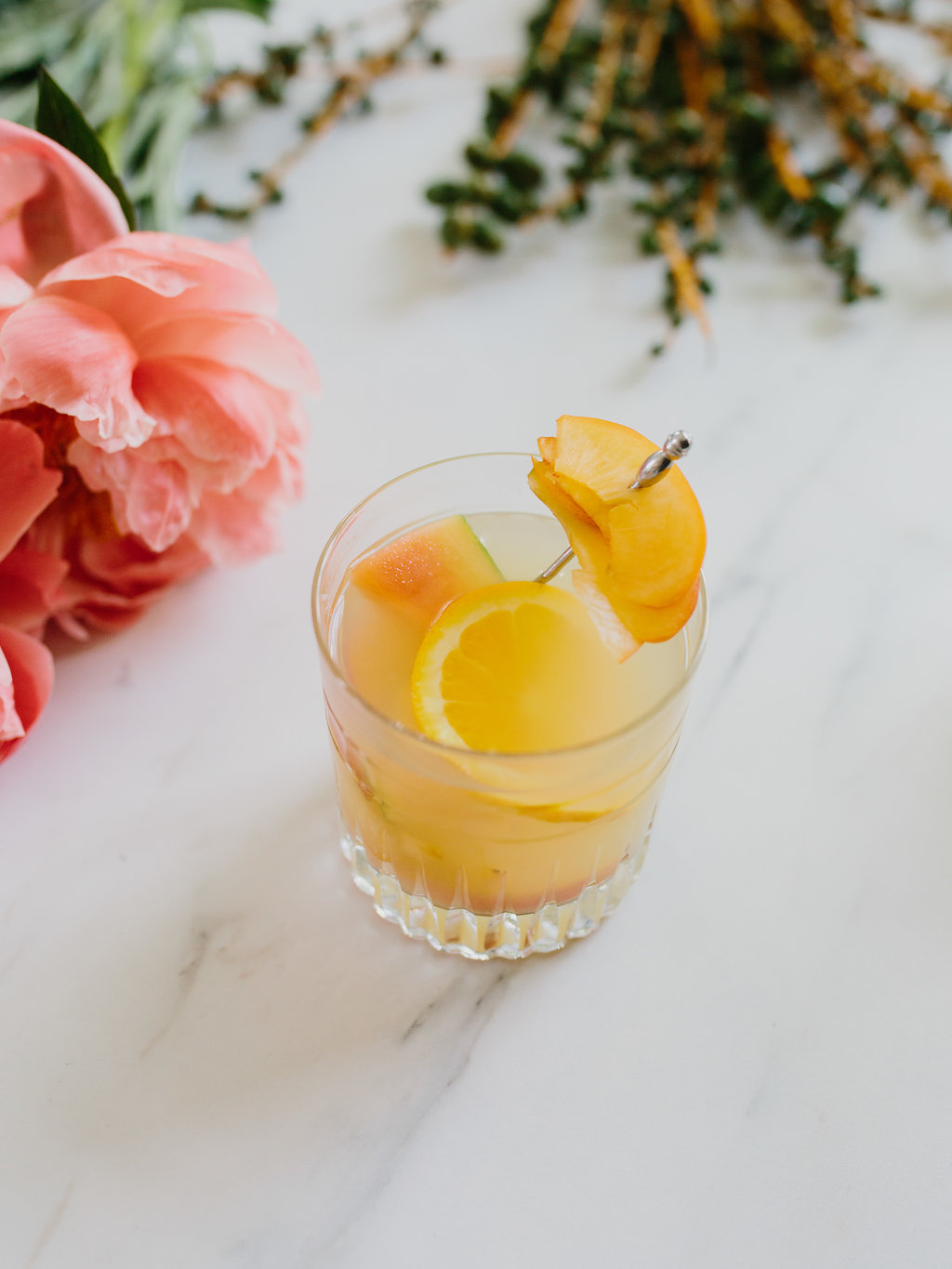 Photography by Katie Jameson
This post is sponsored by Smirnoff