People are always asking what it is that I've craved during this pregnancy and I have to say, there hasn't really been one particular craving, more like craving phases. When I was the most nauseous during the first trimester, I went through a major Italian food craving. All I wanted was pizza and spaghetti with chicken meatballs. Sounds healthy right? A few weeks into my second trimester my taste buds were mostly back to normal and I could once again enjoy veggies and salads and other things that had been regular staples in my diet. It was then that I became obsessed with citrus. I literally was never without a clementine in my purse or a grapefruit in my kitchen! Now, that I'm in my final weeks the thing I cannot get enough of is iced tea! It always sounds so good and the colder the better. I have a few more weeks before I'll be spiking mine, but I have a feeling that the craving has a little something to do with the idea for this recipe!
Spiked Arnold Palmers
(makes 2)
Ingredients:
2 single serving black iced tea bags
1 cup sugar
½ cup fresh lemon juice
½ cup dark rum
ice
fresh rosemary or mint for serving
1. Brew tea according to directions and set aside to cool.
2. Meanwhile, in a saucepan, simmer sugar with 1 cup water over medium heat until sugar has completely dissolved.  Remove from heat and allow to cool.  This step can be done days in advance as simple syrup will keep for 1-2 weeks when refrigerated.
3. Fill both glasses completely with ice and add equal parts simple syrup, iced tea, lemon juice, and rum.
4. Stir and garnish with either mint or rosemary.  Then top with your favorite striped straw if you so desire!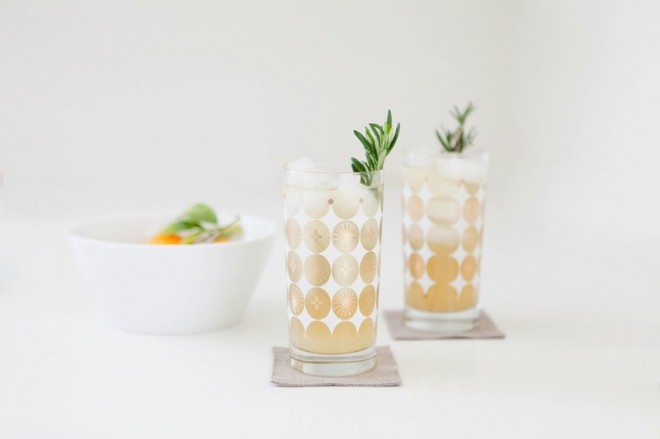 Photography by Melissa Valladares
Glassware by Bombshell Bar Goods