Is anyone else day dreaming of summer already?  I know it's only January, but I'm already fantasizing about long summer days when we can grill pizzas and drink wine in the backyard with friends on a Friday night.  I am really trying to get better about living in the moment.  I mean, there are still things to look forward to about winter.  The Super Bowl.  Valentine's Day.  Excuses to make all kinds of warm and wintery soups.  (I think I might also be looking forward to summer a little bit more than usual since our little one will be here with us then!)  It may not be sangria or margarita weather just yet, but these Dark 'N' Stormy cocktails are perfect for the moment.
Dark 'N' Stormy Recipe
(makes 2 cocktails)
4 ounces dark rum
8 ounces non-alcoholic ginger beer
1 lime (plus more for optional garnish)
Instructions
Fill two glasses with ice, or use giant ice spheres like we did.  Next fill each glass with 2 ounces of dark rum, followed by 4 ounces of ginger beer.  Finish each cocktail with a squeeze of fresh lime juice.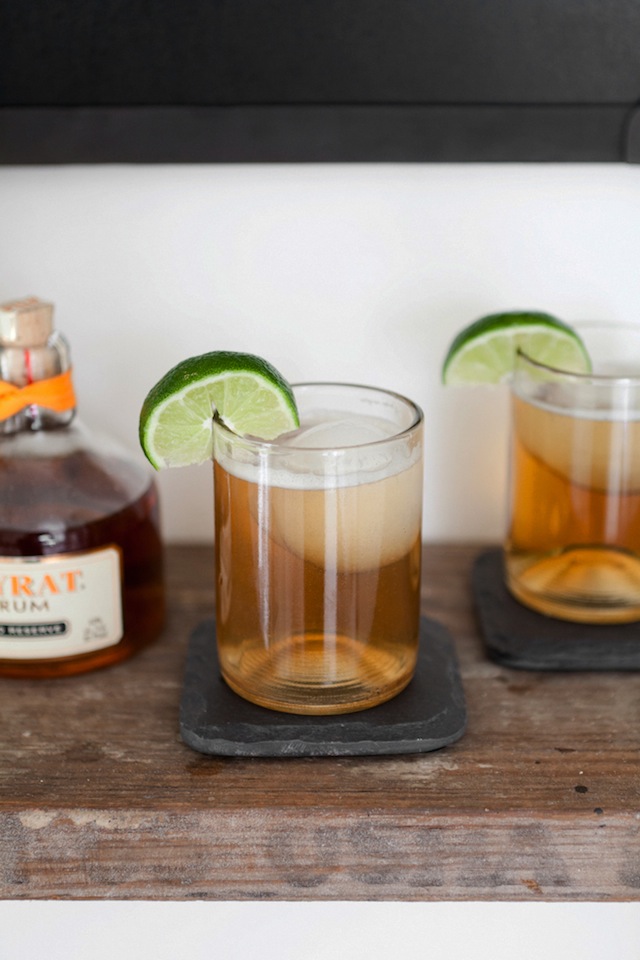 Photography by Melissa Valladares
Glasses, West Elm / Chalkboard, Restoration Hardware