12/30/2013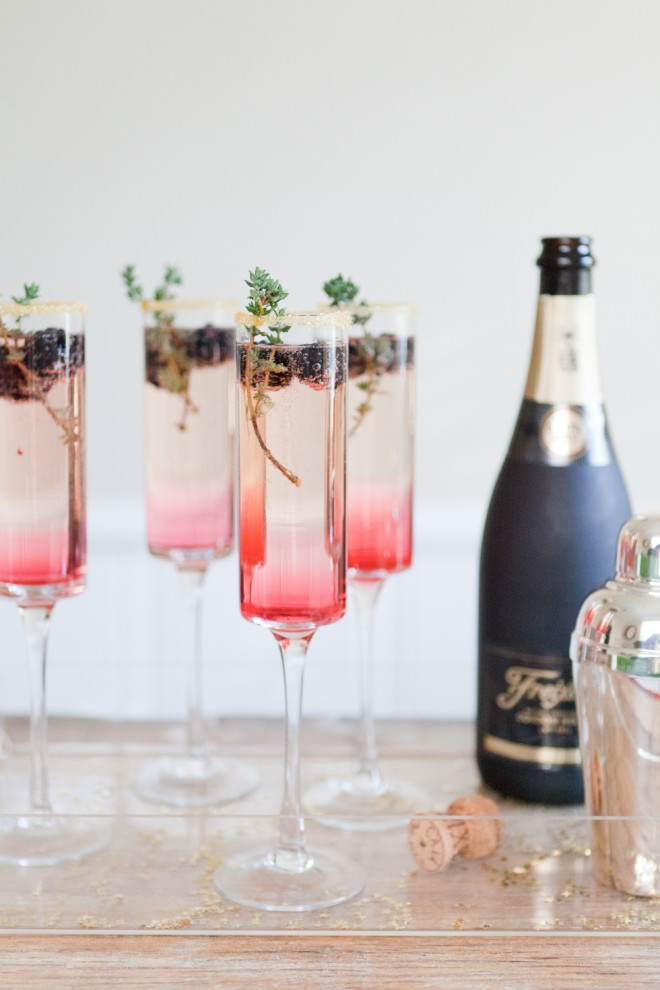 After a week filled with family, celebrations, and delicious dish after delicious dish, Aaron and I landed back in LA late last night.  Can we all just agree that there is no sleep like sleeping in your own bed?  I start my third trimester this week, so sleep is beginning to elude me all together, but it still felt really good to wake up this morning tucked into my own sheets with my head on my favorite pillow.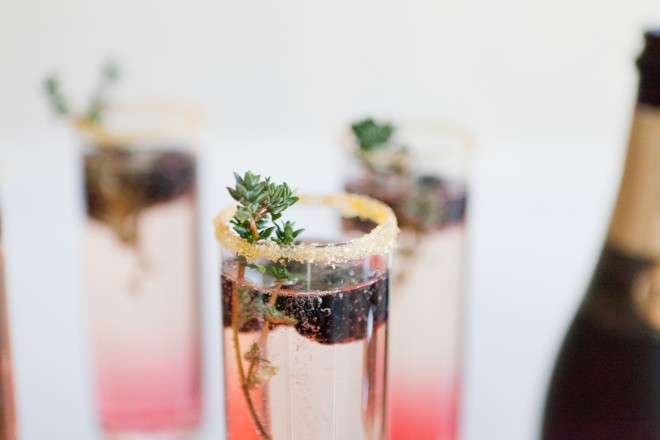 Since New Year's Eve is tomorrow, I thought we should squeeze in one last cocktail hour post before we bid this year adieu– even if I can't partake! This ombre-colored bubbly cocktail (and the super chic champagne flute) is just as delicious– or so I hear–as it is easy on the eyes. Keep reading for the recipe below…
We first used this acrylic tray for our fall sangria post and it has continued to come in handy ever since.  A little bit of gold star confetti and voila: a total NYE appropriate serving tray.  I had these luxe leather coasters sitting out during our TEC holiday party and just about every one from our team commented on how great they were.  They're classic and chic and add another layer of texture to a table.
Blackberry Thyme Sparkler
(Makes 4 Cocktails)
1 c. blackberries + 8 more for garnish

1 c. Water

1 c. sugar

1 bottle of champagne

4 ounces or 1/2 c. gin

4 long sprigs of thyme

1 c. ice

 gold baking sugar for the rim
In a small saucepan, bring blackberries, water, and sugar to a boil.  Reduce heat and simmer for 10 minutes, until the blackberries are soft and the simple syrup has turned to a bright pink/redish color. Remove from heat, drain blackberries, and allow to cool.  This step can be done well in advance as the syrup will keep for at least a week in the refrigerator.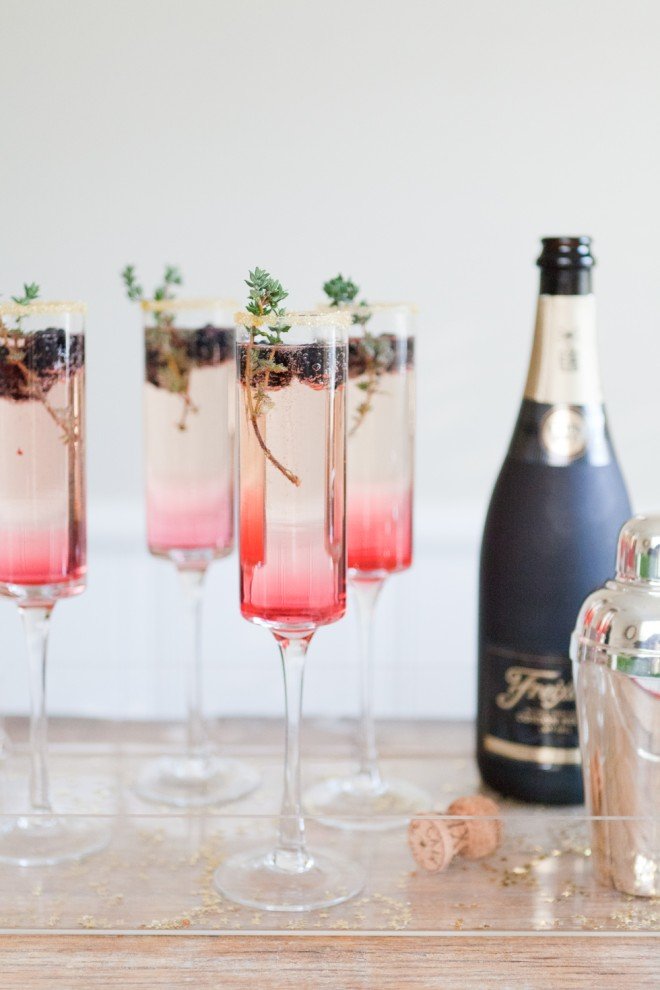 Prepare your champagne glasses.  Okay, so here is a dirty little secret of getting those beautiful salts and sugars to stay atop the rim: butter.  It adheres perfectly and you honestly never taste it. Place the tiniest amount between your fingers and rub just around the rim of the glass before dipping the glass into the gold baking sugar.
Next, begin by adding 1 ounce of gin to each champagne glass.  Next drop two blackberries in each glass, followed by 2 ounces of homemade blackberry simple syrup. Fill the rest of the glass with champagne and top with a sprig of thyme in each glass. Voila!
Bottoms up!  Be sure to check back in tomorrow for my final style post of the year– à la New Year's Eve!
Photography by Melissa Valladares
Dress by Ingrid and Isabel
Leather Coasters, Cocktail Shaker, and Acrylic Tray by Mark and Graham