Happy Monday and welcome to Spring Break Week here at The Effortless Chic!  There are few things in this world that I love more than exploring new cities, trying new foods, and wearing resort wear, so it seemed perfectly acceptable to spend a week celebrating just that!  Since we can't always be on vacation, I love having a neighborhood spot that makes us feel like we are on vacation.  Bow & Truss was one of the first local dinner spots we visited when we moved into our house and we immediately fell in love with their tacos, paellas, and craft cocktails.  The added bonus is that their outdoor bar and dining area makes you feel like you are at a swanky caribbean resort-- a little vacation of sorts in the middle of our city!  Melissa and I stopped by last week to get the skinny from their bar manager, JonnyWhitton and have him show us how to make one of his-- and now my!-- favorite cocktails.
Jonny creates a new craft cocktail menu for each season, complete with handmade syrups and infused alcohols. This particular cocktail, Signal Fire, has an orange zest salted rim, homemade peach cilantro syrup, fresh lime juice, and jalepeno-infused Plymouth gin.  Yum!
Step 1: Run a quarter of a lime along the rim of the glass and then coat with orange-zest-salt.
Step 2: Fill a cocktail shaker with 2 parts homemade peach cilantro syrup, 1 part jalepeno-infused Plymouth gin, and a splash of lime juice.  Give it a good shake!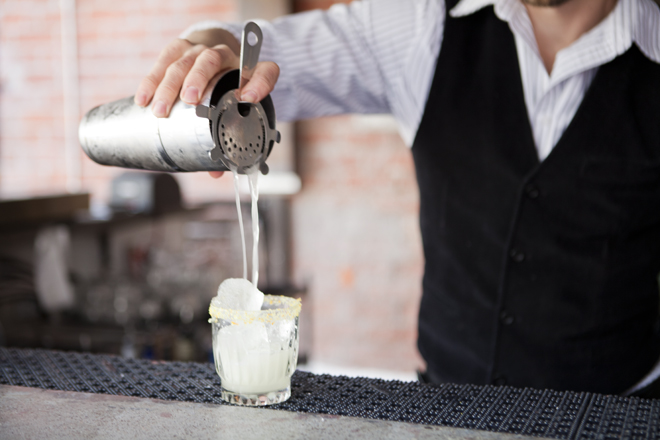 Step 3: Pour over (perfectly square) ice cubes and voila!
How cute is this place?!  We rented out this area for Aaron's birthday party over the weekend and had a blast!
My dress is DVF and about the easiest thing you could ever hope to pack on vacation!  These shoes are Paloma Barcelo from Style-Passport.  I bought this cocktail ring for our rehearsal dinner almost three years ago now!  Similar ones are available here and here!
Hope your weeks are all off to a great start!  Check back in with us throughout the week for more trips, tips and spring break inspiration!