I've discovered, over the course of making many of mixed beverages, that the secret to a really great cocktail is a really great homemade simple syrup.  It's so incredible simple to make-- no pun intended-- and makes such a big difference in taste.  You can store it for up to two weeks in your refrigerator and use for a myriad of different things.  We made this one with strawberries, rhubarb, and just a hint of rosemary.  You can mix it into your favorite margarita recipe or combine it with gin or vodka over ice for something really refreshing.  Not in the mood for a cocktail?  Use two parts olive oil to 1 part simple syrup and a splash of red wine vinegar for a killer salad dressing!  You could even combine it with maple syrup and serve atop your favorite waffles or pancakes.  The possibilities are endless and the flavor combinations are infinite!  Here's what you'll need:
Ingredients:
1 cup water
1 cup cane sugar
½ cup roughly chopped strawberries
¼ cup fresh or frozen rhubarb, roughly chopped
1 large sprig of rosemary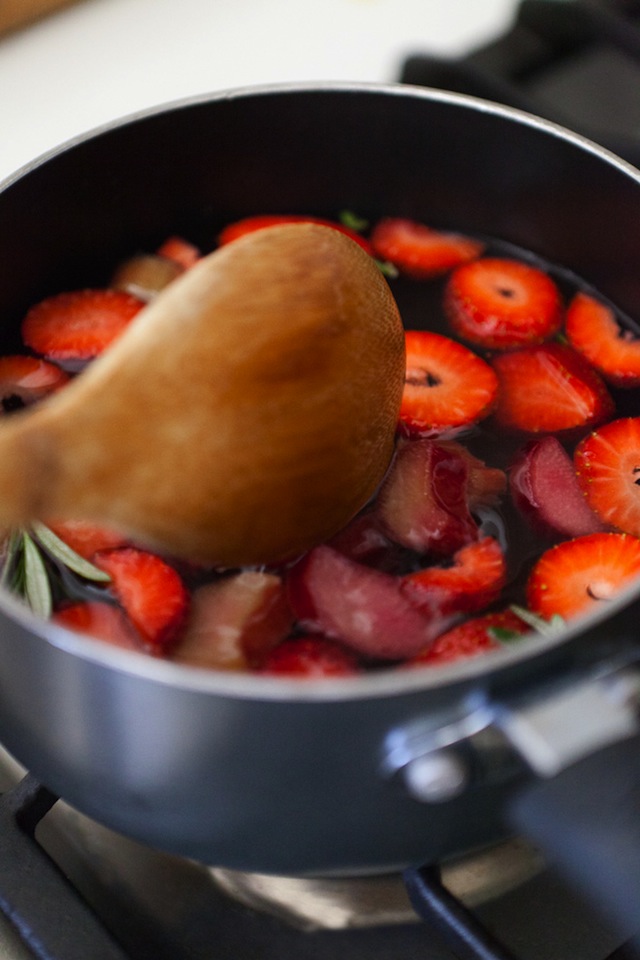 Directions:
In a medium saucepan bring water and sugar to a boil.  Reduce heat to a simmer and add fruit and rosemary.  Cover and allow to simmer on low for 10 minutes before removing from heat.  Allow to cool uncovered for an addition 10 or 15 minutes.  Using a slotted spoon remove fruit and herbs from the simple syrup, then pour into a glass jar or bottle.
Voila!  Pretty simple, right?
Photography by Melissa Valladares