While Aaron is in Tokyo this week I have been contemplating putting up our Christmas tree.  I know it's not even Thanksgiving yet (which is exactly what he would say!), but it's all so pretty and festive so why not enjoy it a little longer?  Right?  Anyone?  Luckily, there's so much going on this week that I haven't been able to indulge in my Christmas fantasies, but that hasn't stopped me from craving all of those great seasonal flavors.  I am all about anything cinnamon or cranberry these days.  Lucky for us, this fab fall granola from Gaby ticks both of those boxes!
Gaby's Fall Granola
3 cups Old Fashion Oats
1 cups Raw Almonds, Roughly Chopped
½ cup slivered raw almonds
1 teaspoon Salt
1 teaspoon Cinnamon
¼ teaspoon ground cardamom
1 stick Unsalted Butter
¼ cups Agave Nectar (or Honey)
⅔ cups Brown Sugar
⅓ cup dried cherries
⅓ cup dried cranberries
⅓ cup chopped dried apricots
Preheat oven to 325 degrees F.
In a large bowl, combine the oats, almonds,, salt, cinnamon and cardamom and set aside.
In a medium saucepan, melt the butter, agave and brown sugar until the sugar has completely dissolved. Remove the mixture from the heat and stir in the vanilla extract.
Pour the butter mixture over the oat mixture and stir to combine until everything is well coated.
Spread the granola mixture onto a parchment-lined baking sheet, leaving a few large clumps.
Bake the granola for 15 minutes. Remove from the oven and break up the pieces to ensure even baking. Place the baking sheet back into the oven for another 15 minutes.
Remove the sheet pan from the oven and give it one more toss to break up some of the pieces and place back into the oven for the last 10 minutes.
Remove the baking sheet from the oven and let it cool completely. Once cooled, add the dried cherries, cranberries and apricots. Give it a quick toss with a spoon and then package into mason jars or brown paper bags to store.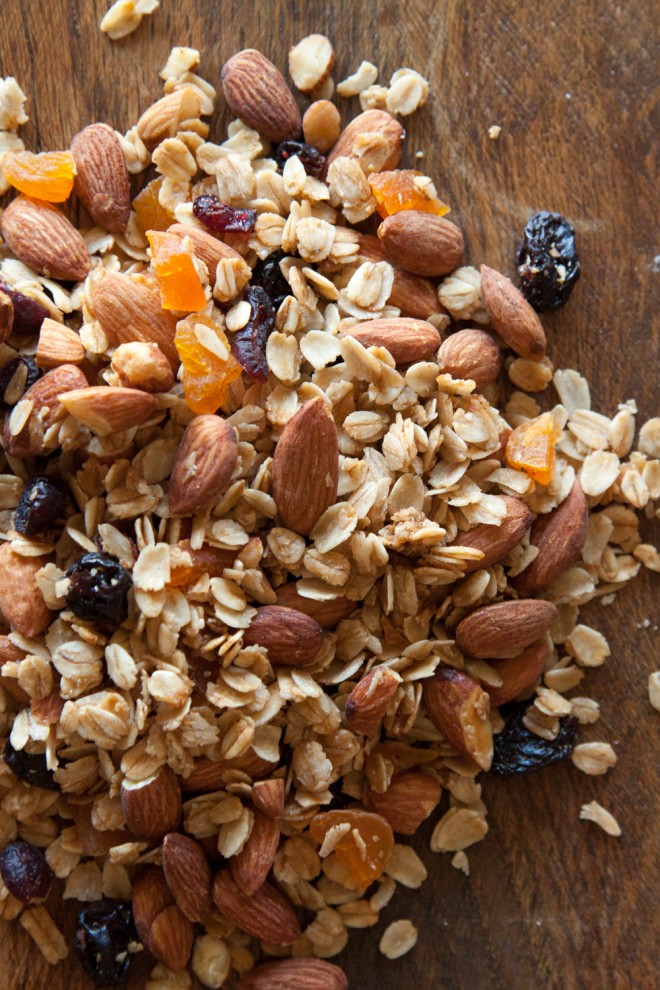 Photography and Recipe by
Gaby Dalkin