It's no secret that children make the holidays infinitely more fun to celebrate! Keep reading for all of our favorite Christmas Traditions...
(This post was originally published in 2019)
When I found out I was pregnant with Parker, I immediately began thinking of all of the things I couldn't wait to do with her- chief among them, creating our own Christmas traditions as a family. Christmas is just more magical with children around. I remember stressing that first year about what our holiday traditions would be. If we don't start now, her first Christmas, is it really even a tradition?! The answer, of course, is yes! We've added new Christmas traditions each holiday and let go of some that weren't serving us over the past few years. Keep reading for 21 Christmas traditions for kids that will help to make this holiday season even more memorable! Do you have a tradition that we didn't mention? Leave it in the comments below!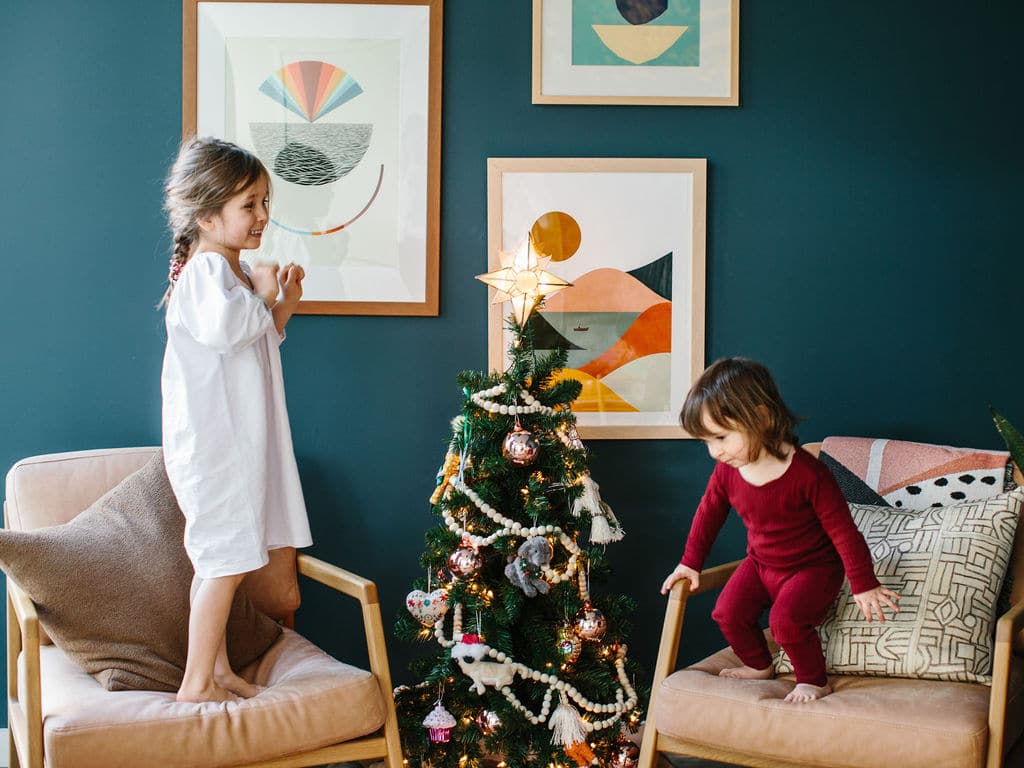 1. Start a christmas countdown paper chain: Children are visual creatures! Every day the kids ask how many days until Christmas, but it's so much more exciting for them to get to remove a piece of the paper chain each day and see how the Christmas is nearing!
2. Choose a meaningful ornament for each child: I actually do this for the girls and for Aaron every year. Last year Aaron's was a gorilla because he went trekking with the gorillas in Rwanda for work and Parker's was a horse-drawn carriage that said New York because it was her first trip there. Ever's was a boat and I can't recall for the life of me why?!! It's going to be one of life's great mysteries.
3. Chocolate advent calendars: As far as Christmas traditions go, this one checks a lot of boxes! Easy! Inexpensive! A child crowd pleaser! My dad always bought these for us when we were little and now he buys them for all of the grandkids. They get so excited! Although trying to explain to a 2 year old why she can only open one a day is not for the faint of heart! I might need this Godiva calendar for myself and I love that this one from Gathre allows you to make your own surprises for each day.
4. Choose a way to give back: Last year we donated to Coats for Kids and when we lived in LA we would choose a couple children from the angel tree to buy gifts for. Some people donate food to the foods banks or serve the homeless. Choose something that feels meaningful for your family or ask the kids what feels meaningful to them. This year we are helping to fulfill wishlists for two deserving single mothers. If you would like to help, all of the information is saved in this highlight.
5. Read the Christmas story: Amidst all of the lights and presents and sweet treats, it's nice to be reminded that this season we are celebrating is about love and hope at the core.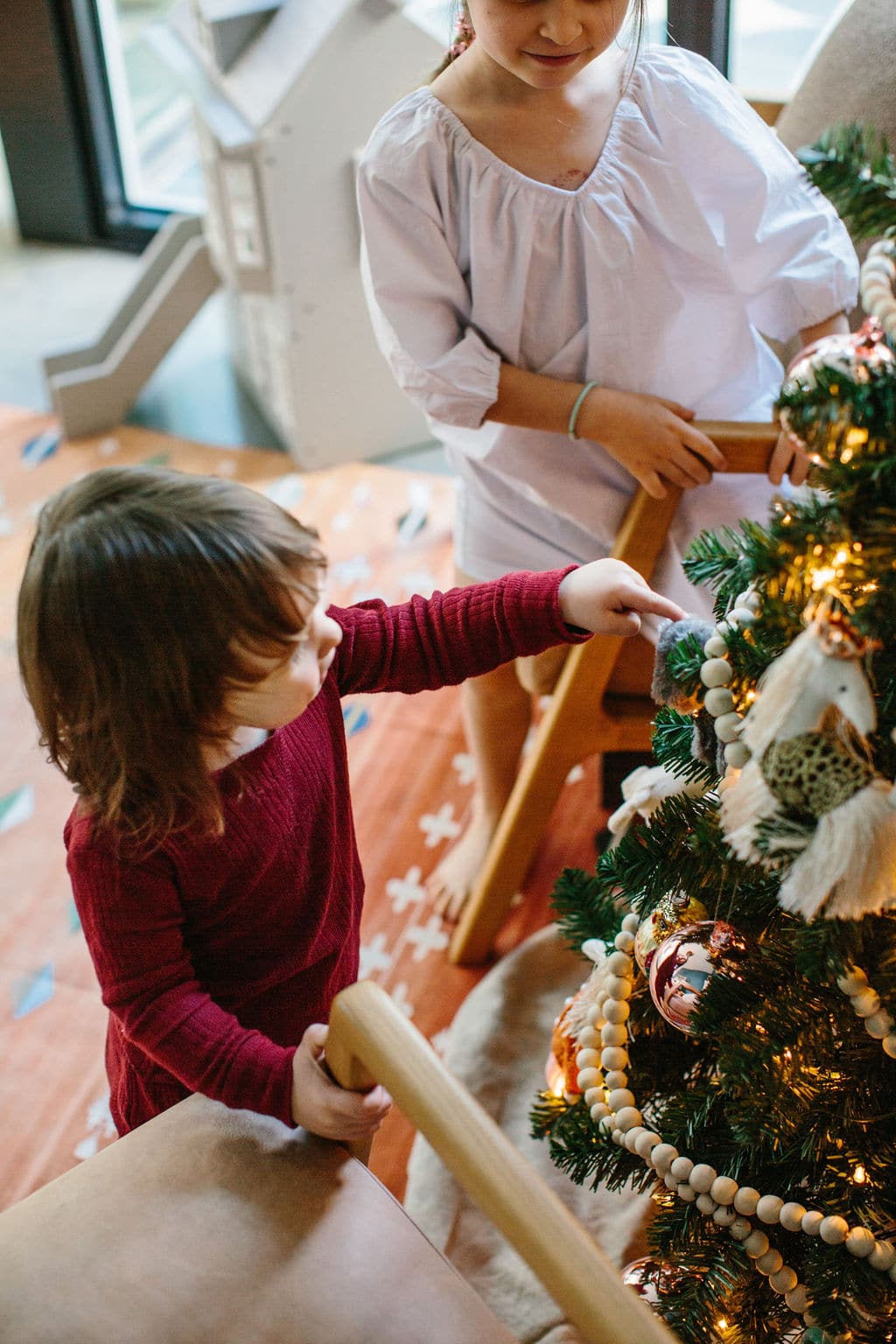 6. Start a Christmas book collection: Speaking of reading, consider starting a Christmas book collection that you pack away on the 26th and don't get out again until the day after Thanksgiving. A festive time capsule of reading material that you can add to year after year! For added excitement, wrap them all up under the tree and choose one each night to unwrap and read together. (This one, this one and this one are two of our favorites!)
7. Host a cookie exchange: My sister hosts a Christmas cookie exchange every year and the girls always look forward to seeing which cookies I brought home the next morning. Now that Parker is older she helps me make the cookies and can come along. 2020 Update: Organize a drop off exchange among neighbors where everyone cooks a different treat to share drops off small bundles on each doorstep.
8. Family movie night with another family: The only thing better than watching Home Alone or Elf this time of year is watching Home Alone or Elf in good company! 2020 Update: Run a sheet across your back fence or the side of someone's house and rent a projector for an outdoor movie night!
9. Go see the Nutcracker: Last year a friend of ours was dancing in the Nutcracker so I reluctantly decided to buy tickets for Parker and me. I never dreamed she would love it so much! After Christmas she said it was her favorite thing we did all December long! We are going again this year and bought this book to prepare! It's by far my favorite book version! 2020 Update: A lot of ballet companies are streaming their performances this year! Cozy up on the couch for this year's rendition.
10. Host a gingerbread decorating party: Courtney from Pizzazzerie hosts a Gingerbread Tea Party for her daughter every year and you should click through and see the photos but also be prepared that you might die of cuteness. As far as Christmas traditions go, this one is a winner! 2020 Update: This year she and her daughter dropped off kits for everyone to make at their homes while together on Zoom.
11. Afternoon Christmas crafts: This can be so simple, but the girls love any kind of holiday craft this time of year! Yesterday I cut a new sponge into two triangles and gave to the girls along with green paint, glitter pom poms, glue and paper and they made Christmas trees for a solid 20 minutes. (For more adult DIY ideas, see here!)
12. Bake treats for the neighbors: Parker loves to bake this time of year, but there's only so many cookies I want lying around the house. Sweet treats are a nice excuse to pop over next door with baked goods in hand and catch up with the neighbors!
13. Dollar store shopping for everyone in the family: My sister started this tradition with Parker! Every year she takes her to the Dollar store to choose one gift for each person. Unwrapping her choices on Christmas morning is a serious Christmas highlight! 2020 Update: This year they did their shopping day together over Zoom, using the screenshare feature to digitally shop together.
14. Check out the neighborhood lights: In Austin I've been going to the Trail of Lights since I was a kid, but no matter where you live there's likely a street, neighborhood or official display of lights that will make the kids squeal with delight!
15. Skip the line and host a Santa party with friends: My mom's dad lived in California when we were growing up and nearly all of our family on that side was here in Texas, so he would host a big Christmas party every year, complete with Santa Clause himself. My mom carries on the tradition today with the exact same santa! You can also hire a santa in just about every city which we did with friends our last two years in LA. 2020 Update: Facetime Santa instead! A lot of Santas are offering unique ways to still be able to interact with children this year.
16. Visit a tree farm: Even if faux is more your thing, there's something totally magical about being surrounded by Christmas trees in nature!
17. Wear matching holiday pajamas: For some reason the act of changing into Christmas pajamas after bath time never loses its excitement! We are of course partial to these dreamy cotton nightgowns!
18. Attend a candlelight service: There is something so calming and peaceful about being amidst a group of people, singing together by candlelight. The perfect antidote to the hustle and bustle. 2020 Update: Find a virtual candlelight service.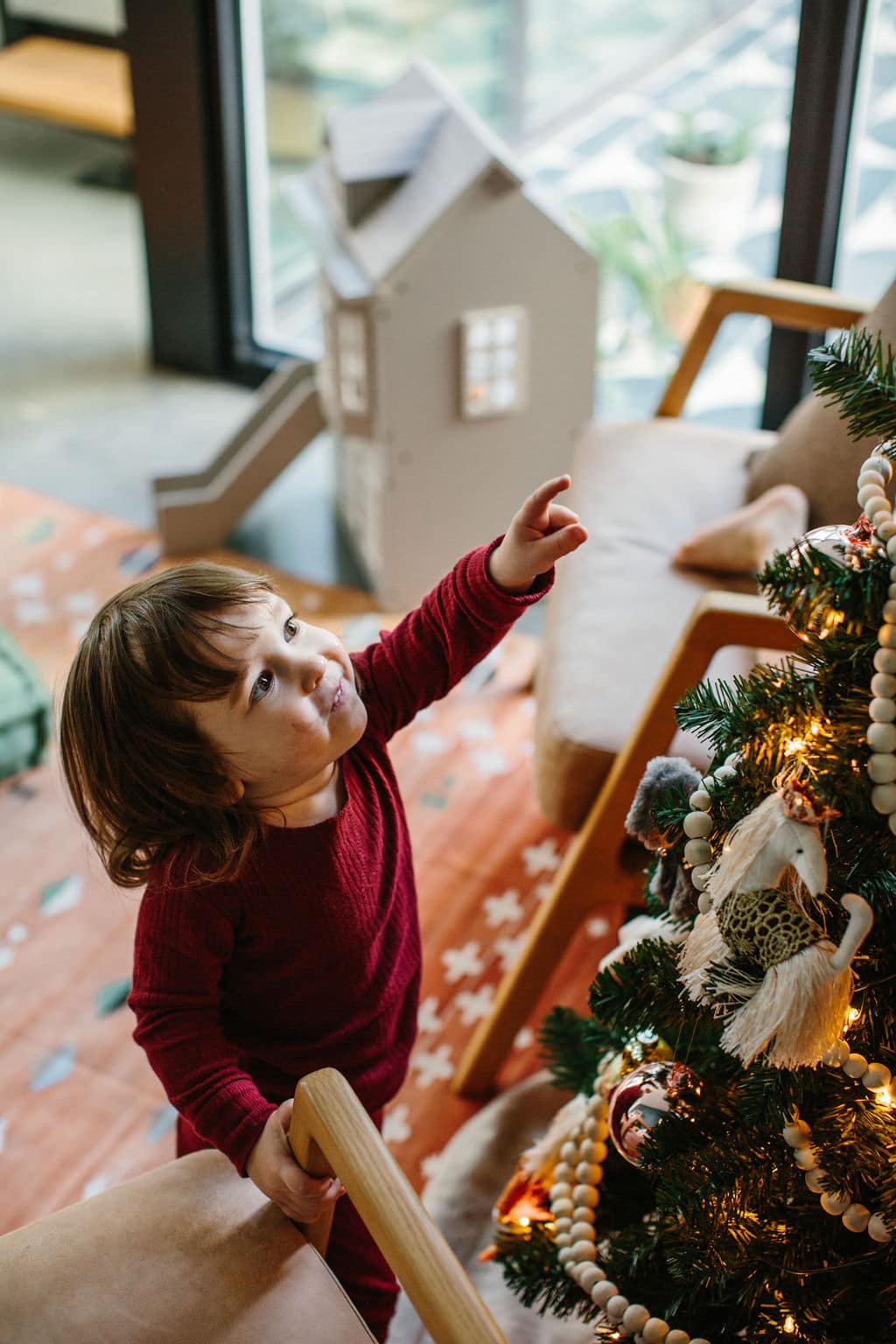 19. Host a tamale Christmas Eve soiree and let the kids set the table: If your mom is anything like mine, she loves hosting on Christmas. Christmas Eve, though, is all mine! Tamales, chili, and chips with queso abound! It's the perfect night-before meal and Parker loves setting the table!
20. Make cinnamon rolls on Christmas morning: Perhaps our longest running holiday tradition is cinnamon rolls on Christmas morning! I start the dough on the 23rd, prepare the rolls on 24th and pop them in the oven the morning of the 25th! I'm dying to try this recipe this year!
21. Take a picture, it will last longer: Take a polaroid of your Christmas tree (preferably with the kids in front of it!) on Christmas morning and pack it away in the box for next year. It's always amazing to me how much the kids grow from year to year.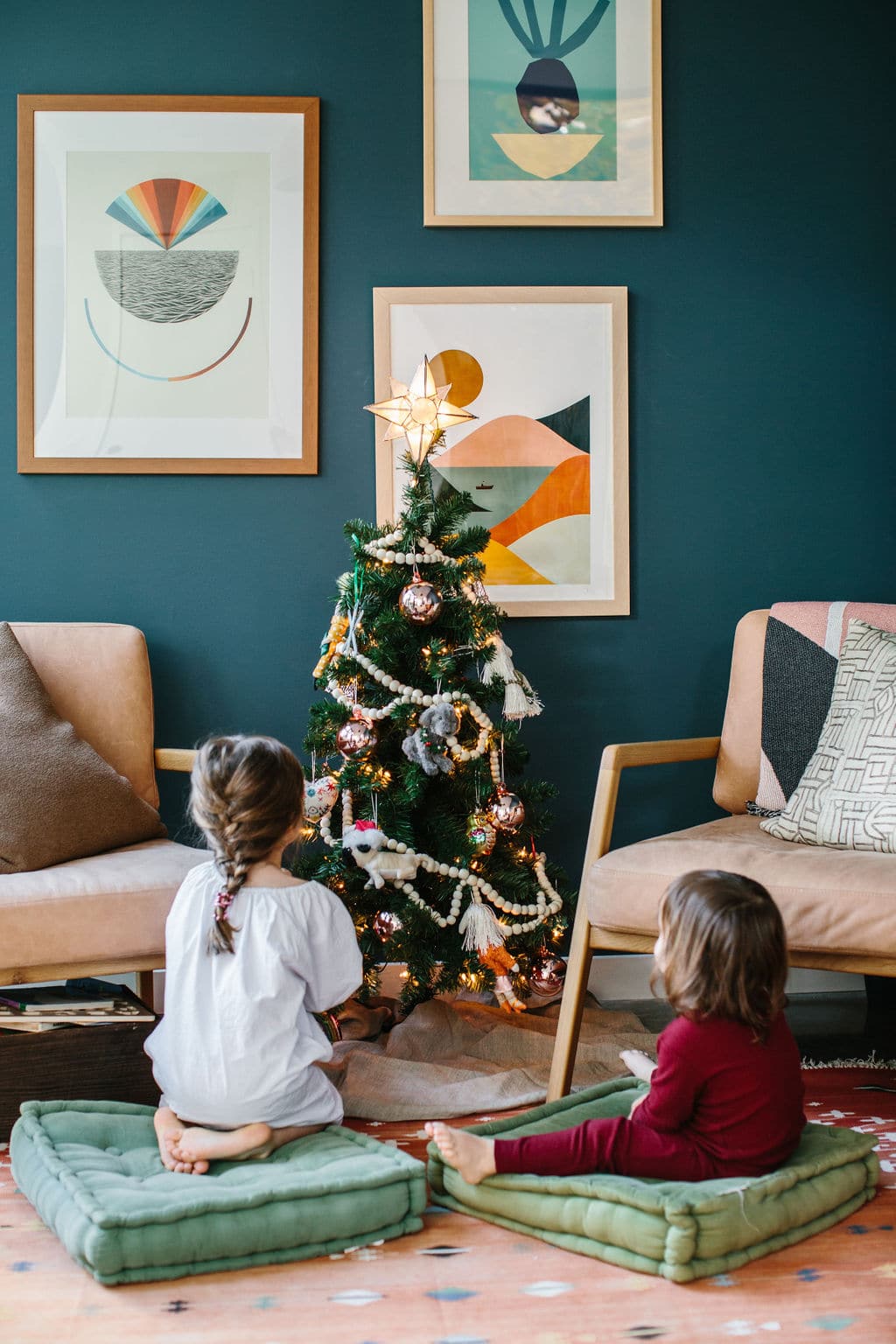 Photography by Katie Jameson