12/10/2018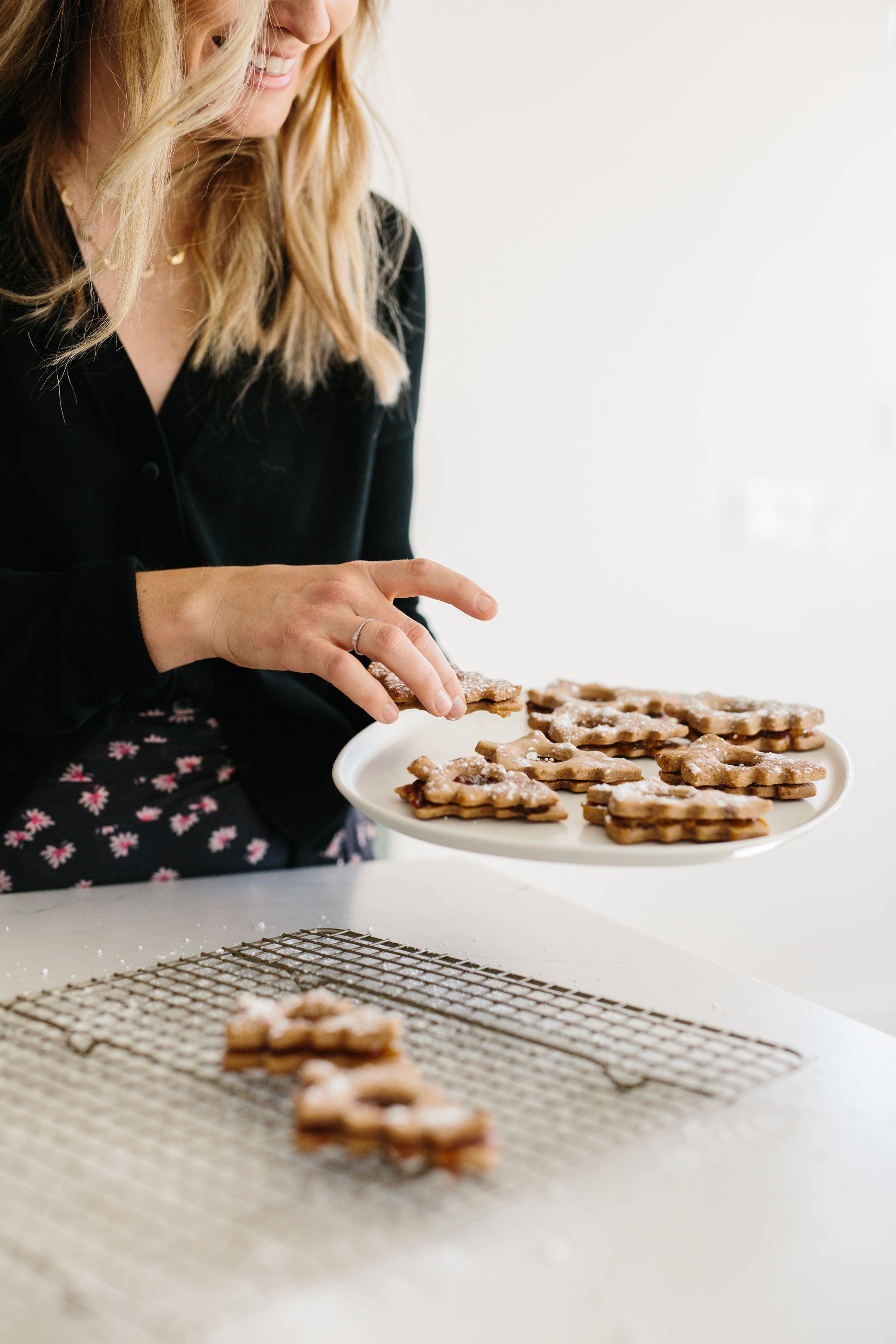 Perhaps the thing I most looked forward to about motherhood before I had children was the making of Christmas cookies around Christmastime. I could imagine tiny hands pouring (mostly) all the dry ingredients, combining them with the wet and sticky tyke-size palms that rolled small balls of dough between them. This memory came flooding back one morning last week as Parker was helping me mix up this dough for our Chocolate Linzer Cookie recipe before preschool drop-off… with the promise of warm cookies waiting when she returned, of course.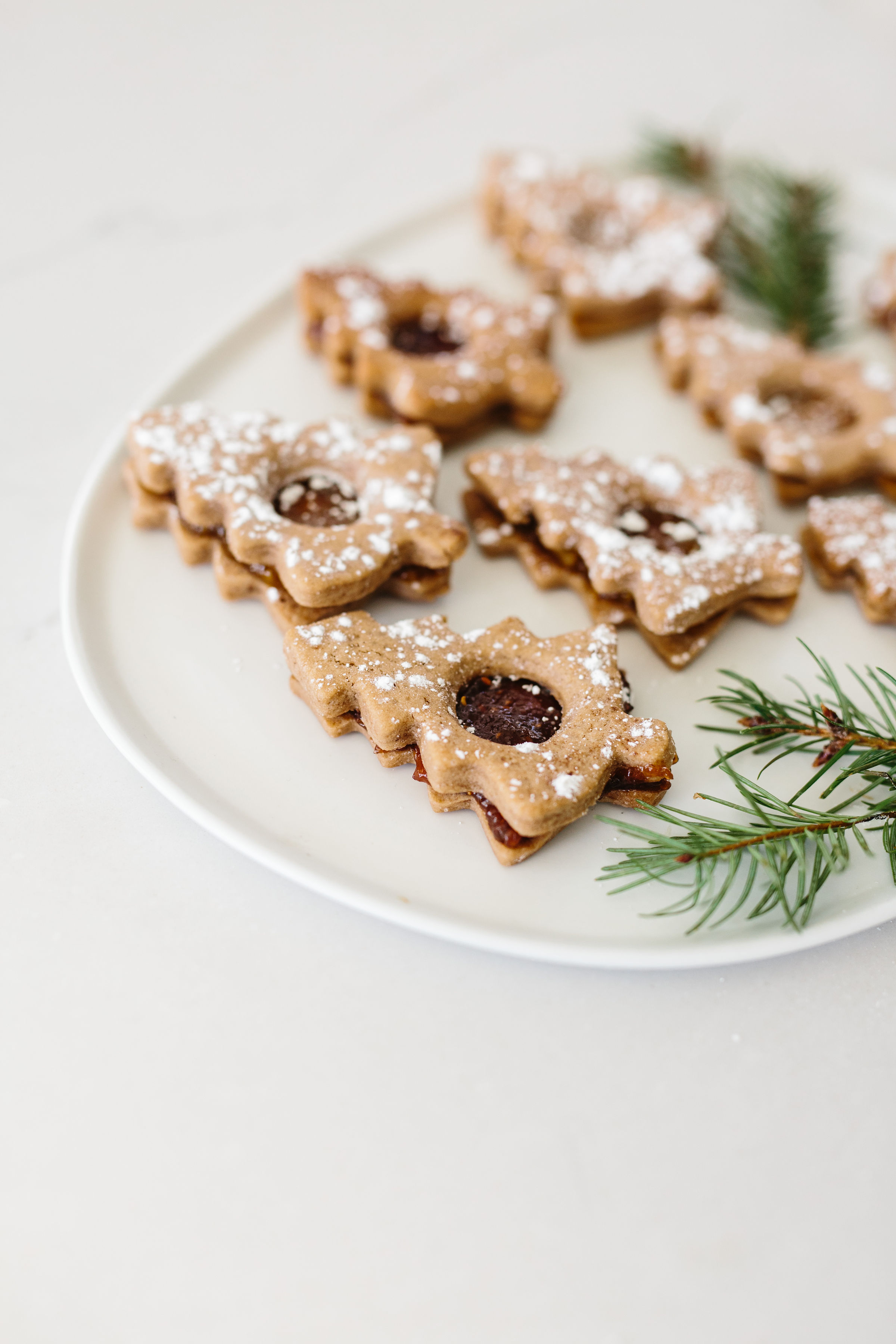 I'm joined today by some of my favorite fellow bloggers– Ashley, Julie, Cyd, Leah, Chelsea, Brittni, Michael, Lexy and Courtney. We each made a Christmas cookie recipe that you don't want to miss. Think of it as a digital progressive dessert-themed dinner! Here's why I decided on this Chocolate Linzer Cookie Recipe…
For starters, I've actually never made Linzer cookies at all, but few sweet treats can compare to how beautiful they look!  Also, they're not at all complicated. It's essentially a sugar cookie with filling and of course these have some added cocoa powder because everything is better with chocolate!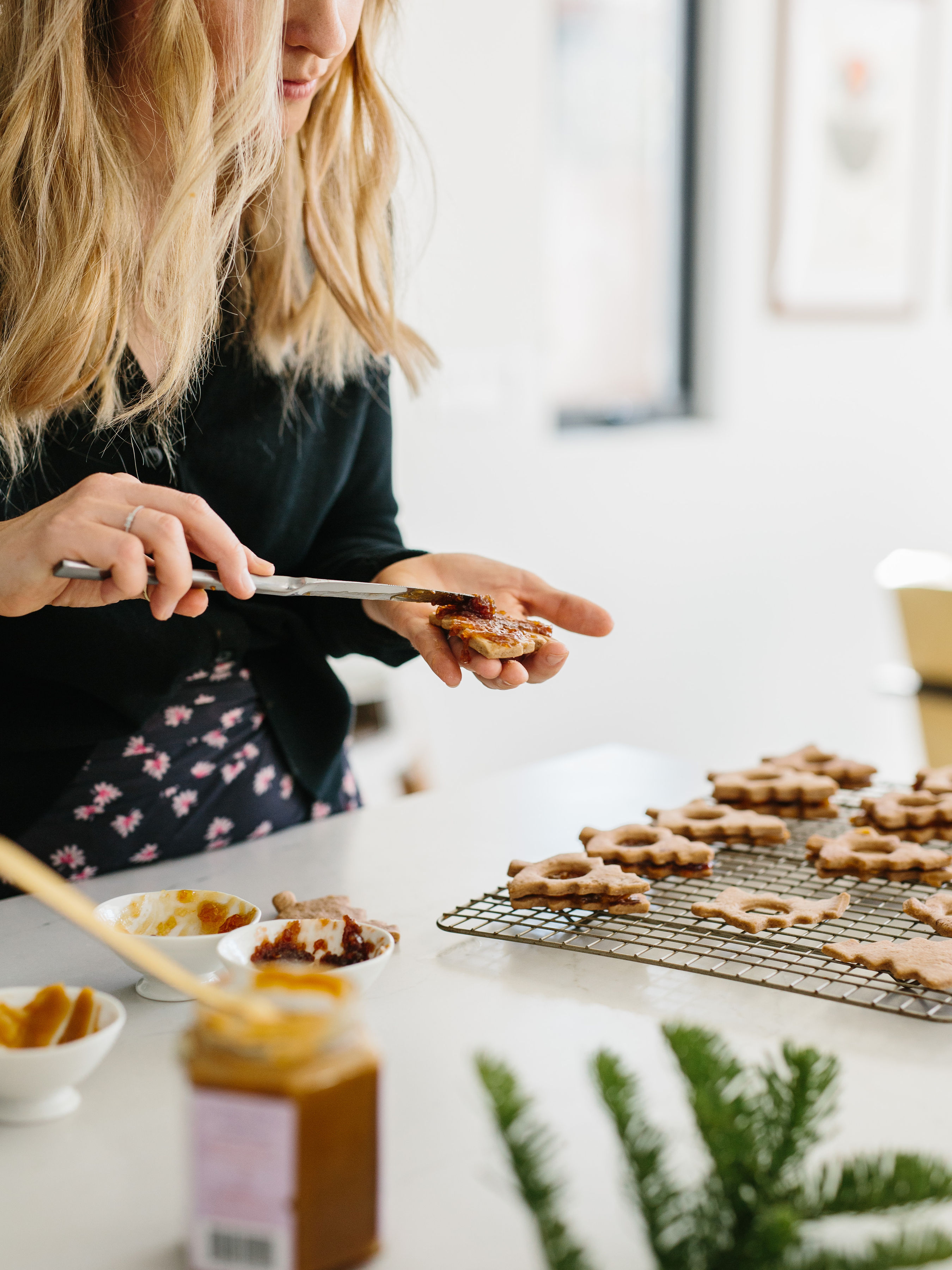 I chose a mix of fillings for these– orange marmalade, raspberry jam, and caramel sauce with a sprinkle of sea salt.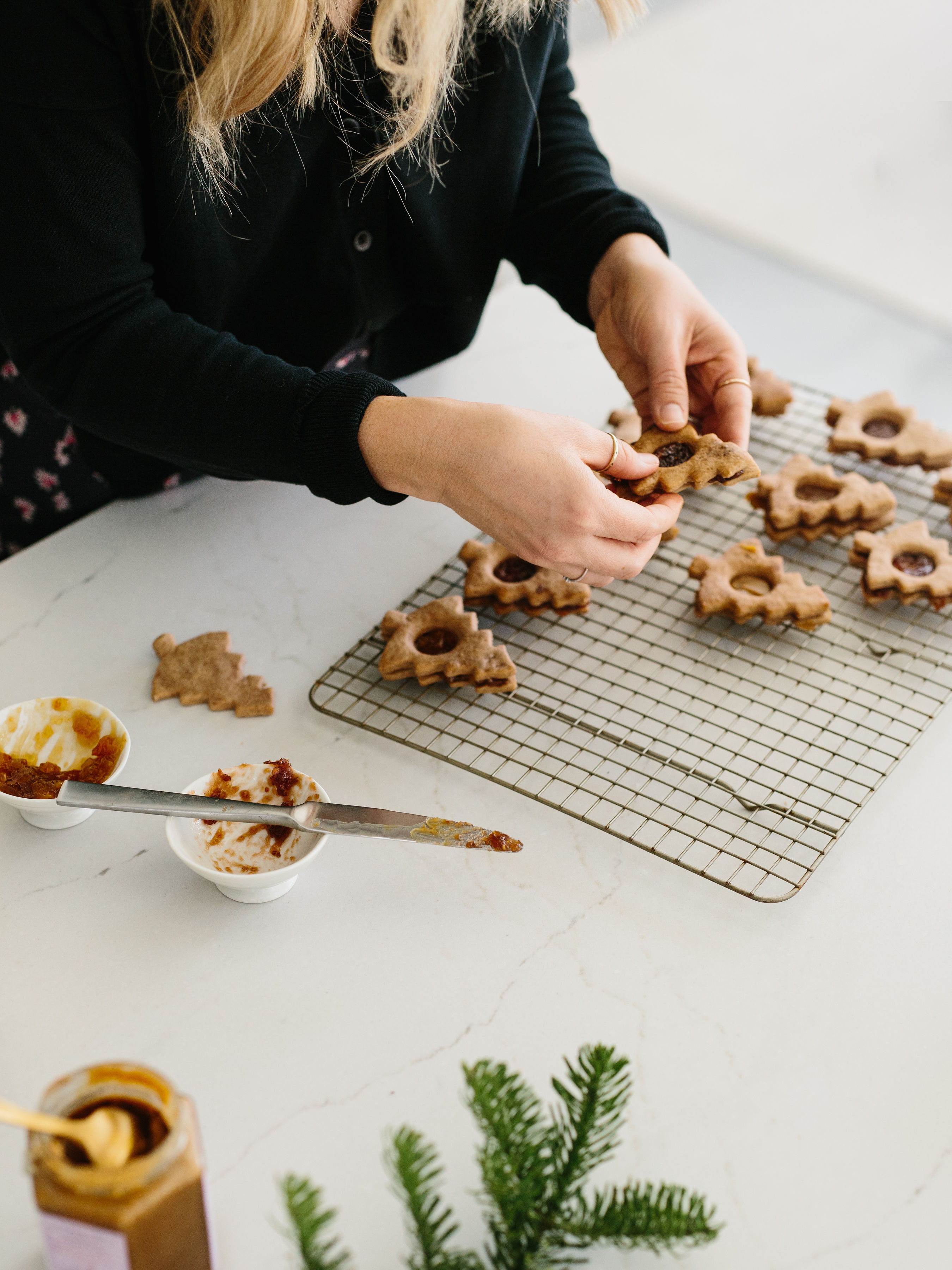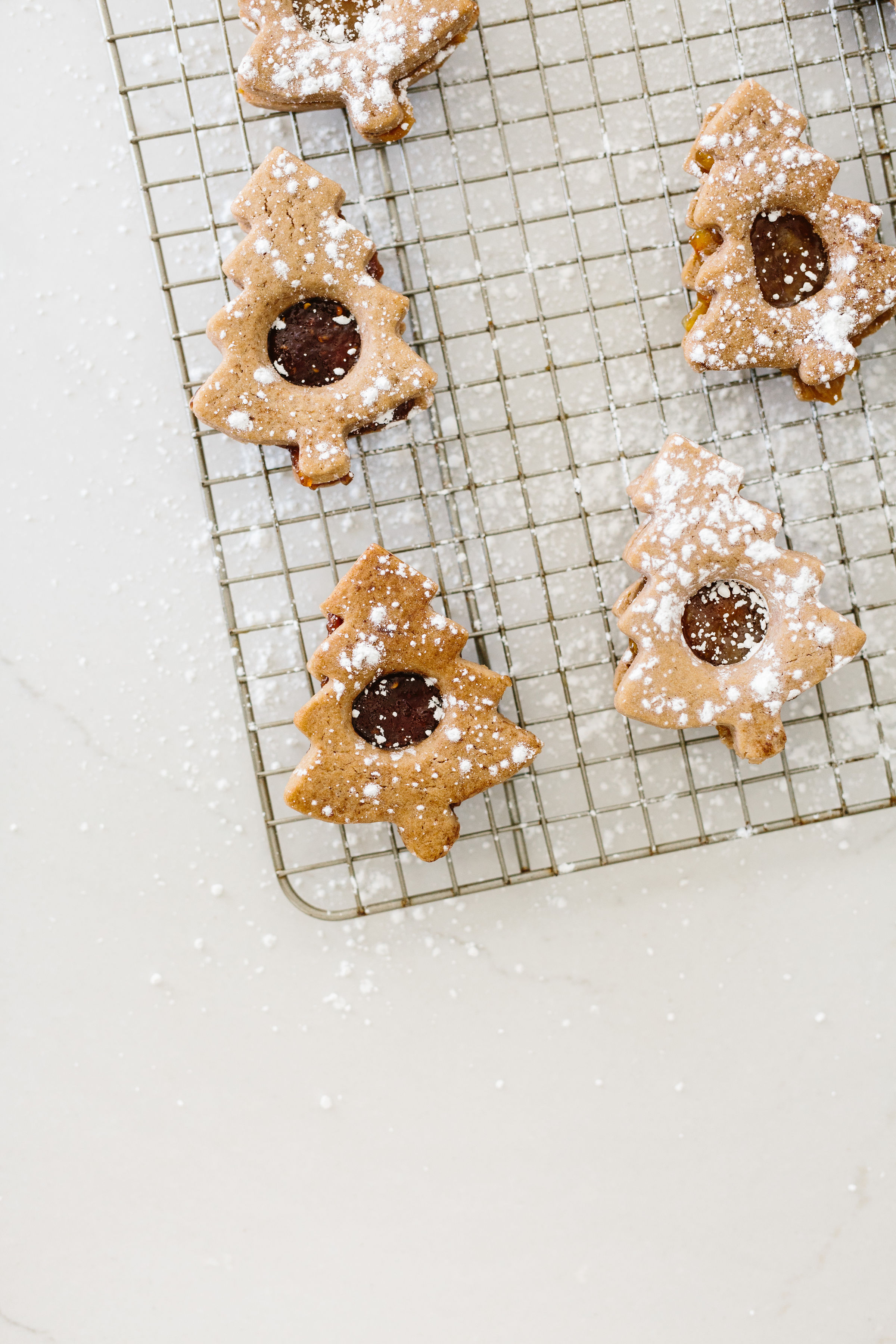 This batch was promptly eaten with most of the cookies going across the street to our neighbors' house.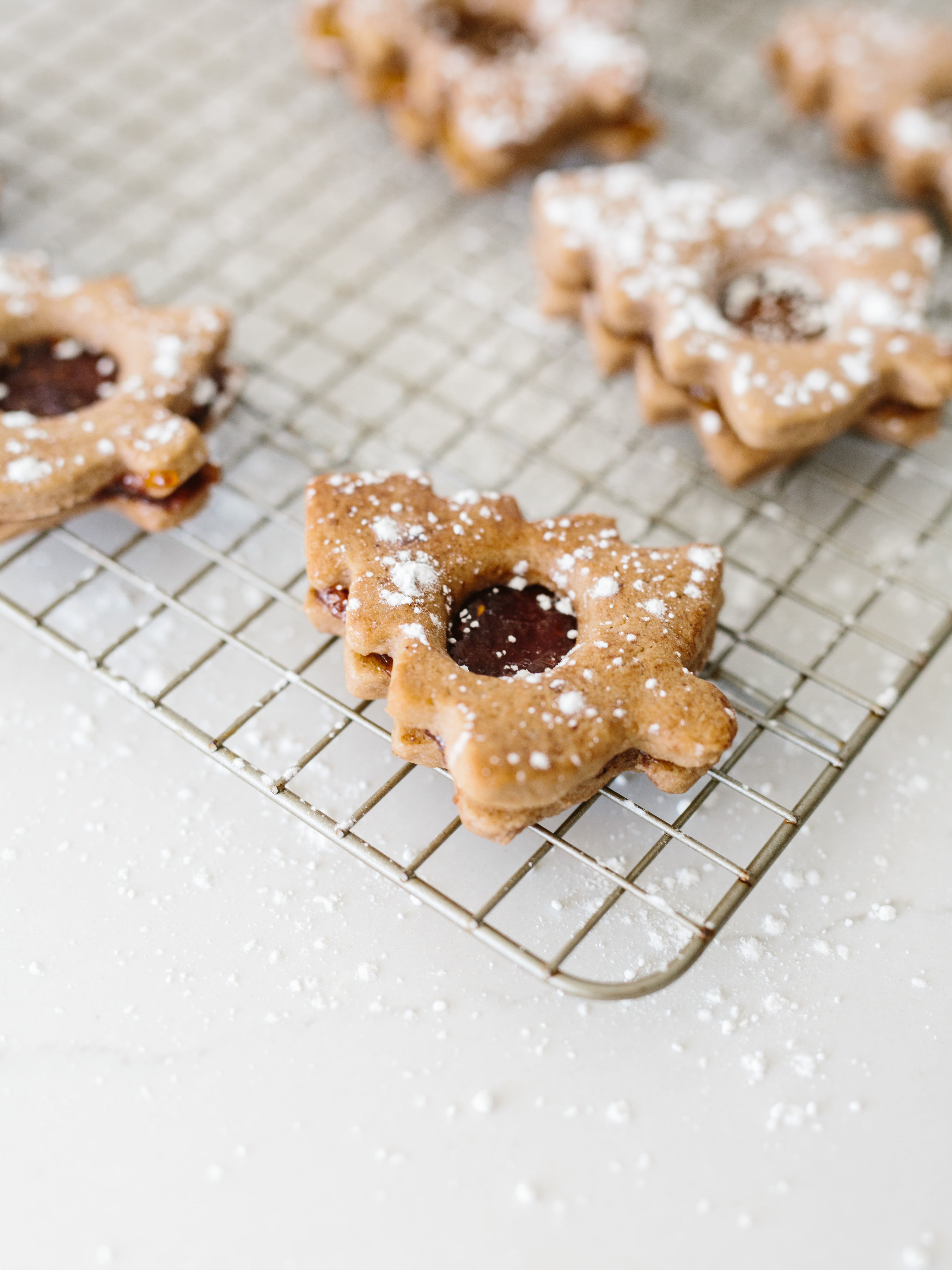 Print
---
Scale
Ingredients
For the Dough:
3 cup

s all-purpose flour

½ teaspoon

salt

½ teaspoon

baking powder

2

sticks unsalted butter, softened

1 cup

sugar

½ cup

brown sugar

2

large eggs, room temperature

1 1/2 teaspoon

vanilla extract

1/4 cup

cocoa powder
For the Decorating:
cocoa powder for dusting
jams or sauces of your choice: we chose orange marmalade, raspberry jam, and a caramel sauce

1/4 cup

powdered sugar, for sifting on top
---
Instructions
For the Dough
In a medium bowl, whisk together flour, salt and baking powder and set aside.
Using a stand or hand mixer, cream together butter and sugars until light and fluffy, about 2-3 minutes. Add in eggs and vanilla extract, mixing well after each addition.
Combine the cocoa powder with sugars and mix well. Slowly add in the flour mixture, and mix until smooth on low speed.
Shape the dough into two flat discs, wrap in plastic and chill for at least two hours or overnight.
When ready to bake preheat oven to 325º F.
Line baking sheets with parchment paper or non-stick baking sheets and set aside.
One disk at a time, remove the dough from the refrigerator and let it sit for 10-15 minutes. To roll out, sprinkle cocoa powder onto a counter to prevent sticking and roll out dough to 1/8″-1/4″  inch thick. If the cookie cutter you're using has smaller pieces or angles thicker dough will help. Using a large cookie cutter of your choice, start cutting out the cookies. Using a smaller center cutter, make center cut-outs into half of the cookies.
Transfer cookies onto the prepared cookie sheets and place at least 1-inch apart. Bake for 9 minutes or until the edges are firm and centers are puffed.
Cool on the cookie sheet for 2 minutes and then transfer to a cooling rack. Continue cutting out shapes with the rest of the dough.
Decorating
Separate the top cookies from the bottom cookies.
When ready to fill, spread about a ½ tablespoon jam or caramel on the inside of the bottom cookie, leaving ⅛ inch around the edges. Place a top cookie on top and carefully press together. Continue with the rest of the top and bottom cookies and the jam/caramel.
Once done "sandwiching" your cookies, top with sifted powdered sugar.
---
Photography for Chocolate Linzer Cookie Recipe by Katie Jameson
For more cookie ideas, be sure to check out these friends: Ashley, Julie, Cyd, Leah, Chelsea, Brittni, Michael, Lexy and Courtney.