This citrus mulled wine is the perfect drink for the holidays! The hot wine drink is a festive staple and this version has a beautiful hint of lemon in it. The perfect drink to serve a crowd. Easy to make and it will make your home smell amazing!
This post was sponsored by Tropicana Premium Drinks. All thoughts and opinions are my own.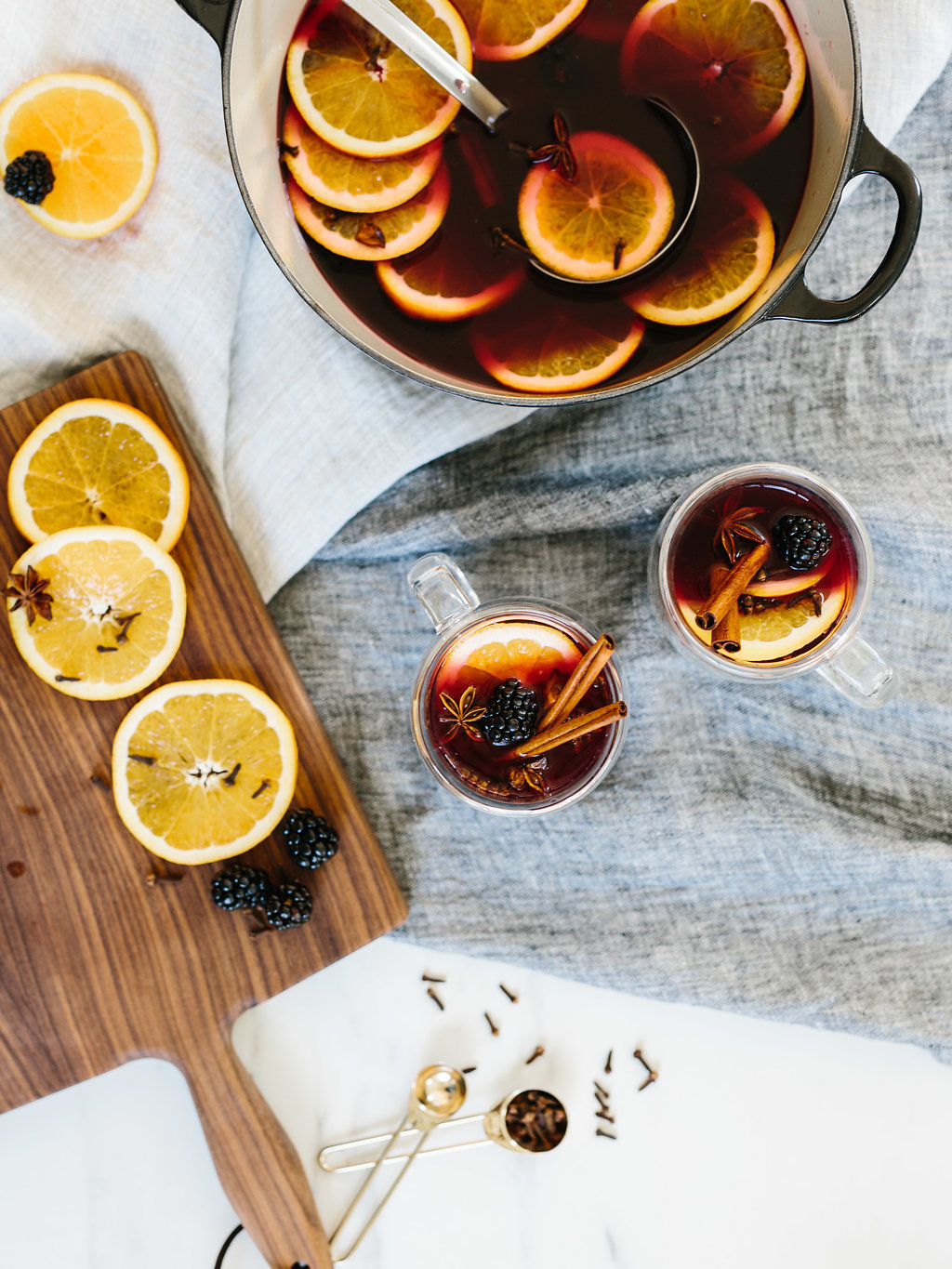 For some, it's easy for Thanksgiving to be just one necessary food-filled stop on the way to Christmas town, but isn't there something beautiful and centering about an entire day of gratitude? As I find myself reflecting on all of the good that this year has brought-- the birth of Ever! Parker's wonderful new school! Our house that is almost done!— One thing I always come back to is how fortunate I feel to have found such great friends here in Austin.  I don't think making friends in your thirties is typically easy, and yet so many people have made space for me and have made me feel welcome. It has made the cross-country transition so much easier and has me constantly thankful for this warm and generous community we have found here in Austin.
This Thanksgiving, how about embracing the slower pace of the fourth week of November and celebrating friendship? Whether it's the friendship of sisters, neighbors, classmates, coworkers, or the moms who have kids your kid's ages, here's to celebrating the people that make our every day a little sunnier, who get us through the hard days, who share their babysitters with us, and are totally cool when the days get crazy and all of our best laid plans go sideways.  You know who you are in my life and I'm so thankful for you.
We partnered with Tropicana Premium Drinks to mix up an easy crowd-pleasing Citrus Mulled Wine punch with their Tangerine Lemonade that's perfect for celebrating those that deserve to be celebrated! Keep reading for the full recipe…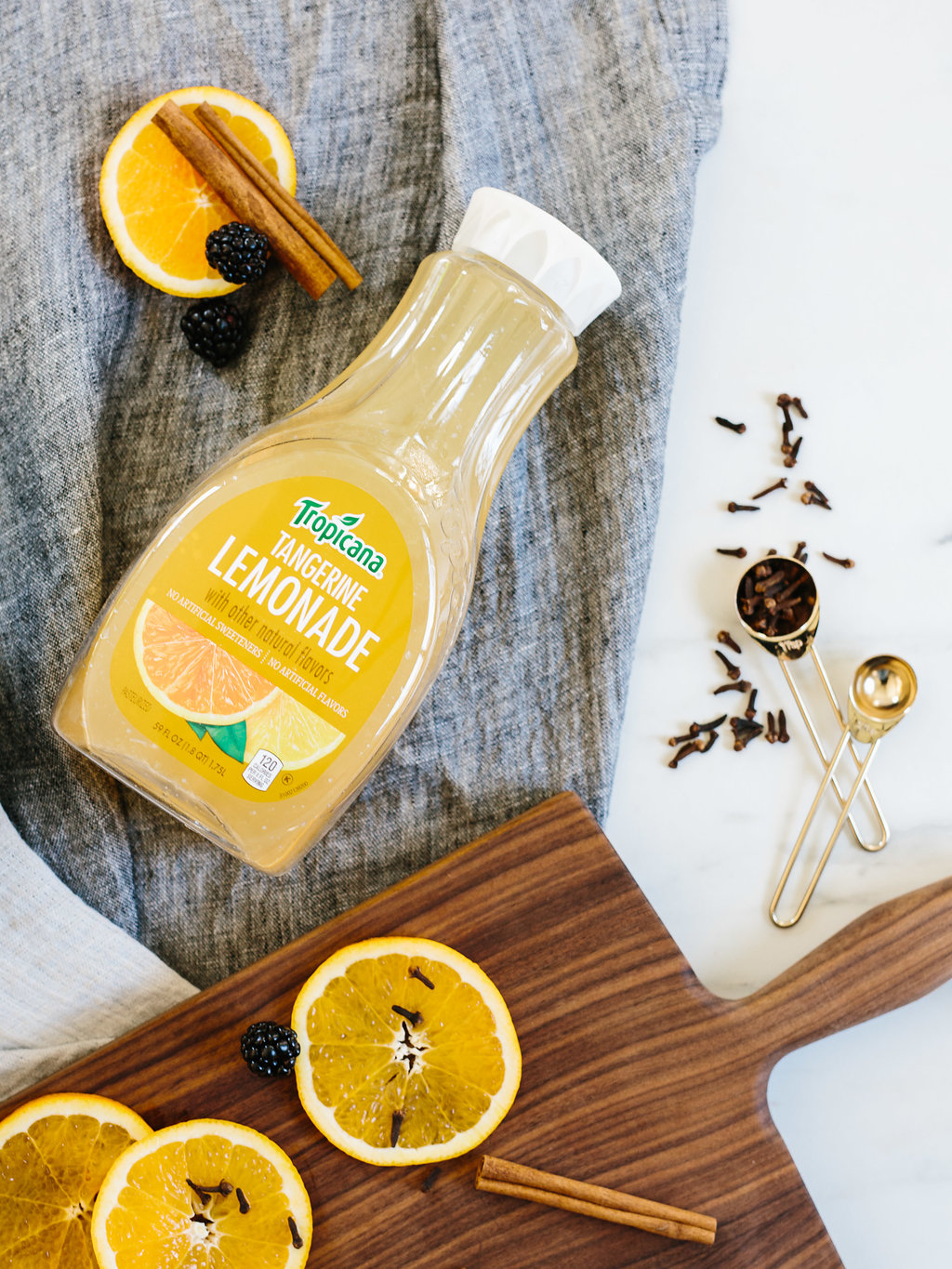 How To Make Citrus Mulled Wine
This is a great drink to serve family and friends, and it really couldn't be any easier!
Combine all ingredients in a large saucepan. Cover and cook over very low heat for 1 hour. Be careful not to boil!
Serve warm.
That's it! A really easy warming drink with very little effort!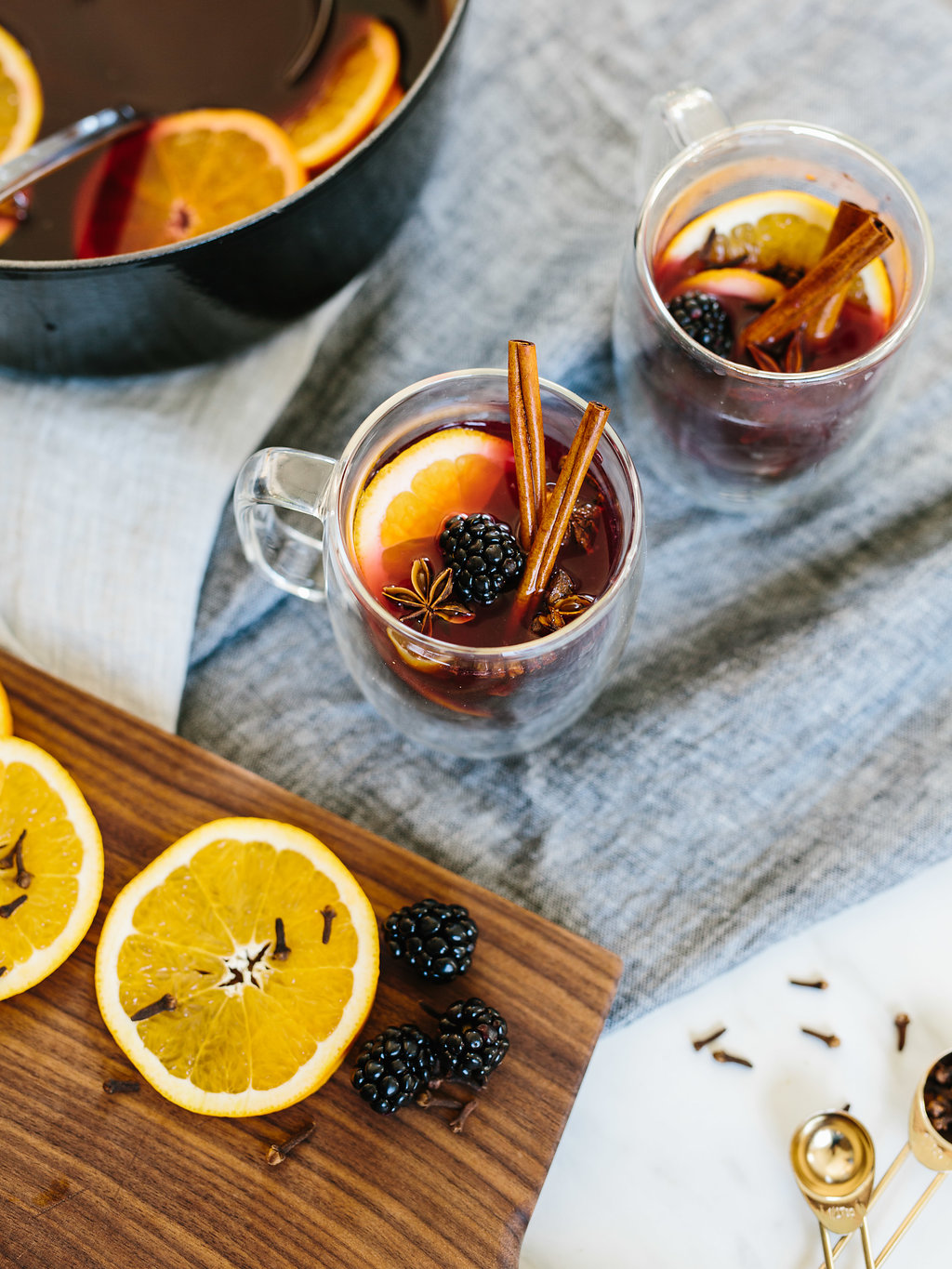 What's the best wine to use to make mulled wine?
Because of the delicious combination of spices that are used in mulled wine, you want to go for a full bodied red with a lot of flavor. Delicate wines like pinot noir are best to be avoided. Go for a syrah or a malbec for a mulled wine that packs a flavor punch. It doesn't have to be an expensive wine - your favorite easy drinker will do just fine.
Spiced, hot wine punch
Mulled wine is a spiced wine that is gently heated on a stove top. As well as tasting delicious, your kitchen will smell amazing! In this recipe, I used a classic combination of spices:
cinnamon
cloves
star anise
To lift the wine and add freshness, I used the following fruits:
tangerine lemonade juice
blackberries
oranges
The combination of the fruit and spices makes a deliciously flavored hot punch that's perfect for the holiday season.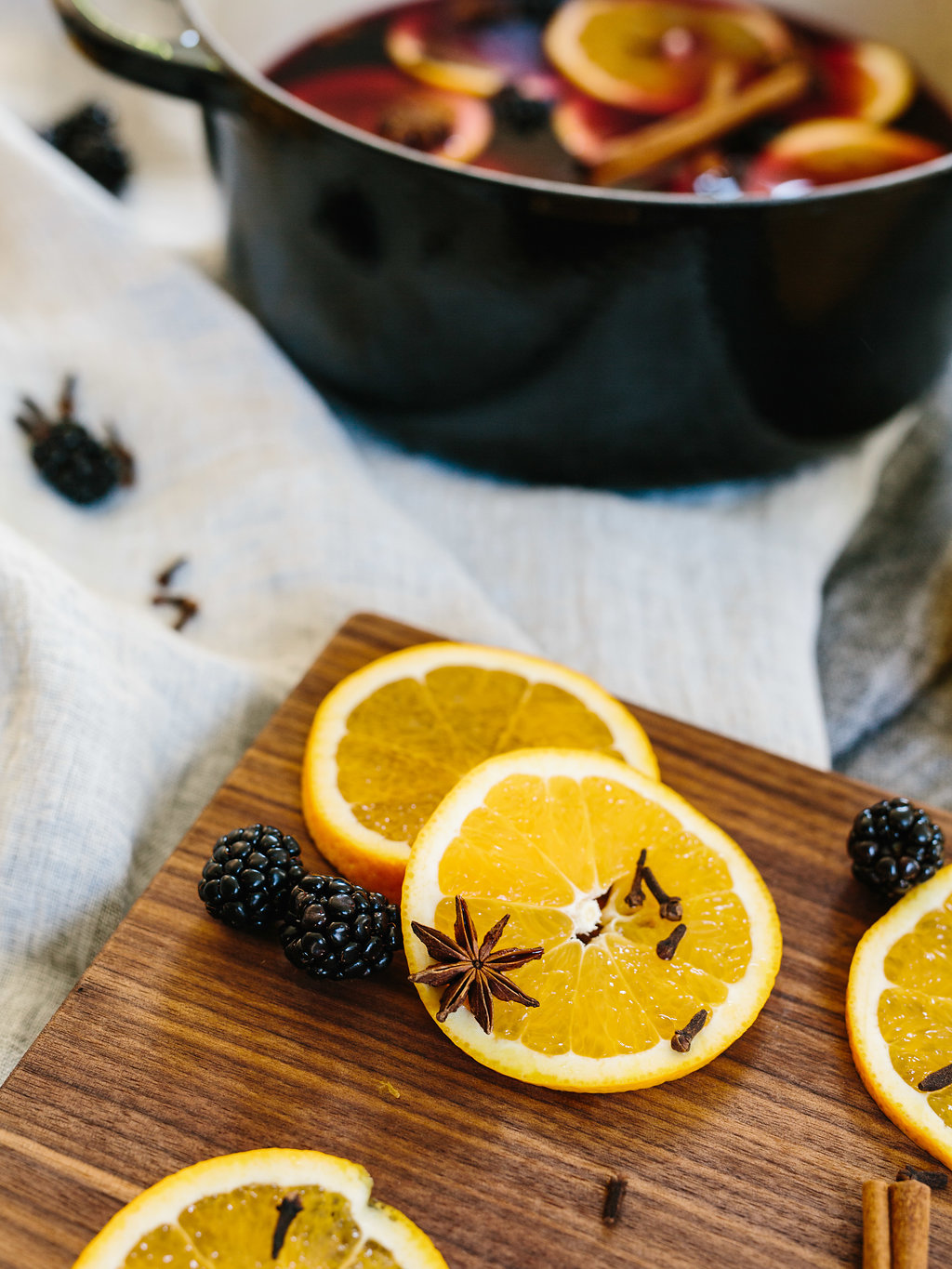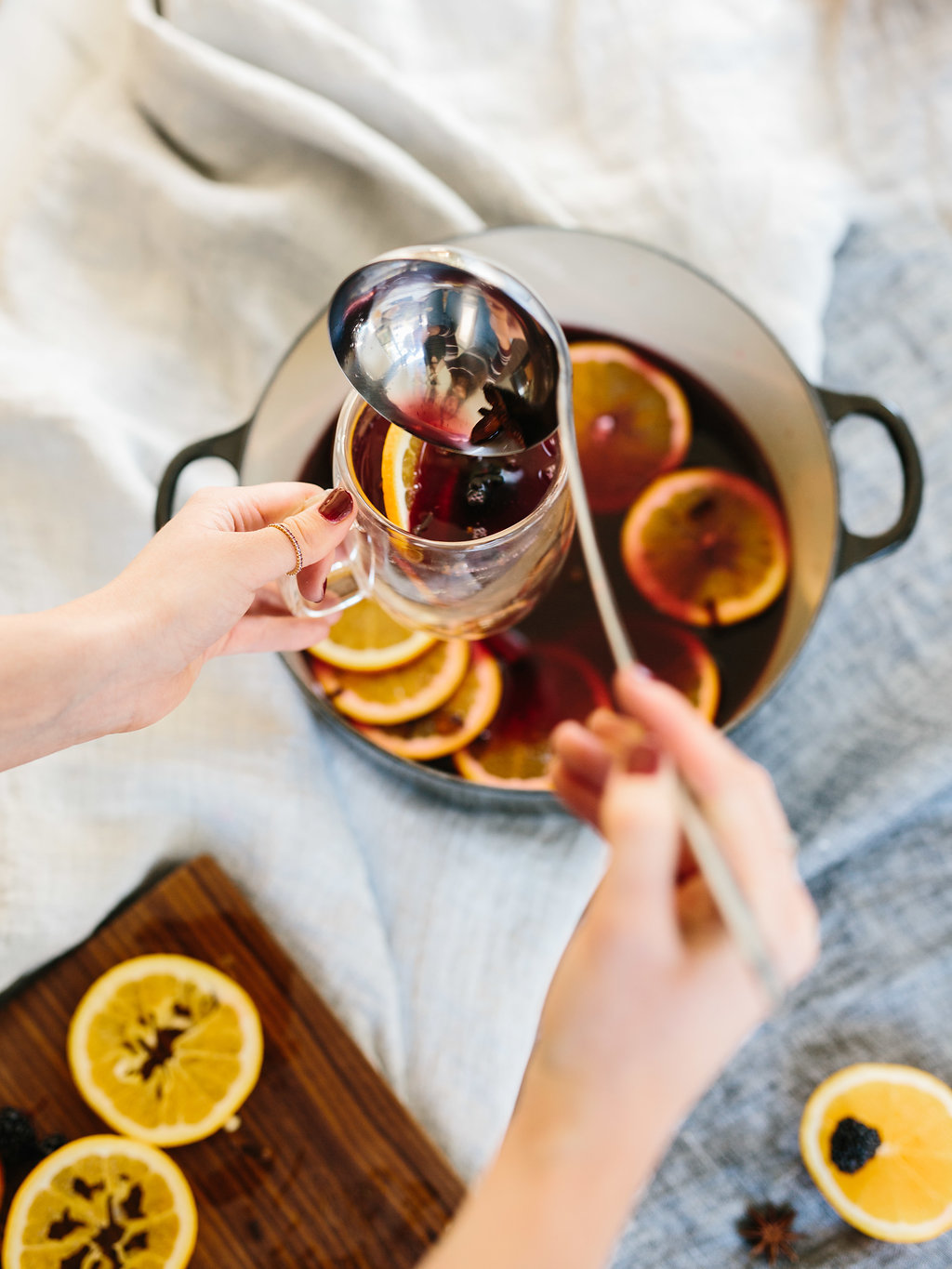 How do you serve mulled wine?
Mulled wine is best served in mugs, either ceramic, porcelain or glass will work. I prefer to serve them in glass mugs, especially when entertaining as it looks so pretty!
Garnish the citrus mulled wine with extra orange slices and cinnamon sticks!
Does mulled wine get you drunk?
Mulled wine should not be boiled, just gently heated, so the alcoholic content pretty much remains the same. It's a very easy drink to drink, so be sure to take it easy!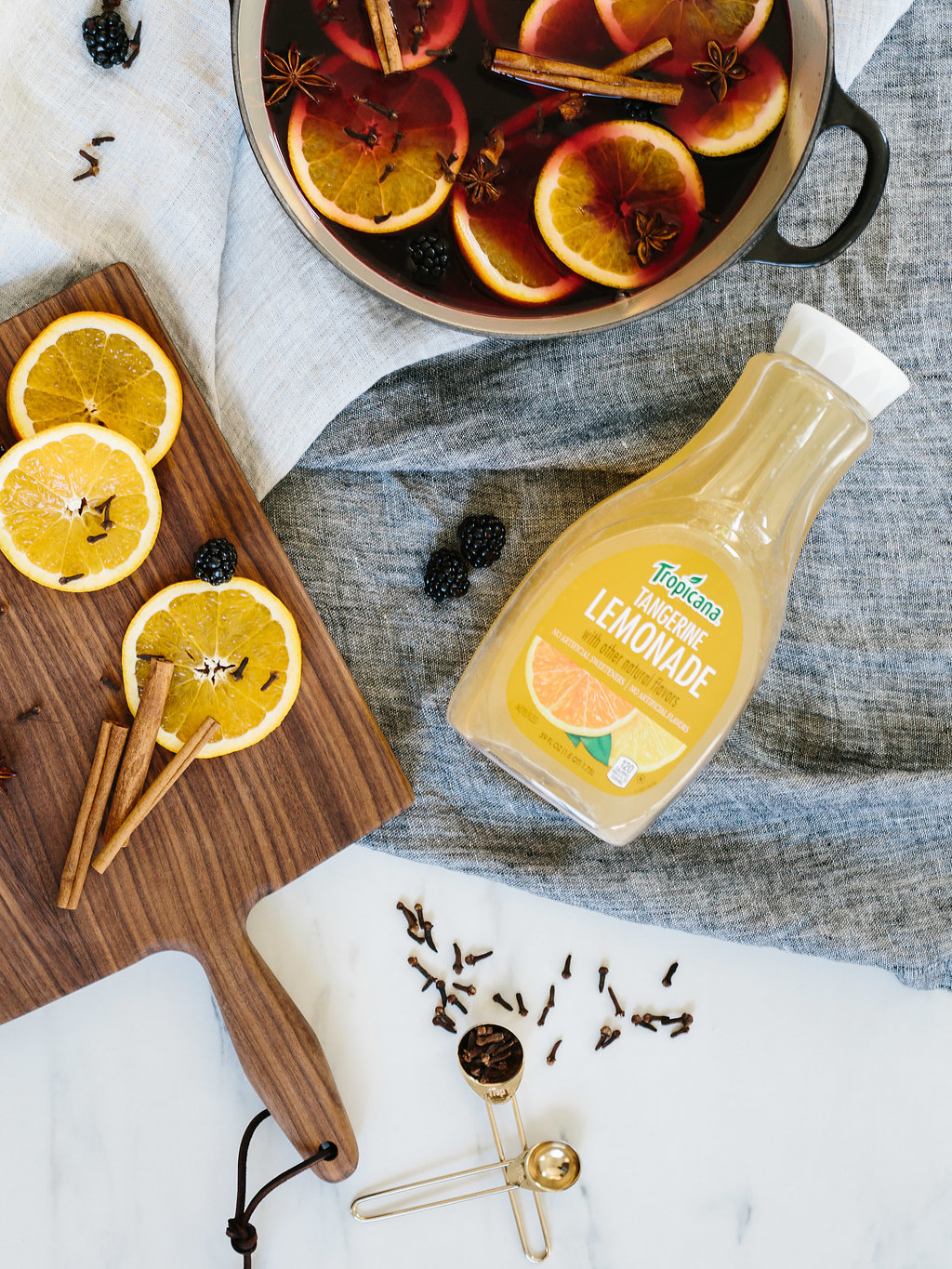 Top Tips To Make This Citrus Mulled Wine Recipe
Use a dry, full bodied red wine.
Do not boil the wine while you are cooking it, or it will lose it's flavor.
You can keep the mulled wine warm on a low heat on the stovetop or in a slow cooker.
Serve warm in mugs with fresh garnish.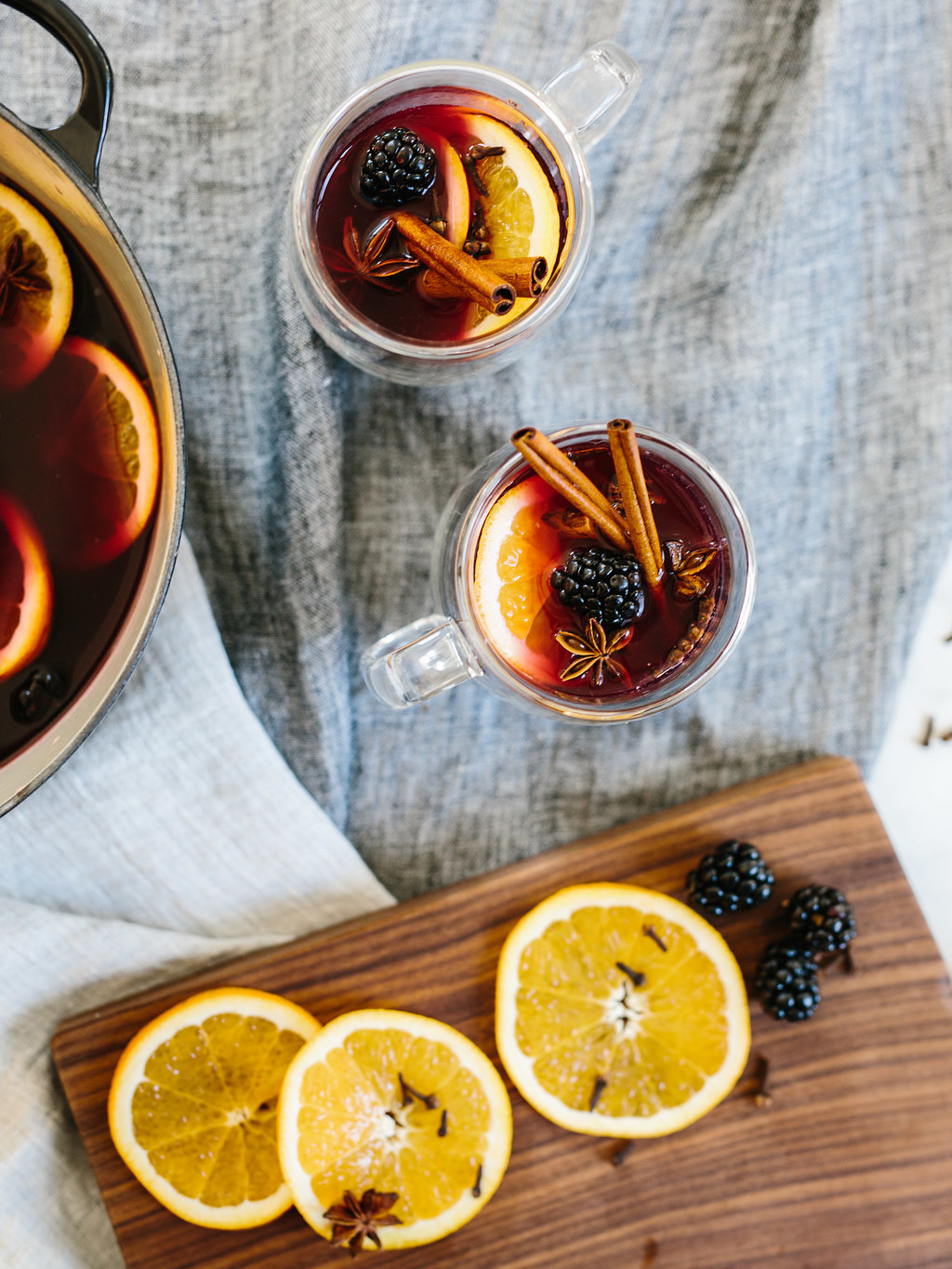 Photography by Katie Jameson
Be sure to check out these other cocktails that are perfect for the holiday season!
I would love to hear from you if you've made this Citrus Mulled Wine Recipe! Be sure to leave me a comment and a star rating below!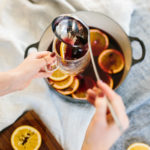 Citrus Mulled Wine
A warming alcoholic drink that's perfect for the holiday season
Ingredients
2 750-

ml

bottle dry red wine

2

c.

sugar

2

c.

Tropicana Tangerine Lemonade

½

cup

blackberries

2

oranges

cut into ¼-inch-thick rounds.

3

cinnamon sticks + more for garnish

24

whole cloves.

3

star anise + more for garnish
Instructions
Combine all ingredients in a large saucepan. Cover and cook over very low heat for 1 hour. Be careful not to boil!

Serve in mugs and garnish with extra orange slices and cinnamon sticks!
Nutrition
Nutrition Facts
Citrus Mulled Wine
Amount per Serving
% Daily Value*
* Percent Daily Values are based on a 2000 calorie diet.