10/24/2016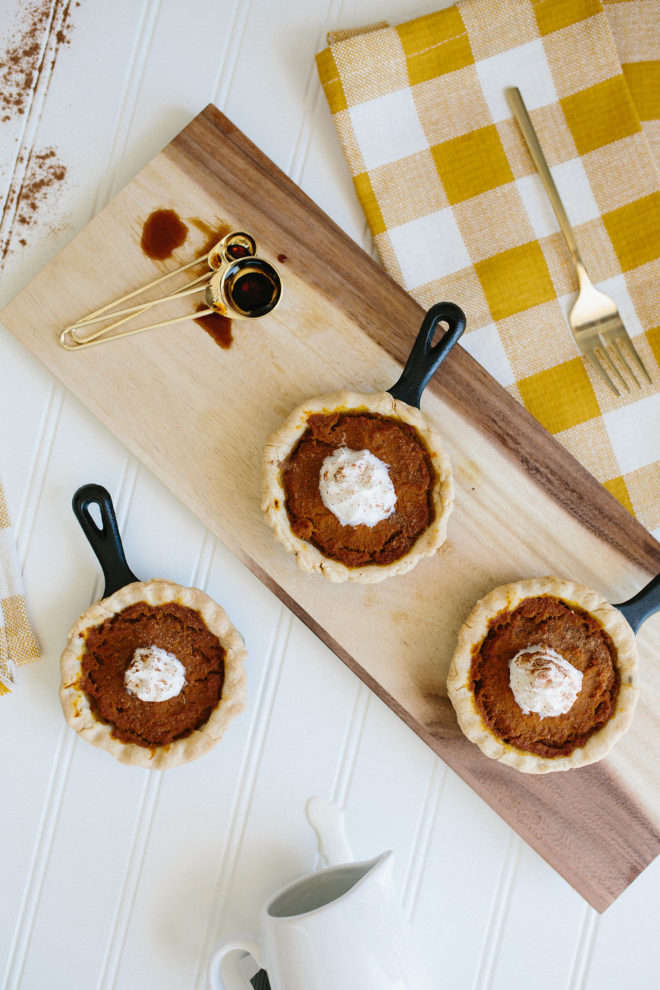 When it comes to our marriage, our roles in the kitchen have always been pretty clearly defined.  I cook, he cleans… and most nights I'm pretty sure I have the easier of the jobs.  I can make just about anything and it's usually really delicious (if I do say so myself!), but I'm a real pro at being able to dirty the most amount of dishes and surfaces humanly possibly in the process.  If you've been coming to this site for awhile, then you already know that we are not your destination for perfect food styling or perfect anything for that matter.  Real life is sometimes messy and never perfect and holidays aren't any exception.  There is a book out right now called 'Present Over Perfect', I haven't read it, but I feel like that sums up my mantra for the holiday season.  I believe in serving people delicious food and I enjoy making an effort in the details, but let's not get too wrapped up in perfect this holiday season, shall we?  I would rather guests leave feeling engaged with and with a greater sense of community than to remember exactly what the centerpiece looked like or how many different plates were on the table.  As for this post, (which might just be the unofficial kick off to the holidays around here ?!) I sort of backed into this mini pumpkin pie recipe in reverse.  I found these tiny cast iron skillets on Amazon and couldn't resist their cuteness and then found myself driving in the car or washing dishes and thinking about what I was going to do with them. At first I thought something breakfast-y might be fun– like a baked egg.  But it would be the tiniest breakfast you ever did have, so I kept thinking until I thought about dessert time at Thanksgiving.  If your Thanksgivings are anything like mine, then there is no shortage of dessert and everyone's answer to the question, "Which kind would you like?" is "A little of each, please!"  Which just happens to be the perfect scenario for these personal sized pies! Plus, dear God, they're just so cute.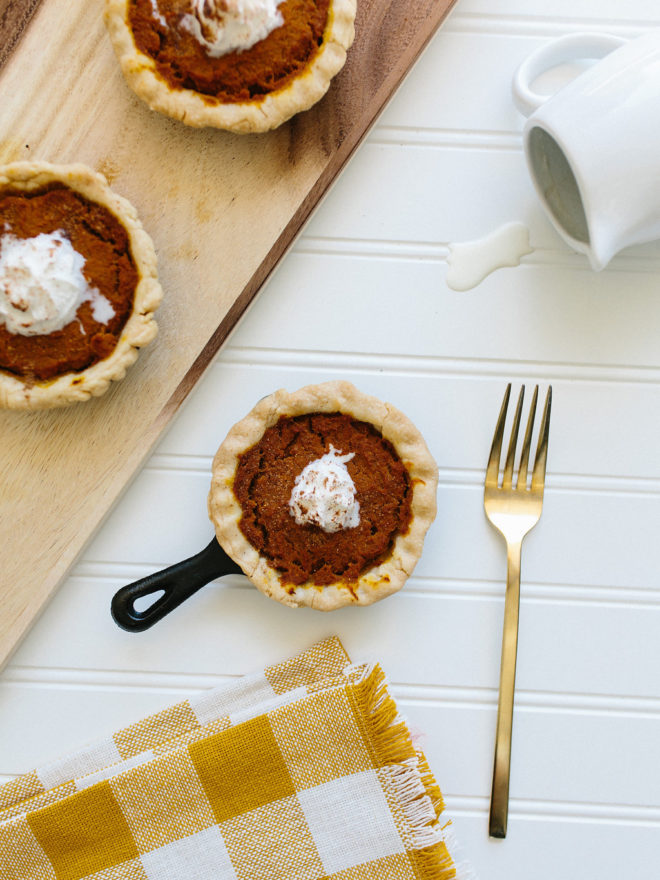 Mini Pumpkin Pie Recipe
(makes 8-10)
Ingredients:
2 pie crusts (My favorite is an all-butter crust from Cook's Illustrated which you can see here— you can make pie crust ahead and freeze for up to six months in advance or you can buy one ready made.)
1- 15 oz can of pumpkin puree
3 eggs
1/2 c. coconut milk (the consistency was definitely on the denser side. I think you could go up to 3/4 c. or even 1 c. and it would have a lighter, fluffier consistency.)
1/4 c. of light brown sugar
1 Tbsp. pumpkin pie spice
1 tsp. sea or kosher salt
whipped cream for topping (either homemade or store bought)
Method for Mini Pumpkin Pie Recipe:
Preheat oven to 350 degrees
Begin by rolling out your pie crusts.  Place your cast-iron skillet on the dough and trace around it, about an inch larger all the way around.  Repeat until you can't fit the skillet any longer, then re-roll out the dough and cut more mini crusts in the same way until you reach your desired number.  You should be able to get 10 mini crusts out of 2 full sized crusts.
Place them into the mini skillets press down firmly around the edges.  Bake for 8-10 minutes then remove and allow to cool.
Combine the remaining ingredients in a bowl, with the exception of the whipped cream, and mix well with a whisk until well combined.
Pour pumpkin pie filling in each mini skillet. Place back in the oven and bake for an addition 20-25 minutes, or until center is set.  Let cool on a rack completely before refrigerating or, better yet, top with whipped cream and enjoy almost immediately while still warm!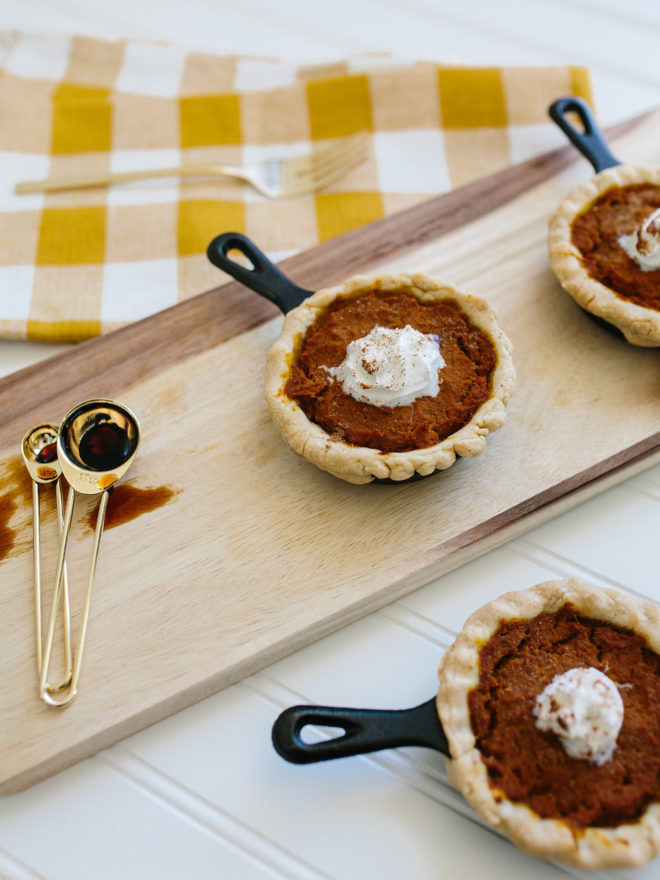 Photography by Katie Jameson
Mini Pumpkin Pie Recipe Props: Napkins, Target || Serving Board, Target || Silverware, West Elm || Gold Measuring Spoons, Target || Cast Iron Skillets, Lodge