If you're still looking for a way to make mom feel special this weekend, can I offer you a hint?  A little effort goes a long way.  It doesn't have to be a grand gesture or an over-the-top expensive gift.  Just make it look like you planned something and didn't scramble last minute for the woman who raised you or is raising your children! Last week, I hosted a California-inspired Mother's Day brunch of my own to celebrate the launch of Parachute's new Tabletop Collection and some of the mamas from whom I get so much inspiration.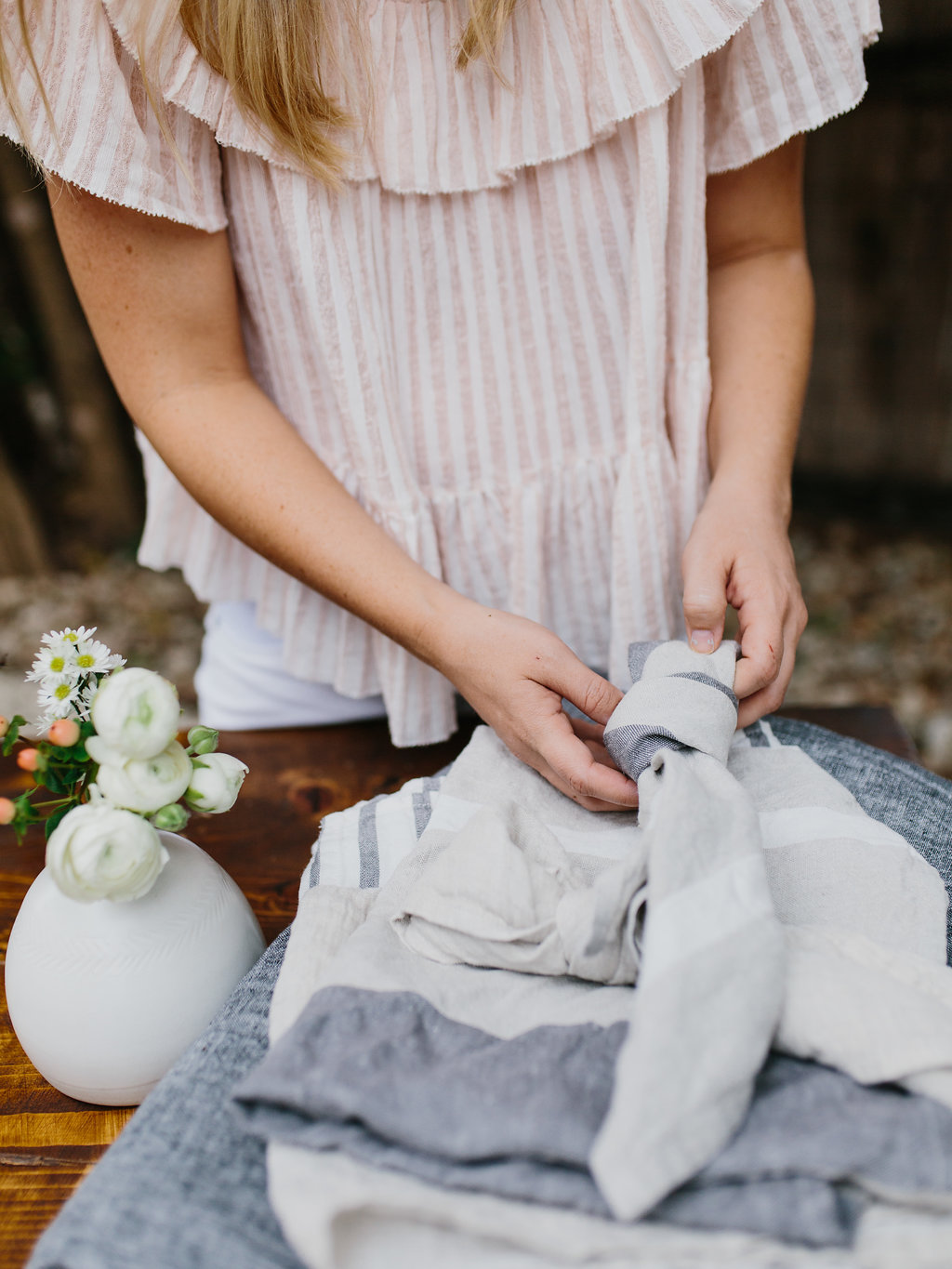 Are table linens a love language?  Because I have a serious obsession and I'm pretty sure Parachute did Aaron's job for him this year, because I can't stop ogling this whole collection.  Just like all of Parachute's linens, they make choosing the perfect pieces a breeze by creating a color palette and pattern situation that all mixes and matches perfectly.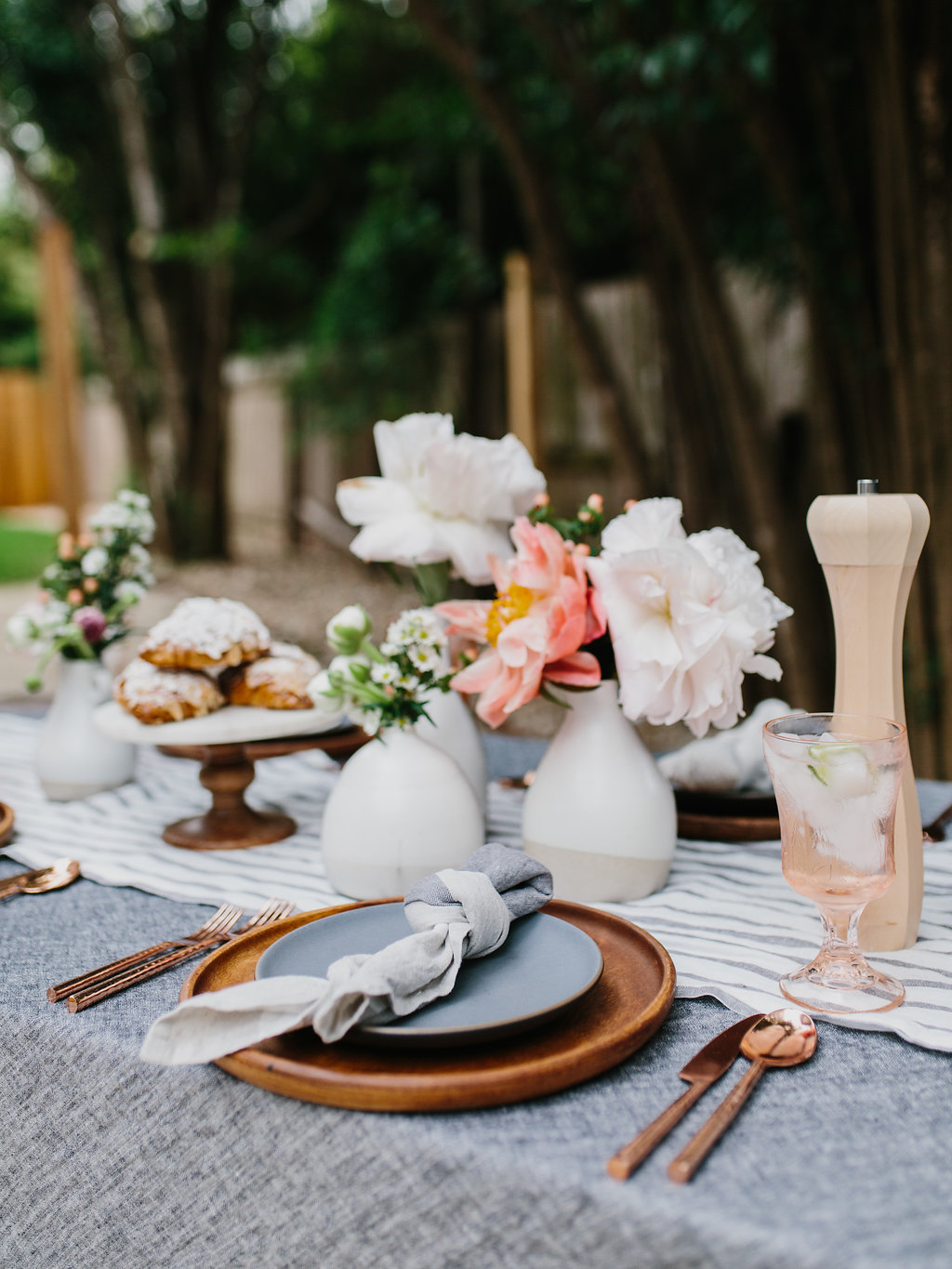 You're not choosing from 24 different colors.  It's already been edited for you in a just a handful of chic shades and patterns.  And just like Parachute's own California roots, this tabletop collection took me back to my own time in the land of salty air and wild bougainvillea, so we hosted a brunch to follow suit!  Keep reading for all of the details... and whether you're a mama or not, maybe just treat yourself to some new table linens this weekend!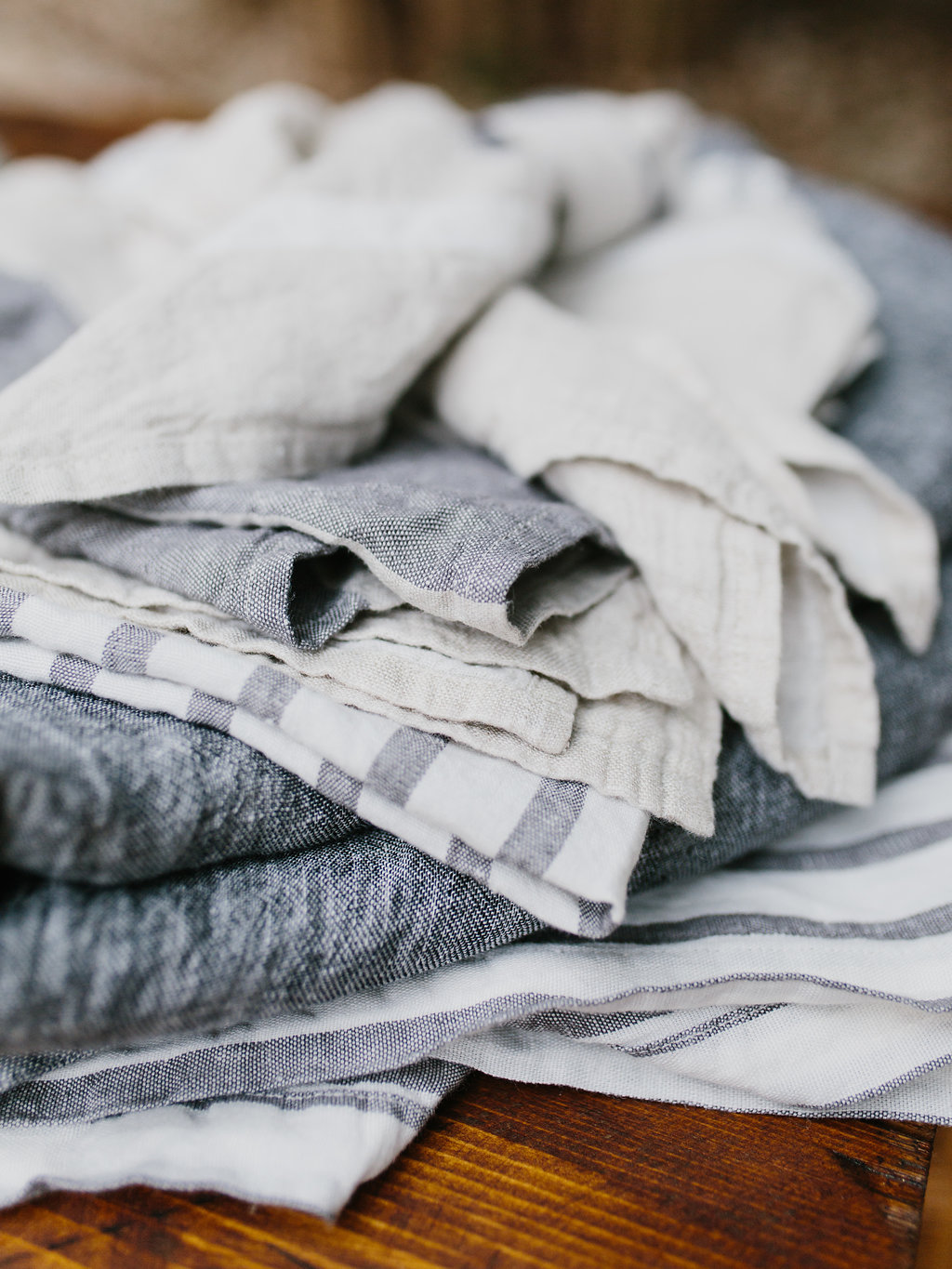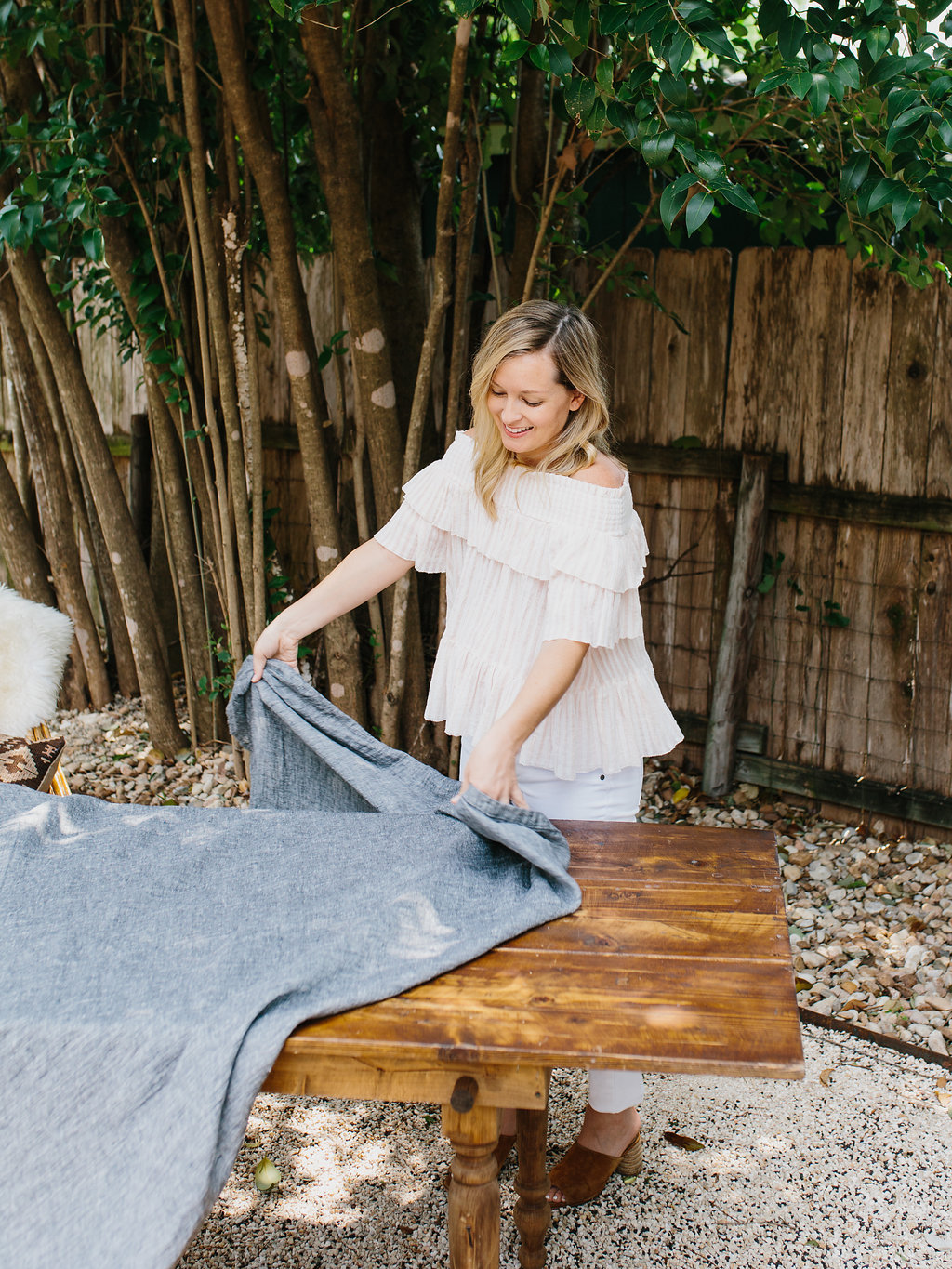 For the table:
I chose the black linen tablecloth to anchor our entire tablescape.  Small stains or drips over the course of a meal won't stand out as much as they might on lighter colors, so guests won't be stressing.  It also seemed like the perfect canvas to build any number of color stories on top of.  You could add vibrant, floral dishware or even layers of white to pop. (We chose these vintage wood chargers from Loot Vintage and my own collection of Heath Ceramics for a more monochromatic look.)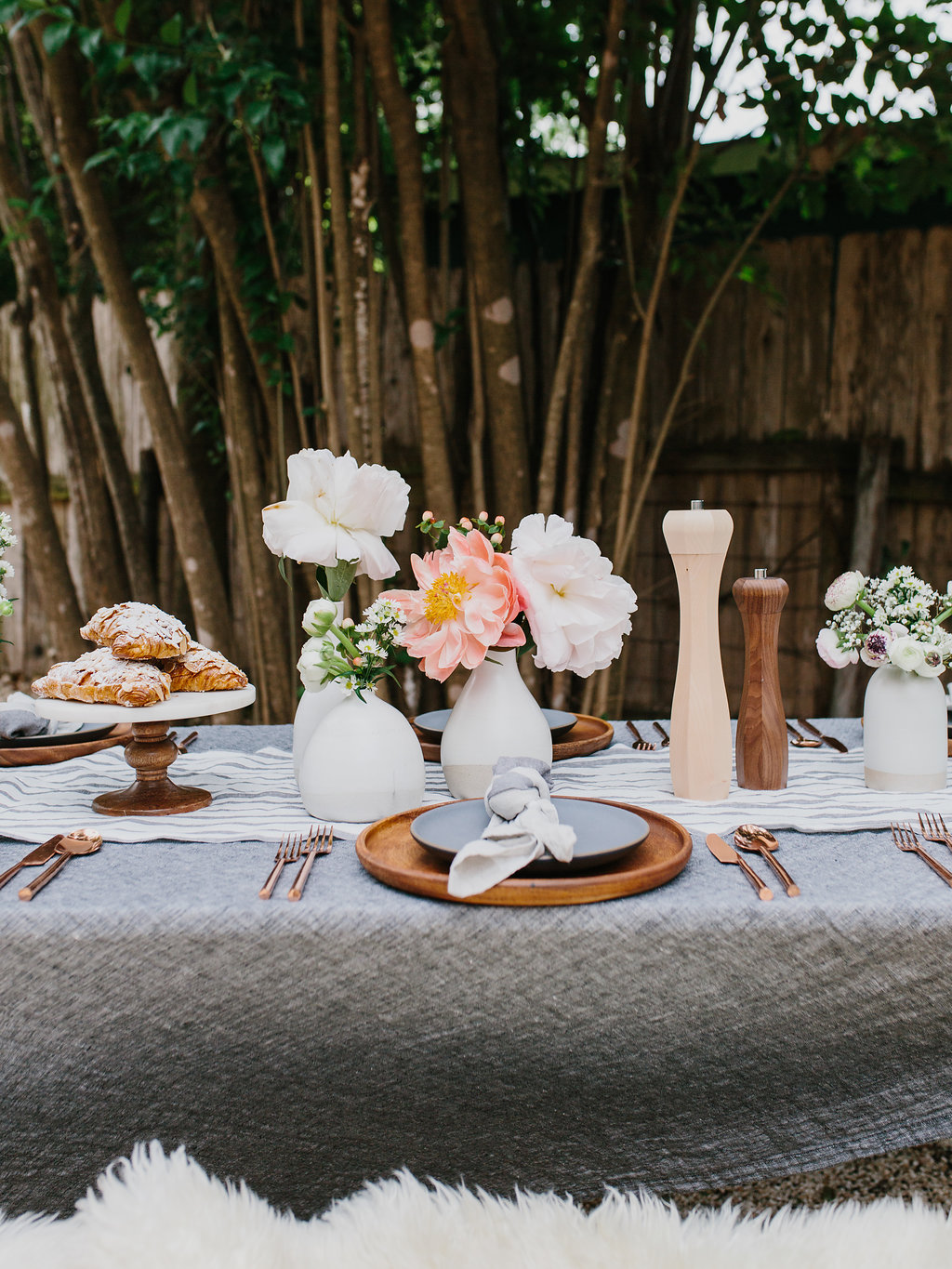 I used to think you did either a runner OR a tablecloth, but I'm older and wiser now and know that doing both adds more dimension to the table, and the skinny stripe runner popped perfectly against the black linen tablecloth.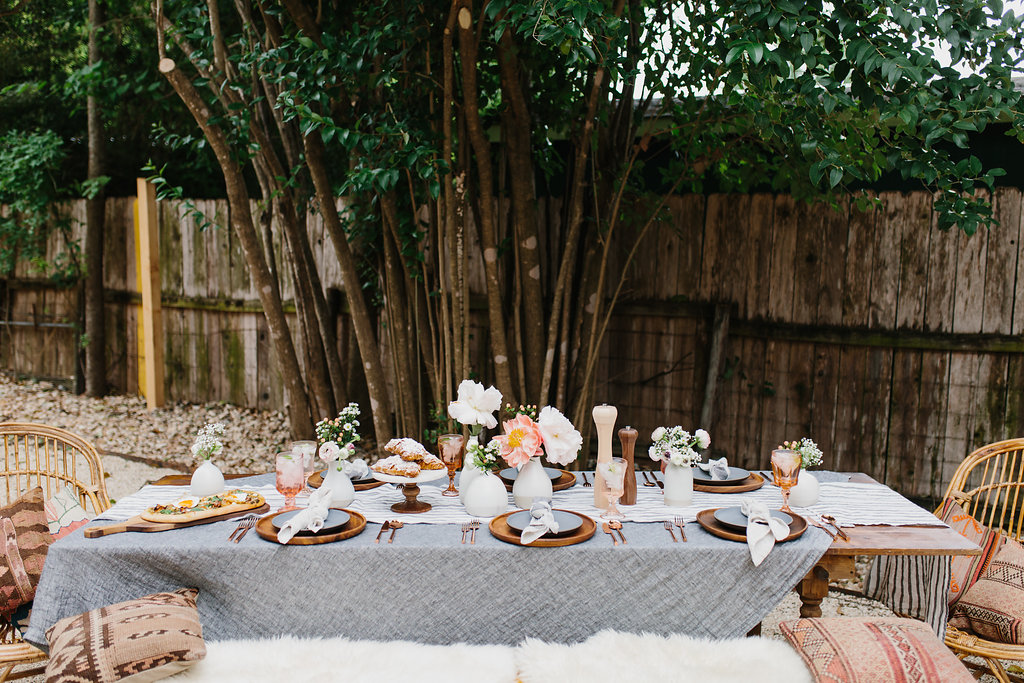 Lastly, we used linen napkins in a mix of bold stripe and classic tan for the individual place settings.  I love a mix and match element somewhere so things don't feel so perfect.  Plus, it means the next time we are hosting for a larger party and need more place settings we can mix and match in others with ease.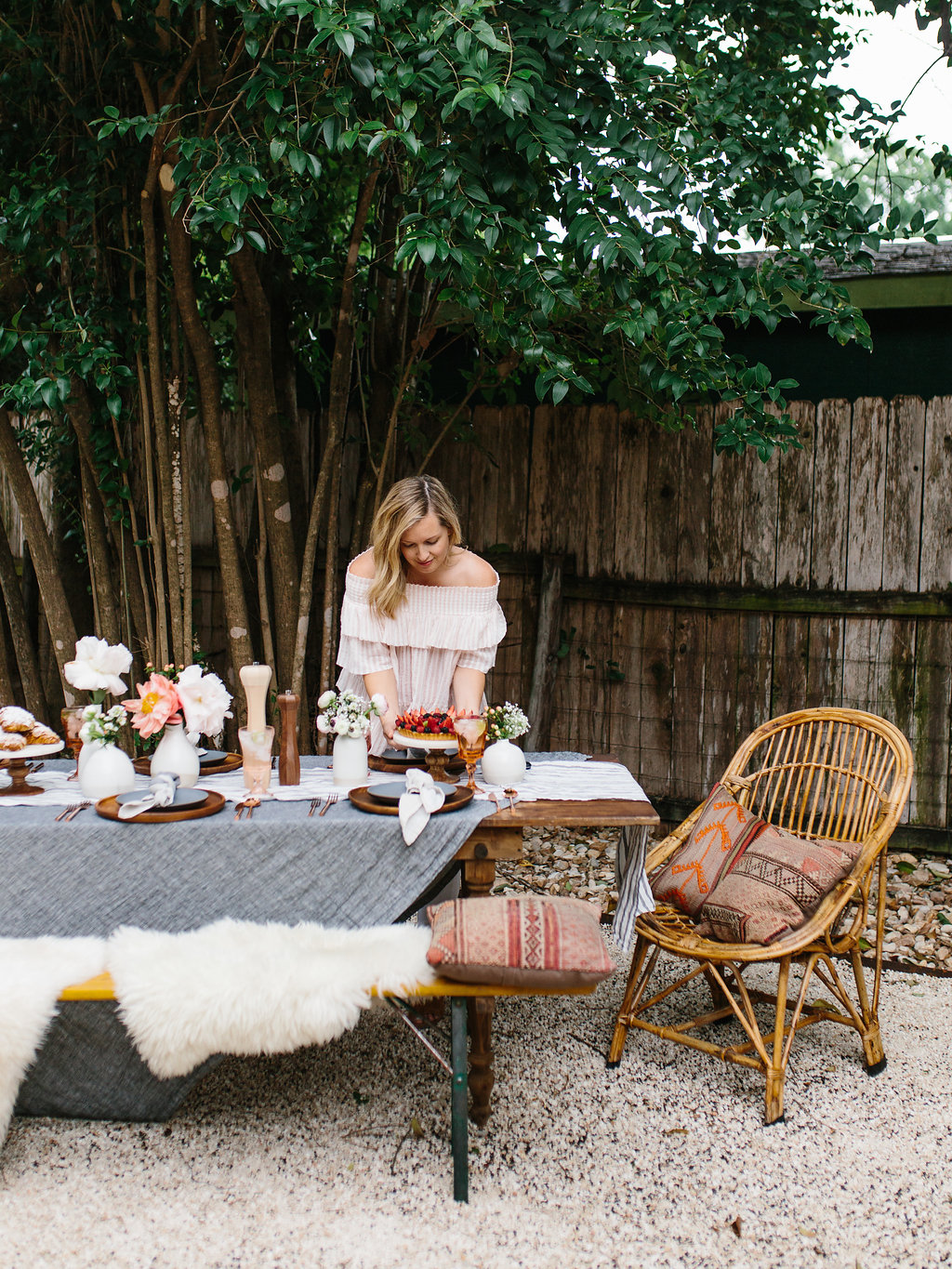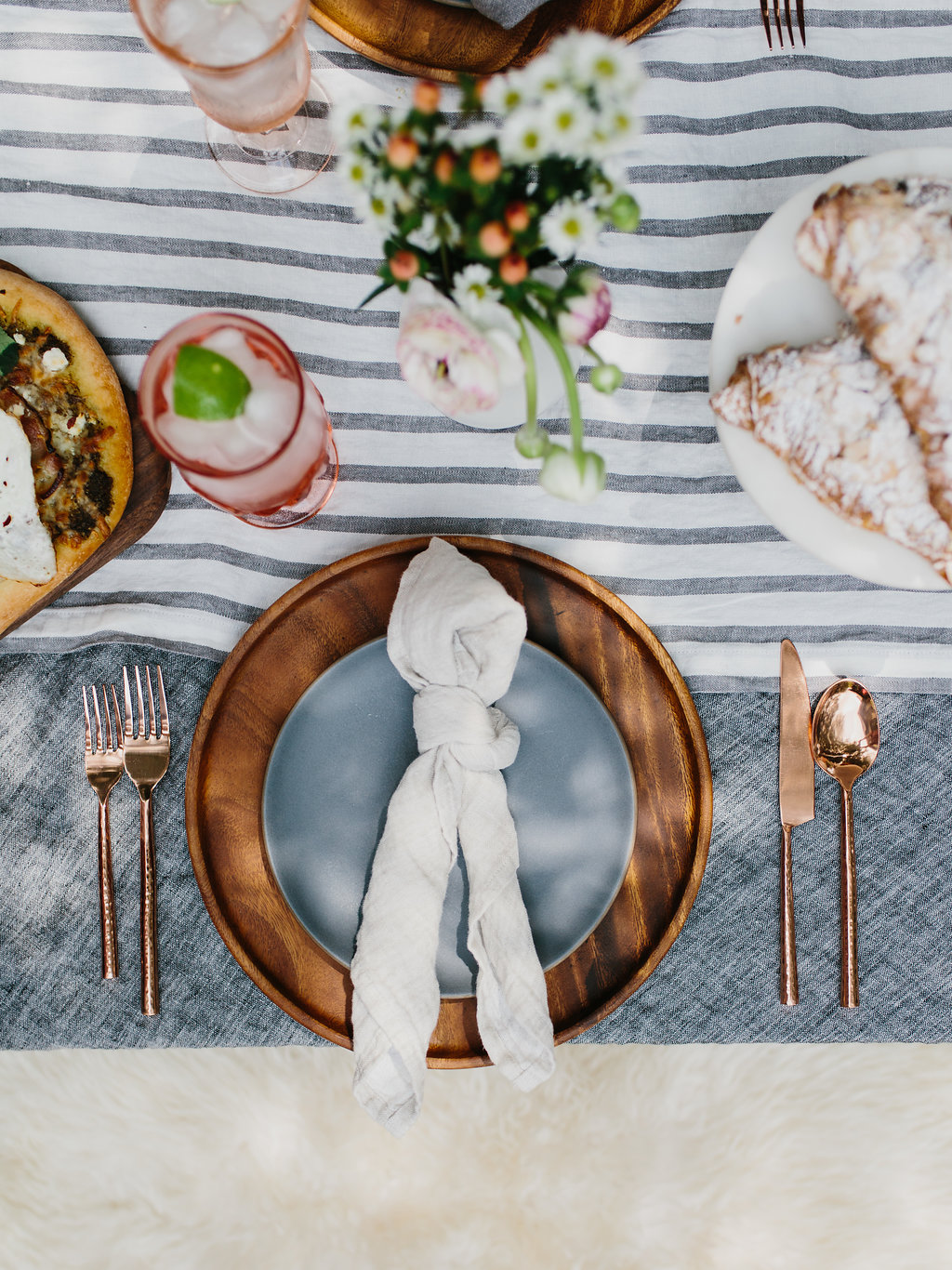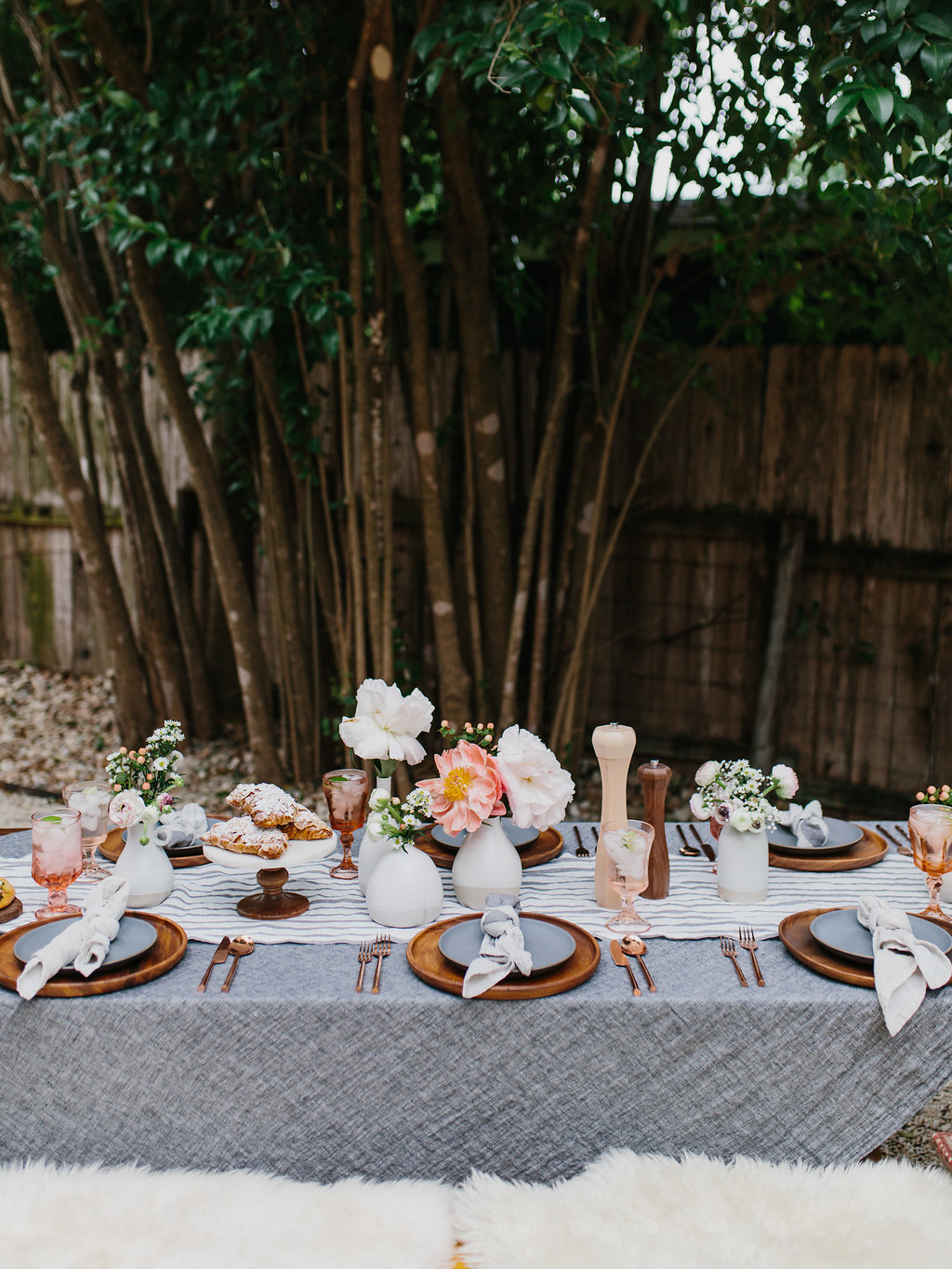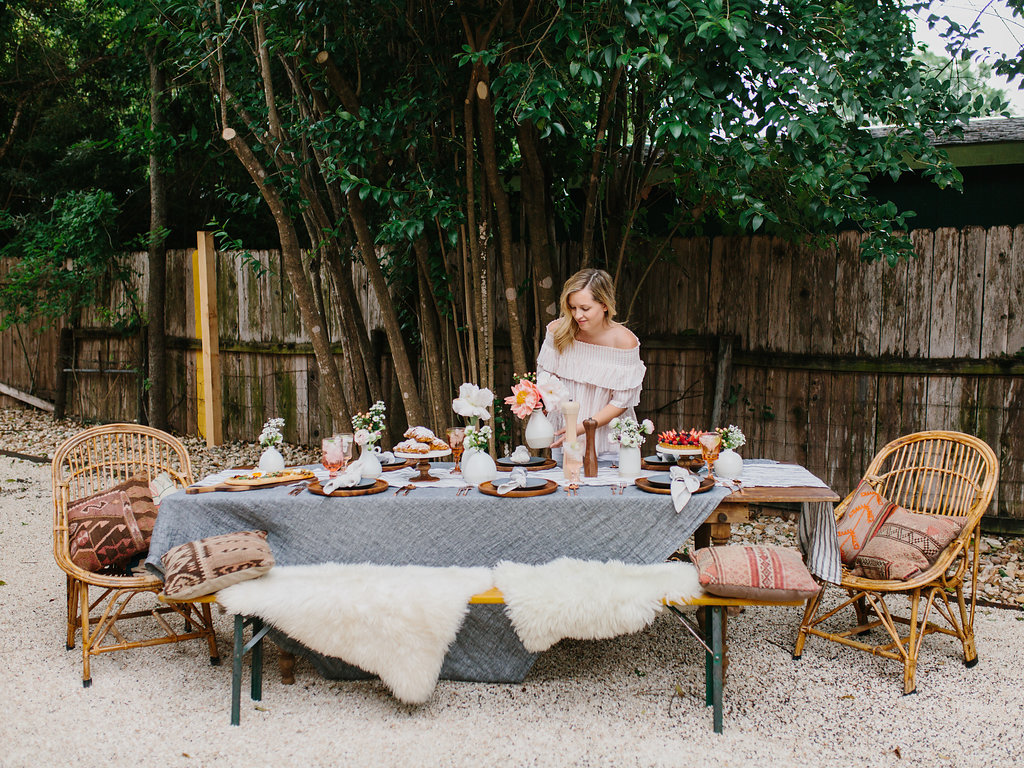 Can I tell you my favorite thing about this Tabletop collection?  You can buy a few pieces now and add to your collection slowly or party by party.  It all mixes so well together and because of the classic patterns and hues, will never go out of style or season.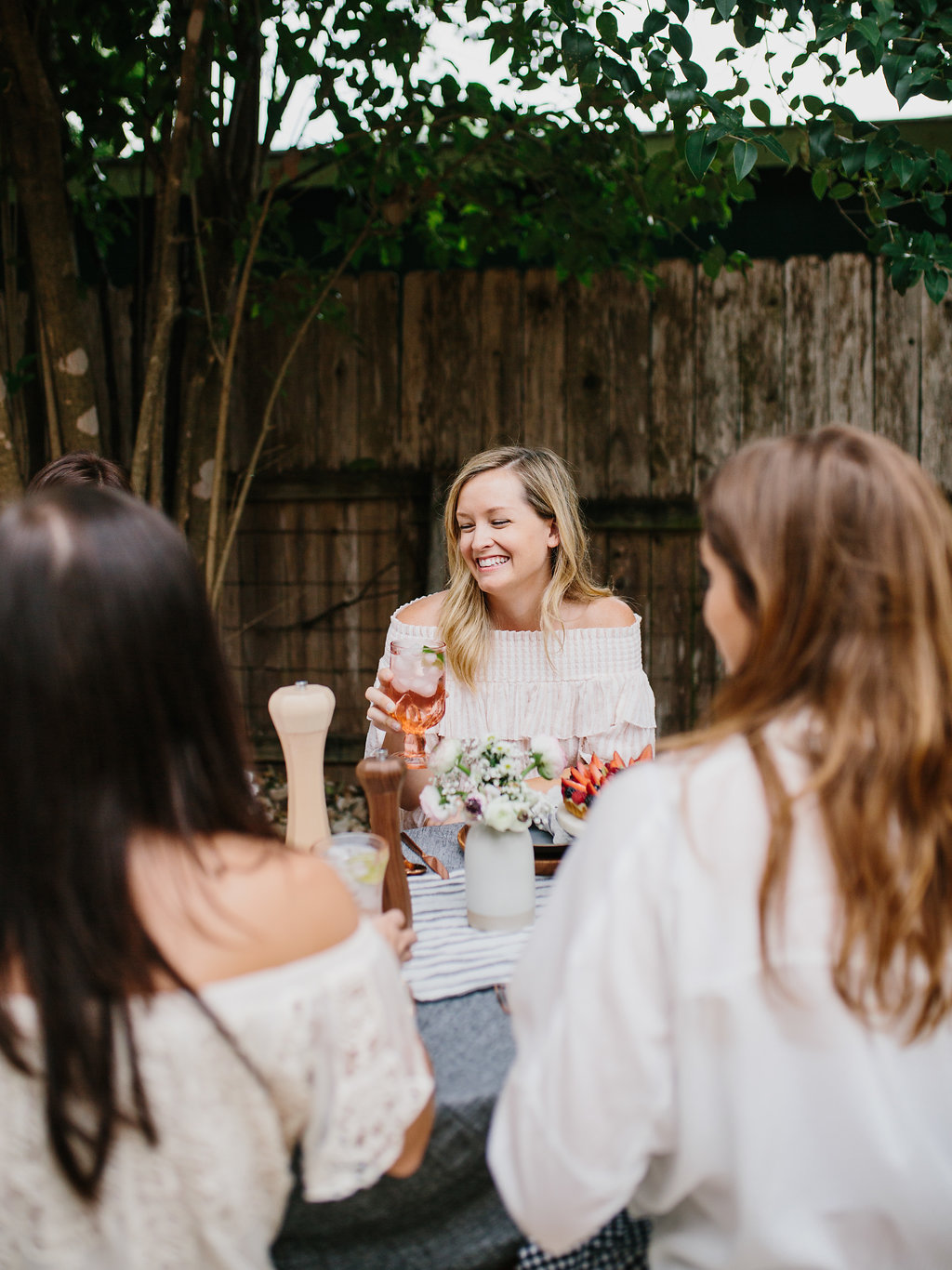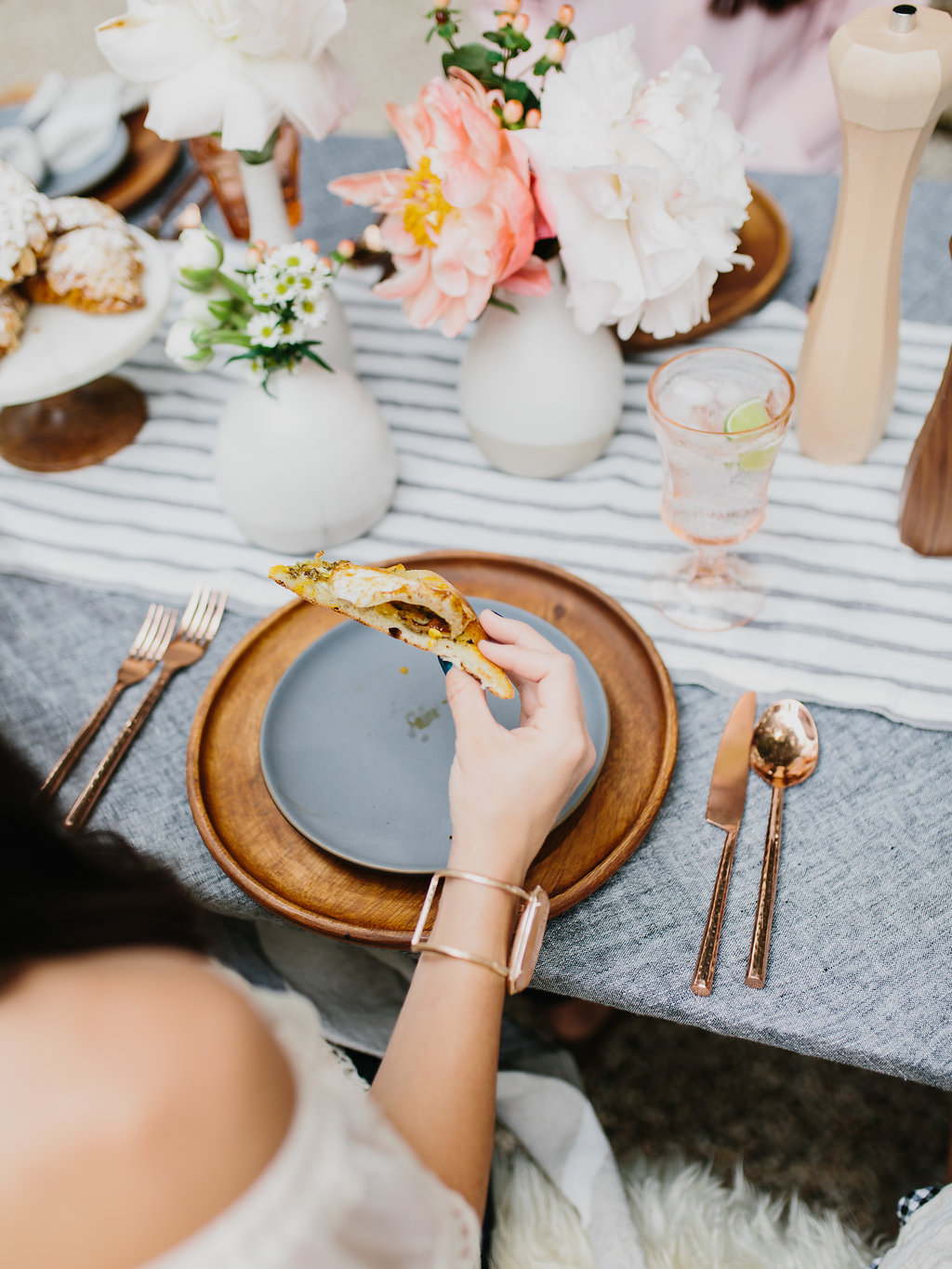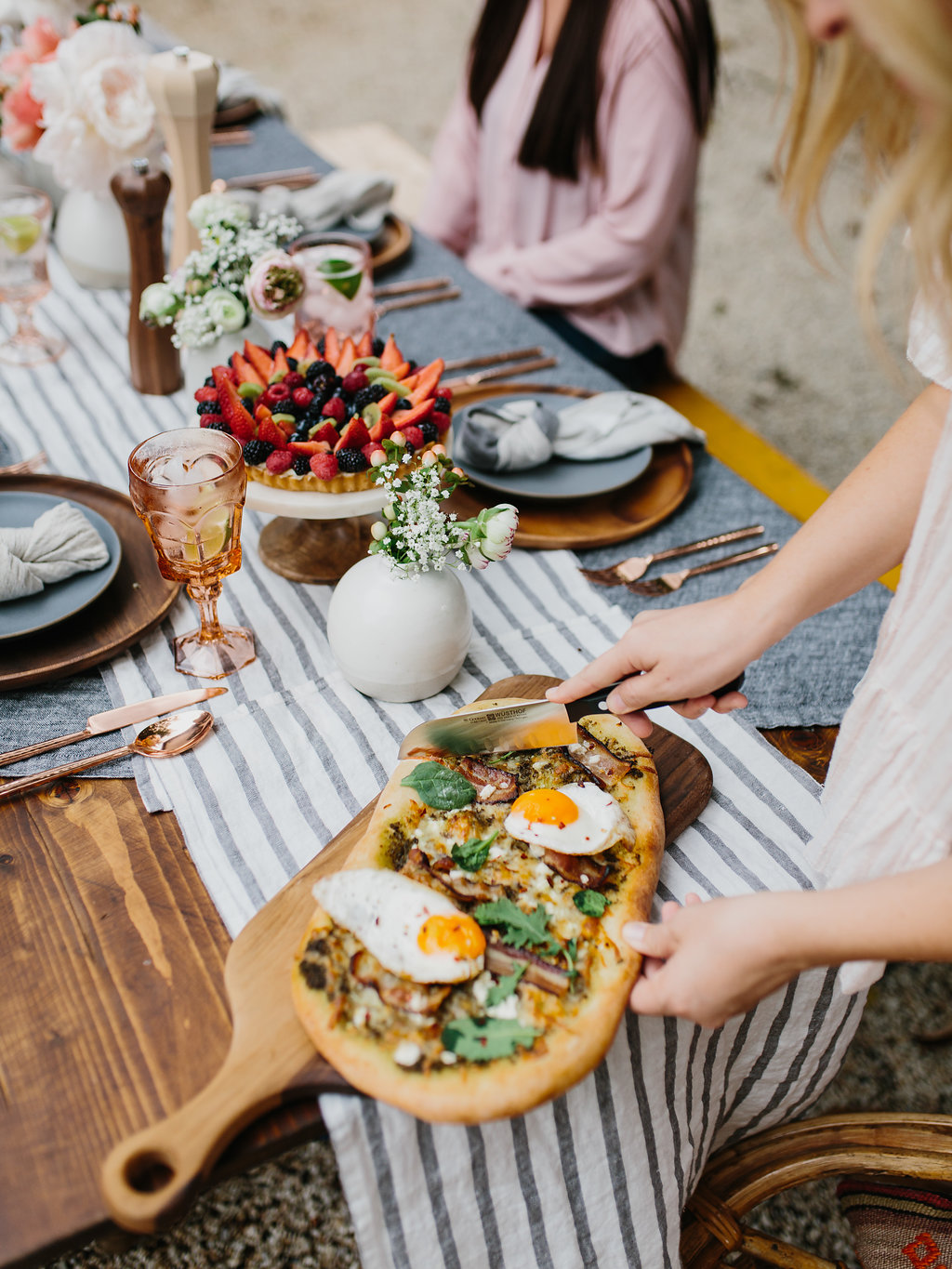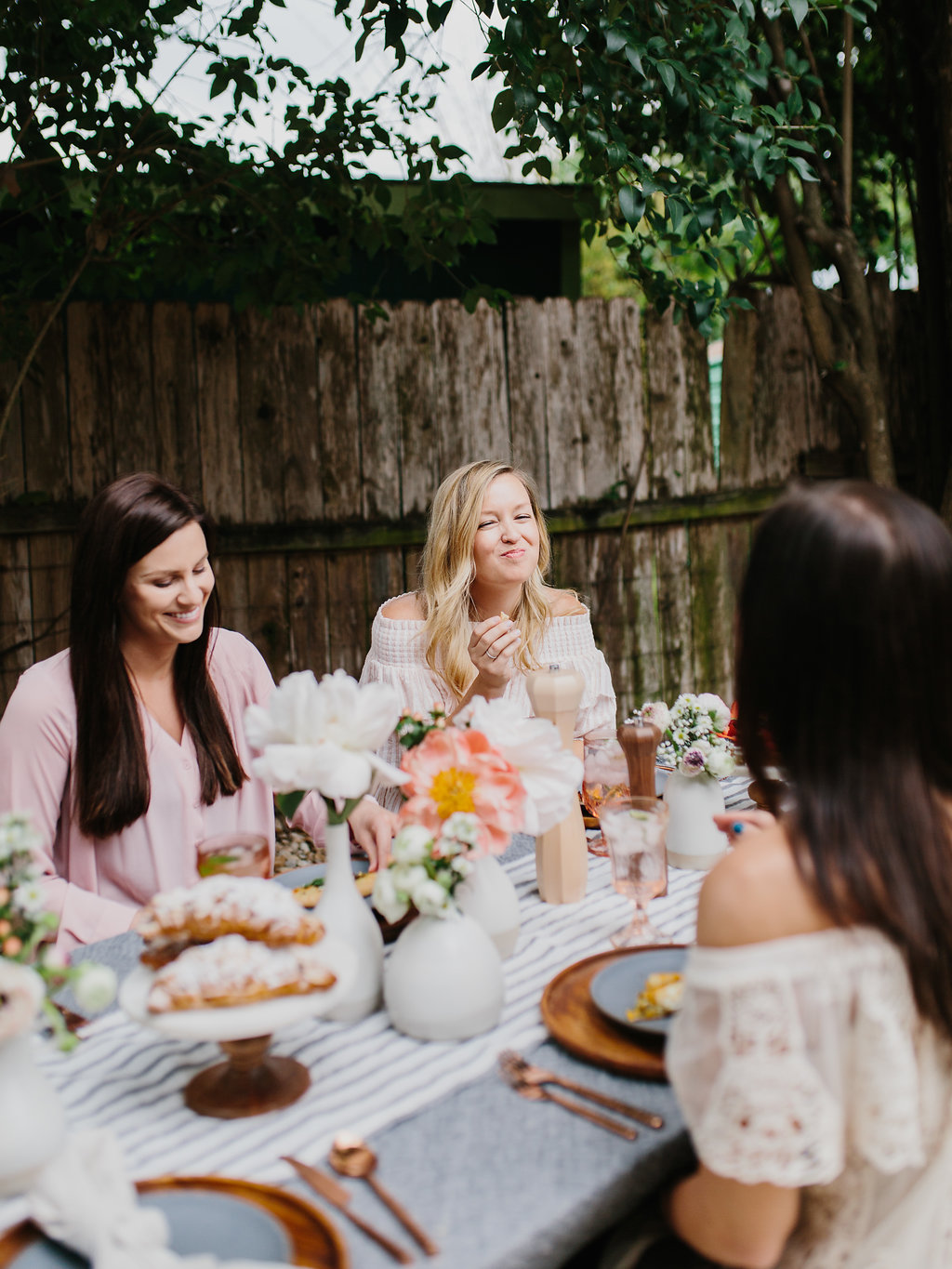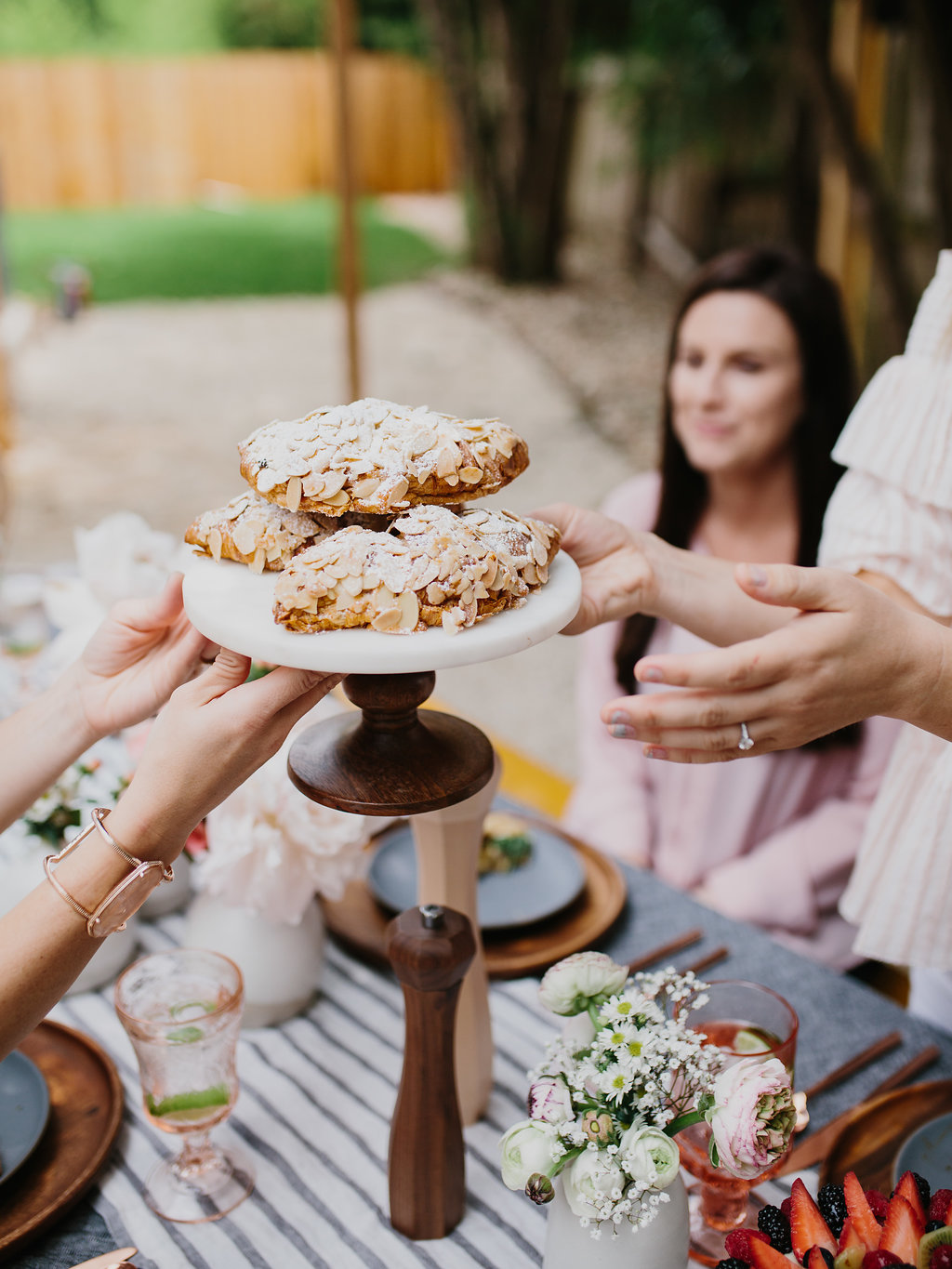 The California-Inspired Mother's Day Brunch Menu:
Speaking of ease, I've learned over the years that fewer, better dishes on a menu make more of a statement than a huge variety that you run yourself ragged making days in advance.  Here's what we served:
-Almond Croissants picked up from Easy Tiger bakery here in Austin
-Breakfast Pizzas with Ricotta, Mixed Greens, and Sunny Eggs (recipe coming soon!)
-A Power Greens Salad with Fresh Citrus, Avocado, Feta, and Homemade Blackberry Balsamic made here in Austin (recipe coming soon!)
-A Fresh Fruit Tart for Dessert
-Plenty of Rosé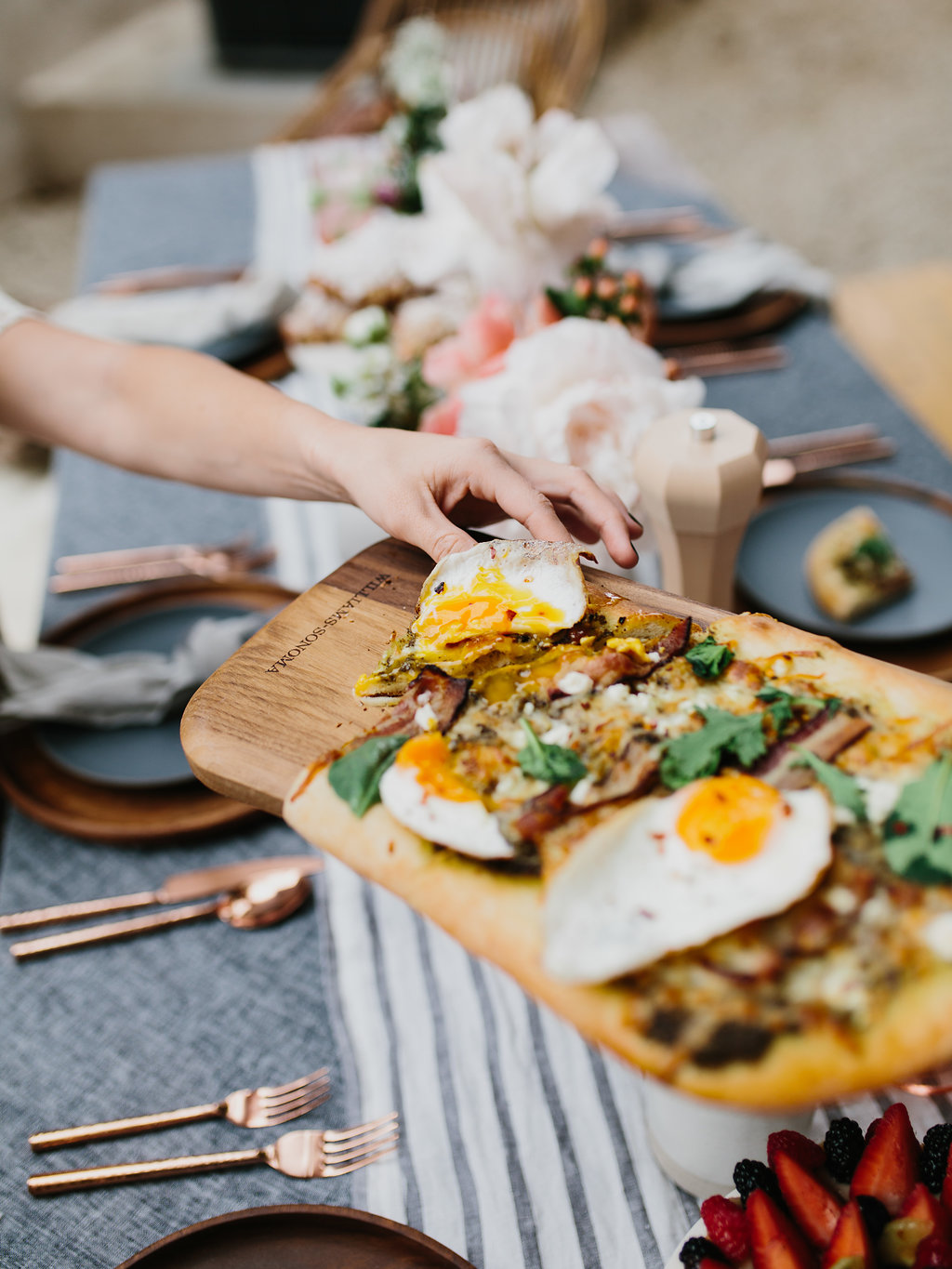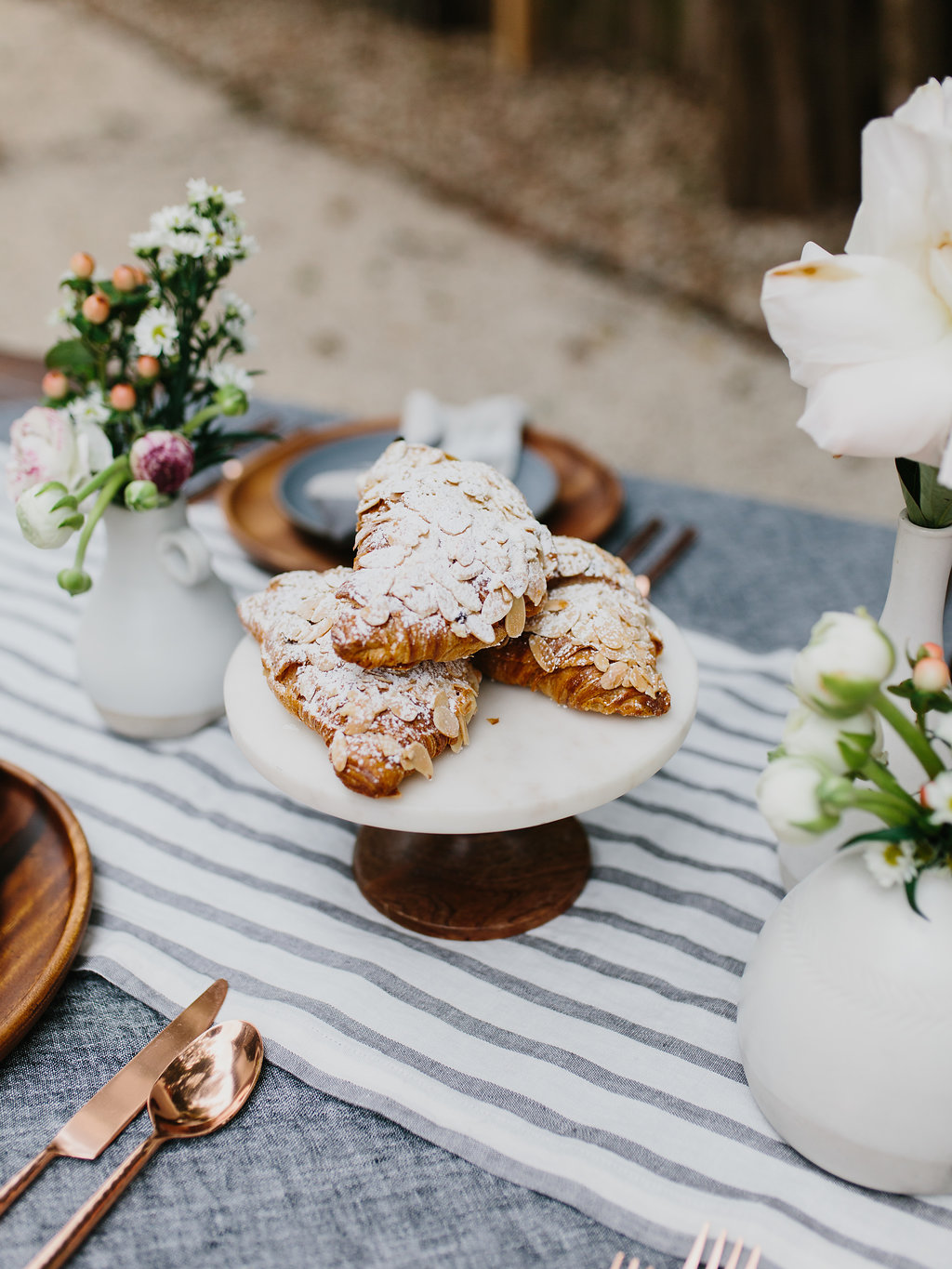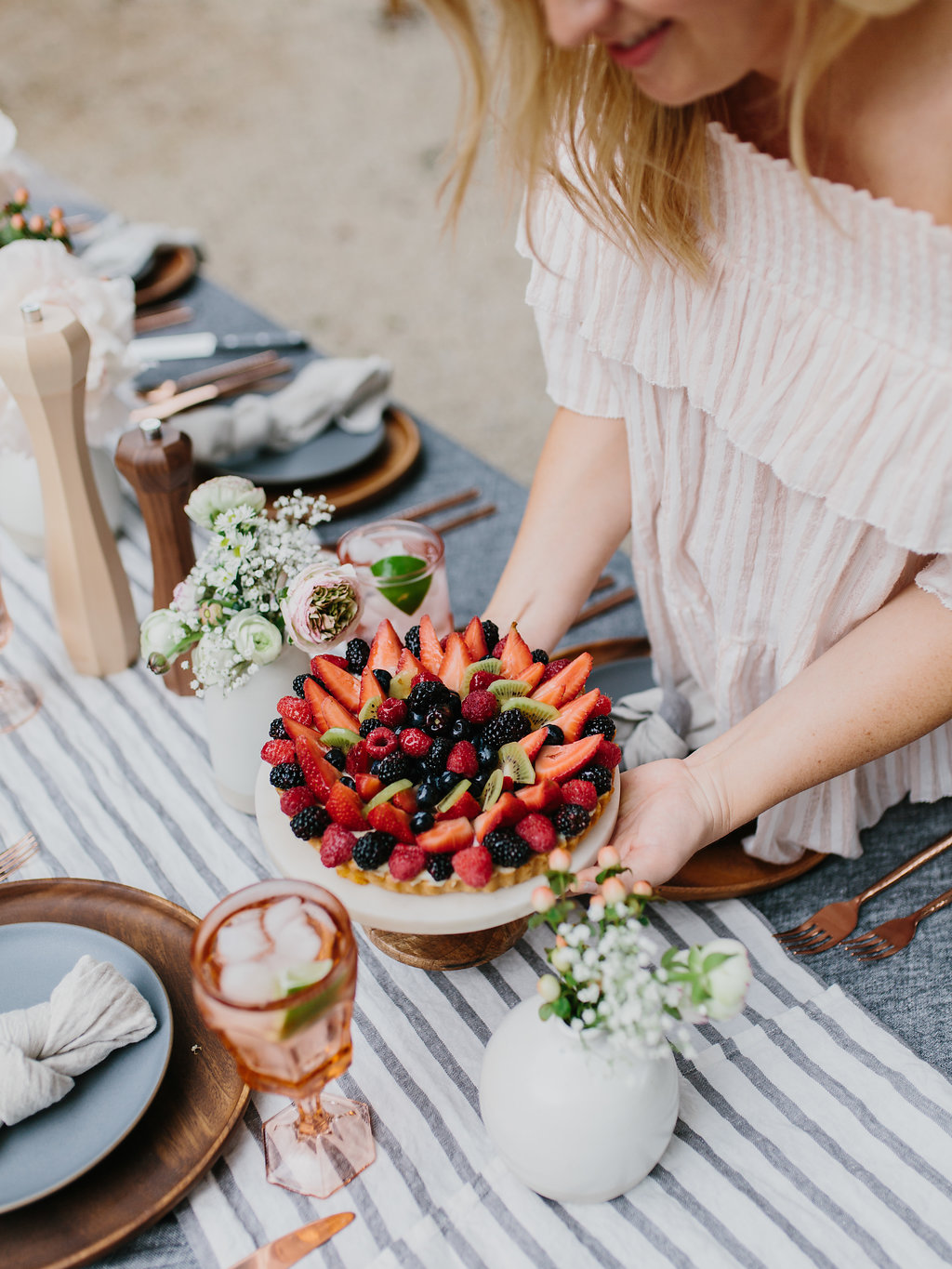 The dreamy vintage table, chairs, flatware, and vases are all from our friends at Loot Vintage.  I love a mixture of bud vases that let you curate your own selection of florals fresh from the market. Parker and I went before school that day and she picked out a few of her favorites! (She's been begging to go back ever since!)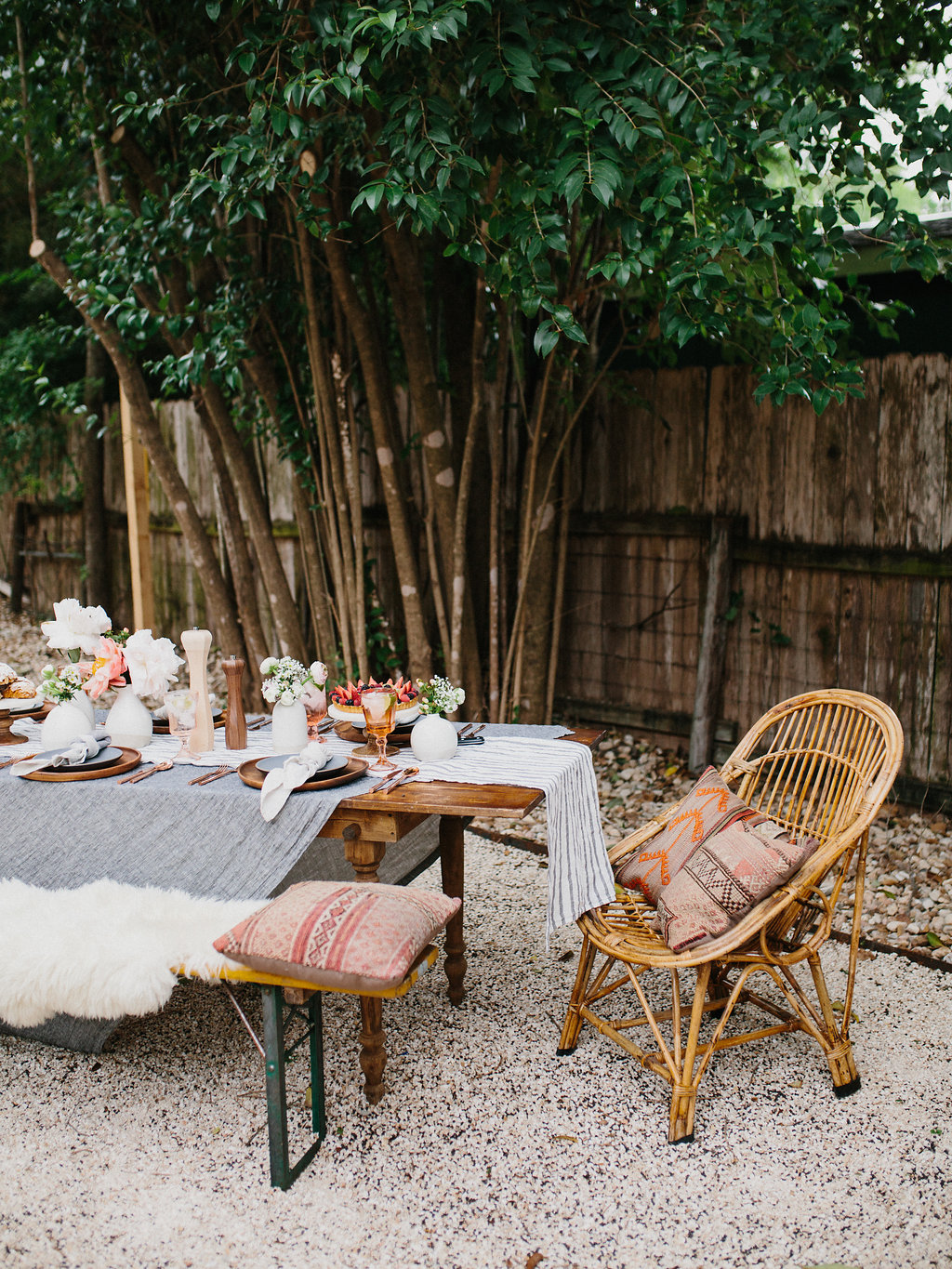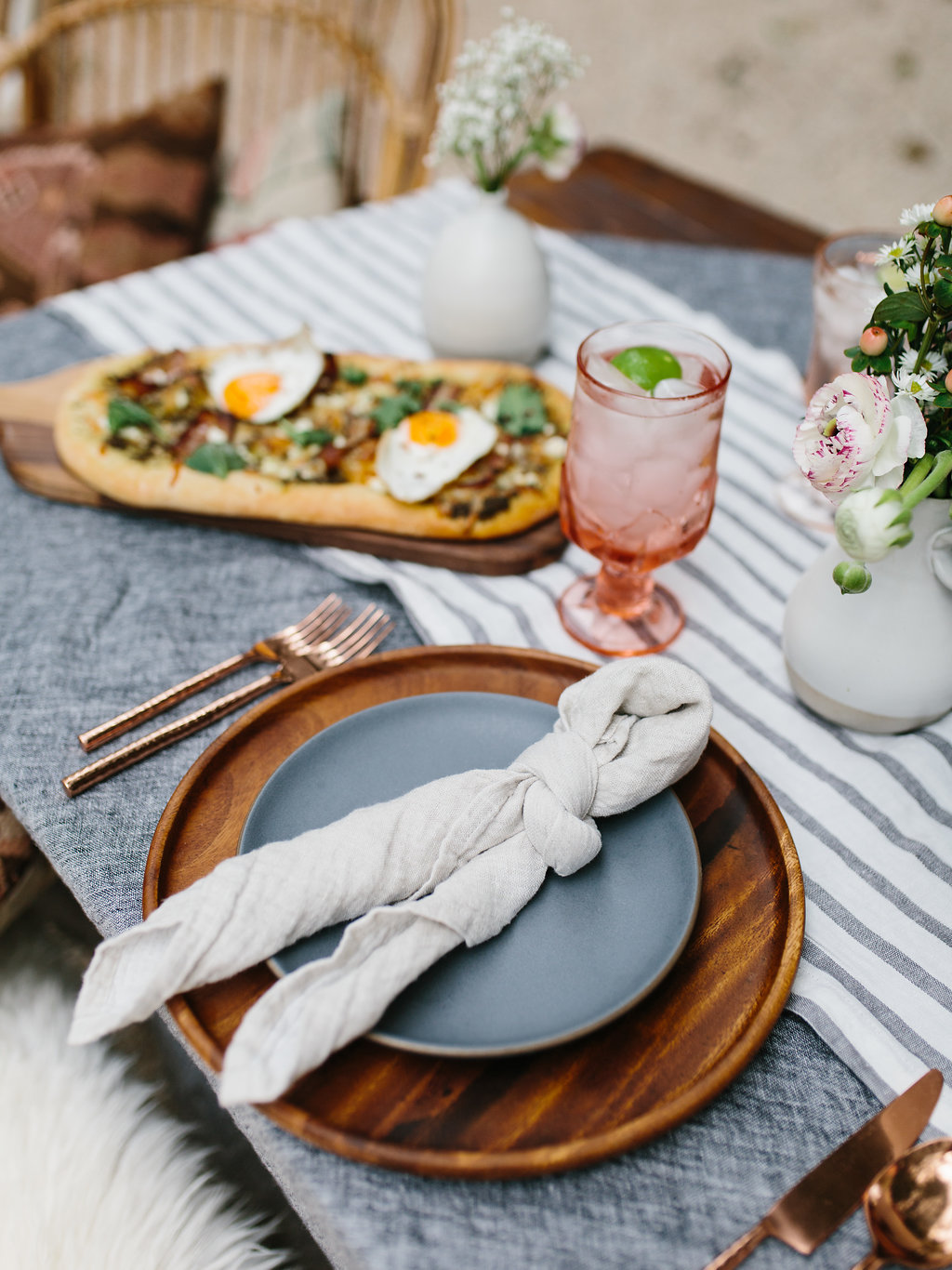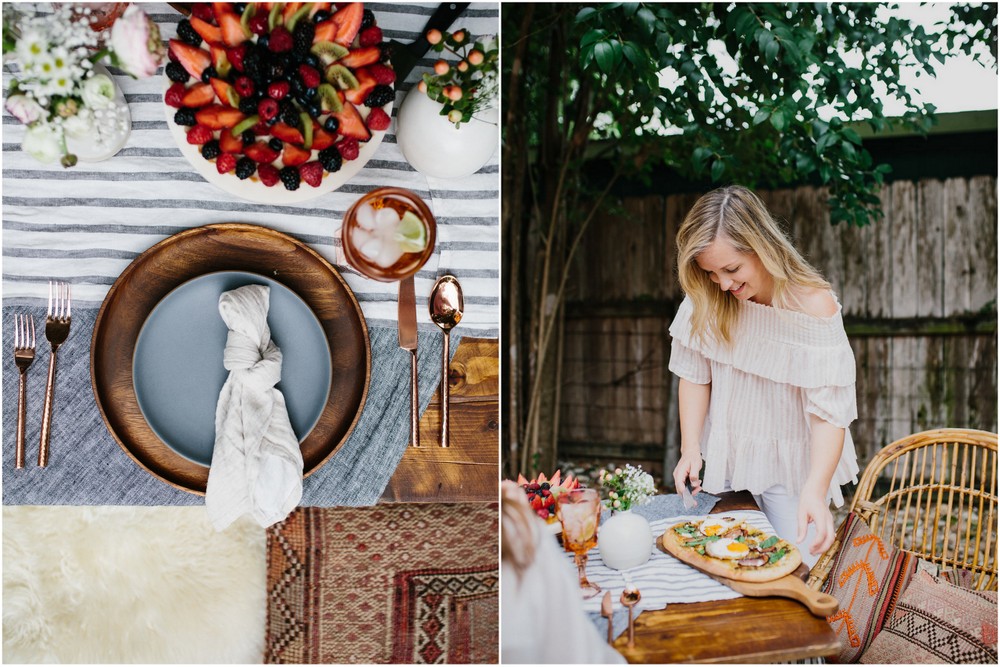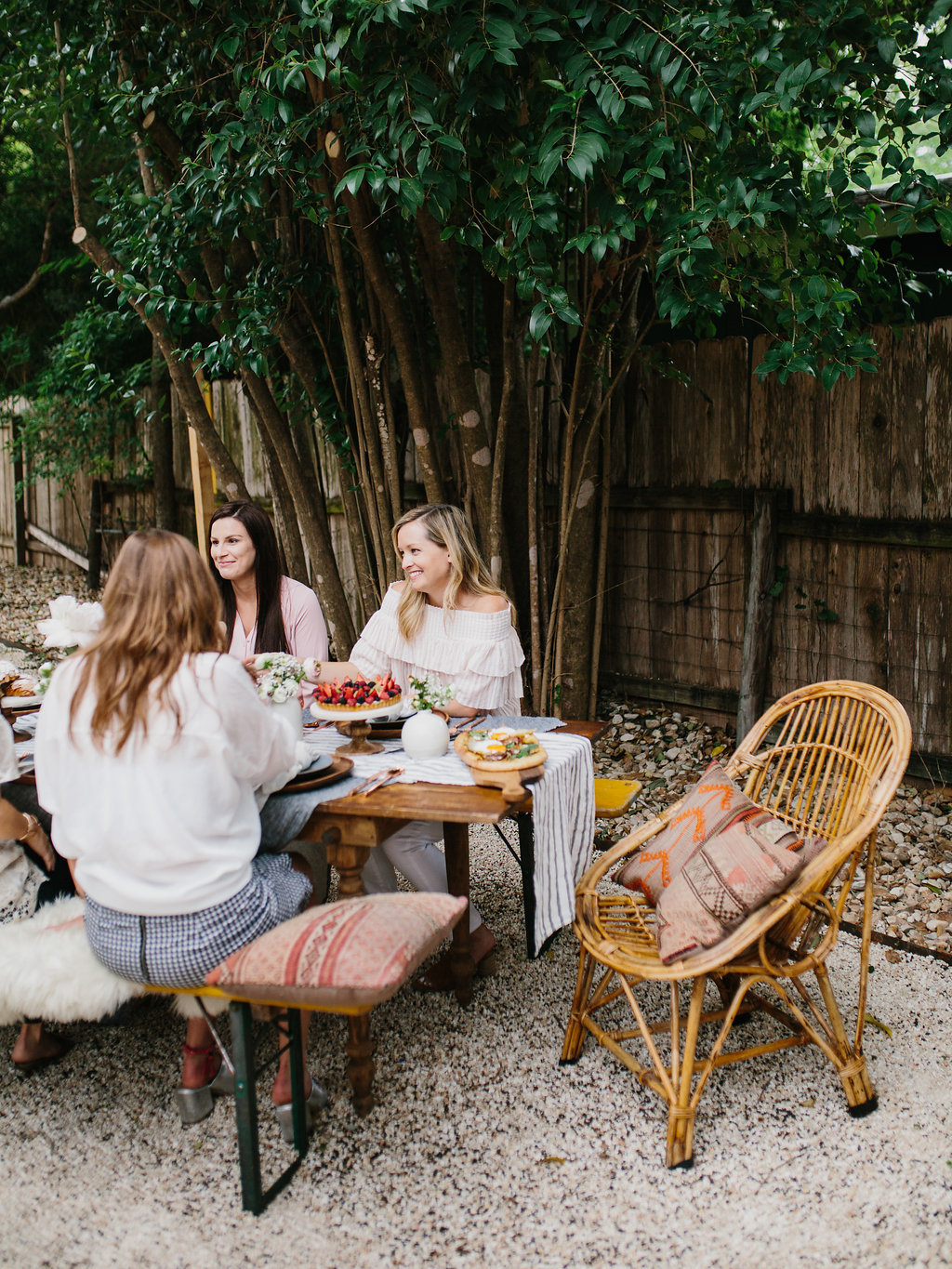 Want more of the linens from our Mother's Day Brunch?  Check out the full collection of Parachute tabletop linens that just launched yesterday, here!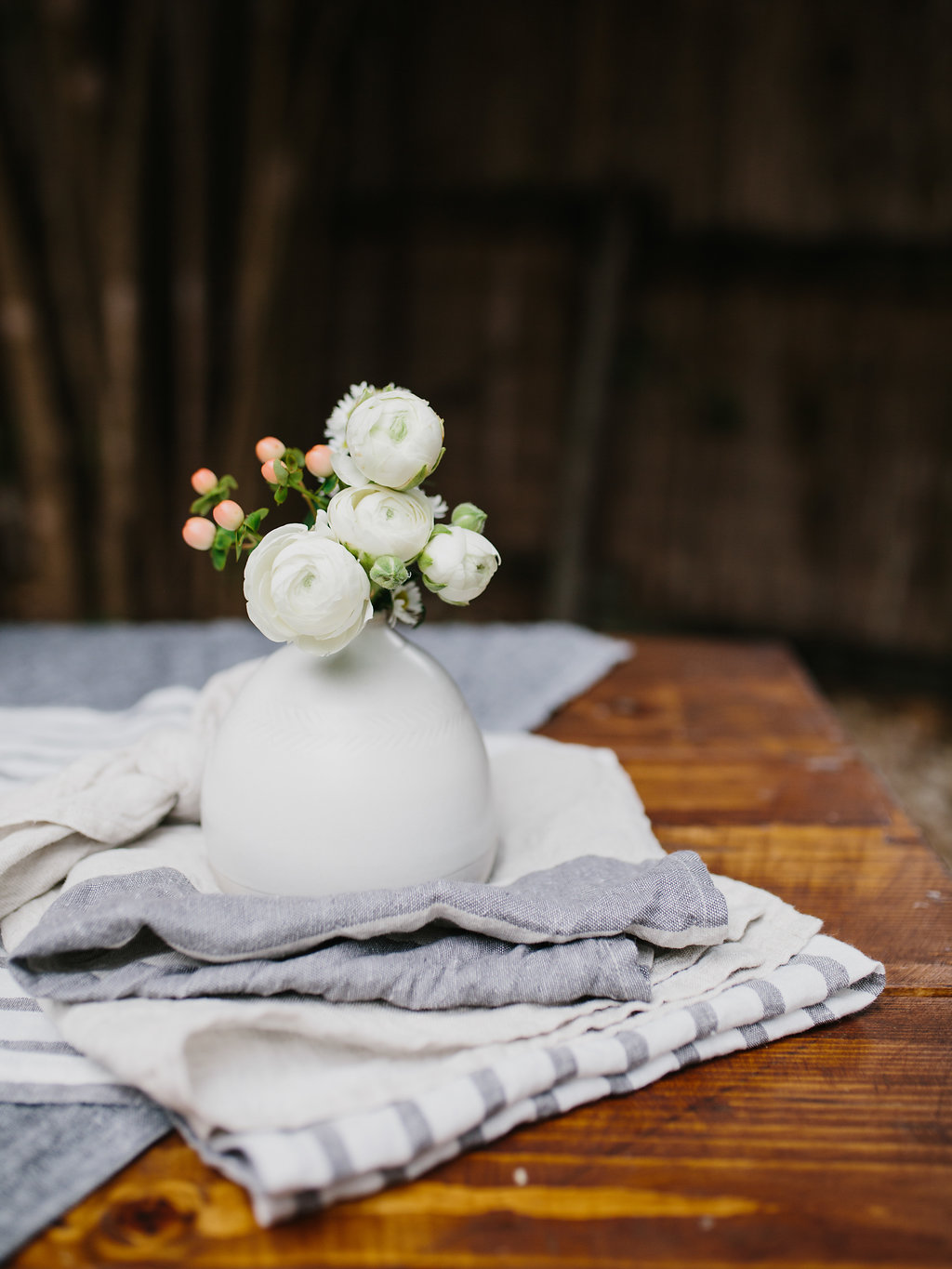 Photography by Katie Jameson
Mother's Day Brunch Sources: All Table Linens by Parachute || Table, chairs, flatware, and other rentals via Loot Vintage || Top, Ulla Johnson || Jeans, Paige (Maternity + Non-Maternity) ||
This post is sponsored by Parachute, a brand I have adored for years now and can't recommend enough!