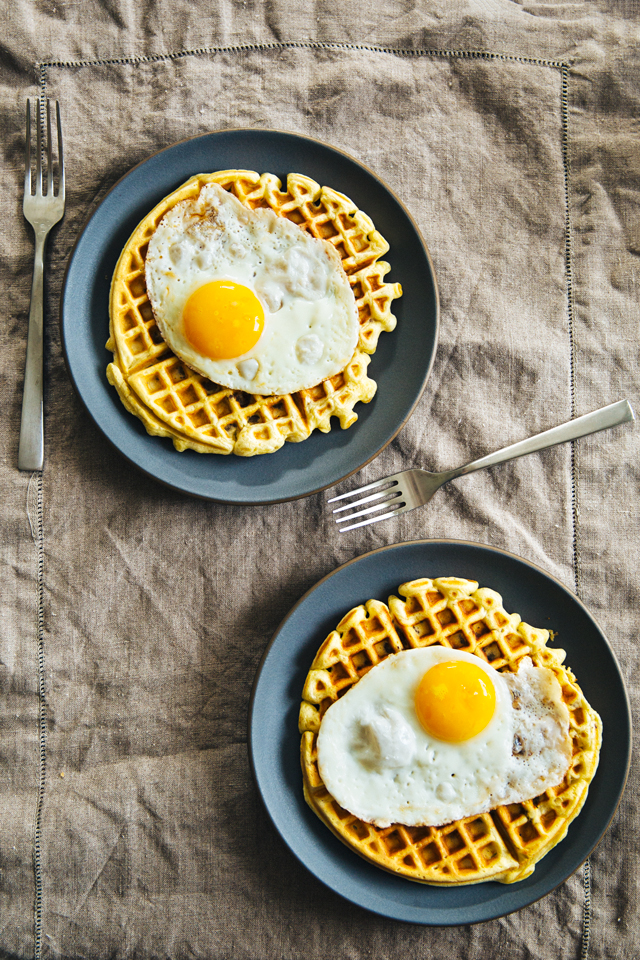 Breakfast is kind of a big deal in our house.  It's a rite of passage by which the day begins and sets the tone for the next 12 hours.  Everyone knows mornings can be hectic, but for those twenty minutes that the three of us are huddled around the kitchen table, all is right in the world.  Now I know that donuts are all the rage and I've never been known to turn down an almond croissant, but at home we usually keep things savory.  Some iteration of eggs, bacon and repeat, though, sometimes you just need to splurge on the belgian waffle and call it a day!  This recipe has become such a favorite at our house.  (Parker gives it two thumbs up!)  The best part is, it's quick and easy meaning everyone will still make it out the door with time to spare!
Savory Sausage Waffles- Makes 4 Large Waffles
(adapted from this recipe by Bacon Egg Cheesecake)
Ingredients:
6 ounces crumbled pork sausage (fully cooked)
⅔ cup all purpose flour
⅔ cup almond meal (or you can use all all-purpose flour)
⅓ teaspoon baking soda
⅔ teaspoon baking powder
½ teaspoon salt
2 teaspoon sugar
2 eggs
1 ⅓ cup milk
Olive Oil Non-stick Spray
4 eggs
A belgian waffle maker.  (I used this one that we received as a wedding present)
Directions:
In a bowl, combine flour, baking soda, baking powder, salt, and sugar. Beat in two eggs and milk until everything is combined. It's fine if there are a few lumps. Stir in sausage.  Preheat waffle iron and cook waffles to desired crispness. (Be sure to spray waffle iron before adding batter or they will stick!)
Heat a skillet over medium high heat and coat with non stick spray.  Crack an egg and allow to cook to over easy or over medium depending on your preference.  Top each waffle with one egg.
Top with syrup if you desire-- and you really should desire.  It's delicious!
Photography by Aaron Pinkston