In the mood for breakfast, but want to skip the wait eat in your pajamas? Keep reading for the most delicious weekend breakfast recipes that are worth the trip to the grocery store!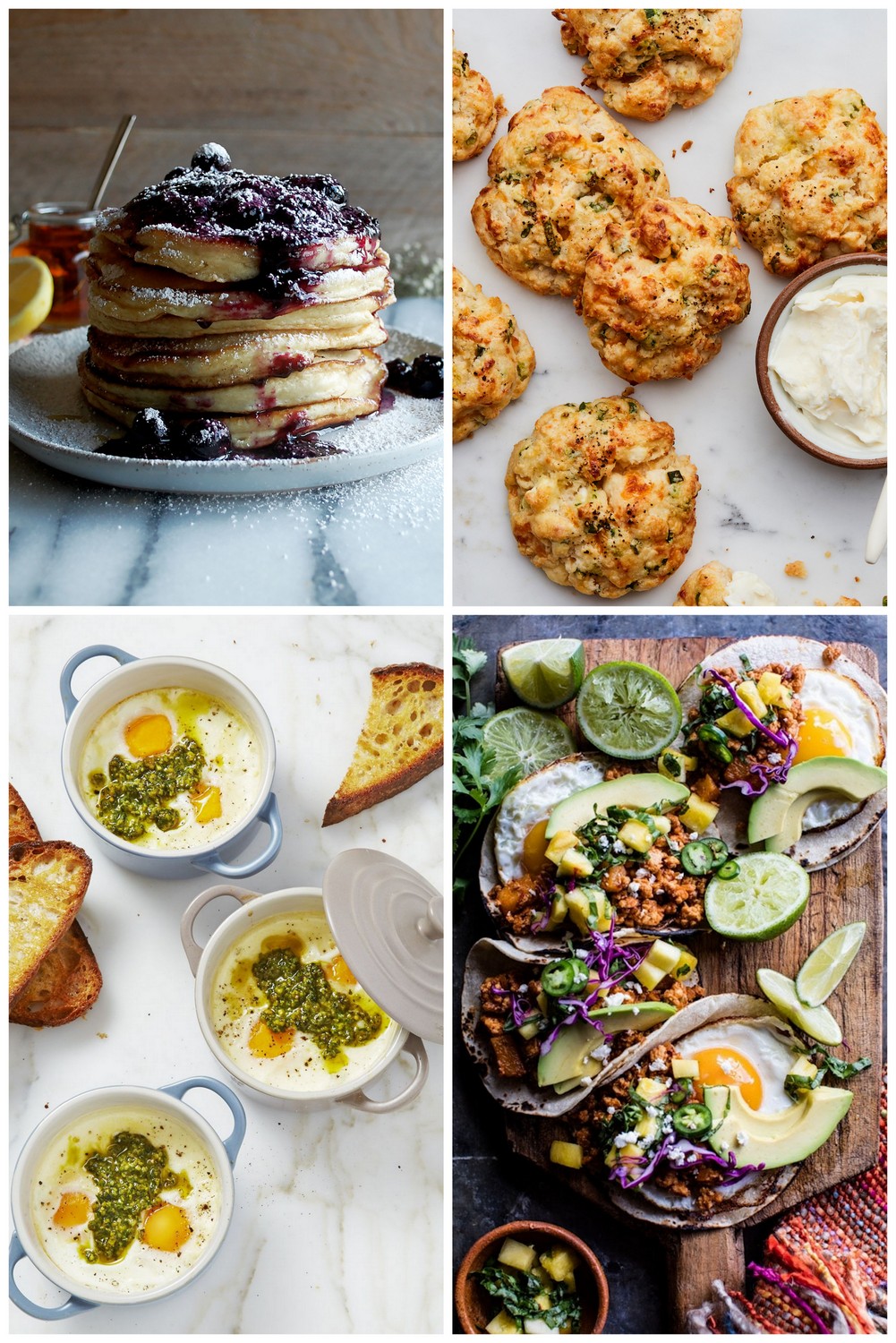 When it comes to dining out on vacation, I navigate a new city through careful and tedious investigation of the four-star spots with their designer-decorated digs, the restaurants whose chefs have managed to make an appearance on a Netflix food show, and the hole-in-the-wall finds made more ubiquitous thanks to everyone's favorite pictorial social platform. My favorite meal while traveling, though? For sure breakfast! And weekend breakfast...even better!
I sometimes struggle that the number of "must-try" breakfast spots exceeds the number of mornings in which I will be in a place. Name a city that I have been to recently and I can immediately tell you what my favorite breakfast was there. Santa Fe? Modern General. San Diego? The Cottage.
Delicious Weekend Breakfast Recipes You'll Want To Try
When we are home, few things are more enjoyable to me than sipping my morning latte with a spatula in hand and enjoying a family breakfast while still in my pjs. Anyone else? Keep reading for these insanely delicious breakfast recipes that will have you cancelling all future 9am reservations. (Okay, maybe not all.)
Lemon Riccota Pancakes
These lemon ricotta pancakes are bursting with bright citrus tanginess.
Lemon Ricotta Pancakes with Blueberry Syrup via The Original Dish
Mint-Pesto Baked Eggs
This mint and pesto herb mixture takes runny baked eggs to the next level.
Mint-Pesto Baked Eggs via Good Housekeeping
Peach Donuts
This recipe turns a Donut or Saturn Peach into a batter-dip and cinnamon sugar coated dream.
Peach Donuts via Not Without Salt
Savory Oats with Mushroom and Egg
These oats are brimming with savory flavors: rich chicken stock, earthy mushrooms, and salty-umami seaweed.
Savory Oats with Mushroom and Egg via Goop
Coffee Cinnamon Rolls
These Coffee Cinnamon Rolls with Maple Cream Cheese Frosting have it all. Gooey, tender, sweet, and best of all, loaded with coffee to give you a bit of extra pep in your step.
Coffee Cinnamon Rolls with Maple Cream Cheese Icing via The Modern Proper
Breakfast Tacos
These tacos are packed with the sweet-and-spicy flavors of classic al pastor style tacos, but yet so simple and quick.
Breakfast Tacos Al Pastor via Half Baked Harvest
Everything Bagel Quiche
There isn't much that's more perfect than a fully loaded everything bagel for breakfast... and now you can eat it in quiche form. This is the creamy, salty, tangy flavor combo that dreams are made of.
Everything Bagel Quiche via Bon Appetit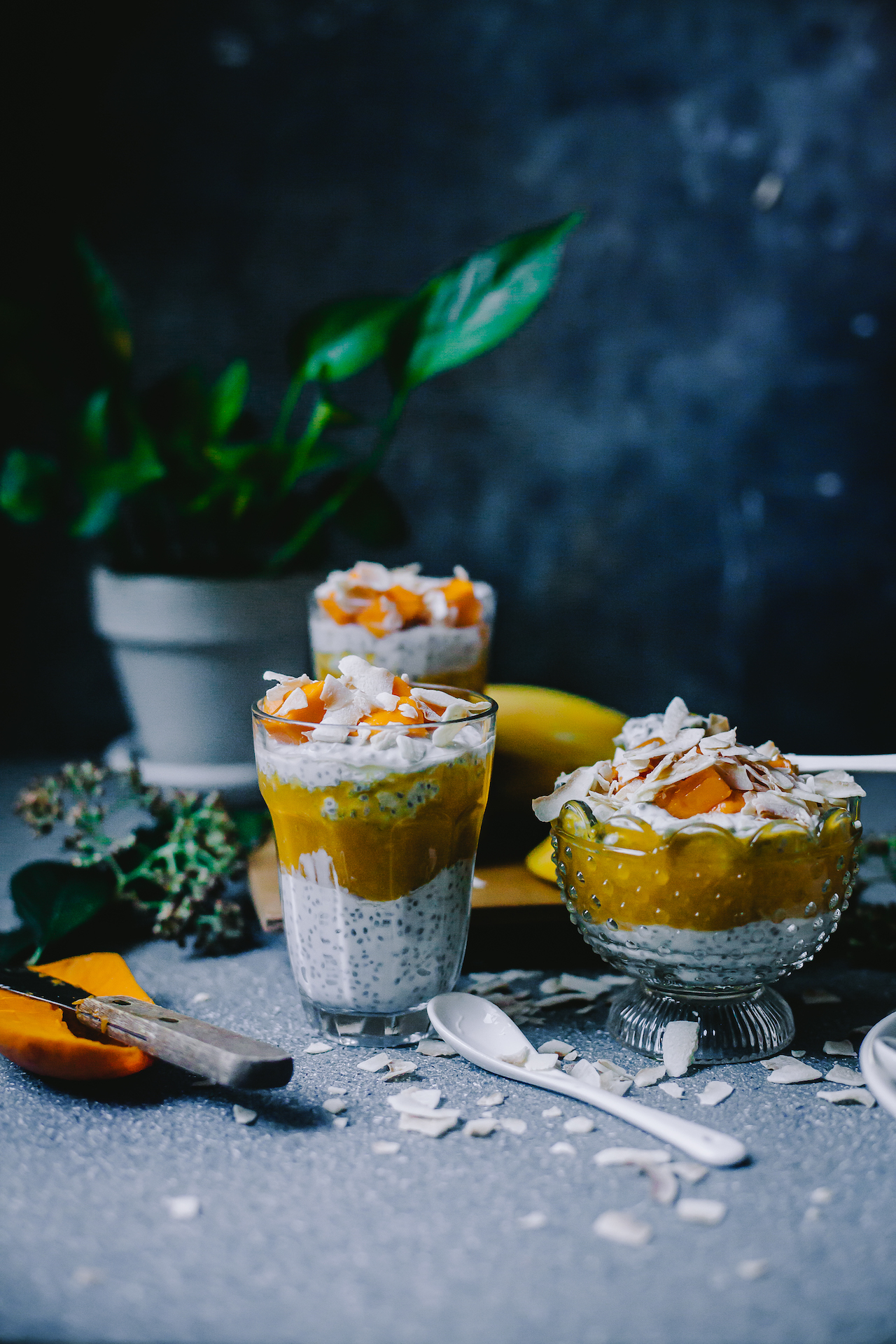 Layered Chia Coconut Mango Pudding
This pudding is smooth and deliciously sweet at every bite with a mild crunch from the coconut flakes. You can make this chia pudding with any variety of seasonal fruits you like.
Layered Chia Coconut Mango Pudding via Playful Cooking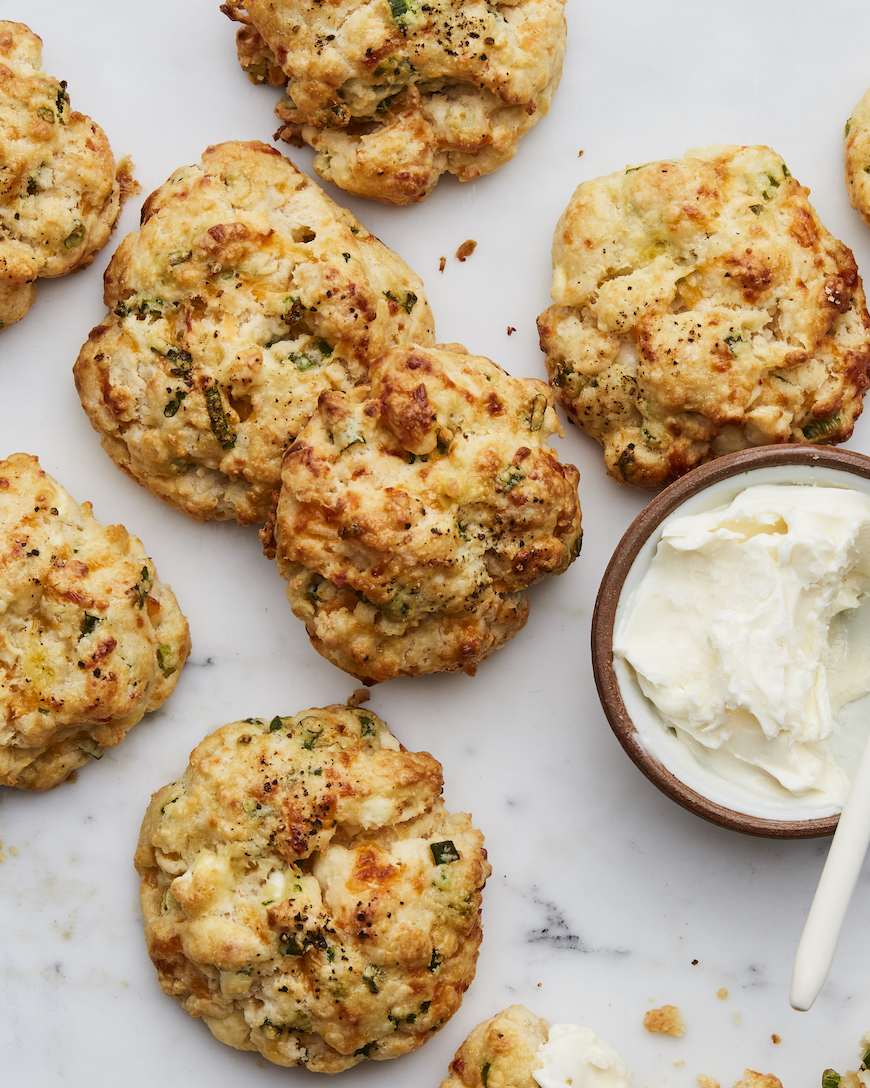 Cheddar and Scallion Scones
Maybe these are scones, maybe they are more like biscuits, but regardless, you need them in your life this weekend. Flaky dough stuffed to the brim with a variety of cheeses, scallions and black pepper
Cheddar and Scallion Scones via What's Gaby Cooking
Breakfast Pot Pies
An easy and delicious weekend breakfast recipe! pot pie topped with an egg no less. A delicious creamy potato-y and sausage-y filling that you will love
Yum! Breakfast Pot Pies served a la cast iron via Spoon Fork Bacon
Weekend Breakfast Recipes - Better Than Brunch Out!
An at-home brunch means no waiting in line, as many mimosas as your heart desires, and, best of all, eating in your pajamas. These recipes will help you tackle a leisurely weekend brunch in style. Easy like Sunday morning!
Cocktails For These Weekend Breakfast Recipes
Whether it's the holidays. mother's day or just a casual weekend gathering, why not throw a delicious brunch cocktail into the mix! Have a look at some these wonderful cocktails!
Top Tips For A Great  Weekend Breakfast
Many f these recipes can be made ahead of time, the scones can whipped up way  ahead of time (like, even two weeks ahead of time) and freeze. You guessed it — pop these in the oven the morning of.
Arrange seasonal or tropical fruits on a platter or place in a decorative bowl.
A successful meal has something for everyone, including some healthy options. Serve a large bowl of low-fat yogurt and create a yogurt bar with small bowls of nuts, granolas, various chopped dried fruit and honey.
Fix up Bloody Mary mix or the juice for mimosas the night before.
Check Out These Other Great Breakfast Recipes
Have you tried any of these weekend breakfast recipes? I'd love to hear from you in the comments below!