Lately I have been loving staying home Saturday mornings and making breakfast.  Last weekend we had ham & gruyere omelettes with fresh spring onion from our CSA box and they were delicious!  Aaron has had a pretty hectic week of travel so I am thinking about treating him to this totally delectable dish come Saturday morning.  I stumbled upon this new blog and recipe and think it might be perfect for a slow, lazy morning with the hubby!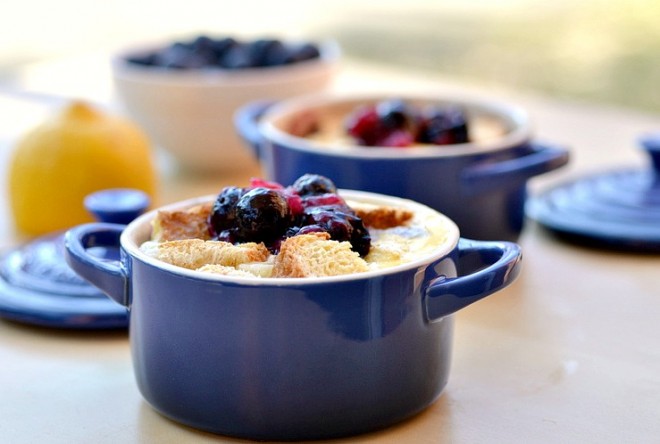 Recipe adapted from Taste of Home.
Ingredients: 
For the french toast:
2 pieces of whole wheat bread, cut into cubes
½ cup of light cream
2 eggs
½ cup of fresh blueberries
1 tablespoon lemon juice
1 teaspoon vanilla extract
2 ounces of laughing cow brie
1 tablespoon brown sugar
Dash of cinnamon
For the syrup: 
1 cup of fresh blueberries
1 tablespoon lemon juice
2 teaspoons corn starch
⅓ cup water
1 tablespoon maple syrup
½ lemon, zested
Directions: 
Grease two mini cocettes with nonstick cooking spray. Place ½ piece of bread into the bottom of each cocette. Pour ¼ cup blueberries and 1 ounce cheese over the bread in each cocette. Cover with remaining bread.
In a bowl, whisk eggs, light cream, lemon juice, vanilla, brown sugar and cinnamon. Pour mixture over each cocette. Cover and chill for at least 1 hour.
Preheat oven to 350F. Once mixture has chilled, remove from fridge and let sit for at least 30 minutes. Then bake, uncovered, for at least 20 minutes, or until bread is toasted.
While mixture bakes, prepare syrup by mixing the corn starch and water on medium high heat until smooth. Add blueberries, lemon and maple syrup and cook until sauce thickens, about 3 minutes. Remove from heat.
Once cups are finished baking, top with the blueberry syrup and enjoy!