07/23/2015
It's impossible to escape the month of July without at least a twinge of wanderlust.  I'm traveling this week (for work, not pleasure) and dreaming of far flung destinations where you go everywhere on foot and only dine on local cuisine.  That's the summer dream, right?  A couple of years ago we asked some of our favorite bloggers about their best trips and here's what they had to say…
(Top Image) Eva, Miss Renaissance: "I traveled with a group of friends through Italy for 2 weeks (Tuscany & the Amalfi Coast.) It was SUCH an amazing trip. The food, the wine, the weather…it was all perfect! Siena is my favorite city in Tuscany. It's small enough to be walkable, but also has amazing sights, restaurants and gelato stands! It's also close to some of the best wine country in Italy, so renting a car and getting out of town for some incredible wine tasting is so fun. I would go back in a heartbeat."
Hilary, Dean Street Society: "Not only was Puerto Rico gorgeous, but it was my first "adult vacation". That might sound silly, but prior to starting Dean Street Society I had a professional career in musical theatre & you're constantly in fear of booking plane tickets. {What if I get a callback? What if they need a last minute replacement?!} This trip was booked on a whim with 36 hours notice & having the power go work from a beach in the Caribbean, well, it was one of those milestones you'll never forget."
Anne, The City Sage: "Last July I visited Portland for the first time, and I fell in love with the city. I especially loved the food and the creative vibe; I returned home full of artisan donuts and a renewed energy I hadn't felt in a long time! Plus I made so many new friends, including the incredible Liz Forkin Bohannon of Sseko Designs. We met when we both spoke at the 'What If' conference, and her mission of combining thoughtful style with social good captures everything that I now associate with Portland.  (Image: That's me on the left, Liz on the right. Photo credit to Woodnote Photography.)"
Samantha, Could I Have That: "The picture attached is of me in Palm Springs at the La Quinta Resort. I'm a frequent Palm Springs visitor because I'm crazy about the dry, hot weather and getting in some poolside time. Plus it's only a short three hour drive for me making it that much more appealing. It's the best place to soak in some R&R if you ask me!"
Kat, The Refined Woman:  "It was so very cold this Fashion Week!  On a whim the day before I left LA for New York I went to a second hand store and found this faux fur jacket for a whopping $2.  Bringing it to NYC was one of the bestdecisions.  Little did I know we were going to be in one of the cities biggest blizzards in years.  The jacket kept me warm, while the maxi dress and wedges allowed me to walk and maneuver the city quite comfortably.  This trip to NYC was one of my most favorite.  Em and I were able to attend the JCrew presentation and meet Jenna Lyons.  We about died, and then on top of that I was able to meet and photograph Anna Wintour.  We were tickled pink about the whole thing!"
Meg, Meg Biram: "My husband and I went to Puerto Rico in 2008 and took a day trip to the island of Vieques which is about an hour ferry ride off of Puerto Rico. The beaches in Vieques are gorgeous and it's much less toursity, so you really get the feel of the island and not very many people on the beaches. It was gorgeous.  There was a lot of drinking out of coconuts on this trip!"
Amy, Parker, Etc: "Mexico is our perfect escape. It's such a quick trip for us from Brooklyn straight to the beach. We've found our ideal quaint resort, could live off their fresh ceviche and guacamole and love exploring the ruins!"
Katie, Modern Eve: "Summer 2011, my husband and I took a trip along the California coast. Starting in LA, we drove up the State Route 1 through Malibu, Santa Barbara, Carmel and Santa Cruz to finally end in San Francisco and Napa Valley. The whole trip was amazing, but my favorite was a stop was our layover at Carmel Valley Ranch. Morning yoga, afternoon hot tubbing, daily tree swinging and nightly s'mores – I've never been surrounded by more natural beauty or more relaxed in my entire life."
Kiley, A Sequin Dress at Breakfast: I've always loved to travel – and have enjoyed lots of beautiful places throughout the US and abroad, but the spontaneous road trip my best friend and I took a couple years ago to Dallas, Texas, will always have a special place in my heart. We had no plans or agenda – and enjoyed every minute. We were two single girls who lived it up the whole time there – from cocktails with breakfast to treating ourselves to a ridiculous pair of shoes to kick off the new year, it was a trip that I'll always look back on with the best memories.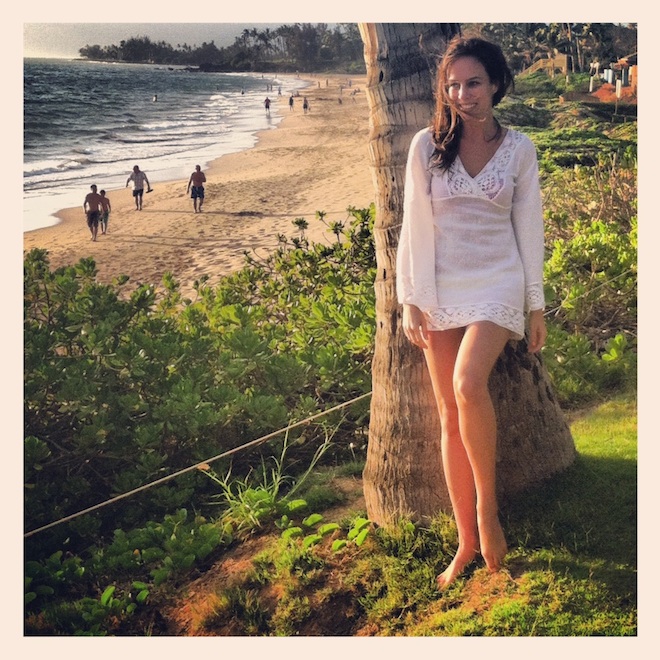 Sydne, Sydne Style:
 "Last summer, my friend got married in Honolulu. Before the wedding, my boyfriend and I spent the week in
Maui
. Every morning we'd wake up and do some form of exercise (paddle boarding was my fave!) then we'd soak up the sun the rest of the day on the beach, watch the sunset with a bottle of rose and eat delicious seafood dinners. It was the most relaxing trip I've had in a very long time."
I love how much love there is here for domestic travel!  What has been your favorite trip?  Was it great because of the destination or was it more about the people that were with you?  Is the hotel important to you? I would love to hear all about your favorite trips!  Have a great weekend!