I might not regularly take styling jobs anymore, but I really still love the act of helping people get dressed and feel their best and most confident, so I am always up for a sourcing mission! Some of my favorite texts to get are from friends when they're on the hunt for something go a little something like this: "Help! A new everyday shoe please?" "What shorts should I be buying?" "Are these jeans still in style?" "Can I wear this color?" I think all of us at some point in our week turn to this outfit staple-- the jean and tee combo-- and for good reason. Nothing epitomizes effortless chic more! I must have tried on over 30 tees from more than a dozen brands to come up with this list of ten below. Let us know what you think and if you have a favorite tee hanging in your closet, we would love to hear about it! (PS. A lot of you have asked about the jeans I'm wearing! They're Levi's and the exact pair is here. I'm wearing a size 27 which is my normal size.)
1. black ribbed crew neck tee, by Maison T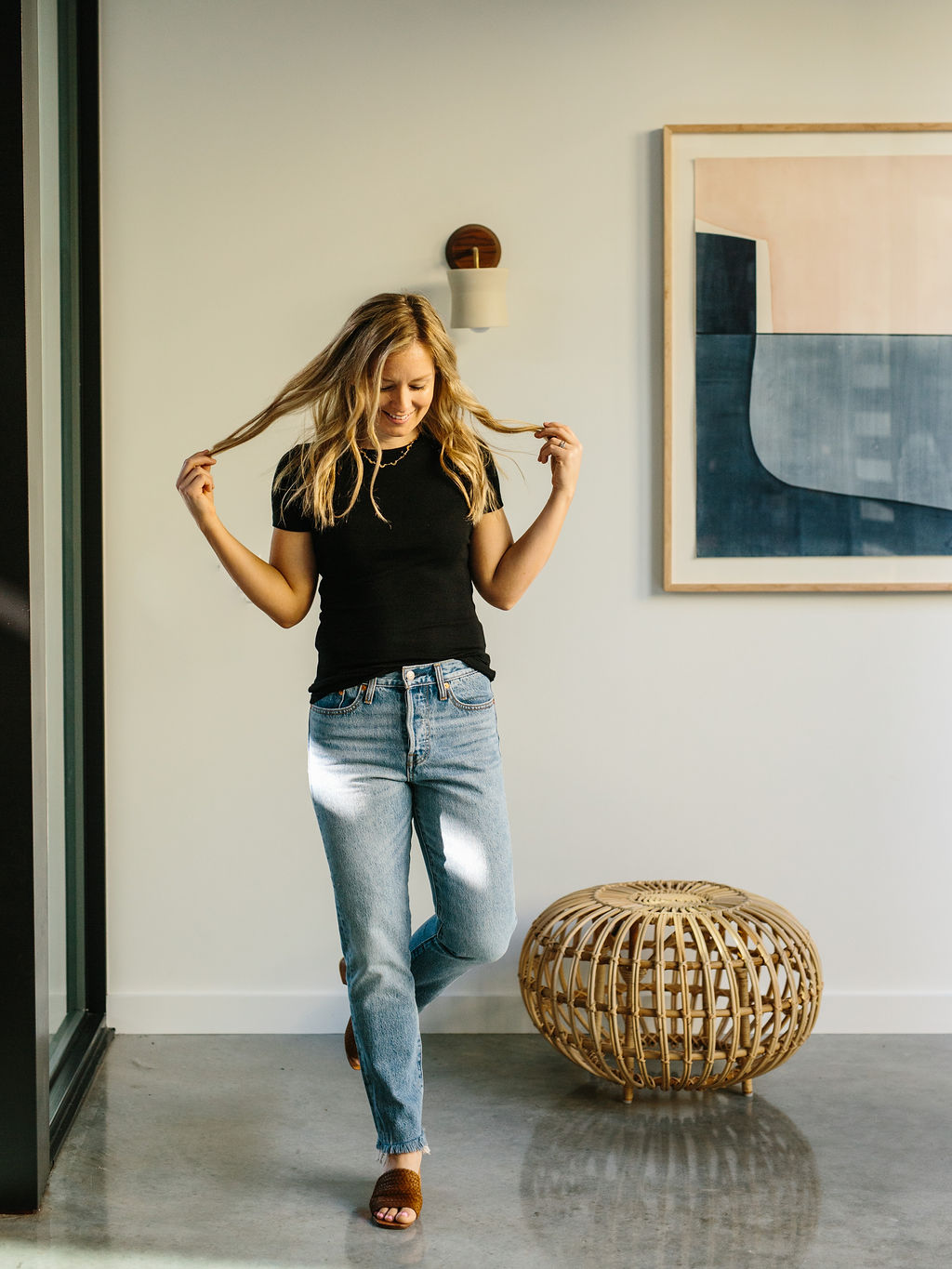 I really like a fitted ribbed tee like this for tucking into high-waisted skirts. Also, this would be PERFECT for wide leg pants. The ribbed factor means that it's pretty tight and not at all forgiving but perfect for those instances when you want something more fitted.
2. White v-neck tee by Current / Elliott
Welp, leave it to Current / Elliott to make THE PERFECT white v-neck with a price tag that reflects it's perfection. If you have the budget this is such a good buy! If you don't, keep moving. There are other great tees in your future!
3. Rust-colored crew neck tee, by Madewell
Speaking of great tees at a reasonable price, I love Madewell's crewneck tees. They hold up well, and are pretty inexpensive. (I think this one is $15) I am obsessed with this color!
5. Gray Boyfriend Pocket Tee, Old Navy
This tee is a MUST PURCHASE! It's such a great basic and only costs $9. (I'm pretty sure there are lattes in LA that cost that much.) I love this one styled exactly as-is for everyday wear. Perfect for running errands, taking the kids to school and all of the countless other things you do every day.
6. Peach Thong Bodysuit, by Free People
I don't currently own any bodysuits, but can certainly appreciate their function so it was worth the try. This one, though, I found to be entirely unflattering. The fabric is thin and you can even make out by oddly shaped belly button beneath it.
7. Striped Ribbed Crew Neck, by Free People
Now this Free People number is way more my speed! See number one for my thoughts on the rib tee in general. The black and white stripes, though, makes it a more flattering choice than it's solid color counterparts.
8. Rose-hued v-neck tee, by Madewell
Madewell has the best t-shirt color palette right now! I love this rosey hue. The fabric is much thinner than the crew neck one from Madewell above. This v neck shape though is particularly flattering on people with a larger bust.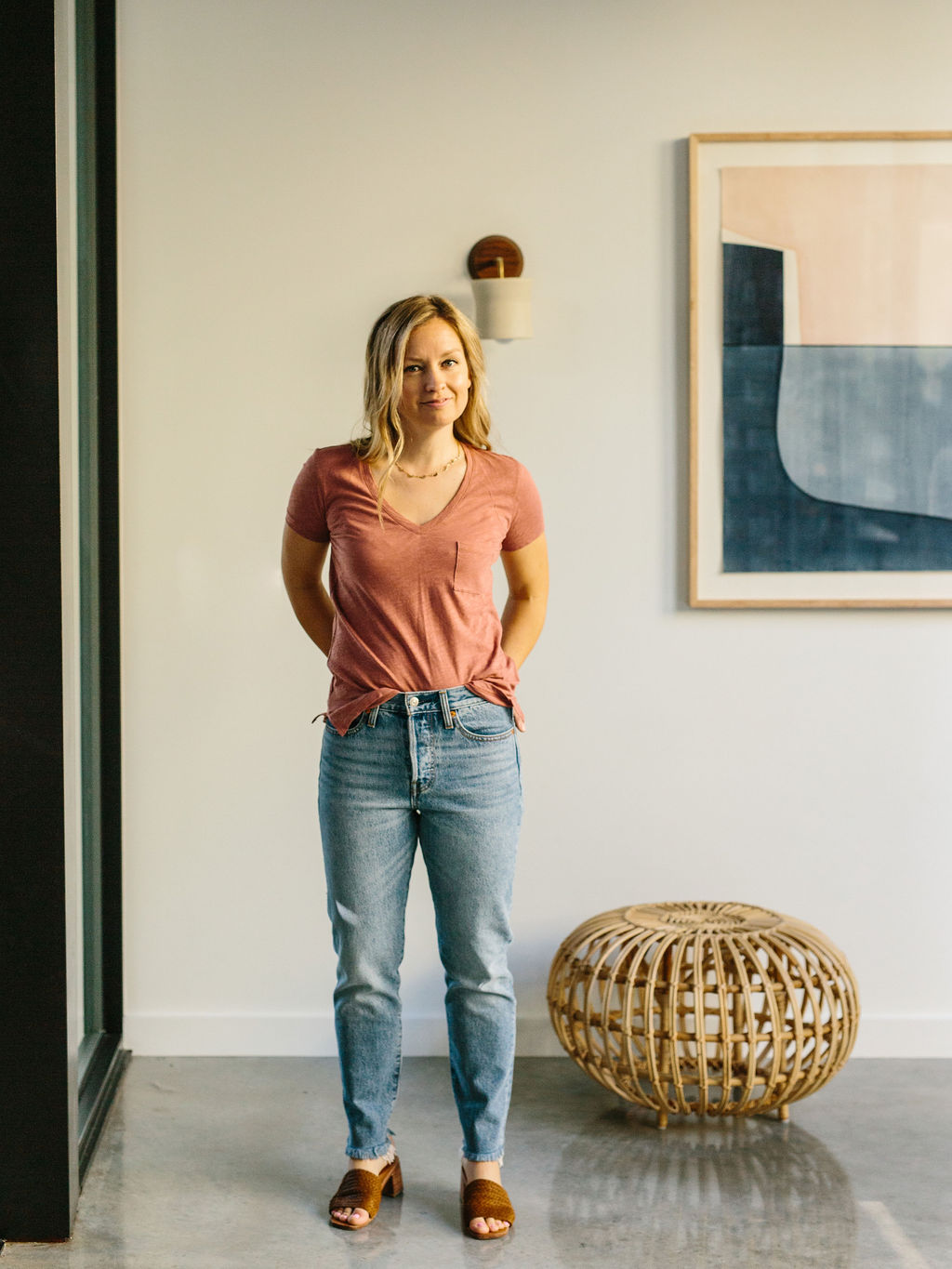 9. Classic White Crewneck Tee, by Three Dots
This tee is a perfect classic white tee for all occasions kind of tee. The fabric holds it's shape really well and the design of the neckline keeps it from getting stretched out. I personally love it styled with a little front tuck, but wanted to show it both ways.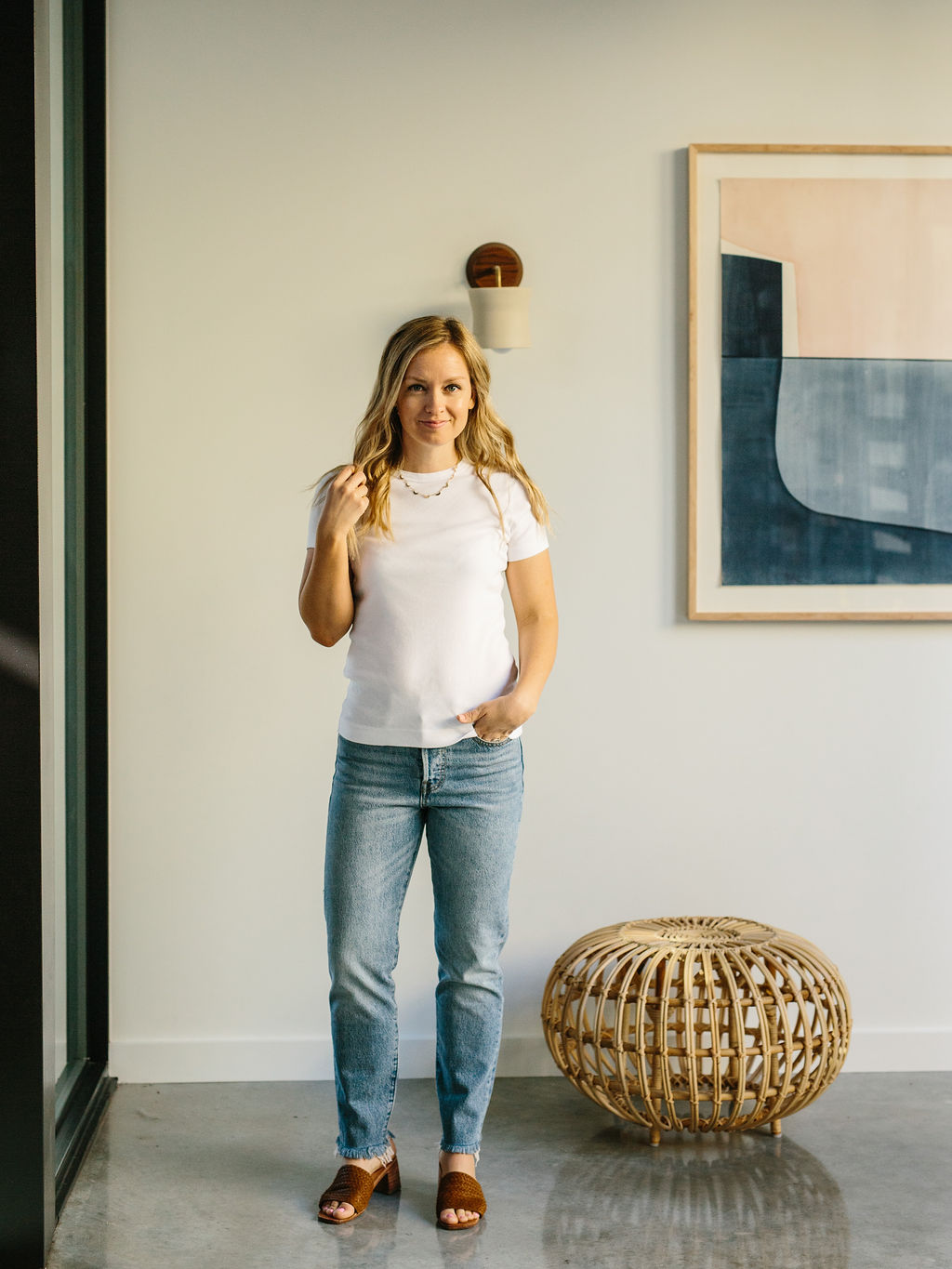 10. Faded Back Crew Tee, by James Perse
Ugh, this tee is perfect! It's a splurge, but here's my James Perse story: When I first moved to LA, I worked a couple blocks from a Planet Blue and would pop in there all the time. Meanwhile I think I was making like $500 a week, so definitely not in my price range. One day, though, I splurged on the most perfect navy blue scoop neck tee by James Perse and you better believe that not only did I wear it all the time, but it held up for like 8 years of regular wear and washing. I actually still own it to this day and it's a favorite lounge around the house tee. So there you have it, not cheap, but possibly worth it.
What do you think? Do you like this new series? What else would you like us to cover?
(PS. A lot of you have asked about the jeans I'm wearing! They're Levi's and the exact pair is here. I'm wearing a size 27 which is my normal size.)
Photography by Katie Jameson