There's no shortage of opinions on different garments that one may or may not find in their wardrobe, but shorts are a bit of a mystical anomaly. The summer heat in most regions demands them and so we dutifully line the drawers of our dresser with at least a pair or two out of obligation. However, on almost no occasion do we reach in, grab said shorts and feel the tingle of excitement that comes when we, say, have an excuse to wear our favorite midi length linen dress or vintage washed high-rise jeans. Nonsense! I say this is the summer we change that. It's going to be oppressively sweltering in no time so we might as well feel great in the shorts we're about to sweat through...
(PS. Enjoy this try-on session? Check out All the Best Tees I Tried On For Spring, too!)
1. Cuffed Denim Shorts, Old Navy
These are such a great every day short and at a super great every day price point! They're stretchy and comfortable and definitely something I could run around at the park with the kids while wearing. Throw a bandana in your hair and rock this 1950's housewife vibe.
2. Levi's 501 High Rise Shorts, Shopbop
Katie talked me into these while we were shooting and now I'm looking at the images and thinking they are WAY too short! Ha! I do love them. Perfect for casual summer afternoons... definitely not for the office!
3. Daisy-printed shorts, Old Navy
This print is really fun for summer, especially if paired with a graphic tee or even a striped tee for some fun preppy summer pattern play.
4. Denim pleated shorts, Madewell
I feel like these are for sure going to get mixed reviews. They're not my personal every day short, but I feel like the coolest of girls will totally pull them off. I do actually love the irony of wearing them with a fanny pack and Mickey Mouse tee to Disney World for a cool throwback to my childhood. (Actually, if we had a trip to Disney planned I would totally have kept these.)
5. Drapey pull-on shorts in blue floral, Madewell
Pajamas? Loungewear? Every day shorts? Dressed up with a silk top? The answer to all of the above is yes. Look no further for the most comfortable shorts of the season.
6. Light washed distressed denim shorts, Old Navy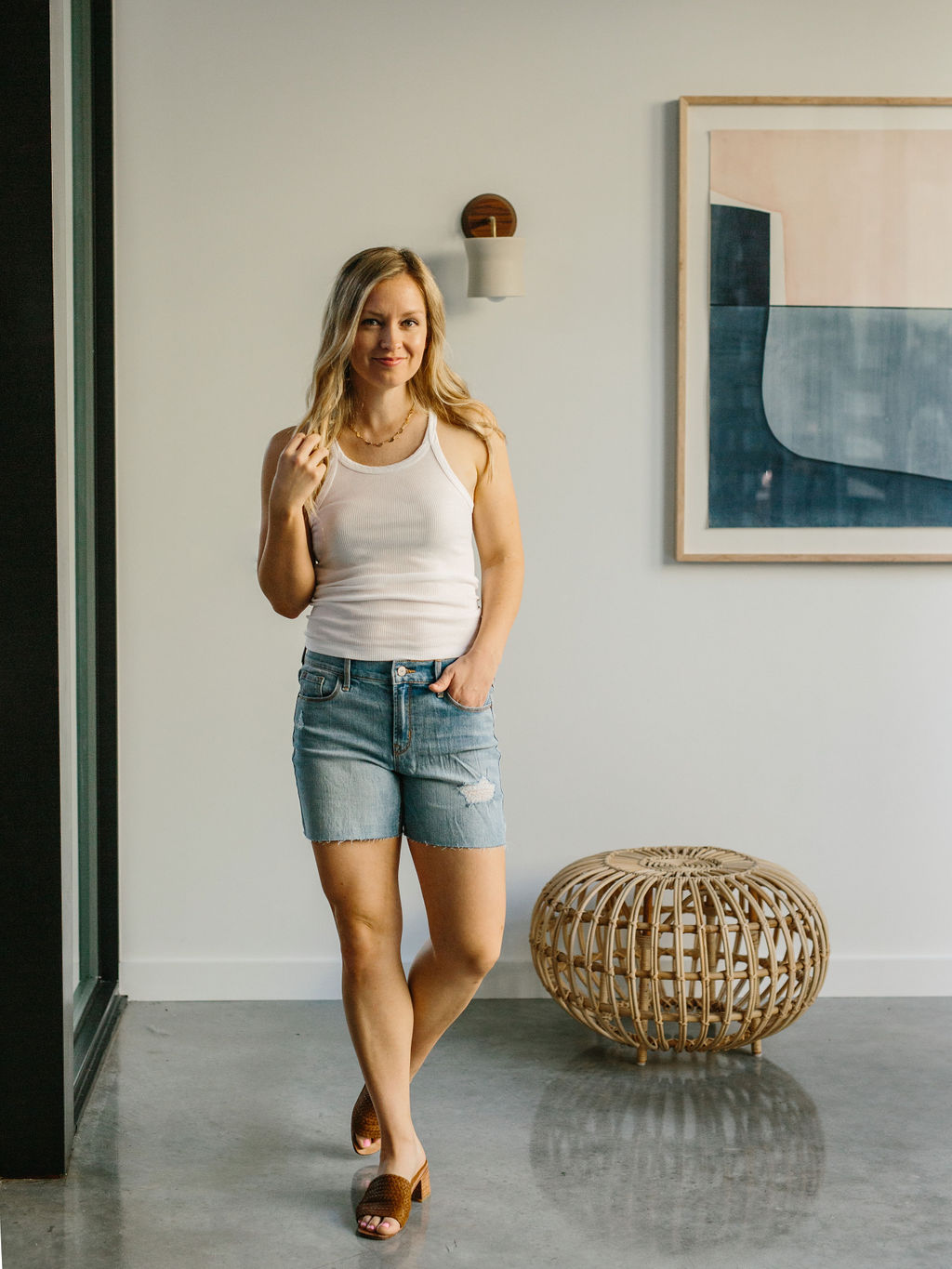 I really like these a lot. Because of the distressing, I like the idea of them juxtaposed with a loose, boho-esque top or a short-sleeve gauzy button up shirt.
7. Linen Polka Dot Shorts, Moon River
I'm kind of bummed I didn't keep these. They are so cute and look at this coordinating top that goes with them! I need to own these, right?!
8. Twill shorts, Old Navy
This was probably my least favorite pair of the bunch, just personally, but I do like the idea of pairing this color with a really classic black crew neck tee and black sandals. Super classic.
9. Polka-dot high-rise shorts in rust, Madewell
These were an easy yes! You already know this is my favorite color and the fit is just super great. These will for sure be a summer staple paired with a tee or dressed up with a white cotton poplin top.
10. Green-striped linen shorts, re:named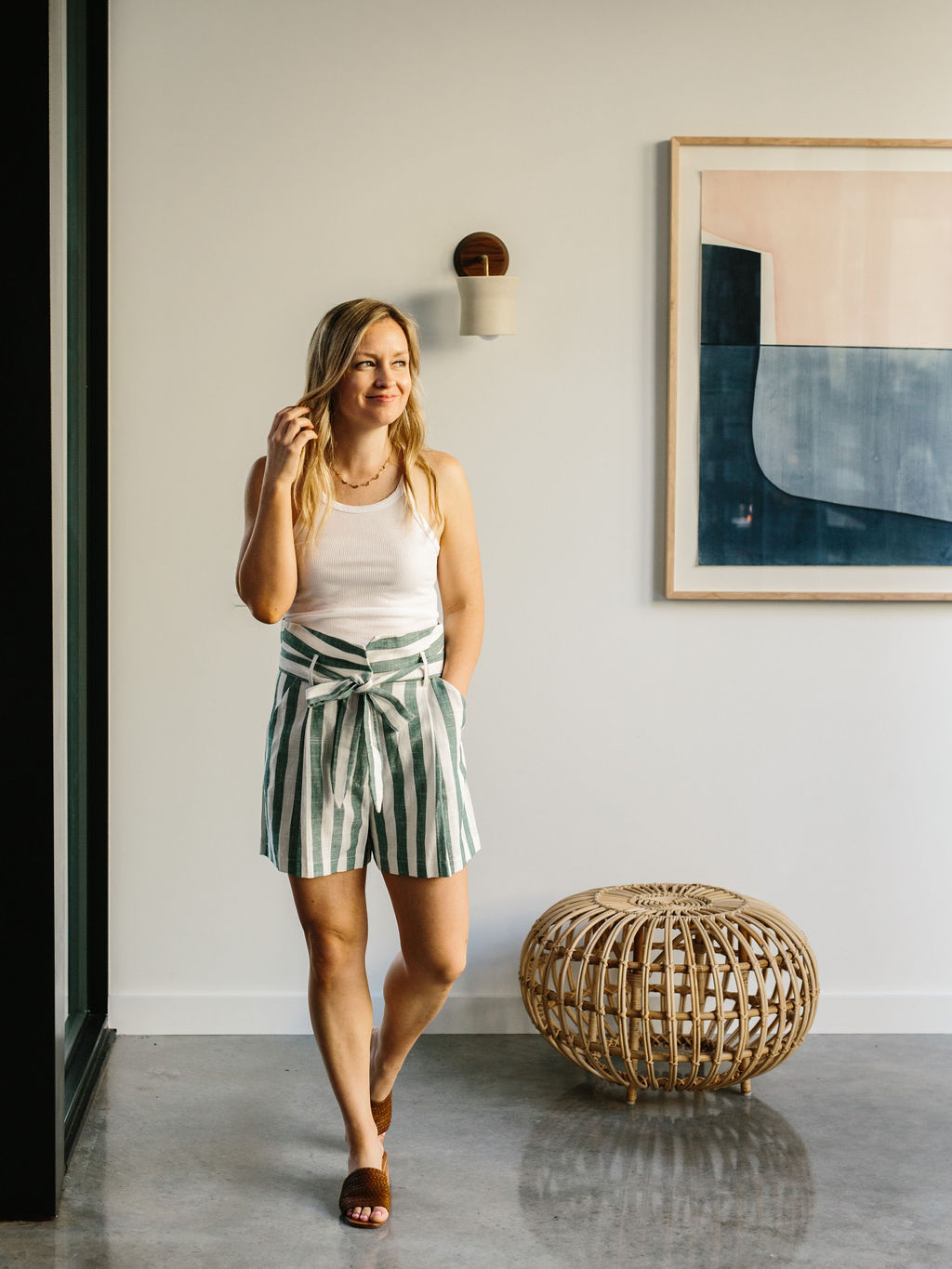 I love these linen shorts for an elevated summer look. They would be so cute paired with a tee and blazer!
Photography by Katie Jameson